Mt. Shasta SOTA activation 2020-07-18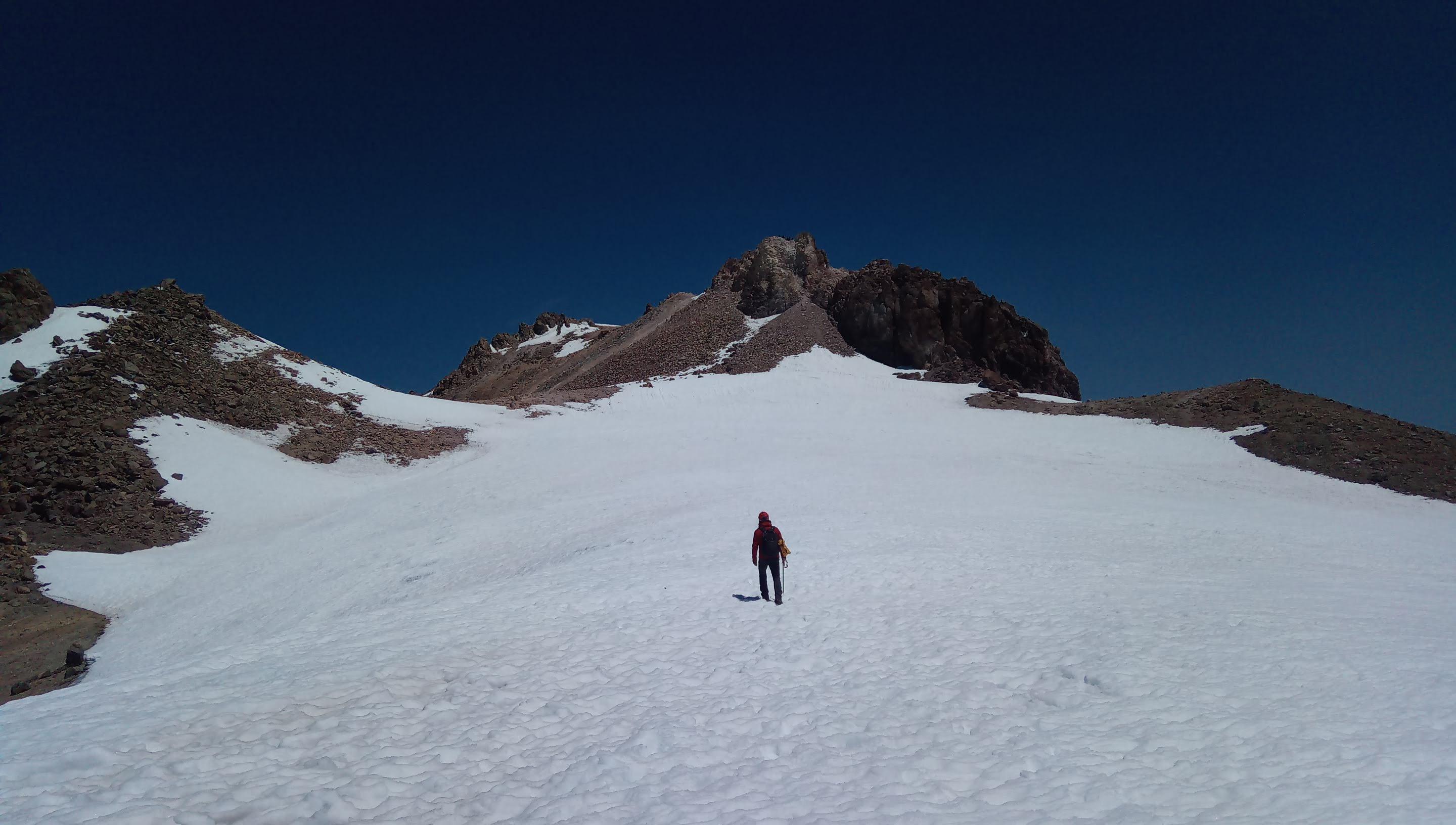 If you read my previous blog posts you know I spent some time in Lassen Volcanic national park trying to activate Brokeoff mountain (W6/CN-003) and successfully activated Lassen peak (W6/CN-002). So what's next? Well, the elefant in the room is, you guessed it, W6/CN-001 also known as Mount Shasta.
This mountain is a very special place for me. It comes with glaciers, thin air and scorching sun. It has everything you'd expect from a "real" mountain and then some. I tried to climb it in 2017 first time and had to turn back from the bottom of Misery Hill.
This experience made a great impact on me. It changed the way I see nature and my own place in it.
As an engineer and as a person who grew up in an urban area I dealt with tamed, broken in nature for the most of my life. I always liked being outdoors but it didn't matter to me much. I was there for scenery and maybe some healthy motion. Most of 'Nature' I had experience with was a mere 'Environment', terraformed and docile. I felt like I know which boxes it belongs to…
…and then I was sitting there on the rim of a snow field above Red Banks unable to catch my breath and I couldn't believe it. I was excited. I was scared. I fell in love.
Very visceral understanding came to me - you can't compete with Nature let alone 'beat it'. Yeah, you can turn oceans into plastic dumps. Sure, you can poison waters digging for rare elements. You can pave off meadows to build decorations for our tiny dramas. The planet going to turn, tides going to come and go, volcanoes going to form and disintegrate long after the humanity extinguishes itself for good. Nature is going to stay.
The only thing you can do is being a better you. Day after day. A tad smarter. A bit more experienced. Slightly better prepared.
And one day you will summit.
I did.
And one day you'll mix with star dust and become one with Nature. This day is yet to come. Until then - step by step, paying attention to breathe cadence, up.
Choose your own adventure
Shasta and surroundings provide lot of opportunities for recreation and people enjoy it in different ways. Mountaneering wise there are multiple routes with the most popular one ascending from Horse camp to the summit via Avalanche gulch on the southern side of the mountain.
Most folks who take this route do it in two days - on the first day ascend from Horse Camp to Helen Lake campsite approximately half way up and on the second day start early with minimal gear, summit, return to the camp and back to the trailhead.
There are people who challenge themselves and gulp the whole trail in one day. Speed records are impressive - starting with no one else but the old timer John Muir in 1875 with 4 hours 10 minutes result to the currently (as of July 2020) standing record of 1 hour 35 minutes by Tom Goth.
People push the limits all the time. As we were resting and boiling water to make some tea after getting to the bottom of Misery Hill a gal approached me and asked which way is the summit trail. It's hard to see the trail from below so I recommended going straight up - eventually one is going to hit one of the switchbacks. I and my companion finished lunch, packed and hit the trail ourselves. About half way up we've met the returning gal again. She was shining with joy - it took 2 hours 54 minutes and 46 seconds for Sarah Burke to get to the top and install the new record for women.
I doubt I will come close to this time ever. My sort of fun is trying to activate Mt. Shasta in SOTA.
Gearing up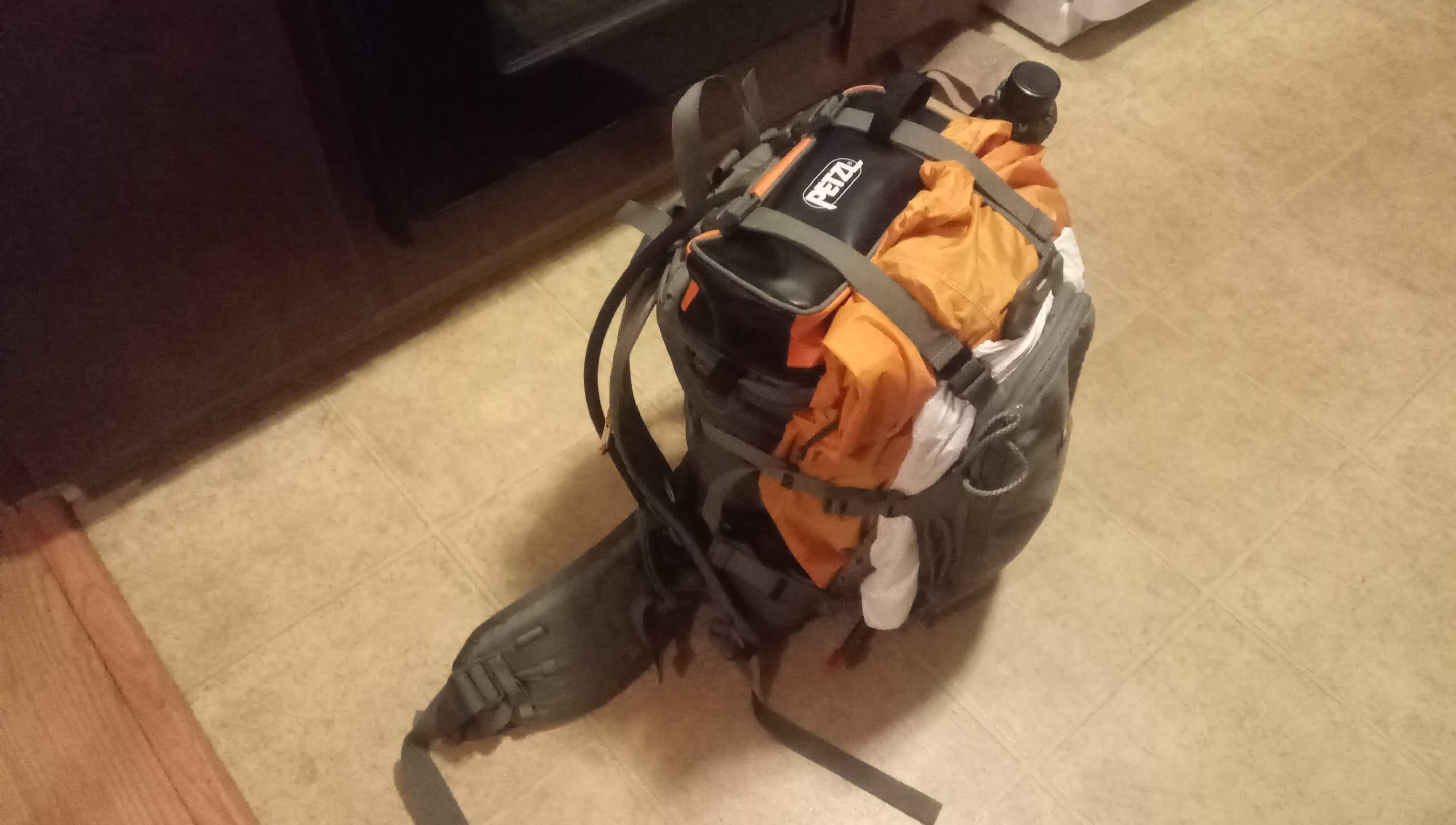 SOTA is all about finding the right balance between rig power and portability. I was choosing between my Mountain Topper and KX-2 and decided to go with KX-2. It is a bigger, heavier rig but I wanted to be sure I'm heard. Having 12W of power instead of 5W can make a difference.
As usually the antenna of choise is a 20/40 linked dipole. Mag loops are not as effective in transmitting and verticals perform poorly on rocks / snow with no radials. Radials are an option but they create tripping hazards. Good thing about Shasta is that there is plenty of space close to summit and you can easily deploy pretty much anything free standing.
Battery is 12V 3 Ah Bioenno Power battery pack. Added WolfWave sound filter and Buddypole mini solar panel controller to power both transmitter and WolfWave from a single battery. With all the cables and knick knacks weight of SOTA equipment is 2.44 kg / 5.6 lb.
Other heavy things are an ice axe, crampons, 2 liters of drinking water in a bladder and 32 oz in Naglene Oasis cantene for tea and rehydrating food.
Add cooking kit, food, a medkit, gloves, watch cap, glissading pants, puffy jacket and shell jacket, pack everything in Umlindi pack and you'll end up with 24lbs / 13 kg of gear. Quite hefty but no one said SOTA is an easy enterprise.
Helmet is a must as well as snow goggles and sunscreen - sun is reflected from the snow and you'll get severe burns if you don't apply the sunscreen liberally. The rule is simple - if you can see skin - cover or put some sun screen on it.
Enough rambling, time to go
Mt. Shasta town is 20 minutes drive from the Bunny Flat trailhead. We booked in hotel in the evening on Friday, slept couple of hours and drove to the trail.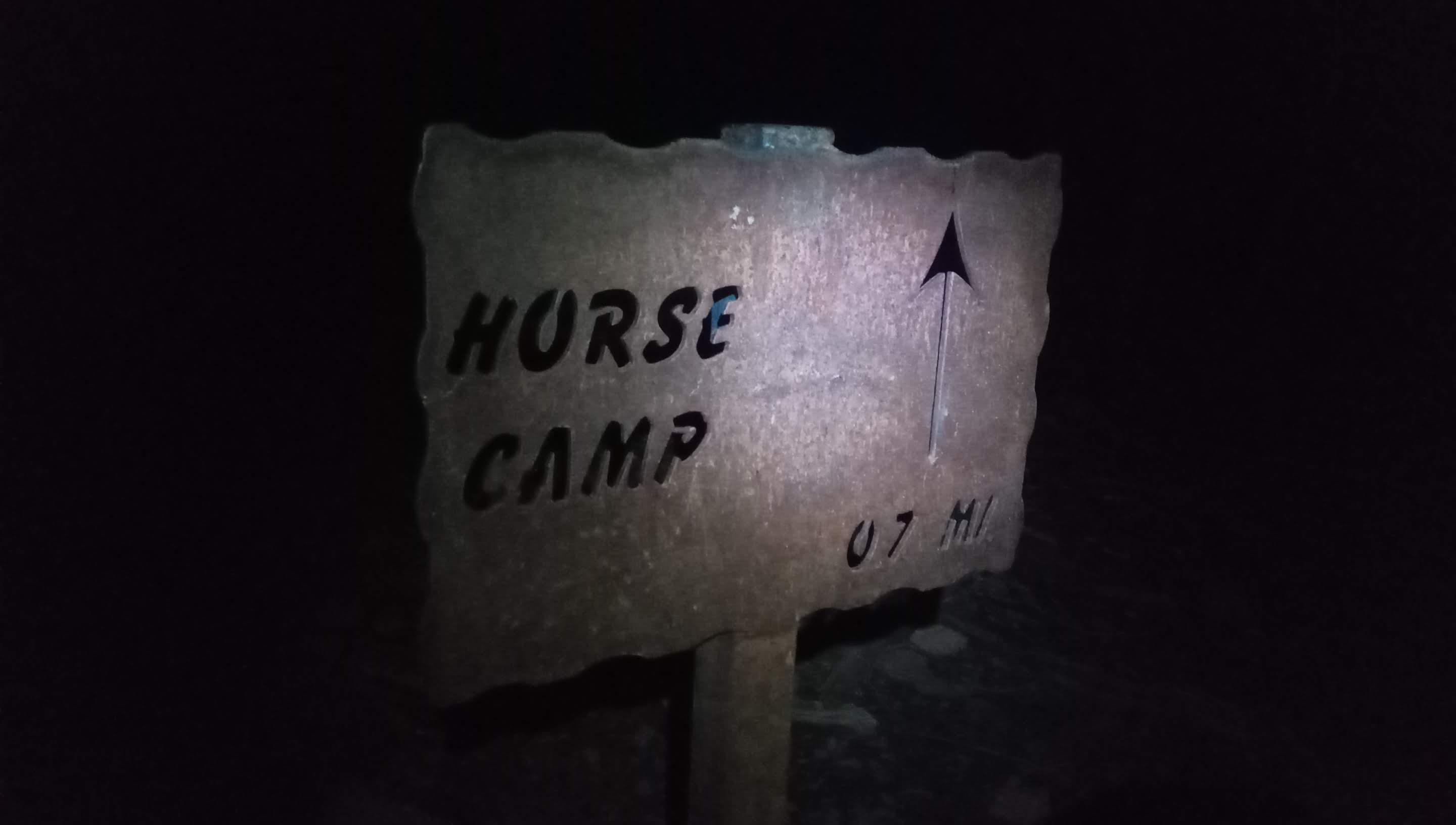 There are self registration envelopes / forms available in the restroom building. Summit / wilderness access price is $25 per person. Parking is free of charge.
Let's go!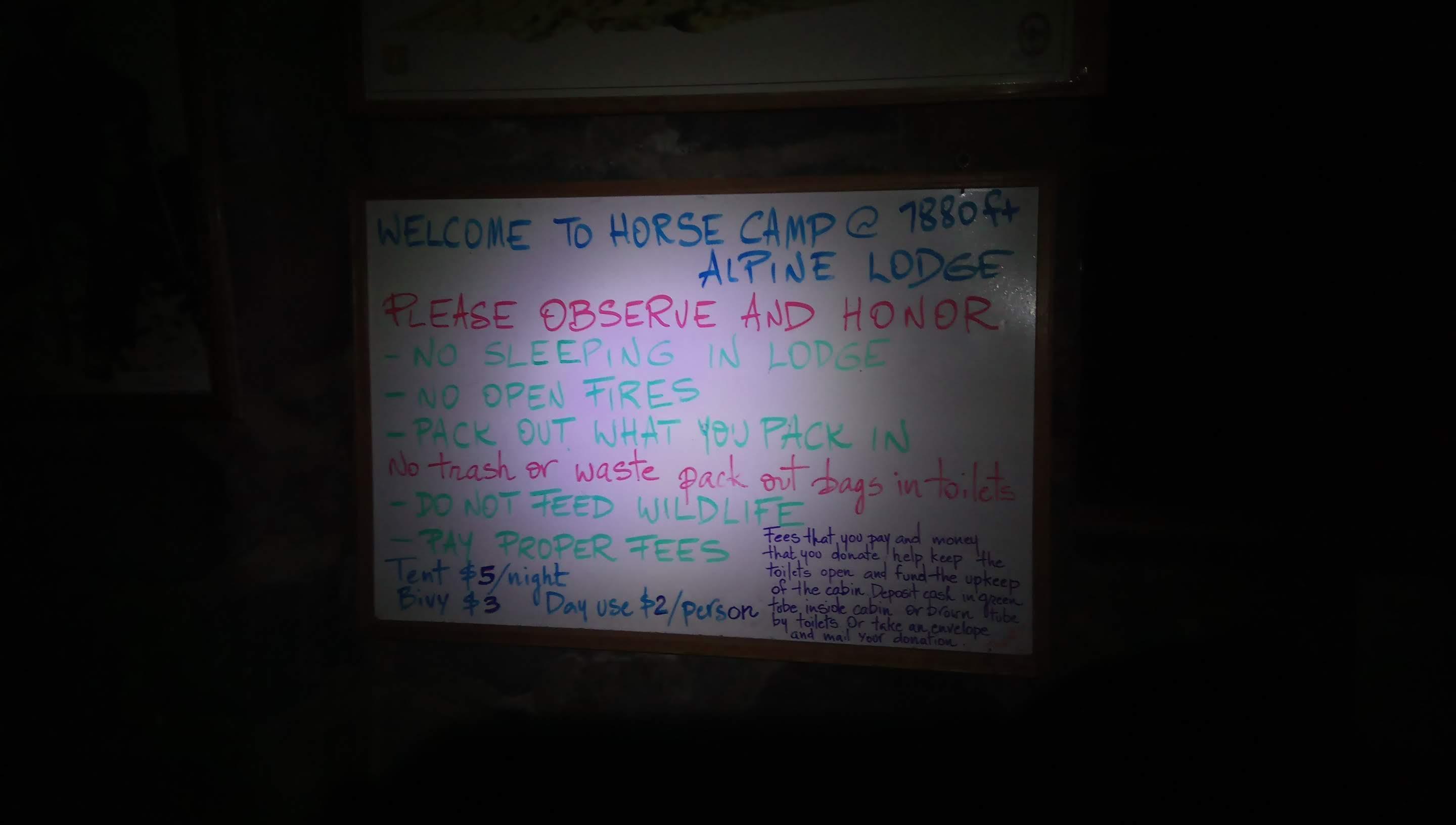 Up until reaching Horse Camp lodge trail gains elevation gently. You can get into the lodge any time but you can't camp inside.
From Horse Camp on you walk on rocks and the trail gets progressively steeper. Up to 50/50 it is easy to follow after that it is pretty much going up the gulch. If you plan on camping in Helen Lake camp there is a trail hugging an outcrop with Helen Lake from east there are lot of switchbacks and if you're doing one day ascent just go up. Earlier in the season rocks are covered with snow and are easier to navigate.
Reached the snow line early morning.

This round-ish snow blob in the center is Helen 'Lake'. I'm not sure if it ever defrosts. There is a sizeable tent town in the eastern shore but it's hard to see on this photo.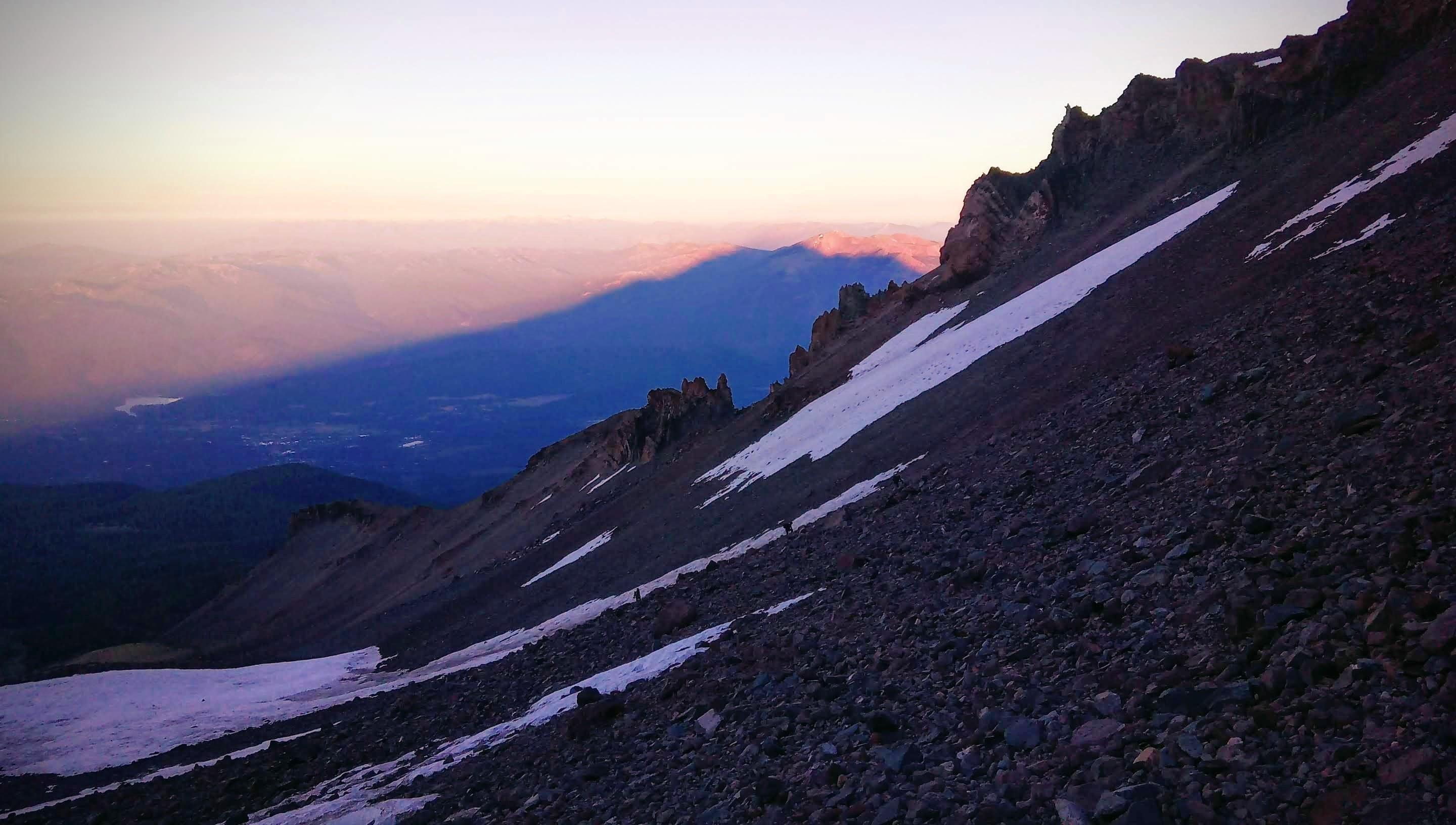 From now on this is a race against the sun. You want to get to the top of Red Banks before snow and ice holding rocks together melt.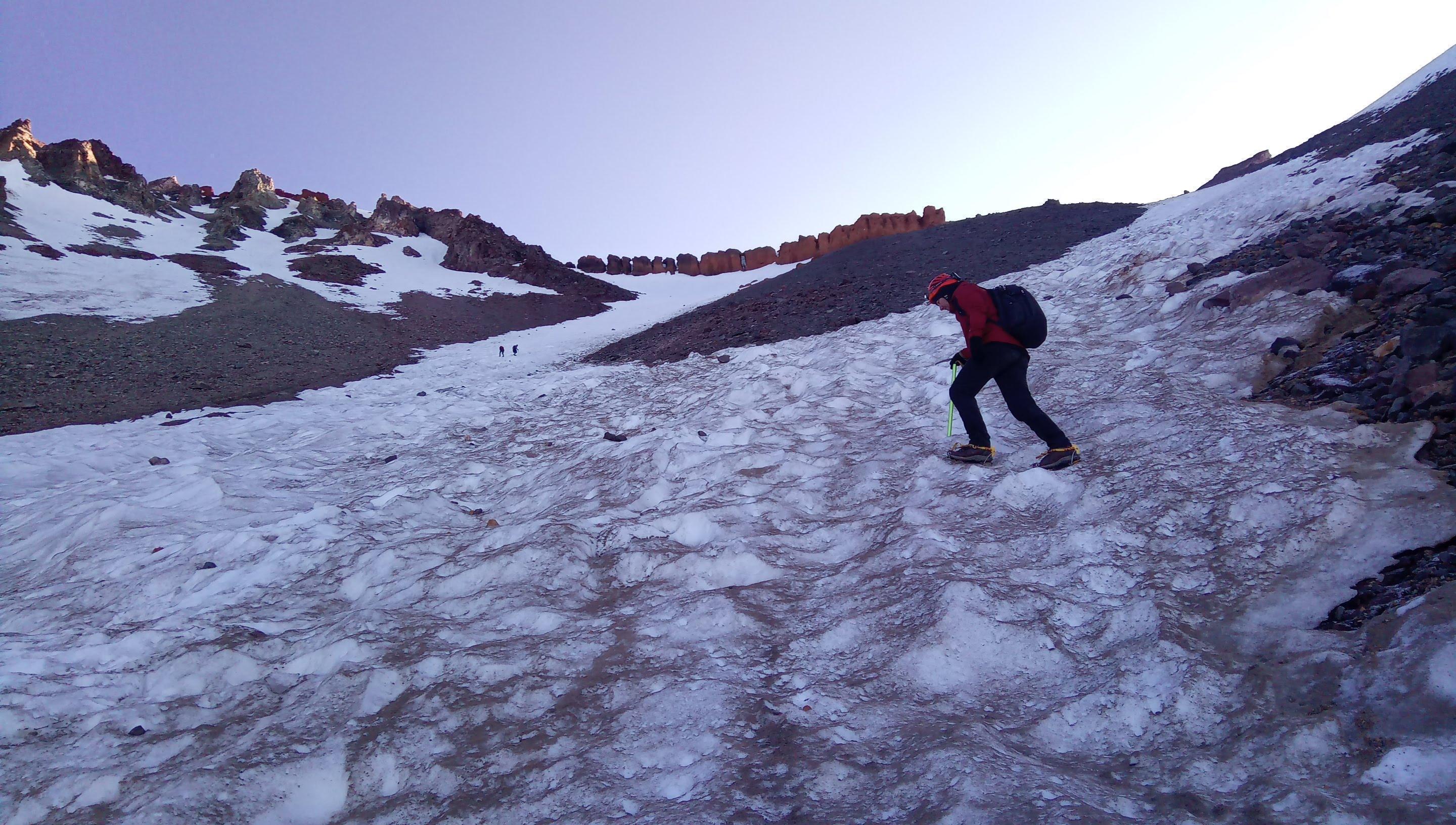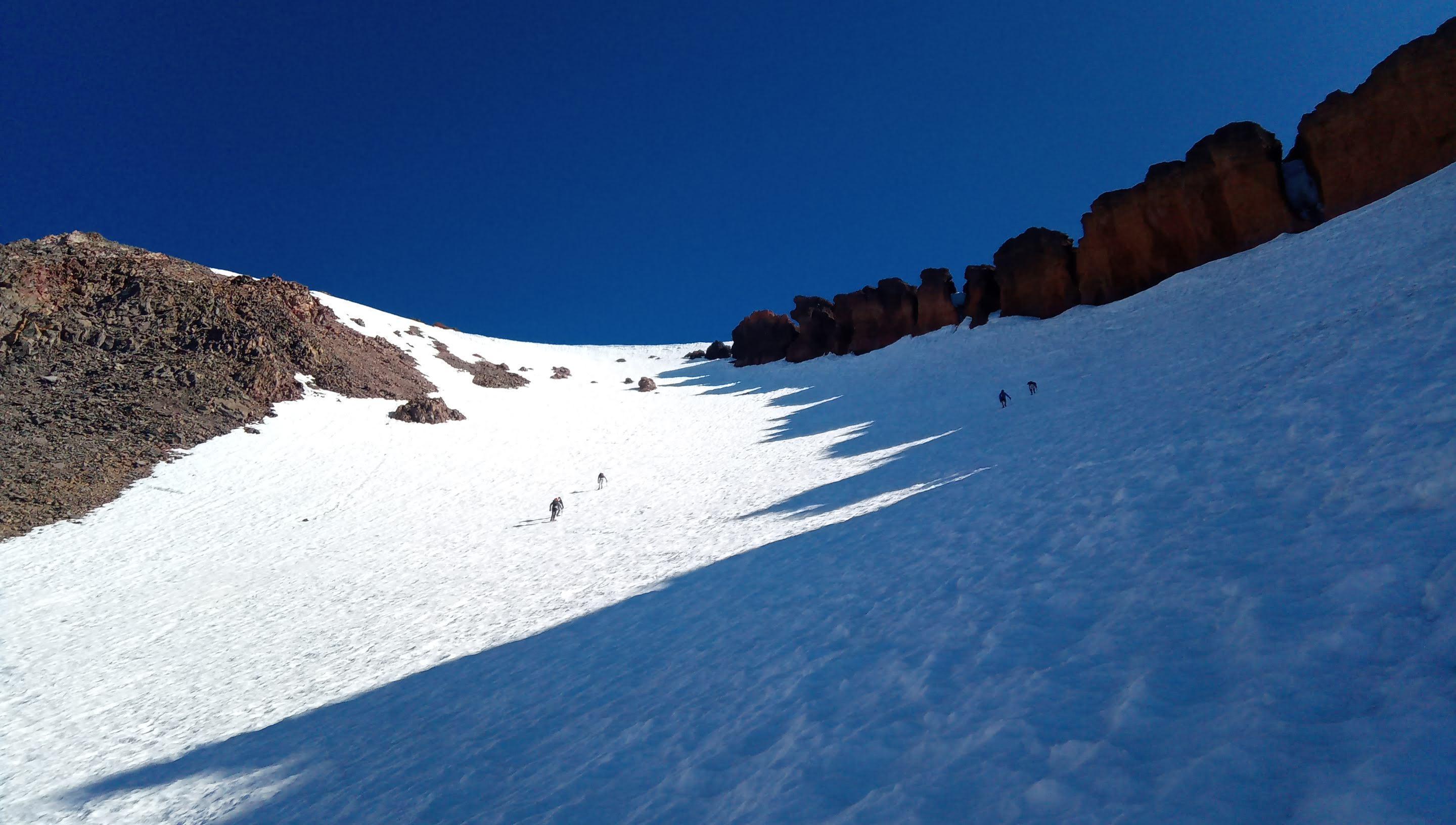 This is the scatchiest part of the trail - keep a distance because the leader can bump sizeable rocks down. Last 30-40 feet of the approach are almost vertical and you want to do them before snow melts and stops to hold the ice axe reliably. Also - without a question you need to know how to self-arrest with an ice axe.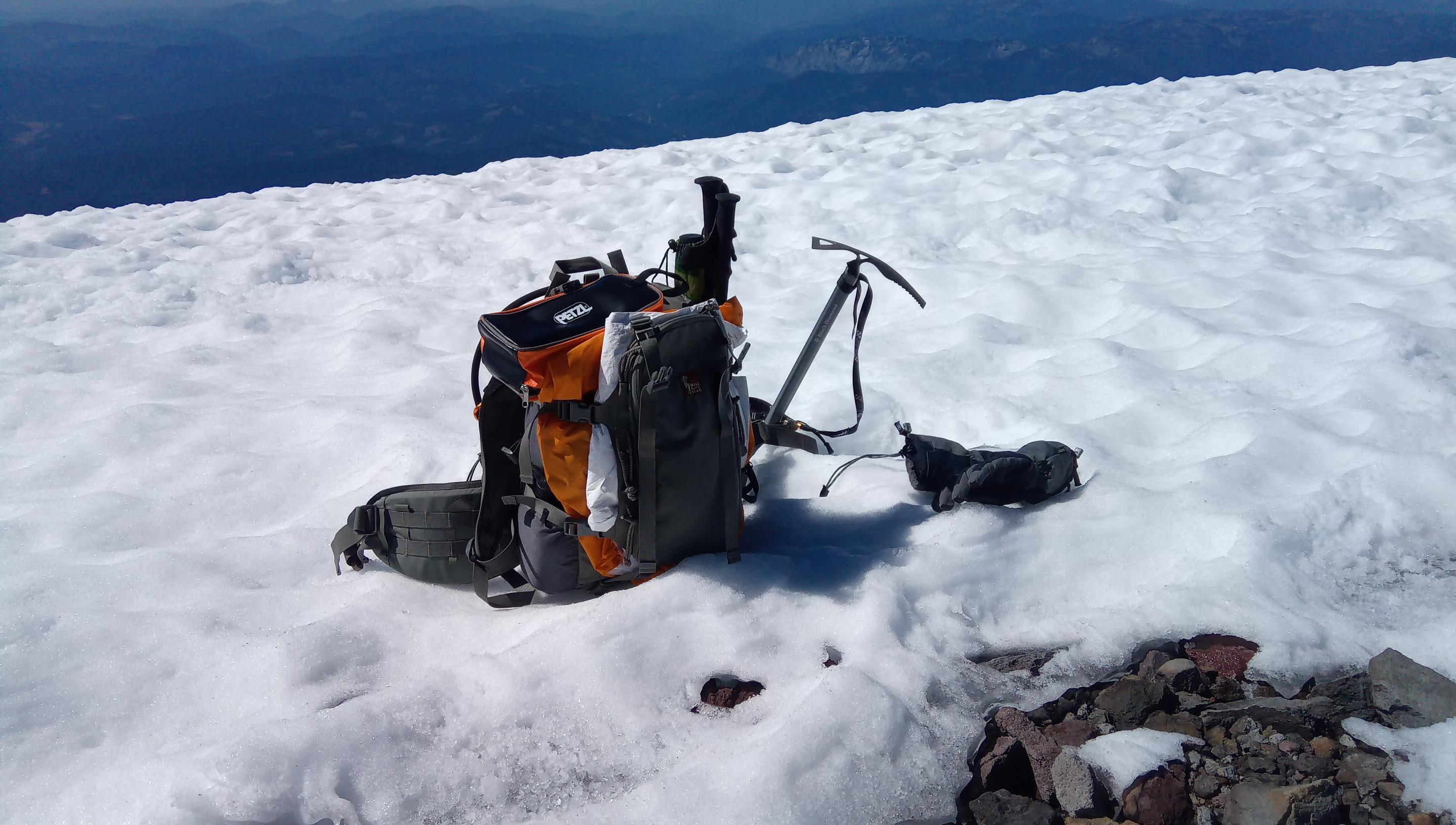 Yay! Going to have some tea and food.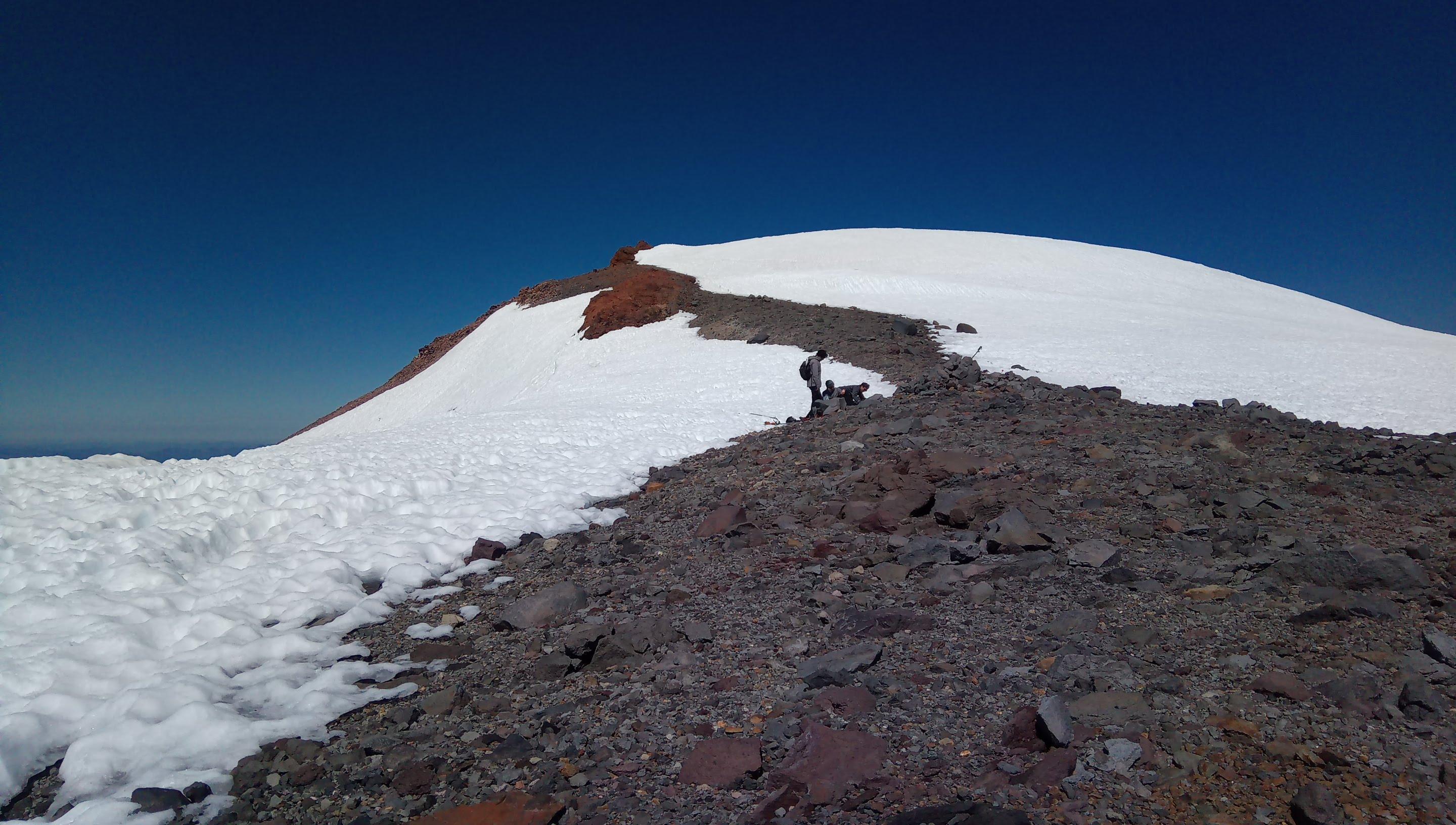 Some folks leave ice axes, crampons and heavy things below Misery Hill - further up the terrain is less technical.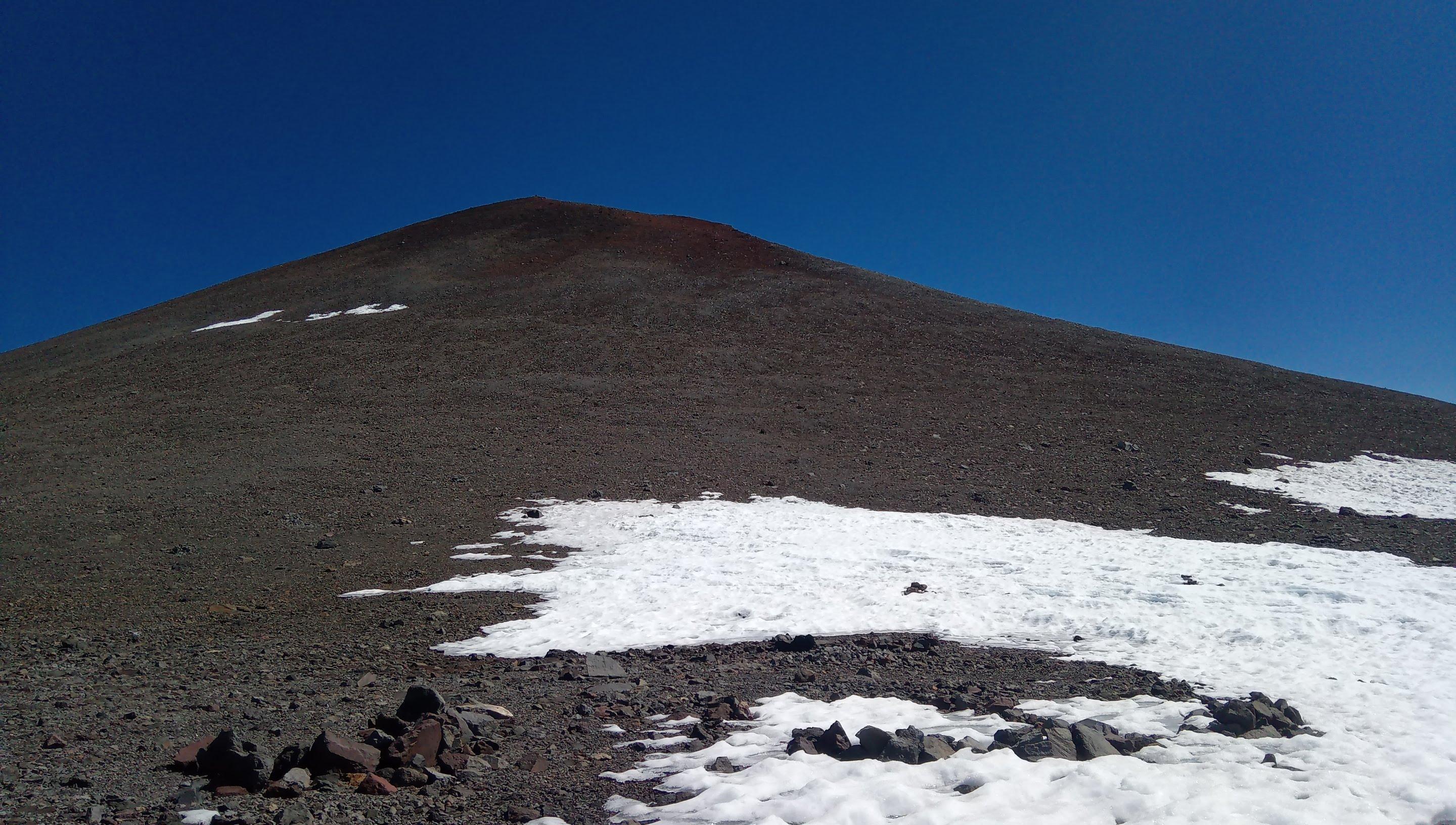 From now on this is pretty much just a hike in a thin air.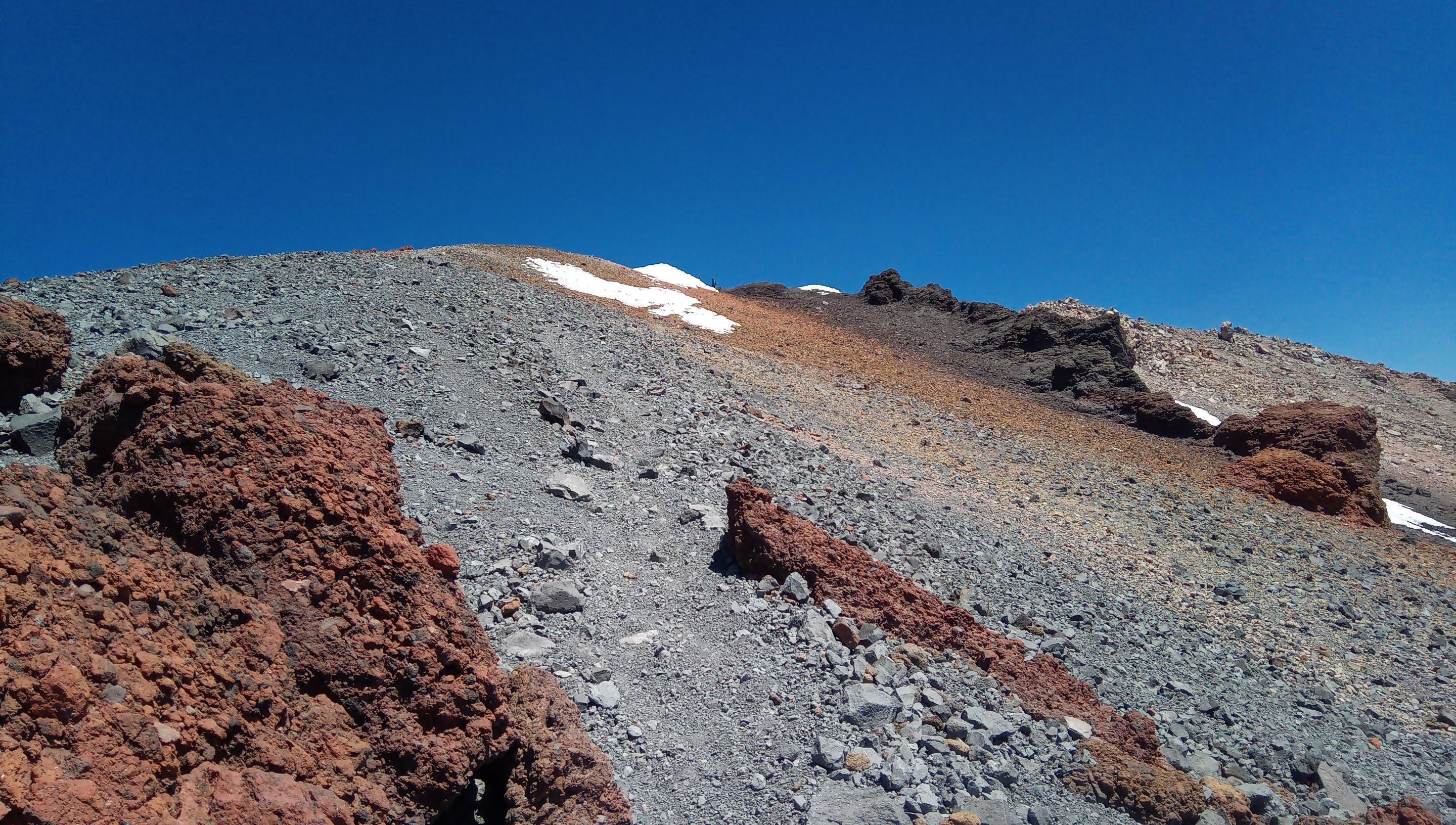 From the Misery Hill you enter a small snow covered plateu. Don't forget to reapply the sunscreen to the bottom of your nose.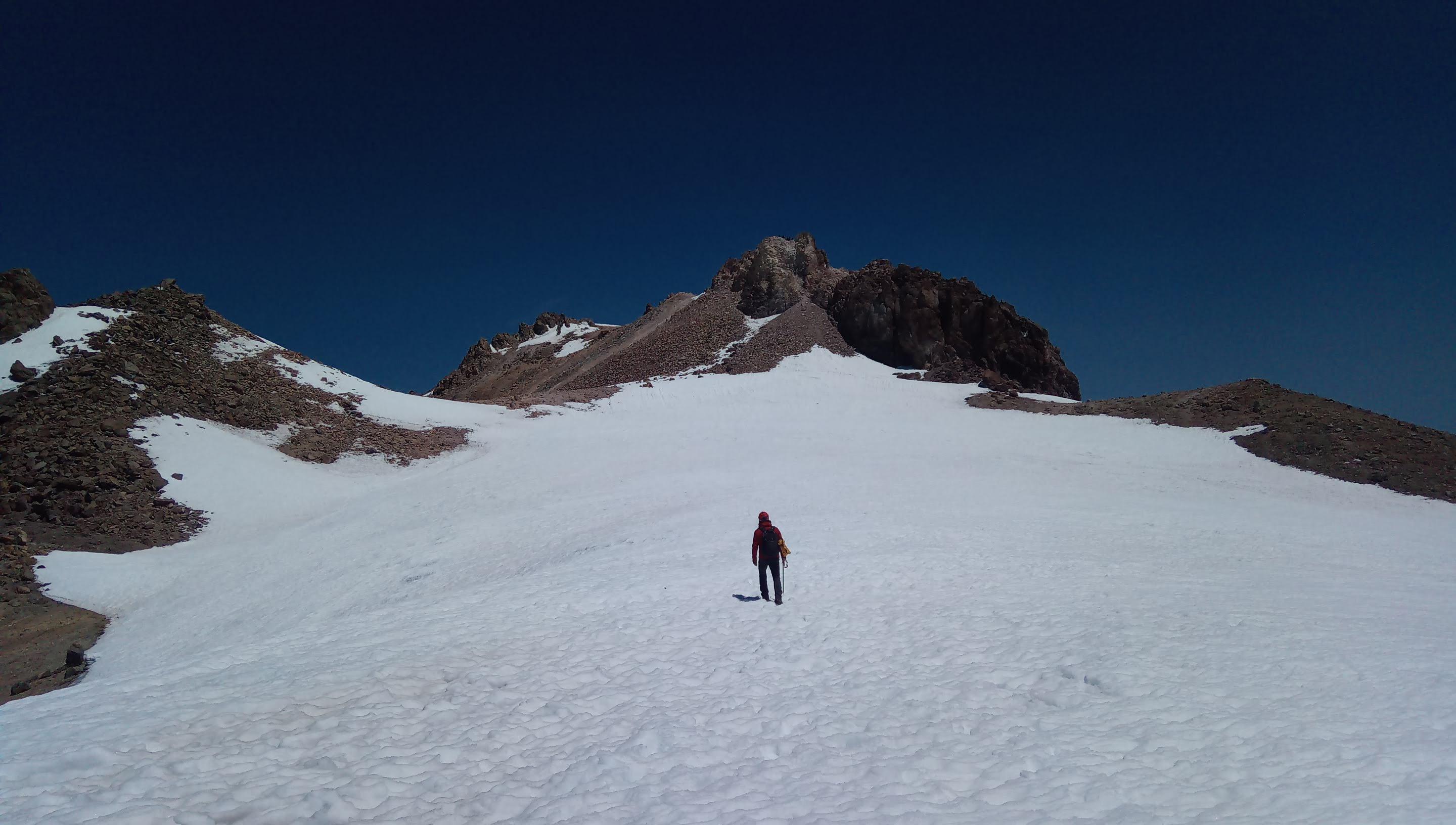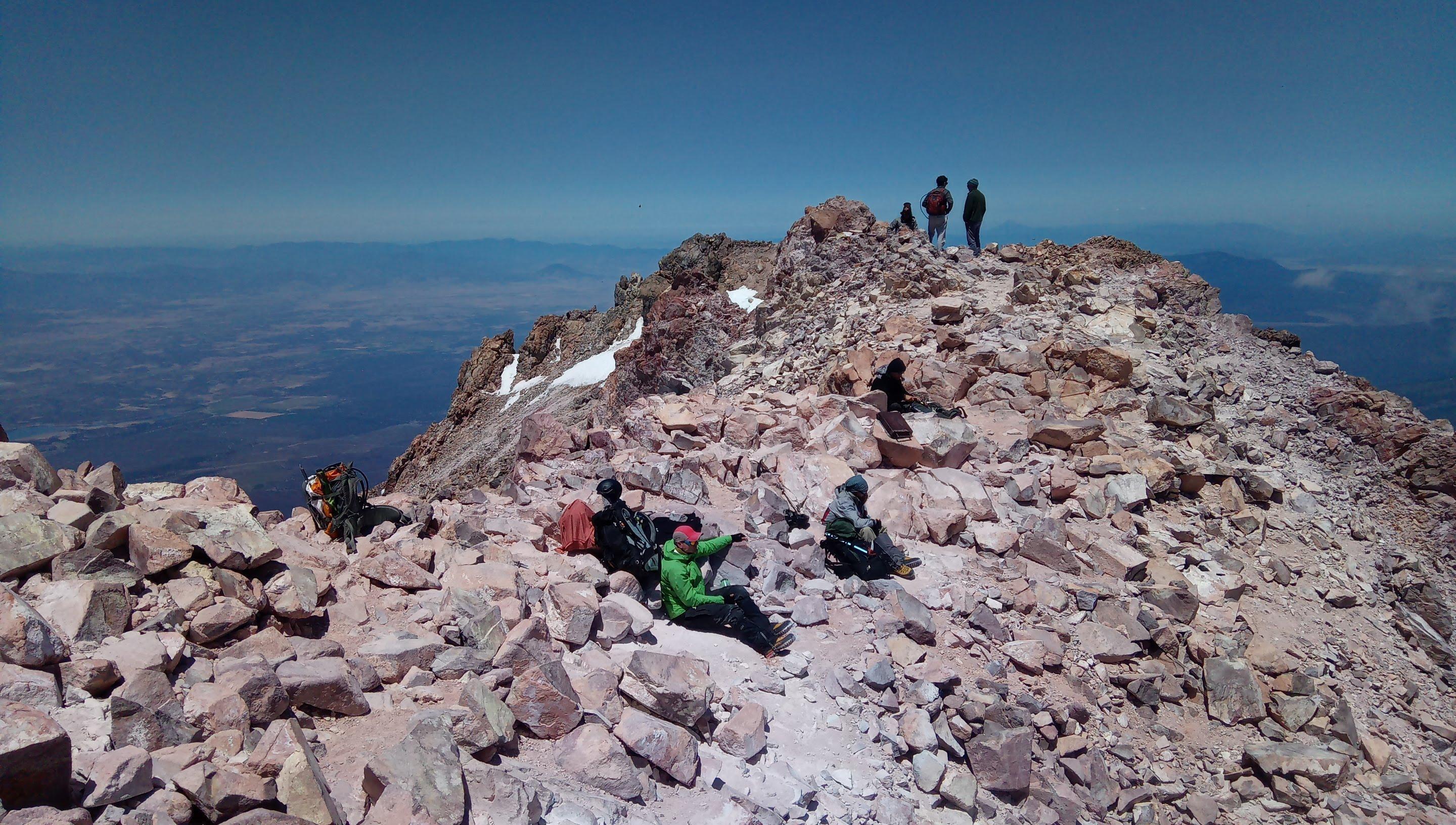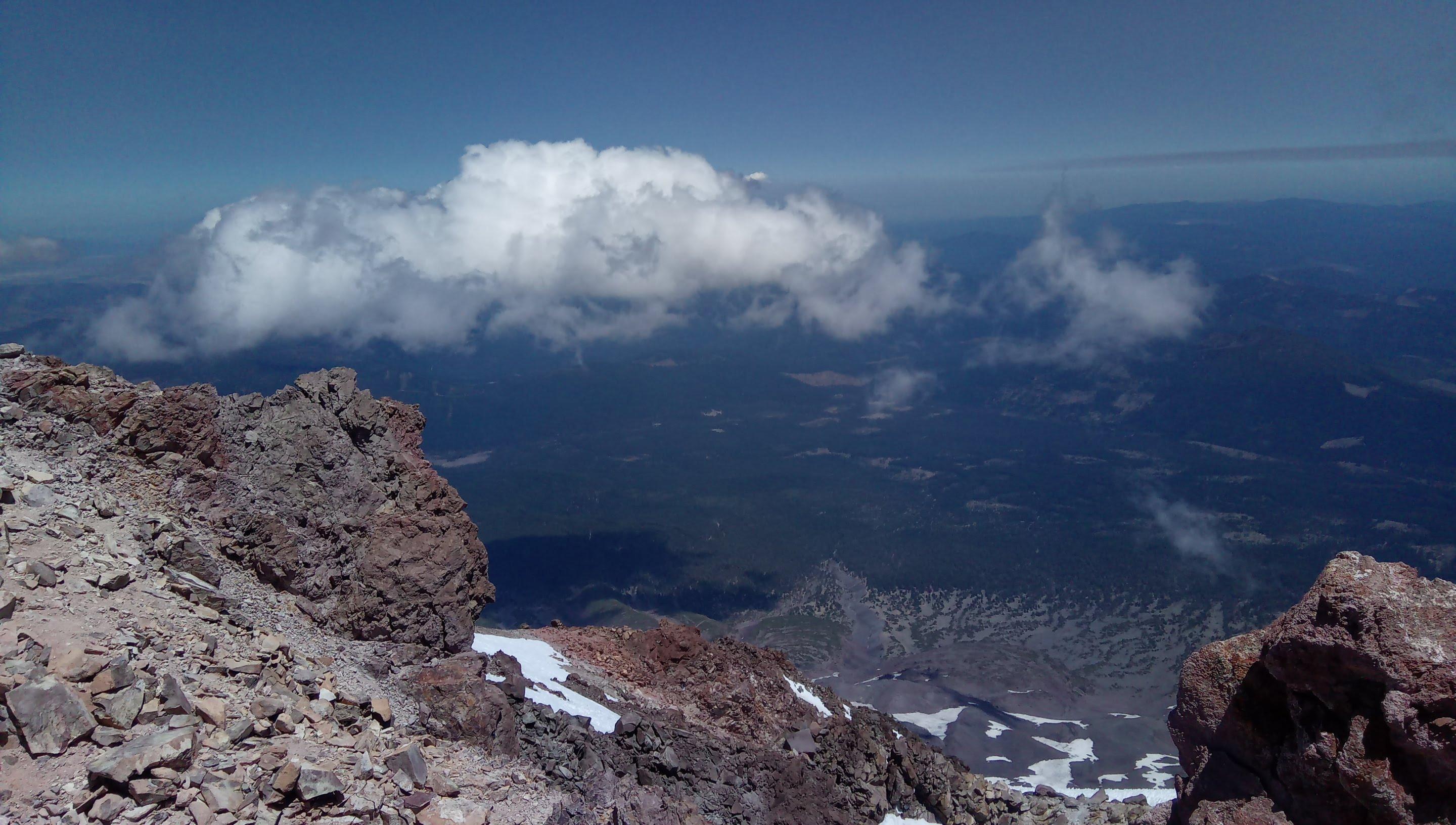 Mount Shasta SOTA activation
Ok, now the SOTA part of this adventure. When I started the hike I didn't know if I'm even going to be able to pull the rig out of my pack or I succumb to altitude sickness and will have to descend immediately. When I got to the top I was in a way better shape than I anticipated so I've deployed the antenna and started calling CQ on 14.062.
Stations worked from Mount Shasta W6/CN-001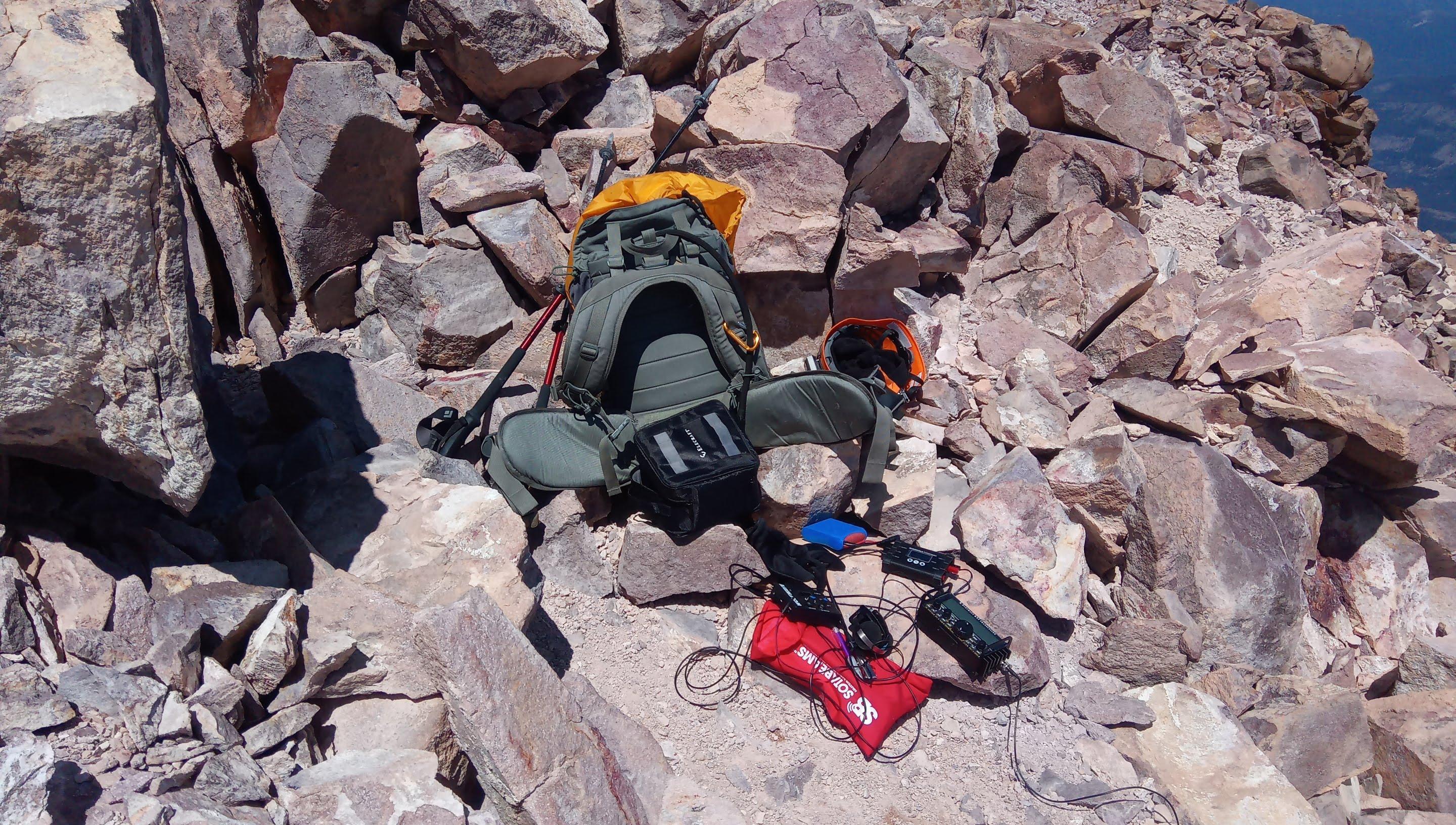 Many thanks to all chasers who were waiting for me on the air! Without you folks it would all be in vain. Was really stoked to hear Kenneth K6HPX who helped to activate Black Mountain W6/NC-150 earlier this year. Also I've made my longest contact so far with Gary N2ESE - from Shasta to Stanhope, NJ! Not bad with 10W given our current solar spot cycle pit!
| Time UTC | Call sign | RST sent | RST received | Frequency | Mode | Location |
| --- | --- | --- | --- | --- | --- | --- |
| 20:50 | K6HPX | 599 | 549 | 14.062 | CW | DM42lf |
| 20:51 | K7SO | 599 | 559 | 14.062 | CW | DM65xx |
| 20:52 | AC7FF | 599 | 579 | 14.062 | CW | DM43ef |
| 20:55 | K6QCB | 599 | 479 | 14.062 | CW | DM14ec |
| 20:56 | WN4AT | 599 | 339 | 14.062 | CW | EM63qi |
| 20:57 | N2ESE | 599 | 339 | 14.062 | CW | FN20pv |
| 21:00 | N9KW | 559 | 499 | 14.062 | CW | EN61av |
| 21:02 | K0WRY | 599 | 559 | 14.062 | CW | EM18CD |
| 21:05 | N9GR | 599 | 559 | 14.062 | CW | EN40hj |
| 21:08 | K0ES | 599 | 599 | 14.062 | CW | DM79MP |
| 21:10 | AB6SO | 599 | 599 | 14.062 | CW | CM87vl |
I'm sorry for a short session but the altitude started to kick in and I decided to get lower ASAP.
The way down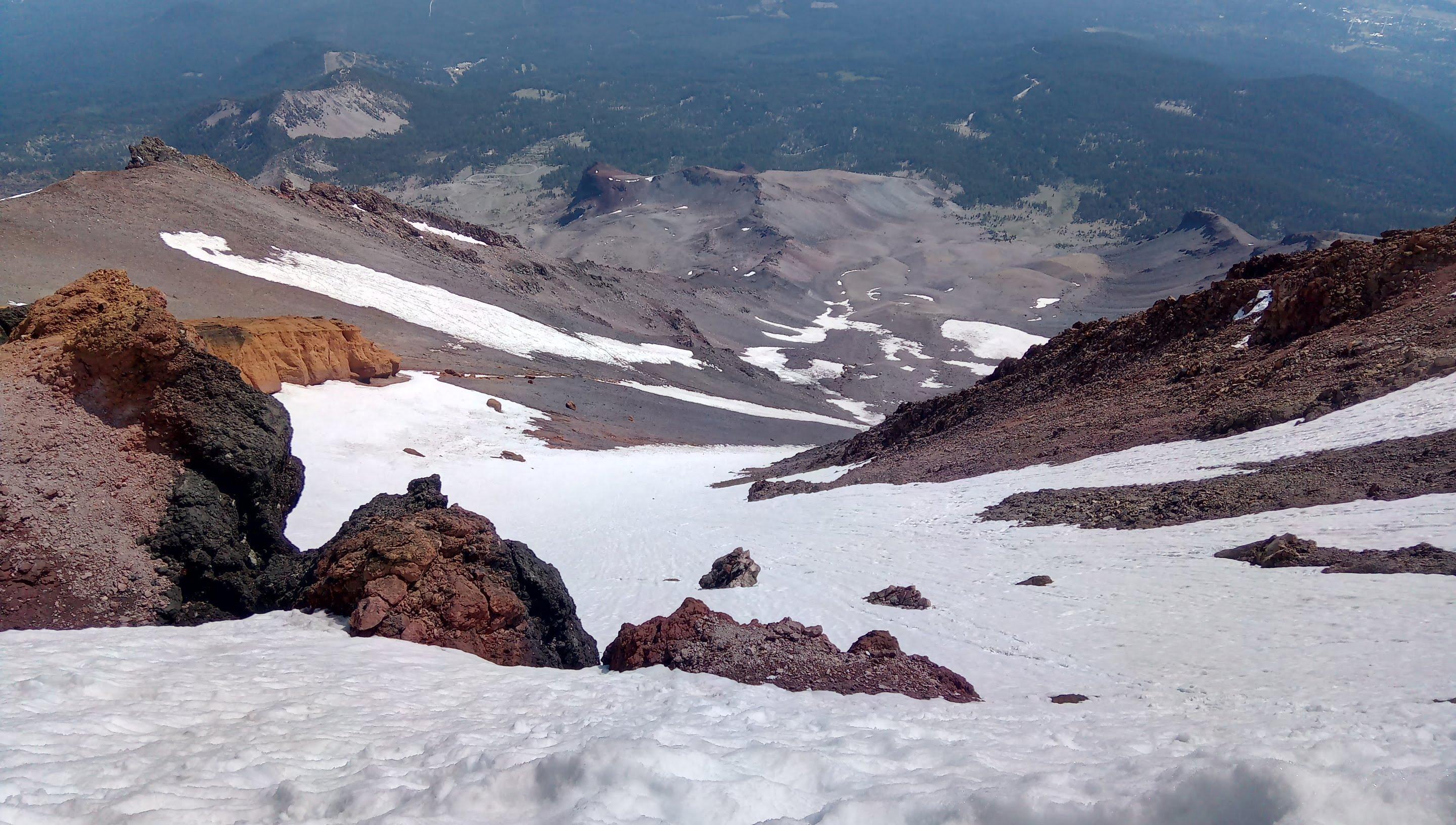 Once again, Red Banks are sketchy. It may not look like much on this photo but this initial drop is almost vertical. Softer snow means it is easier to control your glissade but this initial part is quite scary - you take crampons off for a glissade and can only brake with an ice axe. Be very careful and mind rocks below you!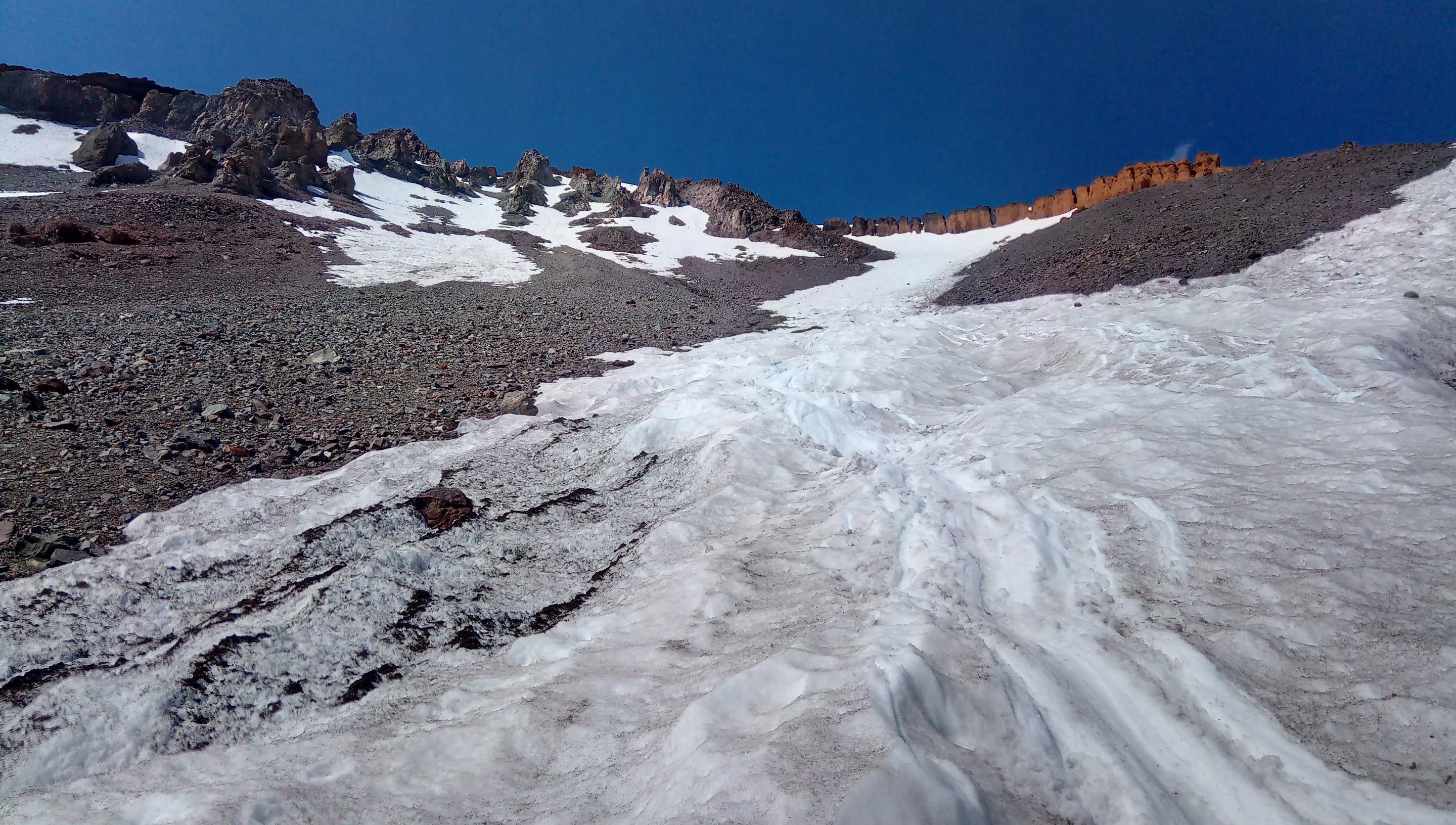 This is the downside of climbing Shasta late in the season - you can't glissade too far. Navigating scree and boulders takes way more time.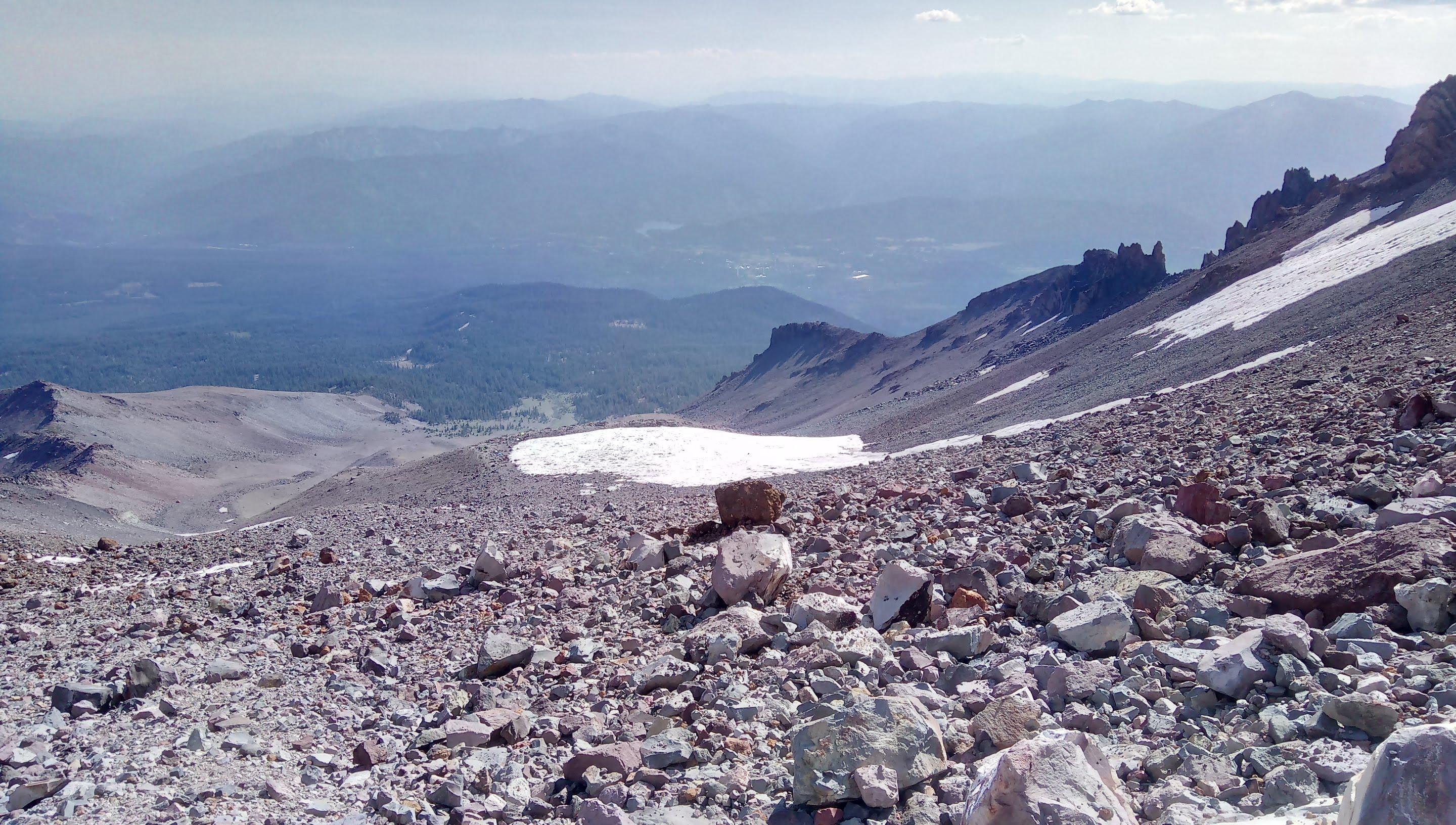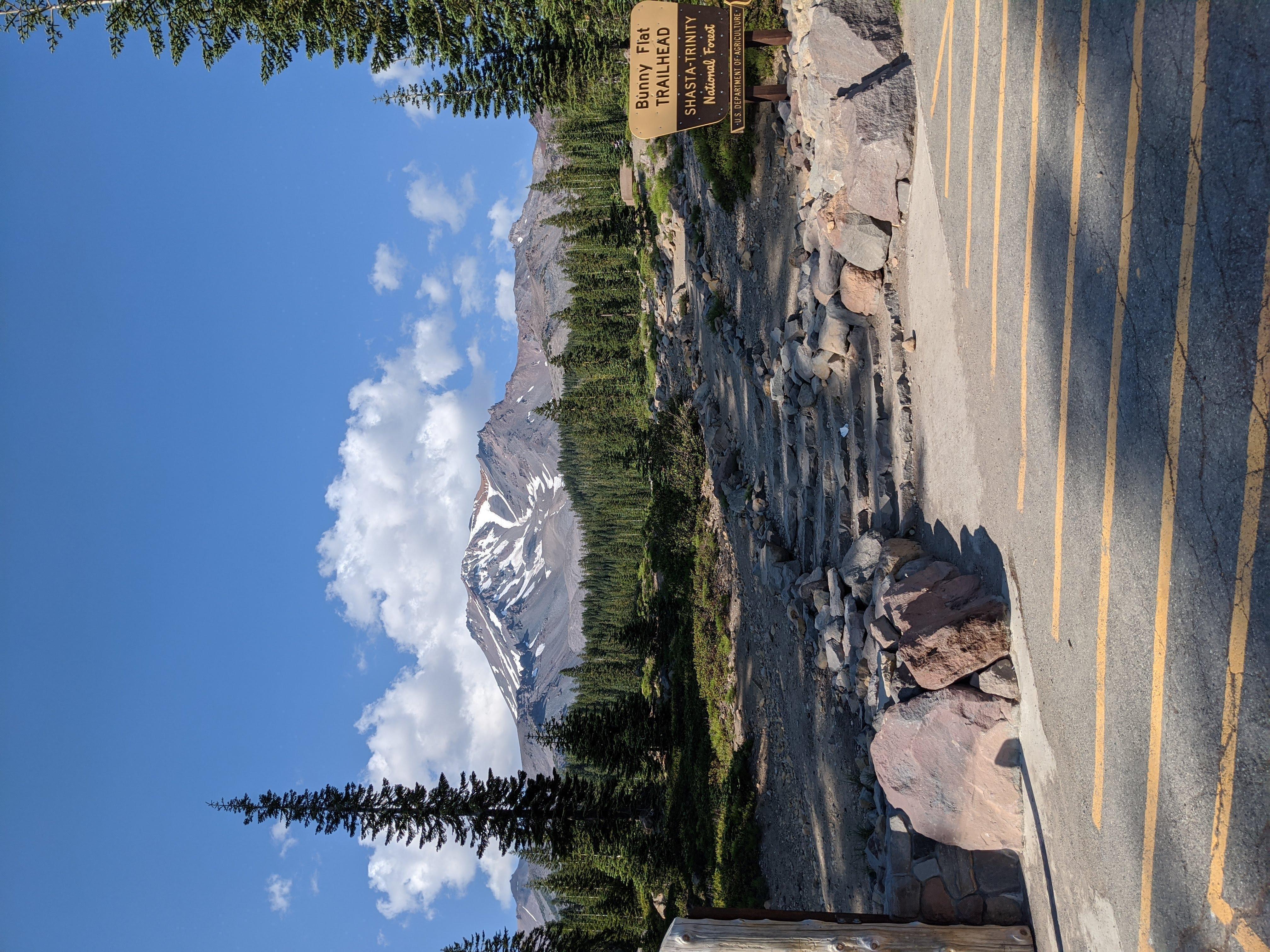 Uhh! Shasta never disappoints. This was as challenging as the first time and I had even more fun. Once again - thanks to all the chasers who made the activation possible. Stay tuned for further SOTA reports. K0SSK out 73 ditdit.