Half Dome SOTA activation 2020-07-25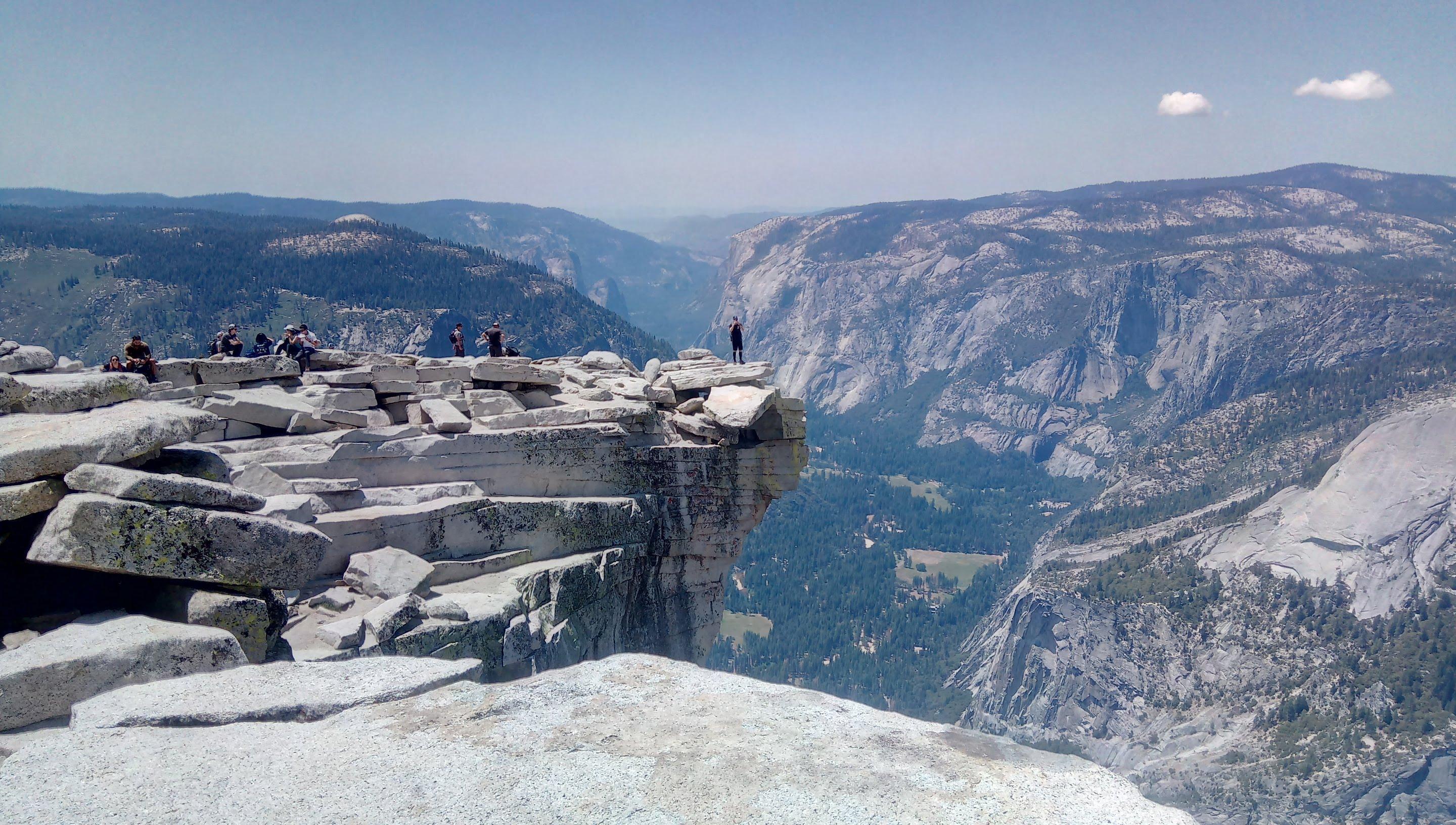 Welcome back friends! Yet another activation report - this time our target is Half Dome in Yosemite national park or as SOTA people know it W6/SN-040.
This trip almost didn't happen. I had completely different plans for the last weekend of July 2020 but for good or for bad these plans became obsolete mid week. The best Plan B I could come up with was to curl up under a blanket and marathon the extended cut of Lord of the Rings. But. I needed a new Plan A.
I've applied for a Half Dome permit and won! Need to say I was applying for a permit every week I wasn't holding a pager since mid May with no success. I've planned my vacation for the first week of August and likely going to be busy afterwards so it was my last attempt this season.
There are following options for those who want to get into Yosemite at the moment (August 2020).
Win Day-use permit. Valid for 7 consecutive days for unlimited re-entries.
Reserve a place to stay in Yosemite Valley Lodge, Curry Village, or The Ahwahnee.
Have private lodging or vacation rental reservation in Wawona, Yosemite West, or Foresta.
Get Yosemite wilderness permit - these are processed by lottery 14 days in advance of the start date of your hike. You may submit your reservation application online one day prior (15 days) to the lottery date. The deadline for all lottery entries is at 7:30 am Pacific time, 14 days in advance. Read more info here.
Win Yosemite Half Dome permit - applying two days prior to the planned trip date.
For me the only working option was the last one. When I hiked Half Dome for the first time a couple of years ago I just got there and waited for a group who had extra permits. I didn't believe this is a viable option this year - busy season, lot of people have a lot of free time to get to Yosemite. Would be too much competition plus I'm there for a SOTA activation and as you'll learn getting to the top as soon as possible is critical.
So, yeah, I've got the permit. Sorry Gandalf I'm off for an adventure!
Hike details
Here is the hike map and description. Note as of July 2020 Mist trail is a one way trail only between 9:00 and 16:00 - descending the steps from the top of Vernal fall is prohibited to allow for social distancing. You have to take the John Muir trail instead. I've taken a photo of the one way trail map for you.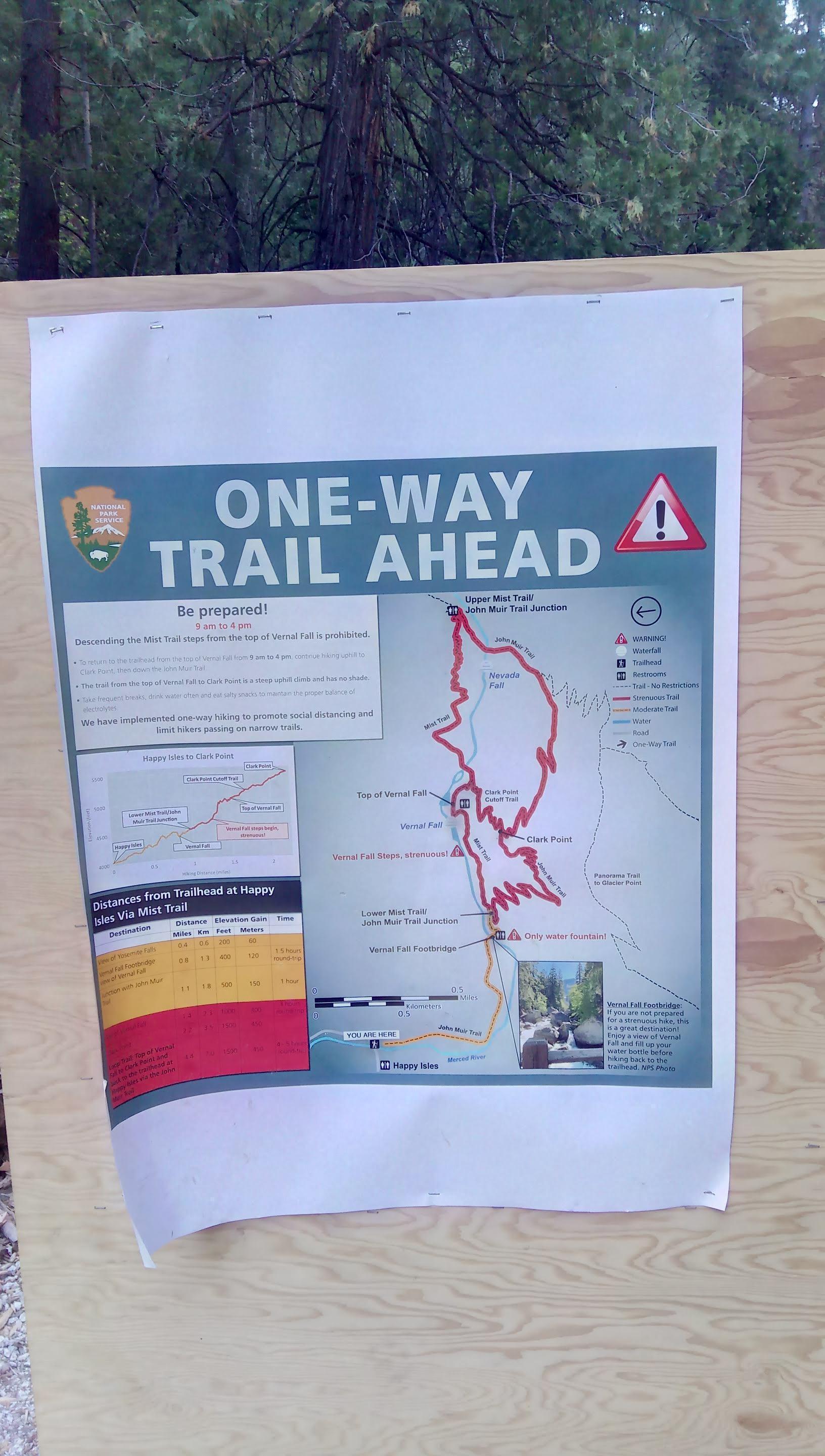 Return via JMT adds another mile or two so you should be ready to hike about 17 miles / 27 km with an elevation change of 5200 ft / 1580 meters. By no means an easy hike but well worth it.
Gear
Pretty much standard California day hike gear with few peculiarities.
Hat
Sunscreen and chapstick with UV protection
Hiking shirt and pants / shorts
Warm layer
Shell / rain gear
First aid kit
At least 2 quarts / 2 liters of water. Better 3. There are some water sources on the trail but I believe looking for a decent source and filtering is a huge waste of time on a day hike especially a long one.
Food - depends. I opted for snacks / protein bars to save time on cooking a lunch so I can get down and have a fancy dinner before restaurants close.
Now important: gloves. You do need gloves to climb the cables. Preferably with leather palms for better traction.
Climbing harness + lanyards + carabiners to clip into cables. Ideally via ferrata type but even two strips of climbing webbing would be better then nothing. Lot of folks climb cables with no harness but I'm yet to meet someone who'd regretted bringing one.
Flashlight - you may be delayed and have to descend when it's dark.
Helmet - meh I dunno. Ideally yes. Practically - there is no rockfall so I didn't bring mine. If you climb with kids they do need a helmet.
Logistics
Half Dome trail is a long hike taking most people around 10 to 12 hours to finish. This is why you want to start as early as feasible so you don't have to be descending when it's dark already. Some people staying in Yosemite start as early as 5:30. To those on a tighter budget I can recommend staying in Yosemite bug - you have an option of a hostel or a private room to stay in, there is a restaurant on the property open until 22:00 and it's just an hour drive from Half Dome trail parking. If you get to the parking early it's easier to find a free spot.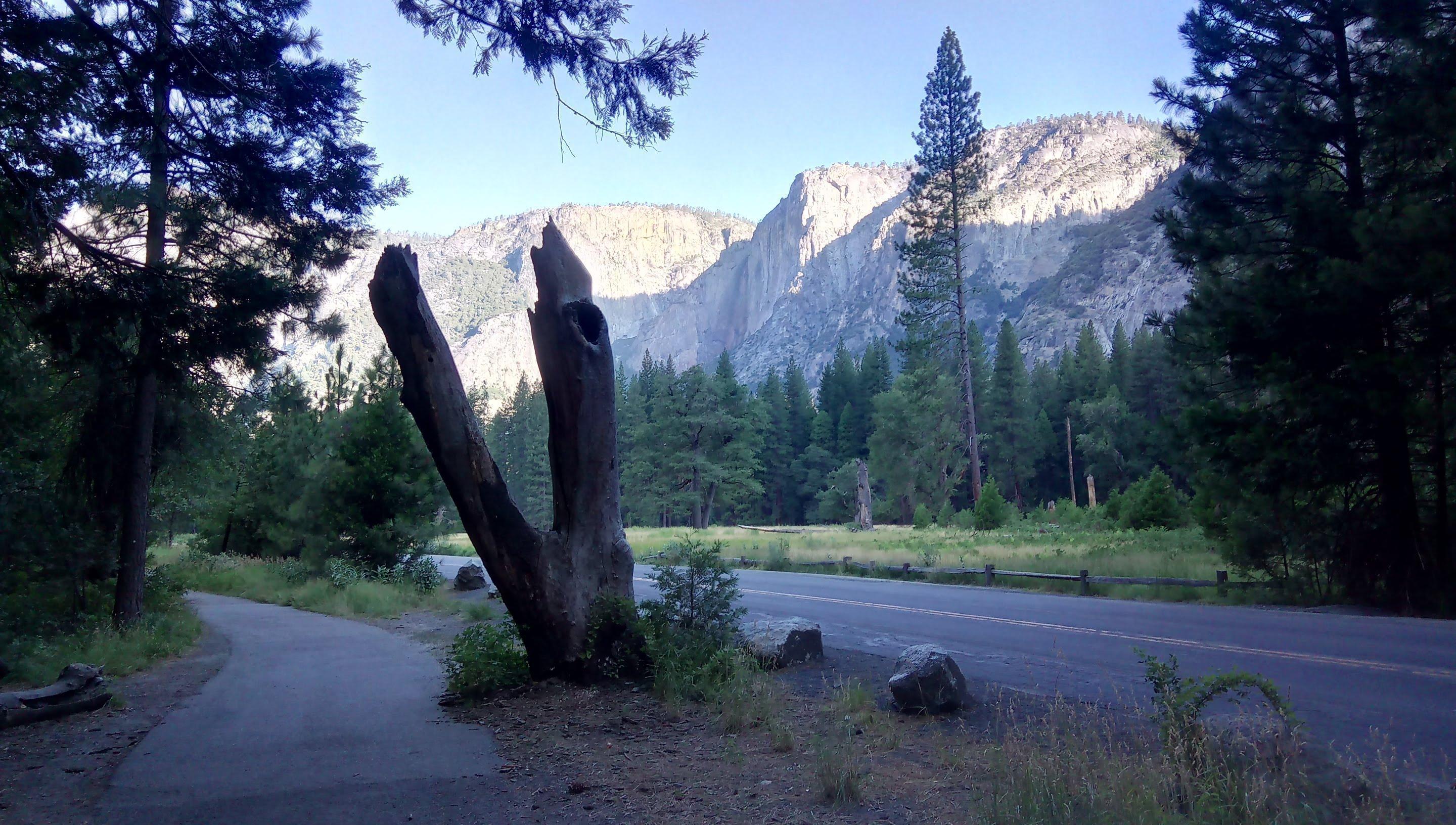 Let's start walking
The trail between Happy Isles and the top of Vernal fall is the busiest by far - most visitors especially with kids don't venture further. The trail is very well marked and there are plenty of people so chances to get lost are slim. This does not mean you don't need a map with you.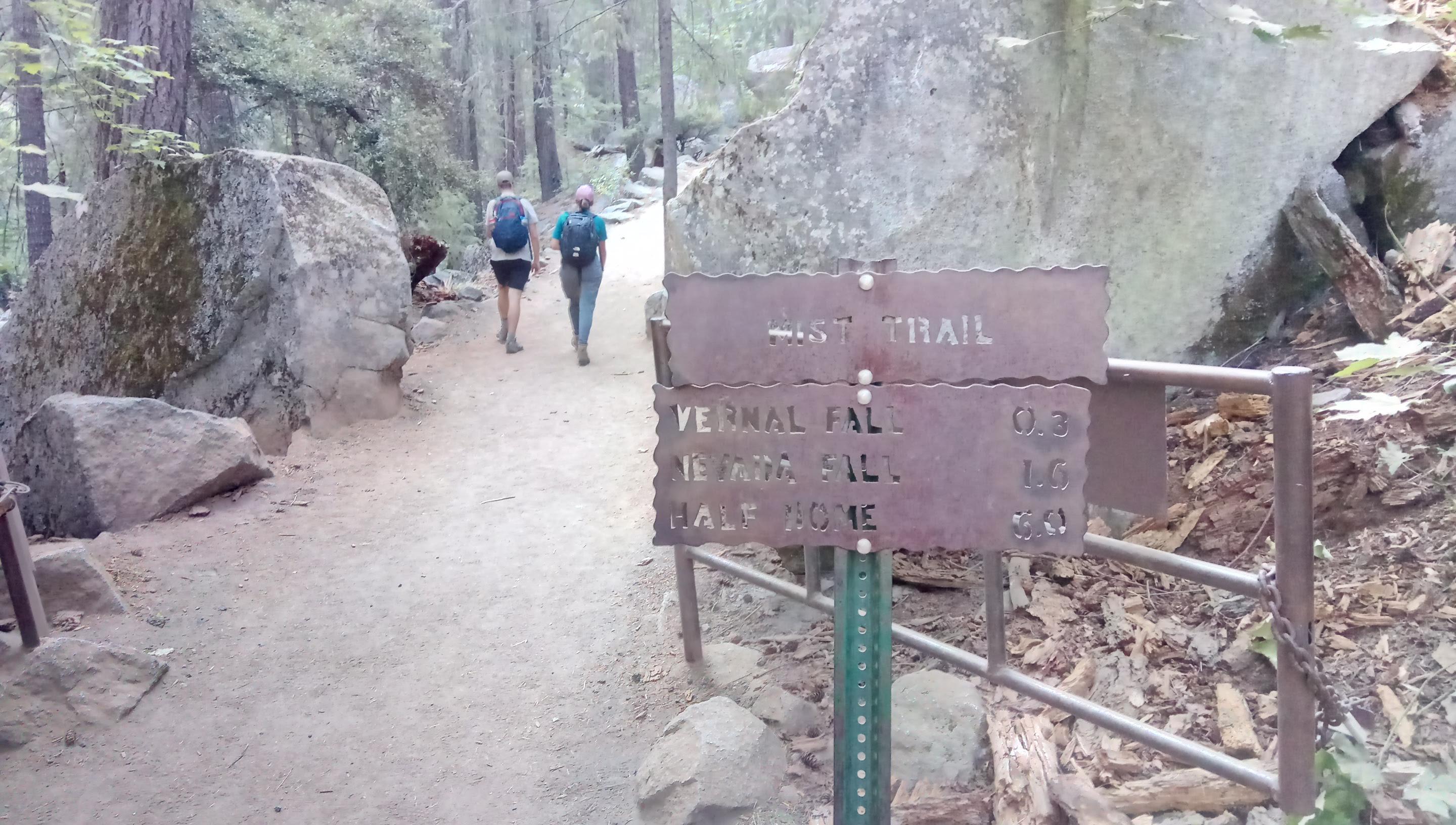 How misty Mist trail is depends on the season - last time I hiked it early June and I was soaked! Steps may be wet and slippery - careful here! This time - end of July - Vernal fall was not as strong so Mist trail was a tad moist that's it.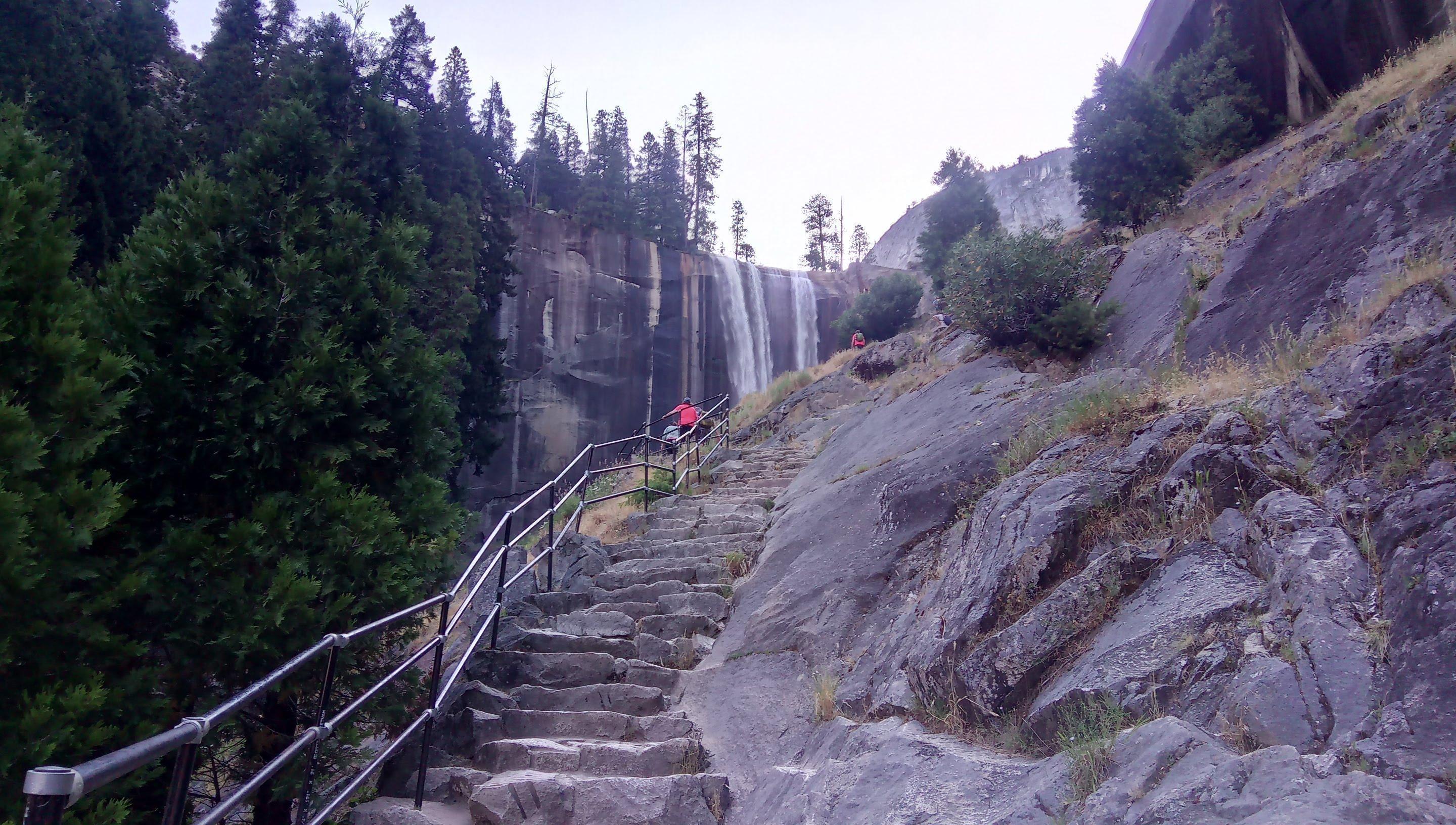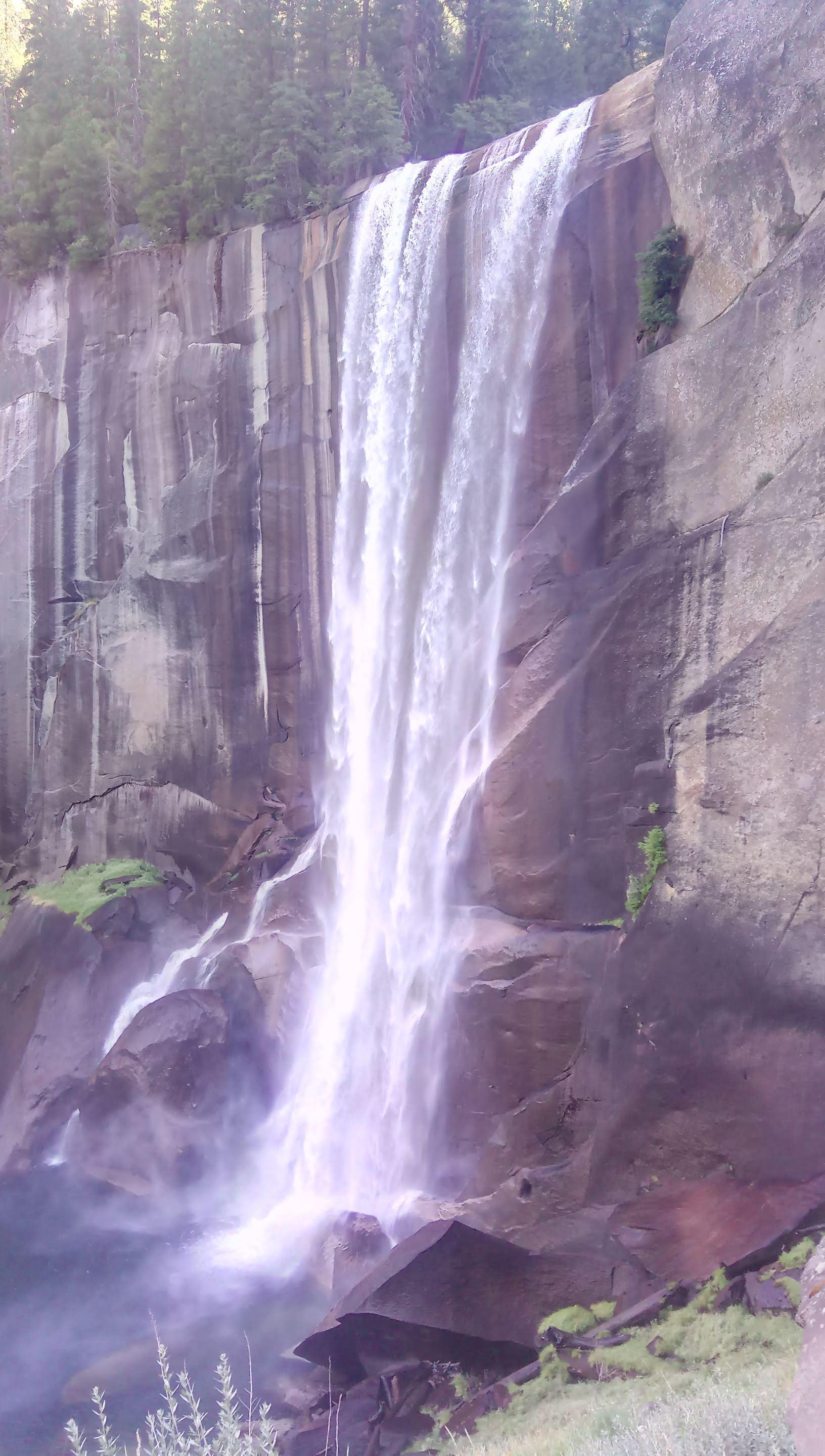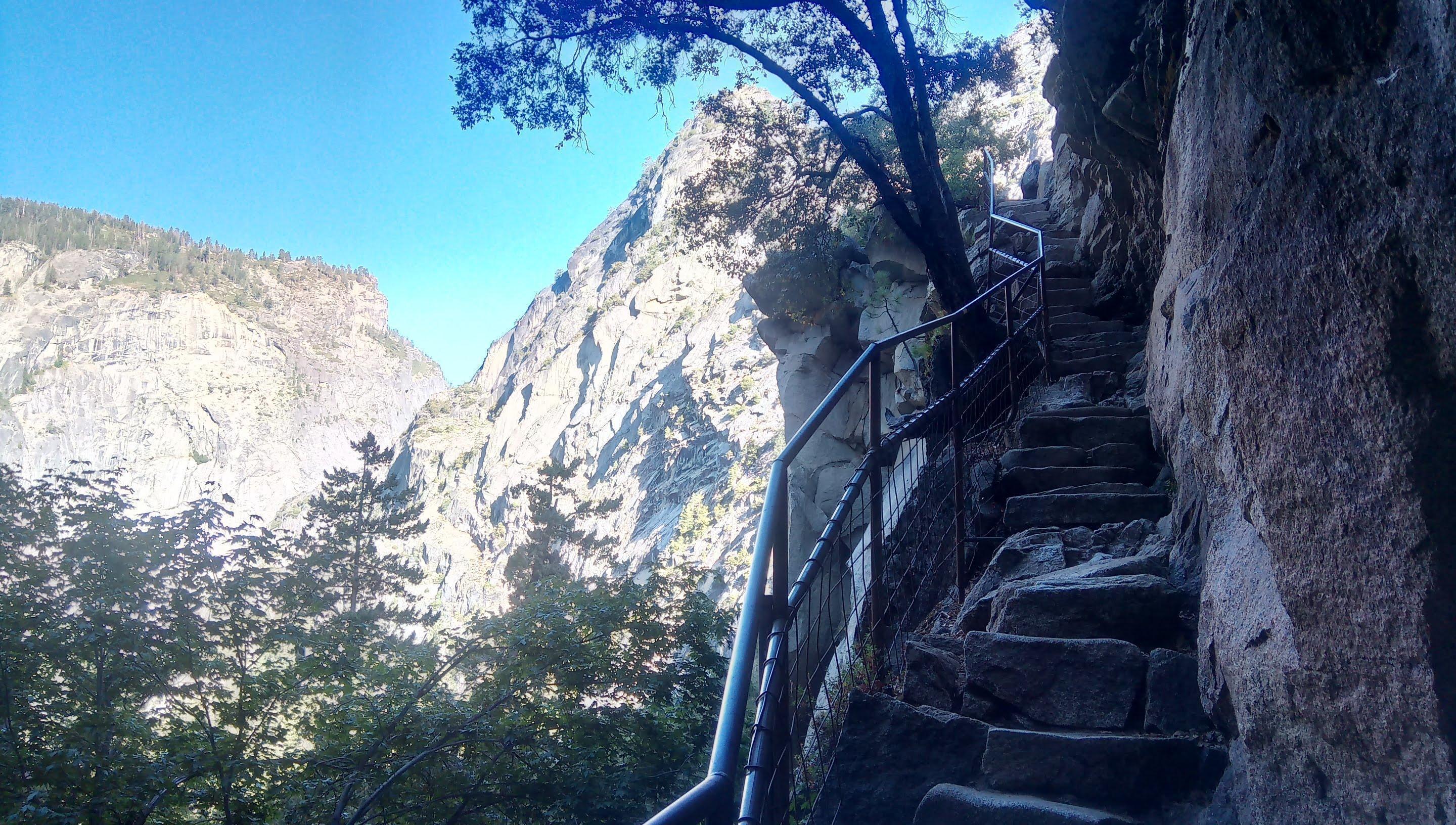 Final flight of stairs was a major congestion point before Mist trail became a one way trail. Expect some down bound traffic before 9:00 though.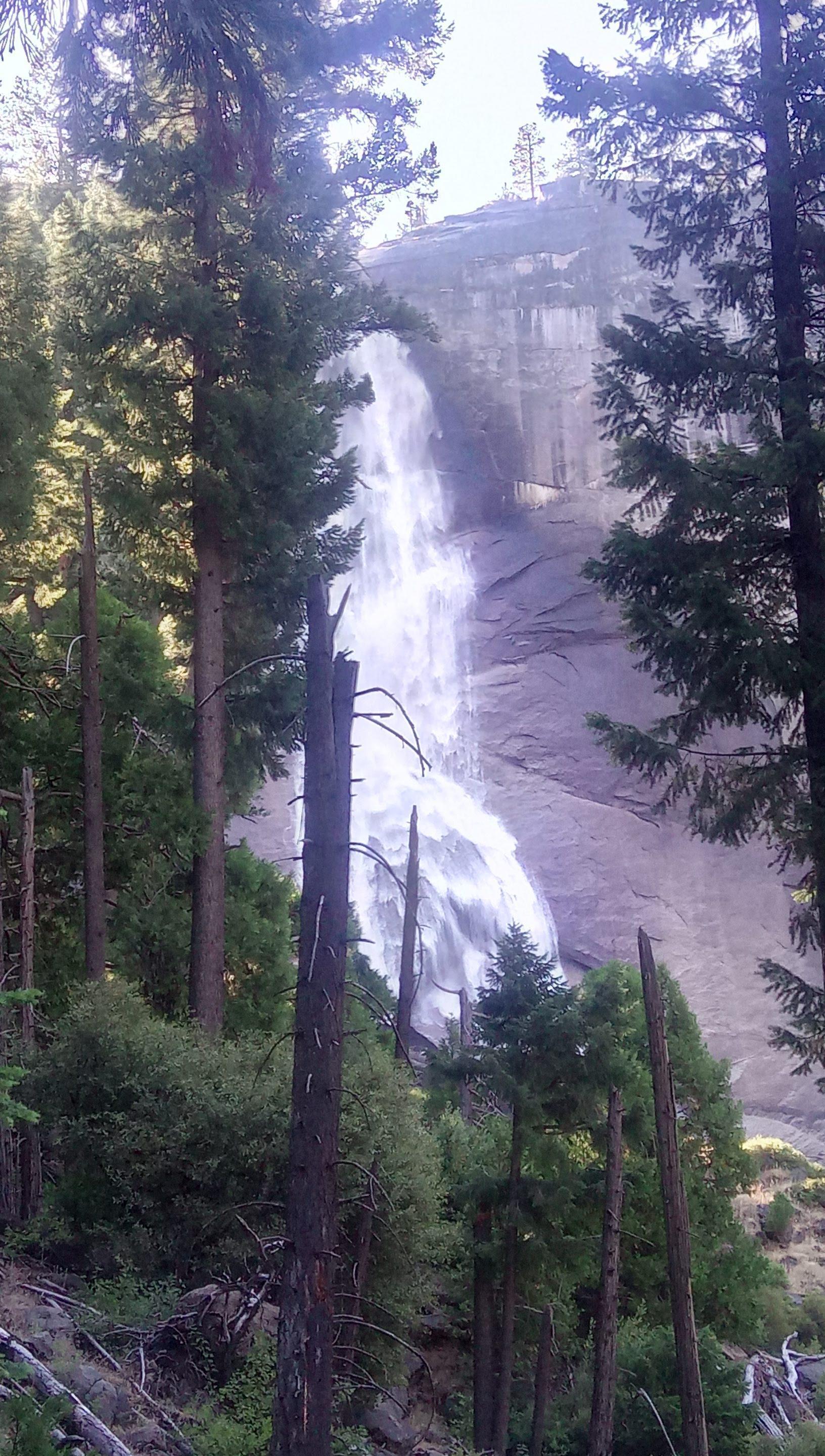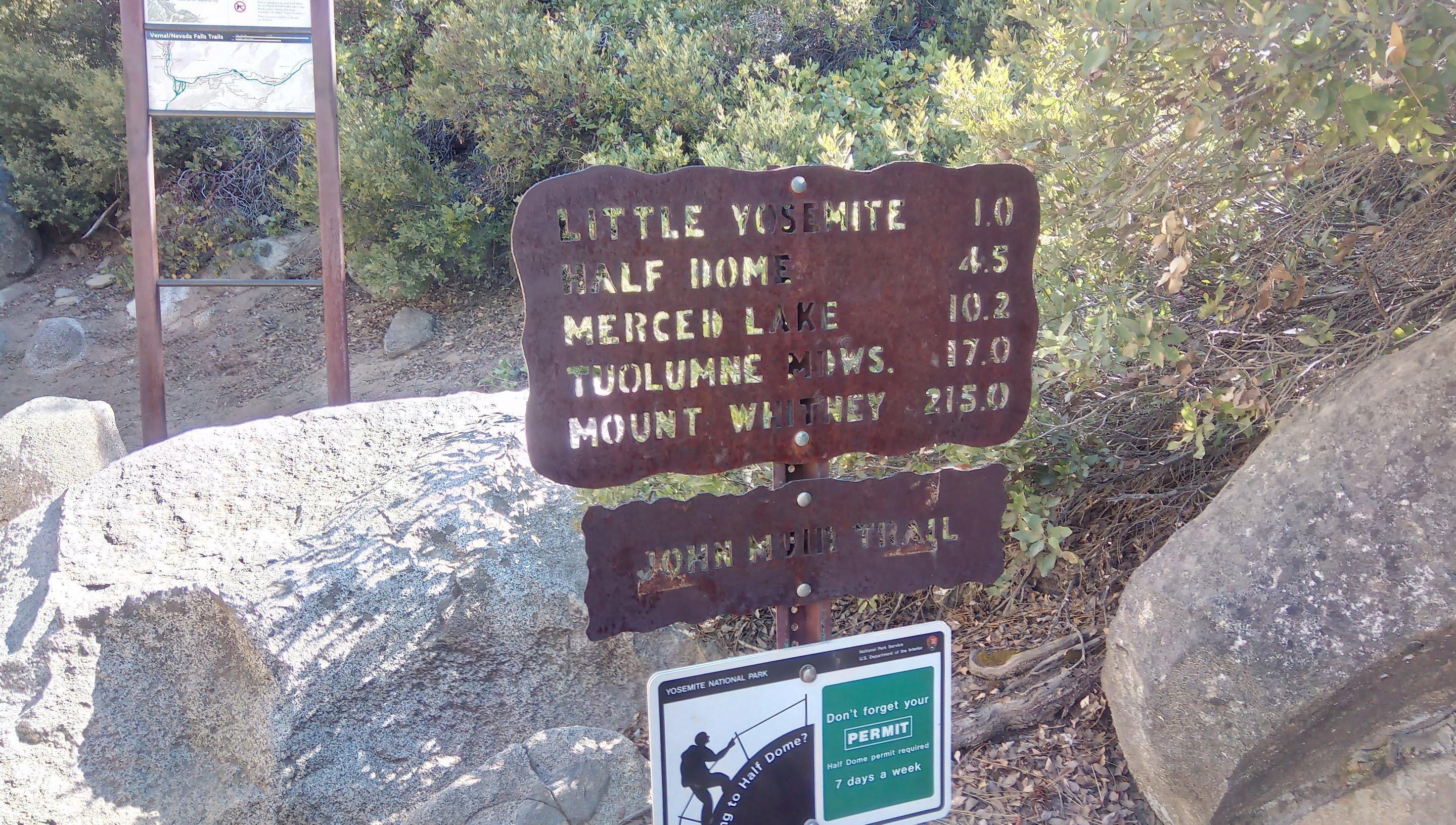 From the top of Nevada fall the trail is level and sandy for a couple of miles until you start to climb the "underdome".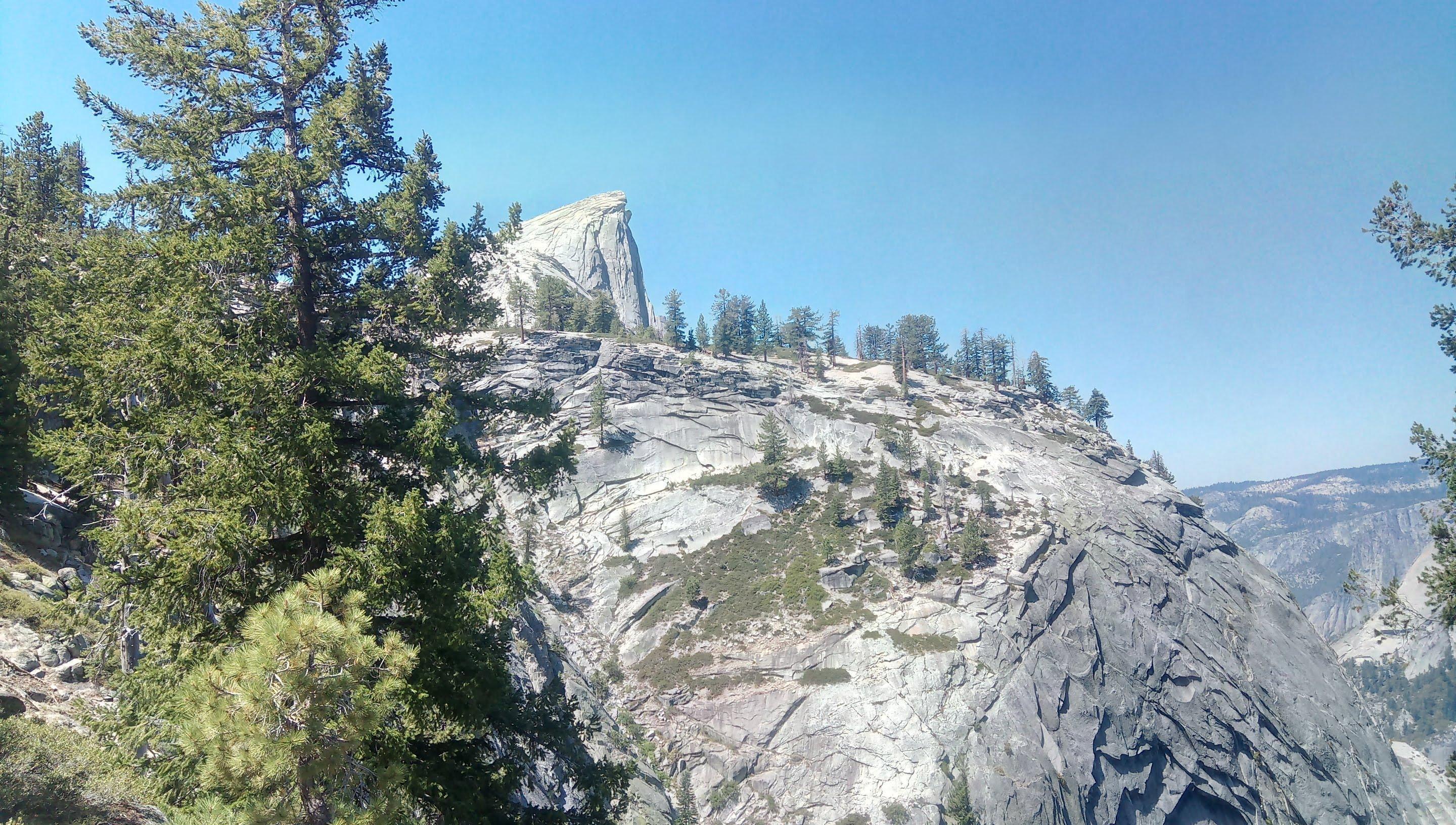 Note the sky is almost clear. Bottom of the dome steps is where a ranger checks permits and where most permitless people hang trying to solicit a permit. This is also the last shade so if you need a break this is the place.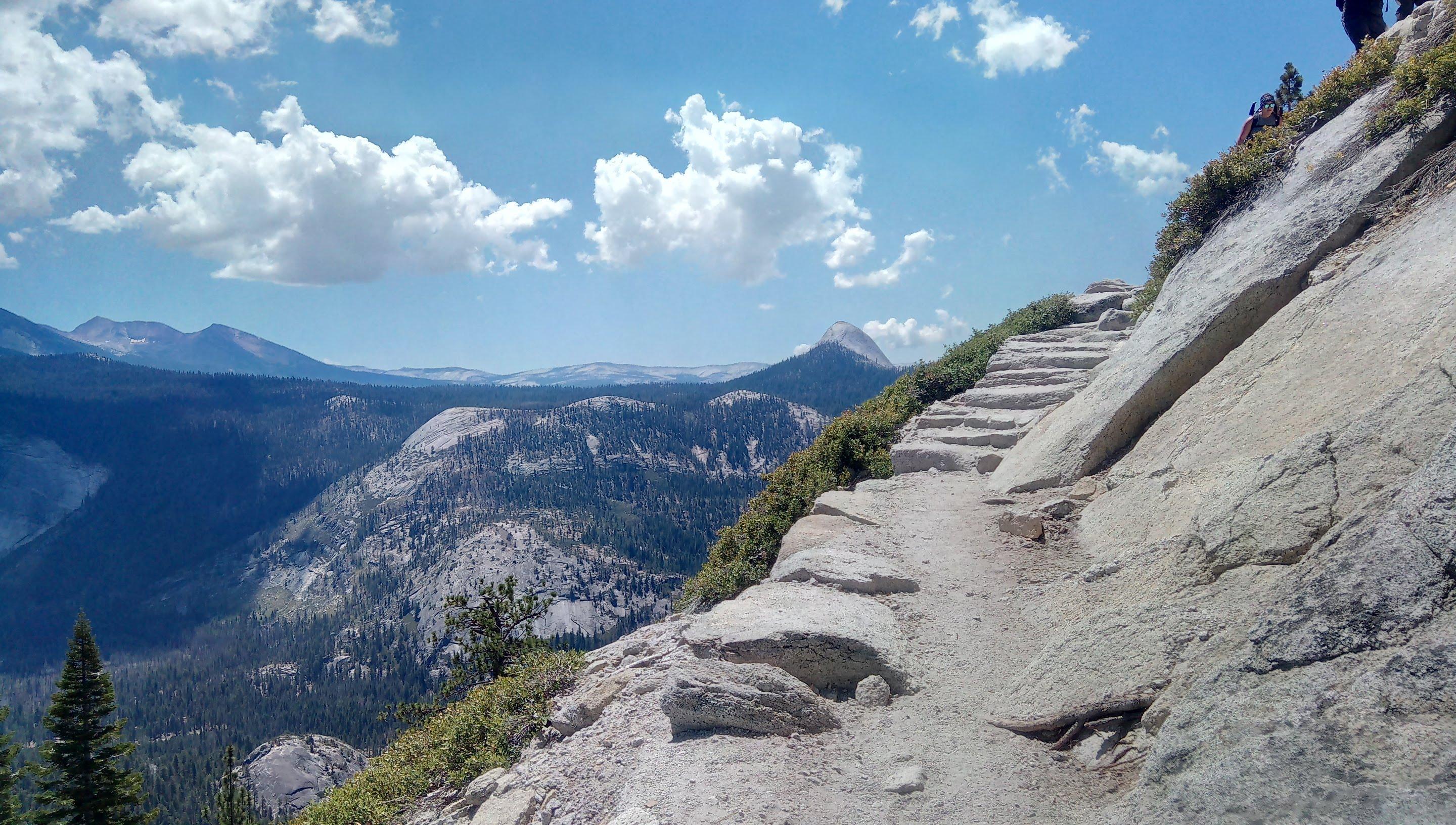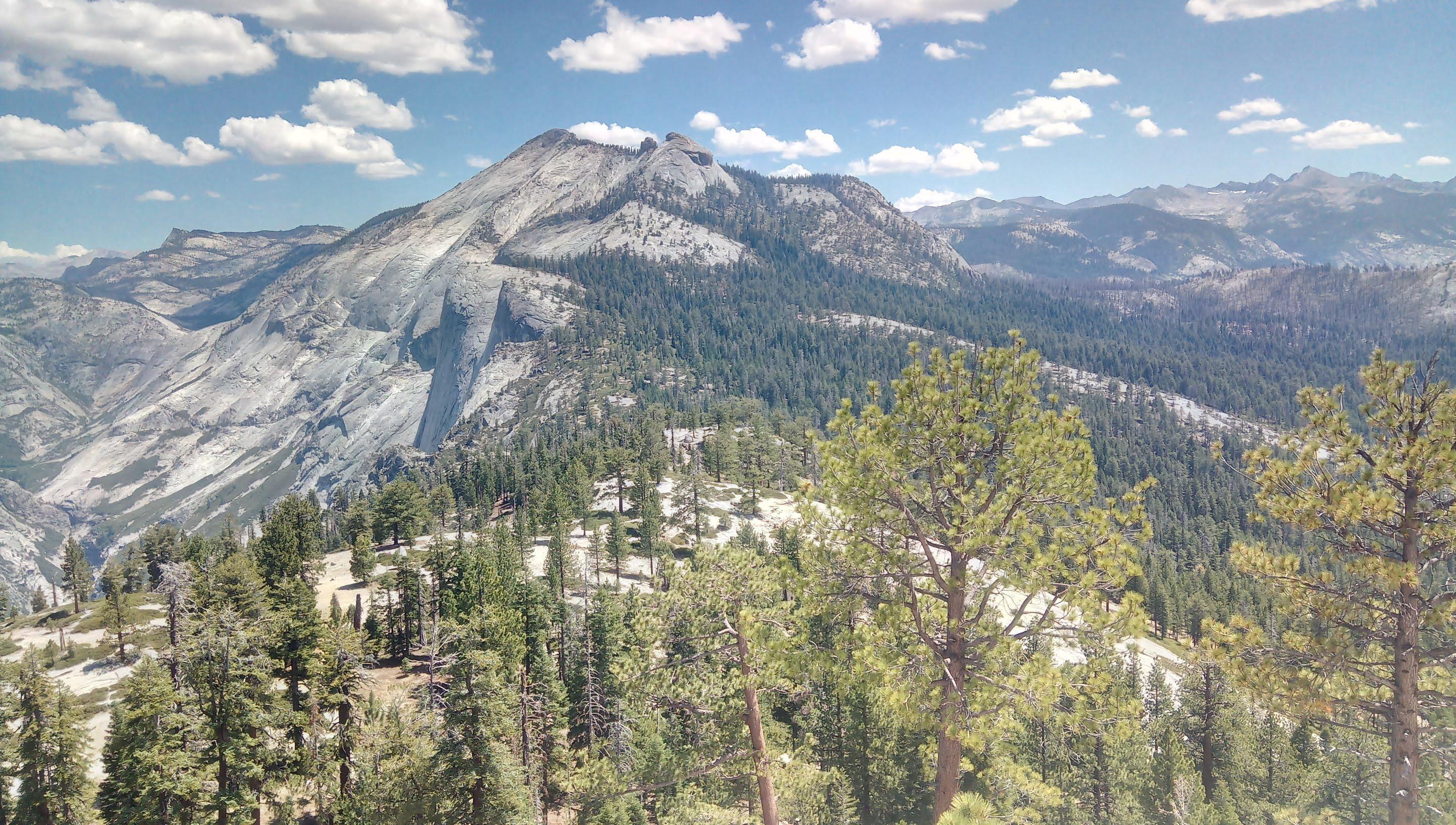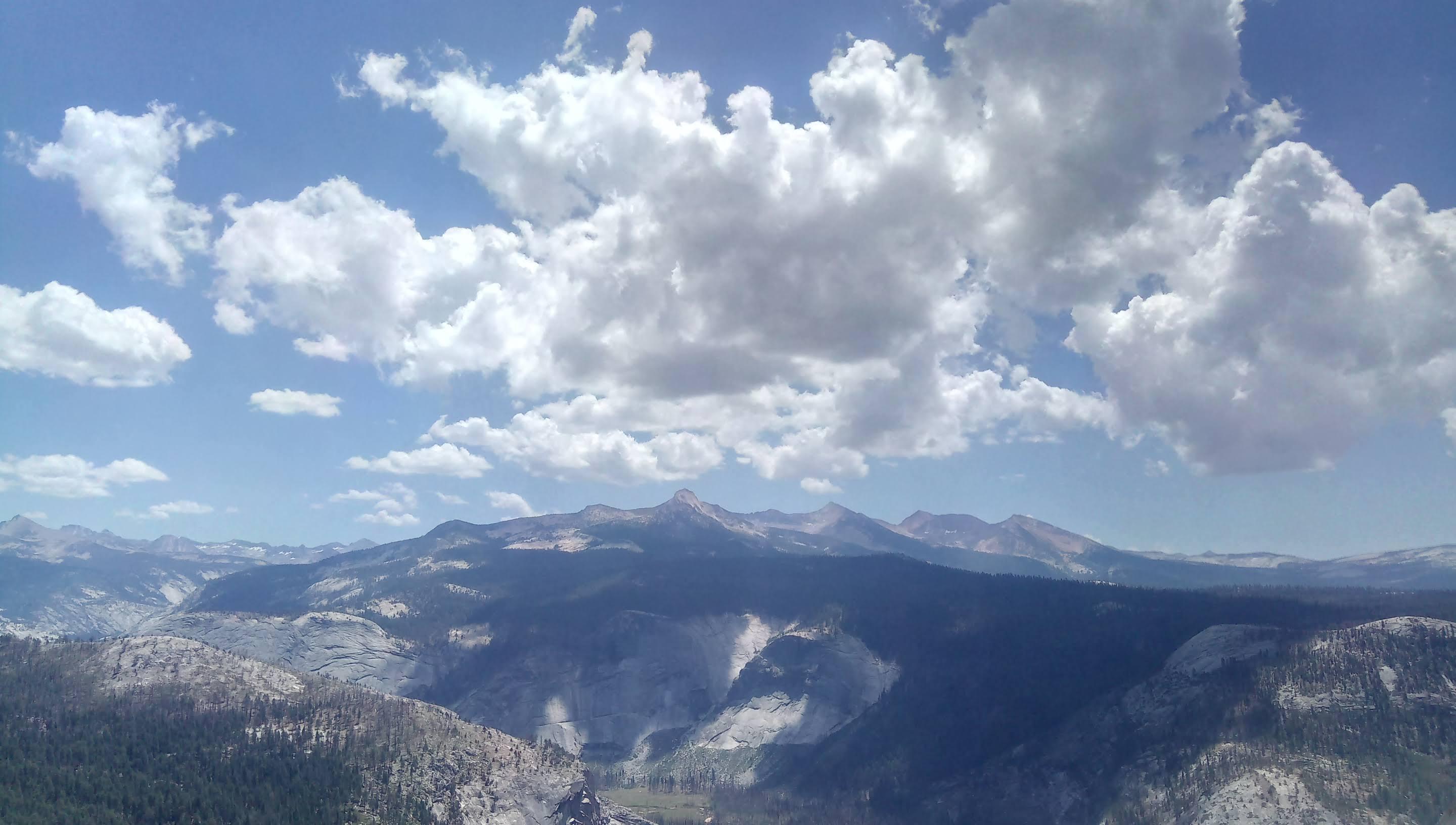 Top of the stairs is where you see the close up view of the dome and cables.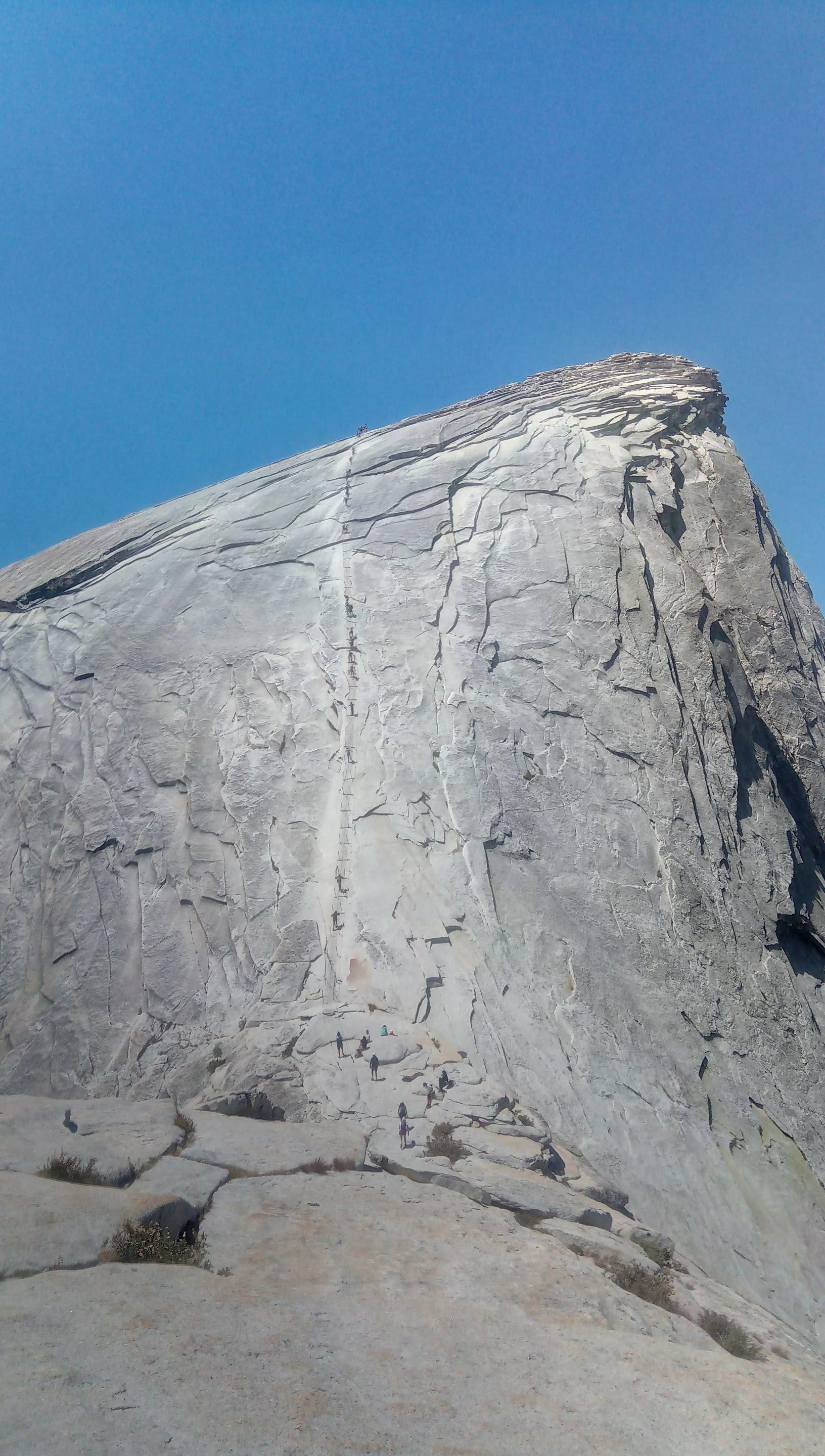 This is also the point where you decide if climbing cables is a good idea. There is nothing bad in turning back here if you feel like it's more than you can safely handle.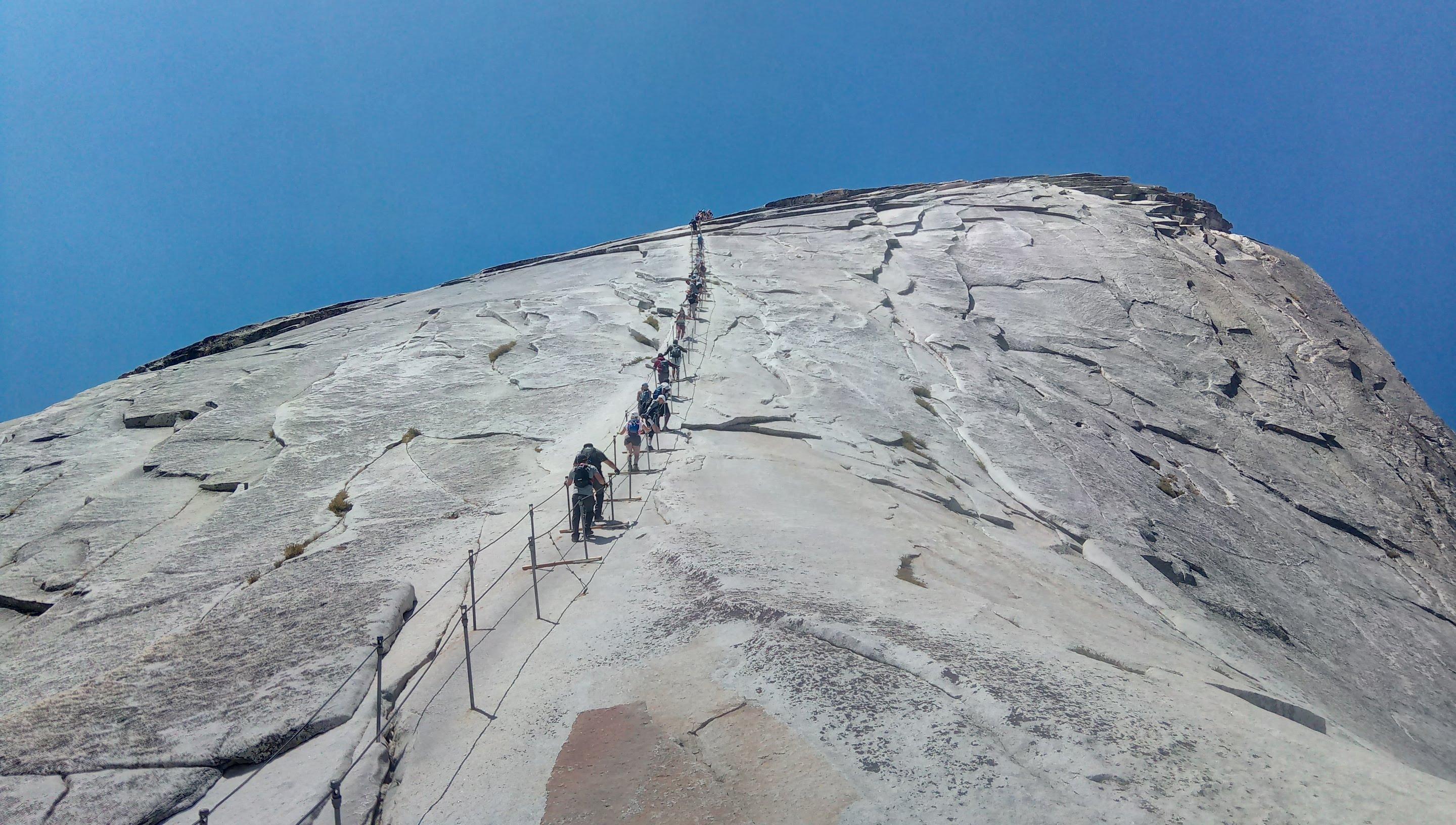 I was pushing myself too hard and about 4/5 up the cables I suffered a minor heat stroke - ears started ringing, I felt week, pupils dilated and everything around became super bright. I clipped in with my harness and sat on a plank for a few minutes able only to breathe with my eyes closed. Applying a wet microfiber towel to the neck where large blood vessels are revived me quite fast though. Bringing a towel and a harness was well worth it. I was able to continue climbing and summited if a few minutes.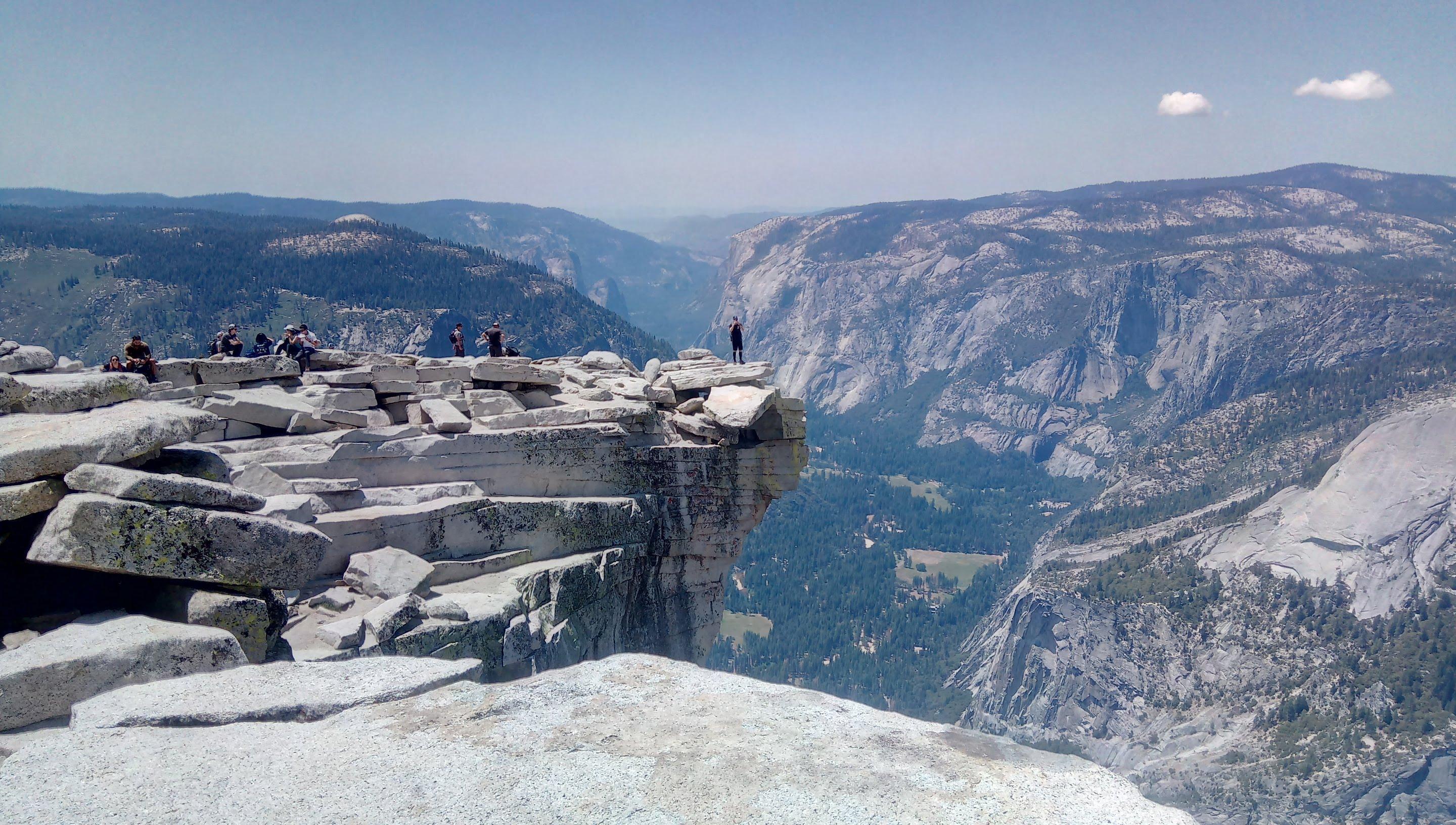 Half Dome SOTA activation
Because of the clouds rolling in the session was cut short unfortunately but I did activate the summit and let few chasers to bag it as well.
There is plenty of space on top to deploy an antenna and a lot of rocks to tie it to.
Keep track of your stuff - lil critters will gladly munch on wires or get into your unattended backpack! I had to literally fight a chipmunk with a hiking pole to get it off my pack. Resist the temptation to touch wildlife - plague is endemic in Yosemite. Squirrels, chipmunks and gophers may carry it. If a critter can't or won't run from you chances are there is something wrong with it.
Stations worked from Half Dome W6/SN-040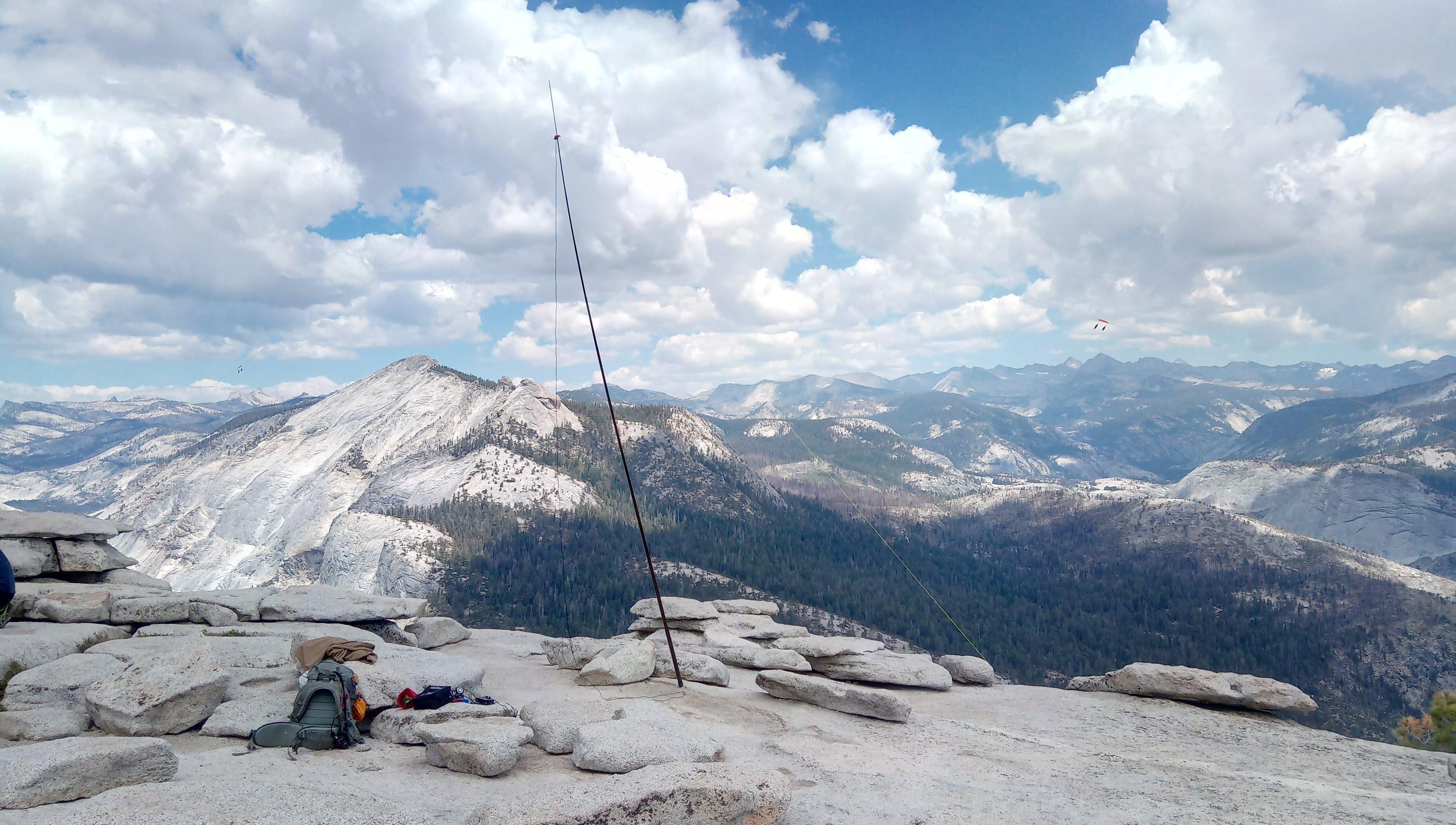 Once again thanks to all the chasers who were standing by for me! Cheers to Darryl WW7D - he helped me to activate Lassen Peak earlier this year and now Half Dome. Also made contact with Ralph VE7OM and Kenneth VE7HI from Canada - I'm kind of new to the ham radio world and this was my first international contact.
| Time UTC | Call sign | RST sent | RST received | Frequency | Mode | Location |
| --- | --- | --- | --- | --- | --- | --- |
| 20:35 | W0MNA | 599 | 575 | 14.062 | CW | EM29MJ |
| 20:37 | WW7D | 599 | 599 | 14.062 | CW | CN87wq |
| 20:38 | K6YK | 599 | 569 | 14.062 | CW | CM97jw |
| 20:39 | K9VD | 599 | 599 | 14.062 | CW | CN87vv |
| 20:40 | W0ERI | 599 | 579 | 14.062 | CW | EM29mj |
| 20:41 | VE7HI | 599 | 579 | 14.062 | CW | CN89oa |
| 21:42 | VE7OM | 559 | 599 | 14.062 | CW | CN89oa |
| 21:43 | K3TCU | 599 | 559 | 14.062 | CW | FN01dj |
The way down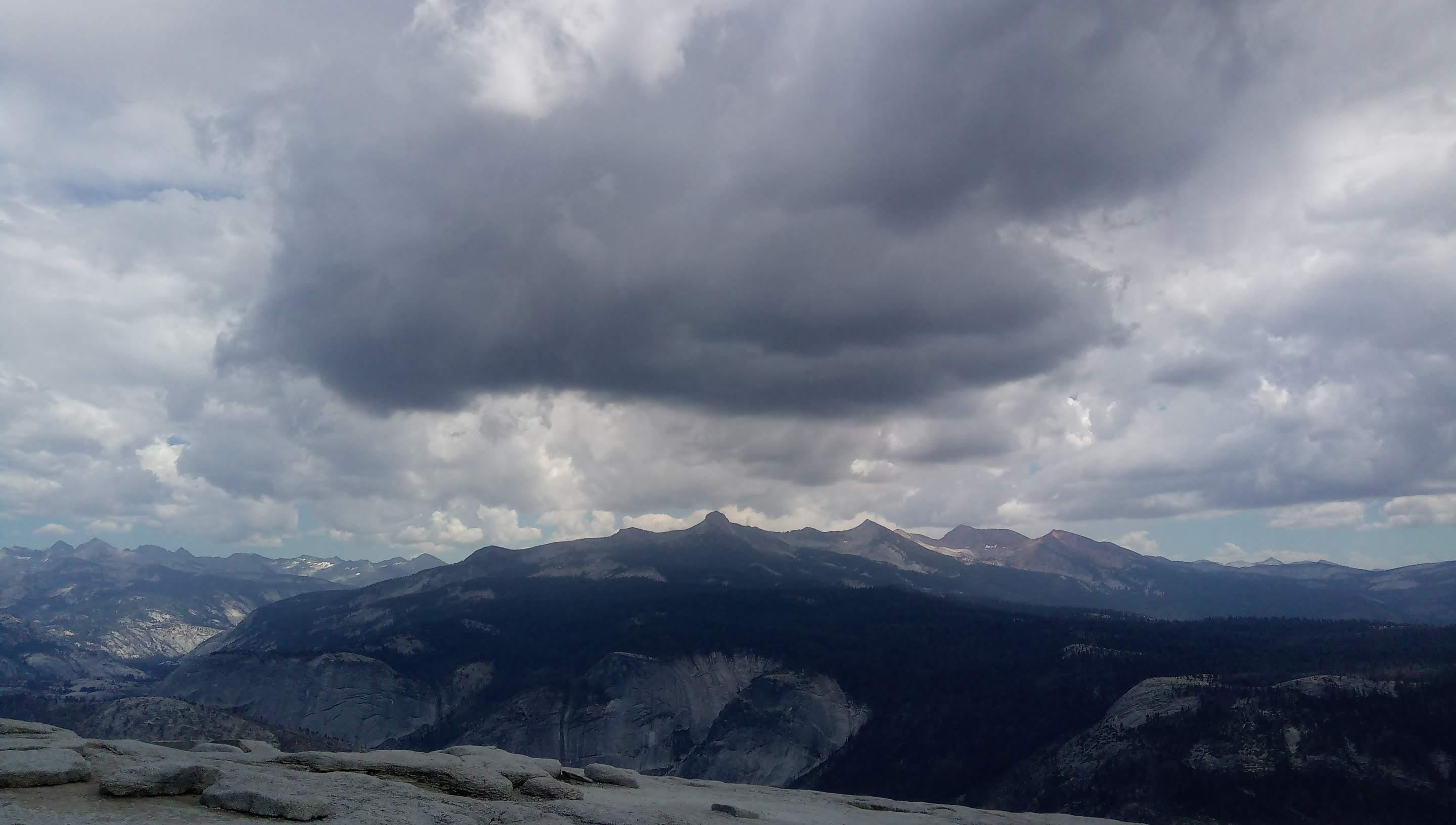 Remember I've said you want to get to the top as early as possible? You do because weather in the mountains changes rapidly and the last thing you want is to have an antenna out during a thunderstorm.
This day is a remarkable example. At 11:00 there were only couple small clouds. At 12:00 when I was on the dome stairs there were several bigger clouds on the horizon. I've summited at 13:00. Deployed antenna, transceiver and started calling CQ 13:30 - eastern horizon was all cloudy. 14:00 I've packed and started to descend, 14:20 rain with hail caught up with me on cables.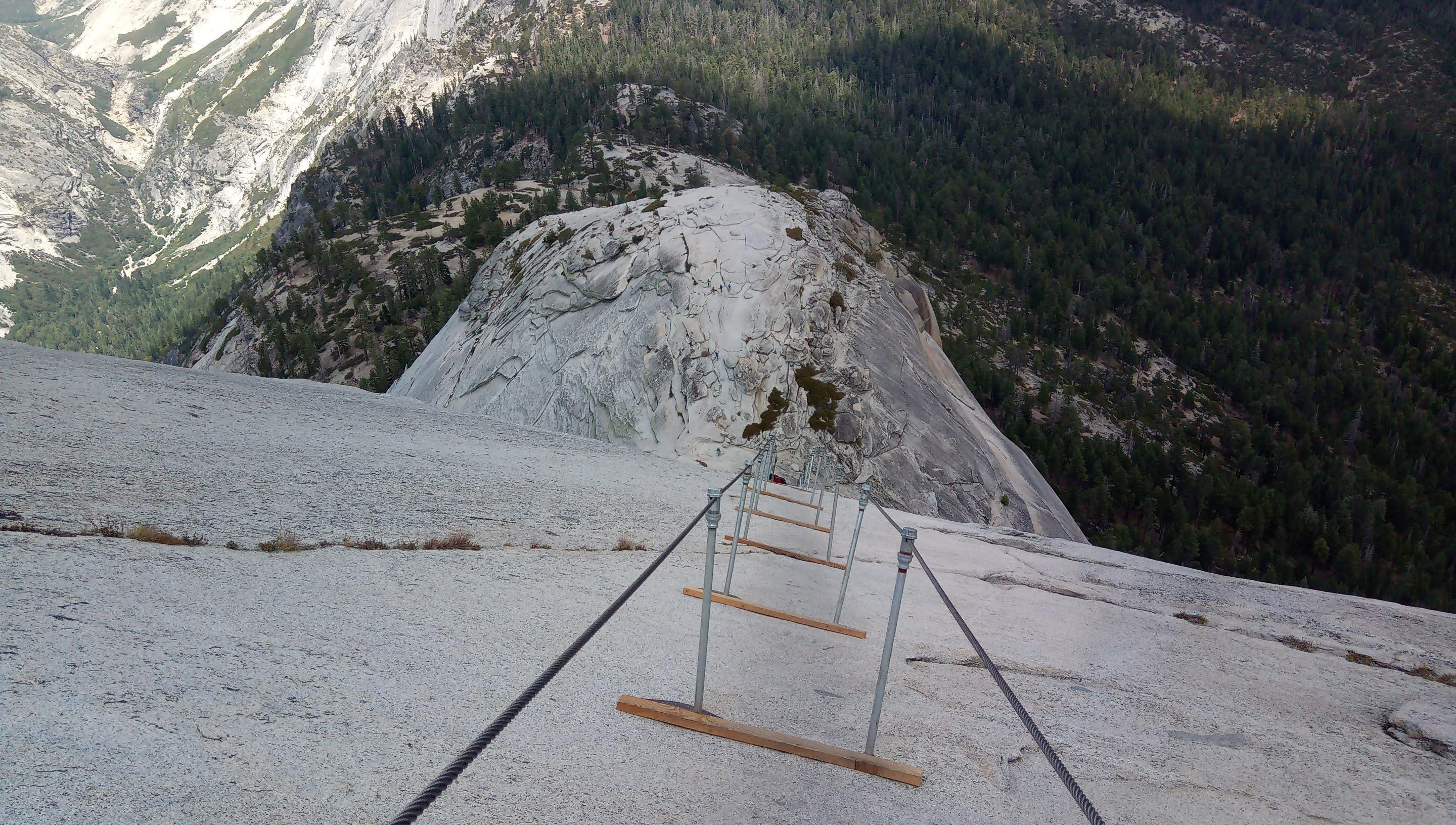 Don't be cocky thinking you'll be able to get down quickly. As I was about a half way down on cables a lady going up understood she did not have enough strength to grip securely on cables polished with gloves of previous climbers. She was two people below me at that point blocking the line in both directions. She needed to handle her panic attack, cry and rest a bit before heading down. And this is when it started raining. With hail. Luckily the person next in line to the lady was able to support and calm her down.
On the way up I've got a heat stroke and now I was cold and shivering! My anorak was strapped to the backpack but I didn't want to lose footing on wet granit trying to take the backpack off. Once again having a harness proved to be well worth the added weight and bulk.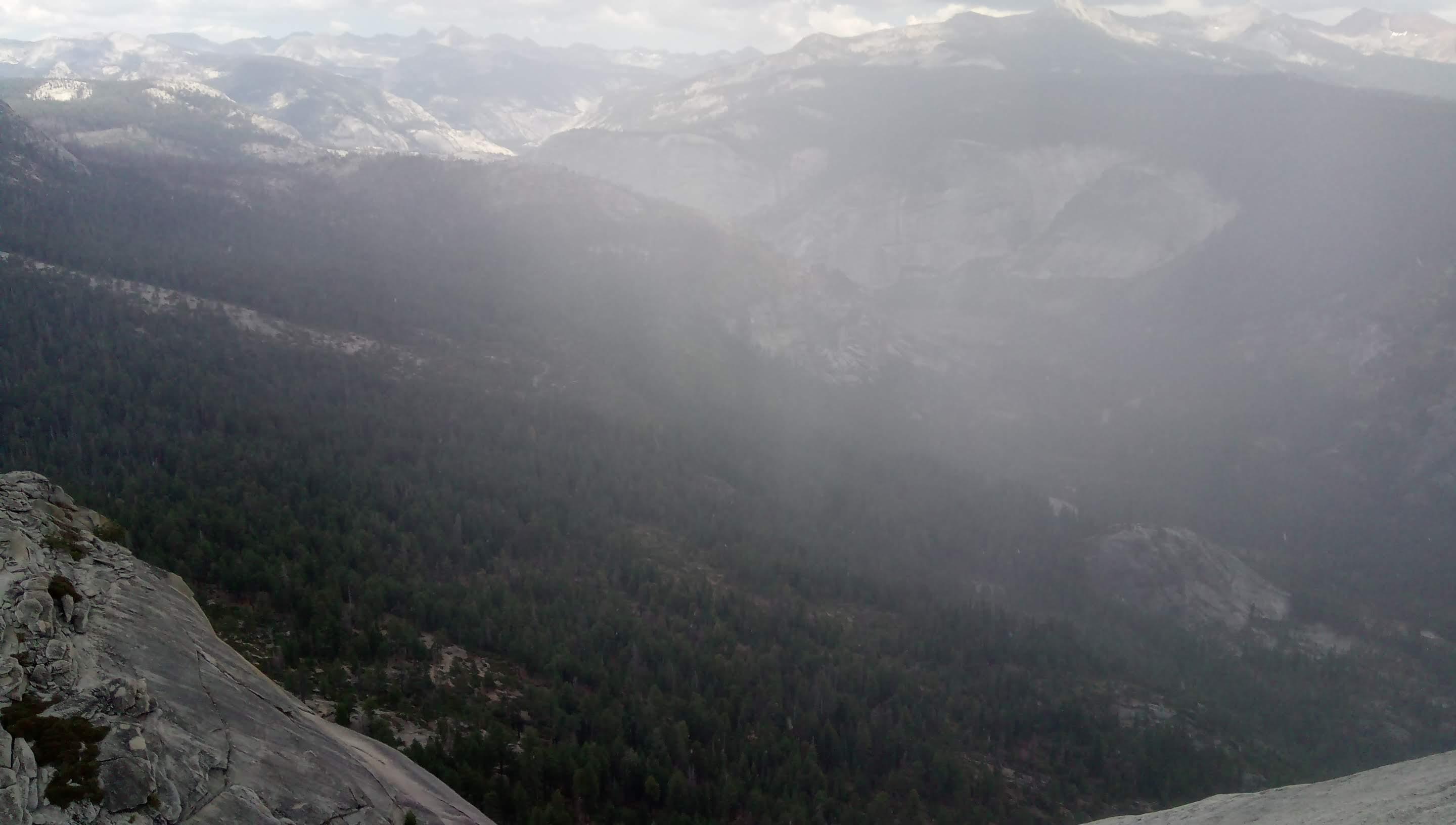 A ranger came to the bottom of cables and recommended waiting for rain to end and granite to dry a bit. I thought this was going to take a while but in about 10 minutes rain stopped and in 10-15 minutes granit was dry enough to move again. The panic lady was able to descend slowly.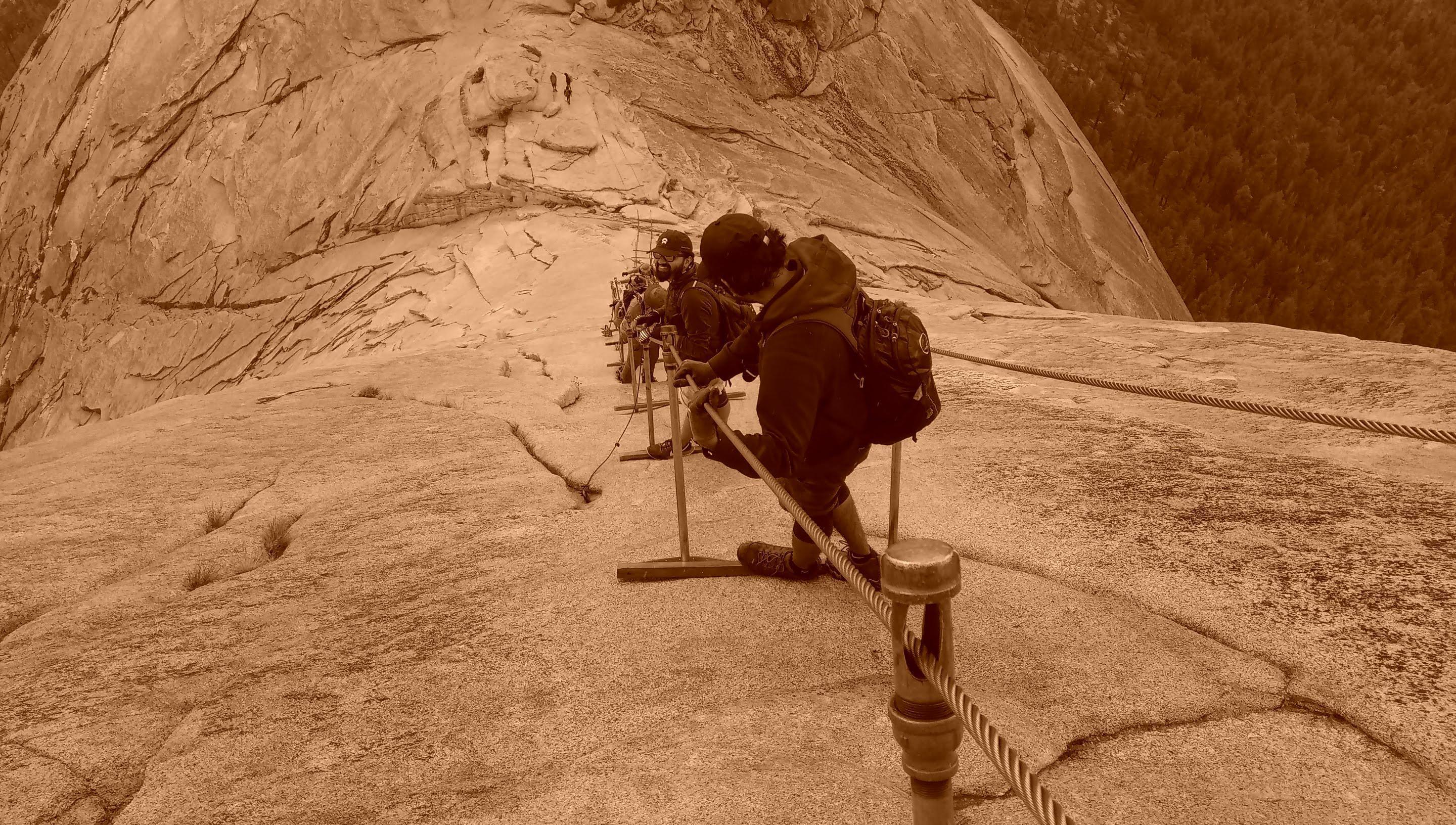 Took quite a few photos chilling on cables during the rain but didn't notice I've activated the 'sepia' effect with my tired and cold fingers so most of the photos are not worth posting.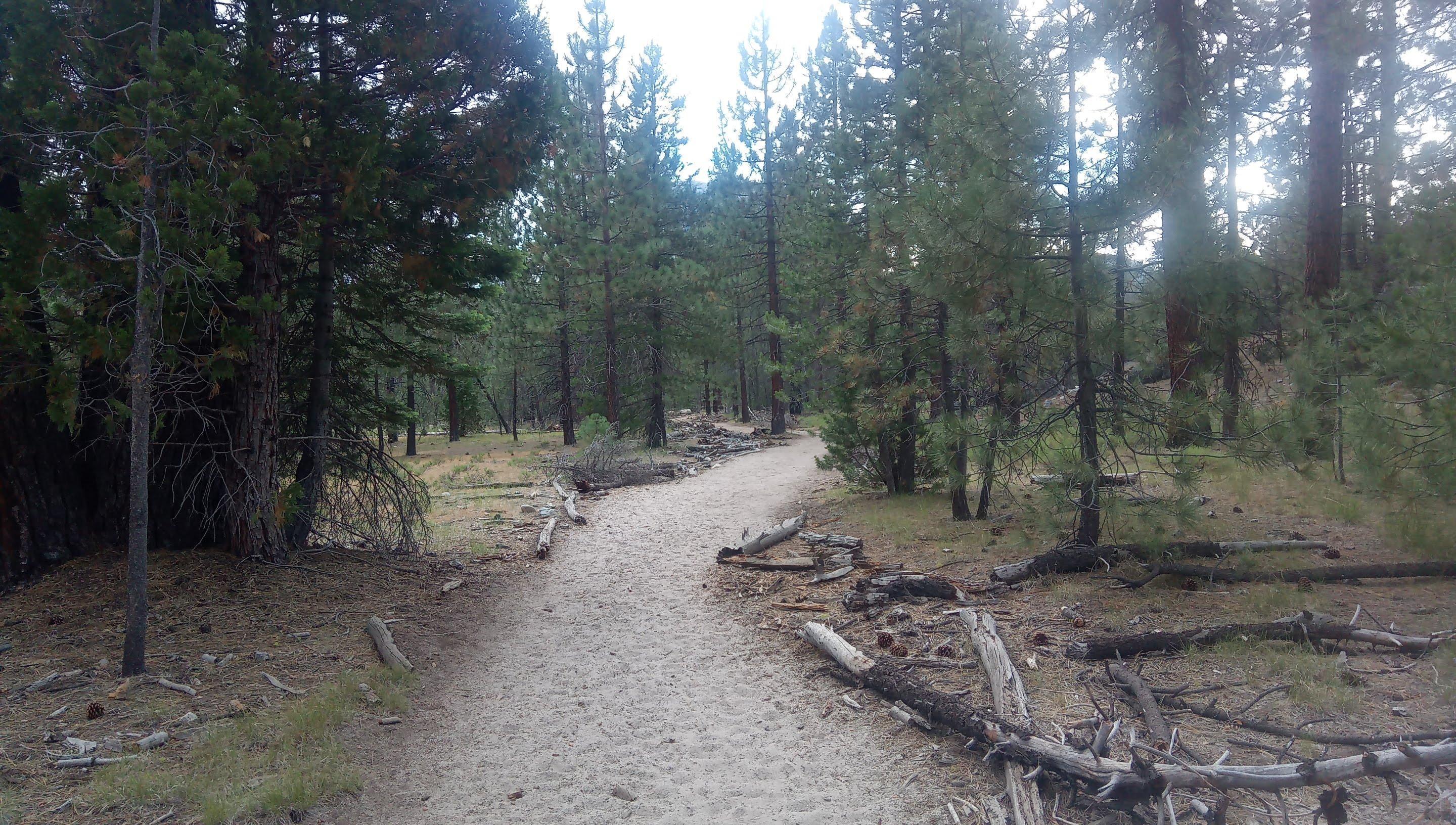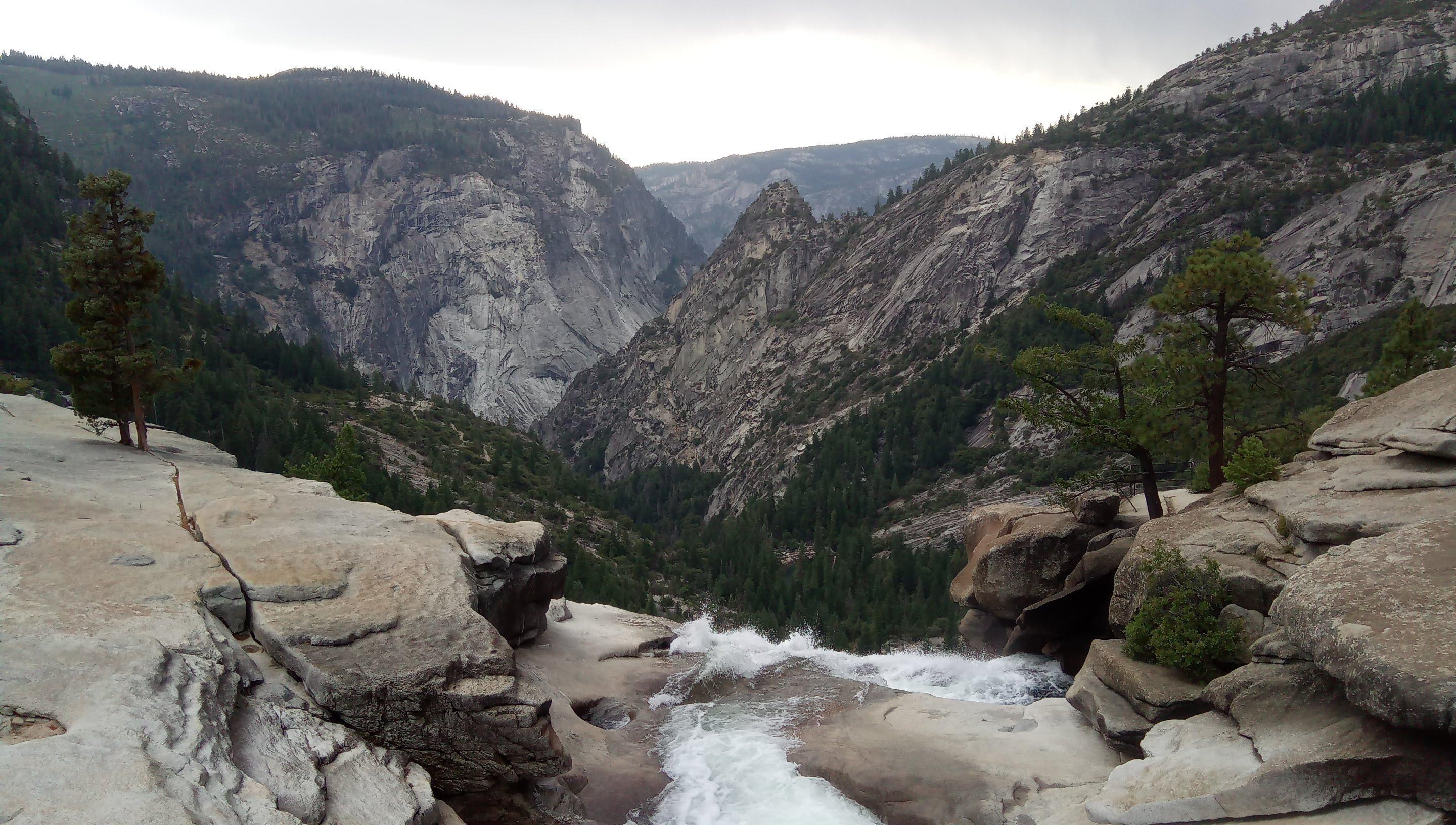 I didn't take John Muir Trail down before because it was closed for winter the last couple of times I was in Yosemite. What I can say - wow! Such a great view of Nevada fall and back of Half Dome!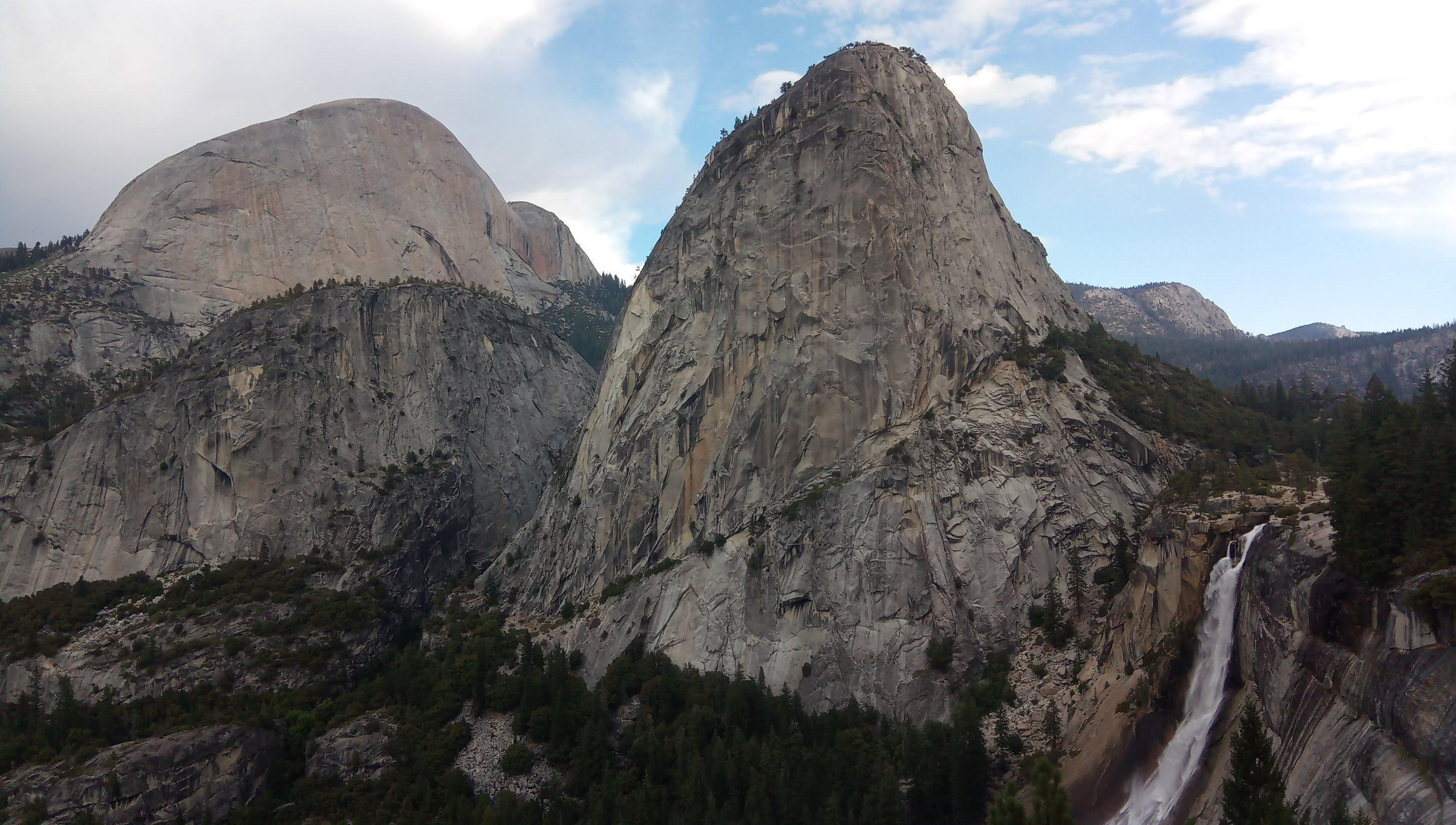 Whew! Quite a hike! Need to rest and think about the next SOTA summit. K0SSK out 73 ditdit.