Genoa Peak SOTA activation 2021-12-18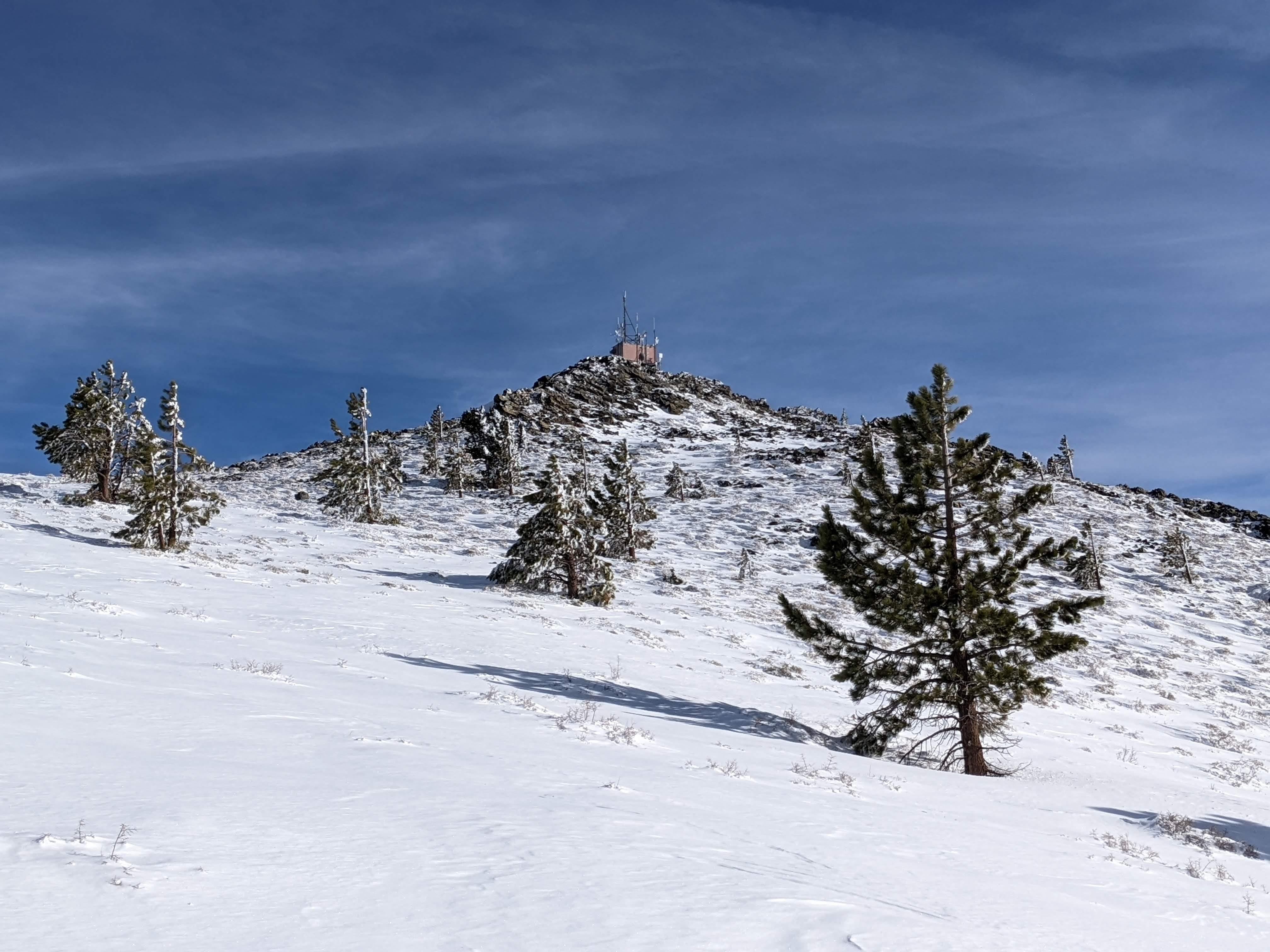 Hello friends, this is the winter SOTA activation report for Genoa Peak aka W7N/TR-007 on the Nevada side of lake Tahoe.
This is my first winter activation qualifying for bonus points and the first outside the W6 SOTA region (California). Last winter I tried to activate Mt. Tallac on the other side of Tahoe lake and didn't make it to the summit. This time I chose a less ambitious goal of Genoa peak towering to the west from Genoa, NV on the eastern shore of lake Tahoe.
Getting there
The hike starts in Kingsbury, NV and follows Tahoe Rim Trail until branching off to the right close to the summit. Whole trail is a round trip about nine and a half miles / 15 km long and climbing ~2000 ft / 600 m. The trail goes a bit up and down all the way until you break right from the Tahoe Rim Trail. At the summit cone you can expect some easy scramble. I had crampons and an ice axe just in case but didn't need them. Everyone's mileage may vary, but for my current physical form this hike is about right for a day snowshoeing in the late December. The day is short with the sunrise at 0712 and sunset at 1637, so I didn't have much time on the summit. I set 1300 as a cutoff time - if I don't reach the summit by this time I'm turning back.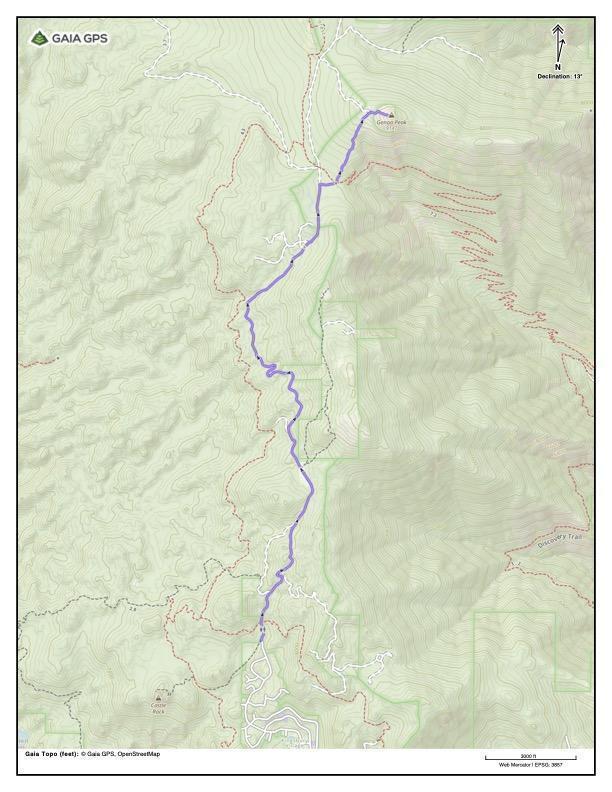 A word on safety
Mountains are a dangerous place and you should have all necessary training and know the limitations of your equipment before venturing alone.
As a safety measure I had a satellite communication / GPS device and friends staying in South Lake Tahoe had the map of my planned route, timings and gear I'm wearing or have on me. I asked to call 911 and tell about my whereabouts if I didn't reach out by 1800.
There are usually quite a few people riding Tahoe Rim Rail on snowmobiles so if something goes south there is a chance you will be discovered quite fast. You should not rely on this too much though. Do listen carefully and be aware of your surroundings - people on the snowmobiles may not expect a pedestrian on the trail. Snowmobiles compact the snow so following their tracks is way easier than plowing virgin snow yourself.
Weather in the area
Second serious snow storm this year started early in the week and dropped over forty inches of snow in the Tahoe area in three days. Saturday December 18th I chose as an activation date was two days after the storm and resulting avalanche warnings. Day temperature hovered around 0 C / 32 F, night -10 C / 15 F. Quiet and sunny Friday let the snow set a bit. Wind this week blew mostly from SW, the same direction I was going to approach Genoa Peak from. This means there was less concern about the snow overhangs built up by the wind. Most of the trail is in the forested area and I don't think avalanches pose a serious risk here. What you really want to be watching for is ice falling from the shack and antenna railings on the summit because ice chunks can fly in any direction after hitting rocks just below the shack so keep your eyes peeled and choose the point you are activating from accordingly.
Equipment
Besides my Discovery TX-500 transiever working on 20/40 linked dipole I had
A smartphone for photos and GPS
InReach device for GPS and emergency satellite comms
A (good) compass
Paper map of the area
Cooking kit and dehydrated food + lighter and matches. Don't put all your trust into one lighter as it can get wet and freeze, piezo sparker can break and so on. Look for "cigar" or "turbo" lighters with torch-like flame not affected by wind.
Crampons
Ice axe
Snowshoes
Hiking chair and sitting pad to keep my bum off the rocks during the activation
Plastic digging tool (I considered a snow shovel but decided it is too bulky and heavy for the loadout)
Emergency bivy and a backpack liner for emergency shelter
Spare socks and liner gloves
Appropriate clothing
The whole 16 kg ~ 35 lb loadout fit into the Hill People Gear Aston House backpack.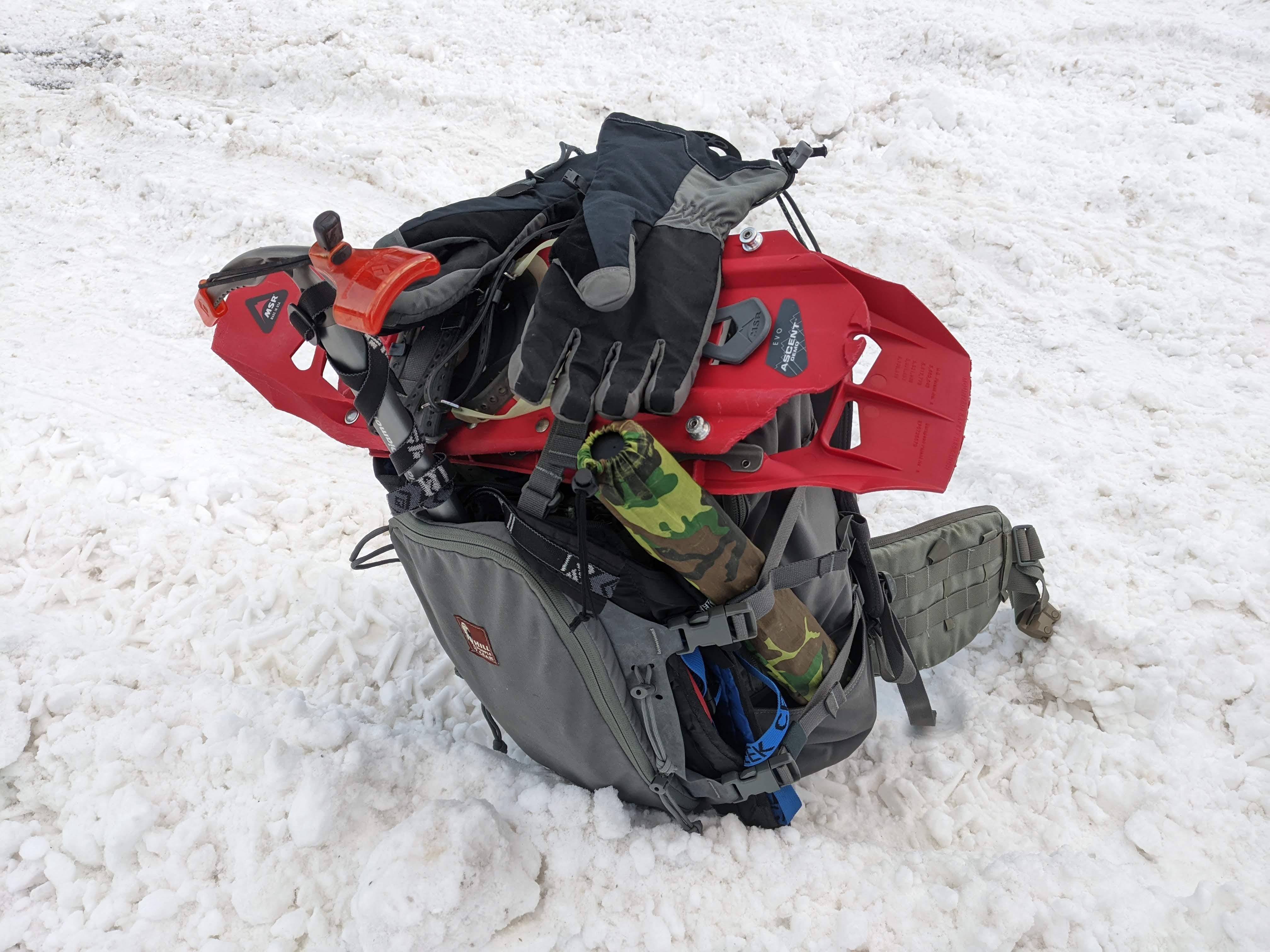 Off we go
Got to the trailhead just before the sunrise. Snow is fresh, fluffy and deep in ravines.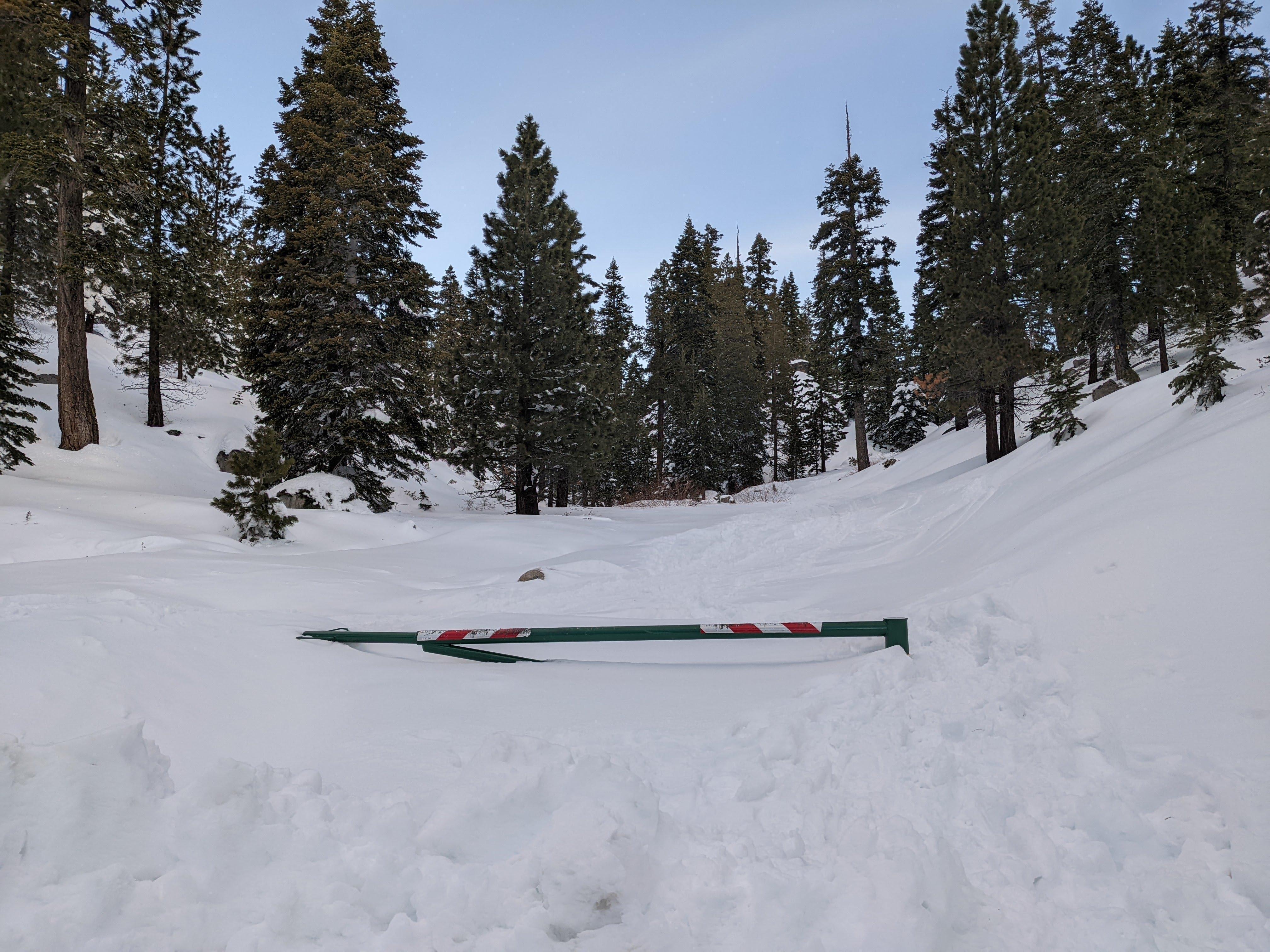 As the trail climbs higher Tahoe lake bowl vistas open. It was a foggy morning at the lake level.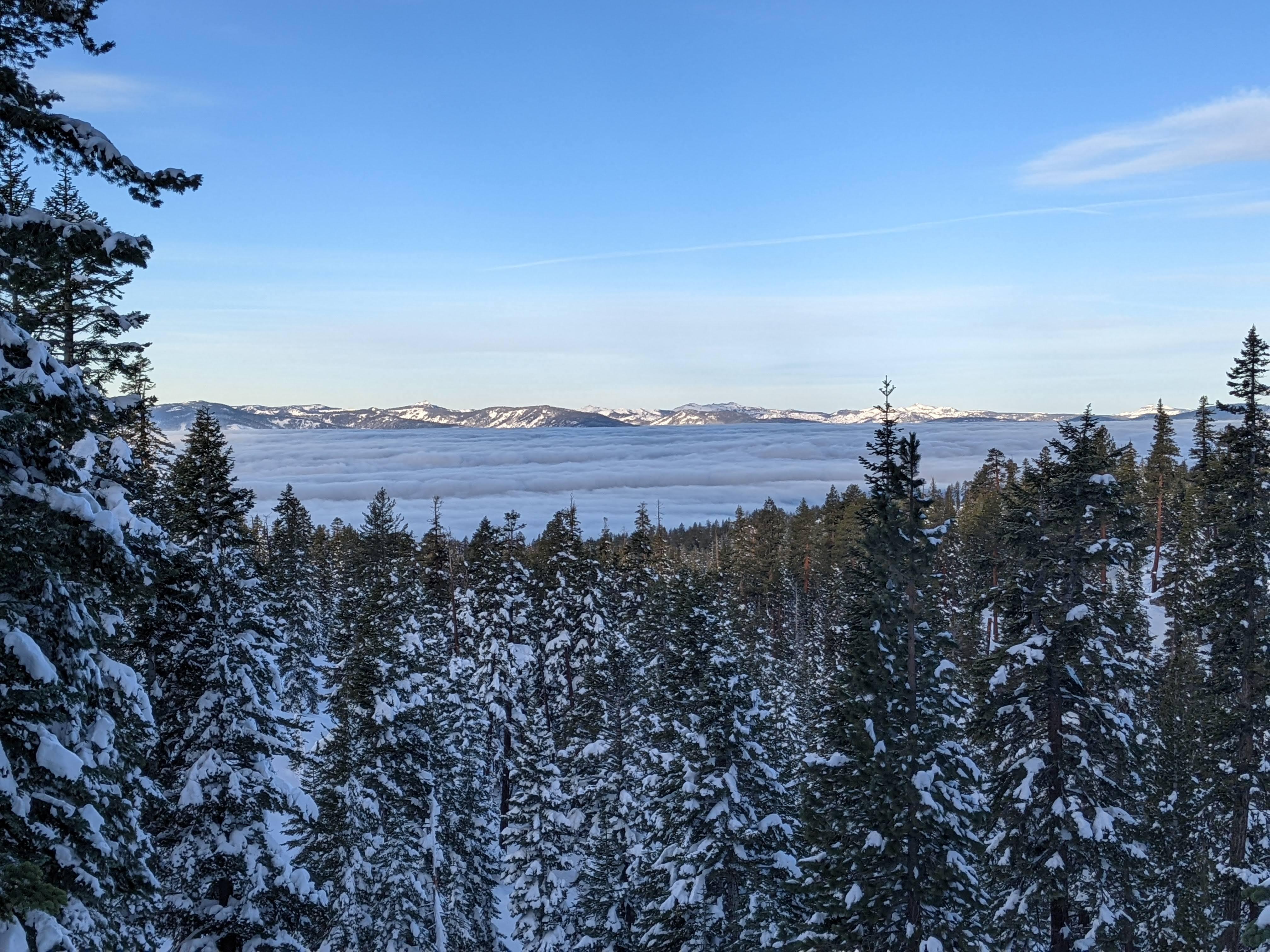 With my backpack I sank quite a bit into the powder.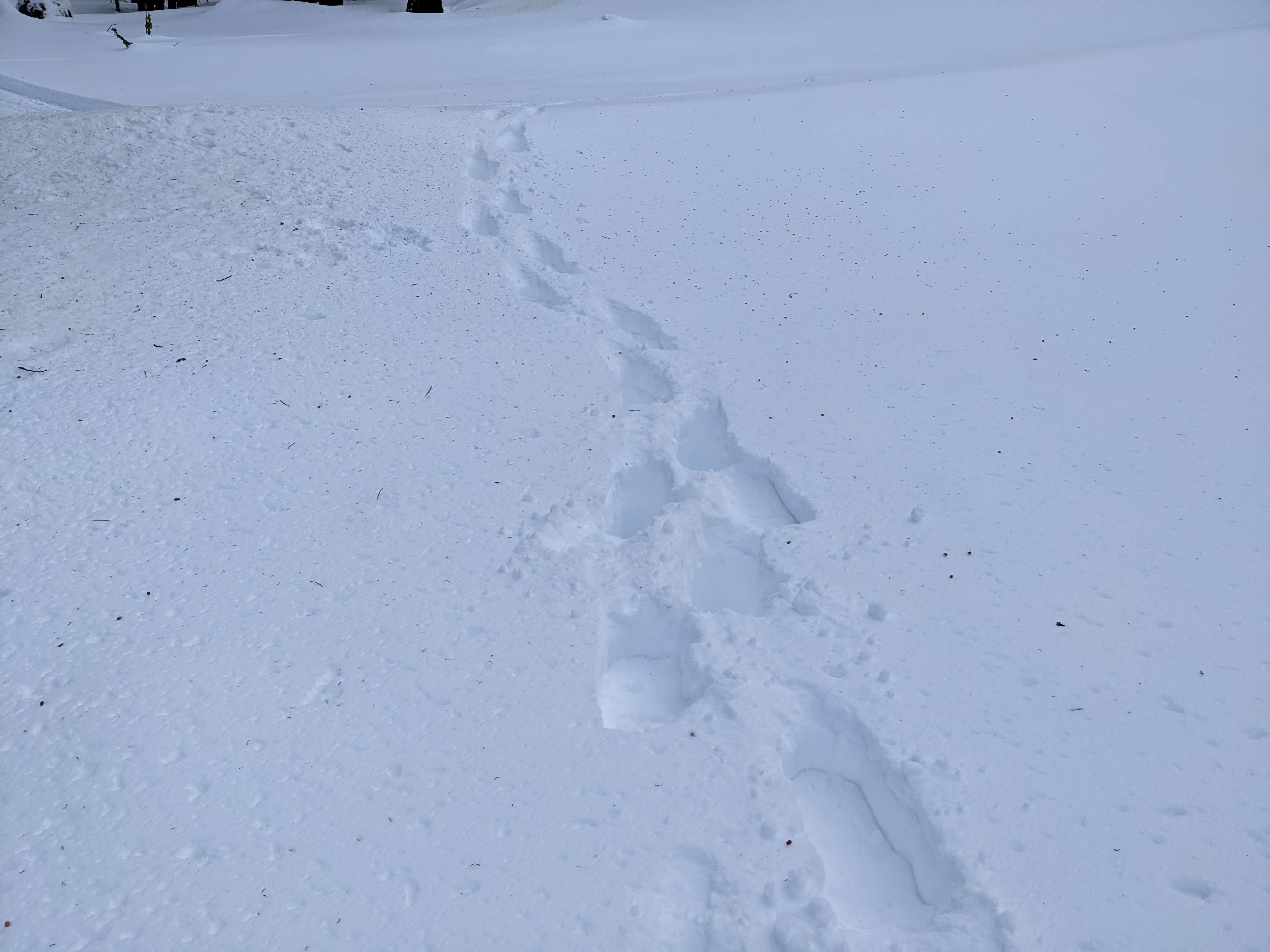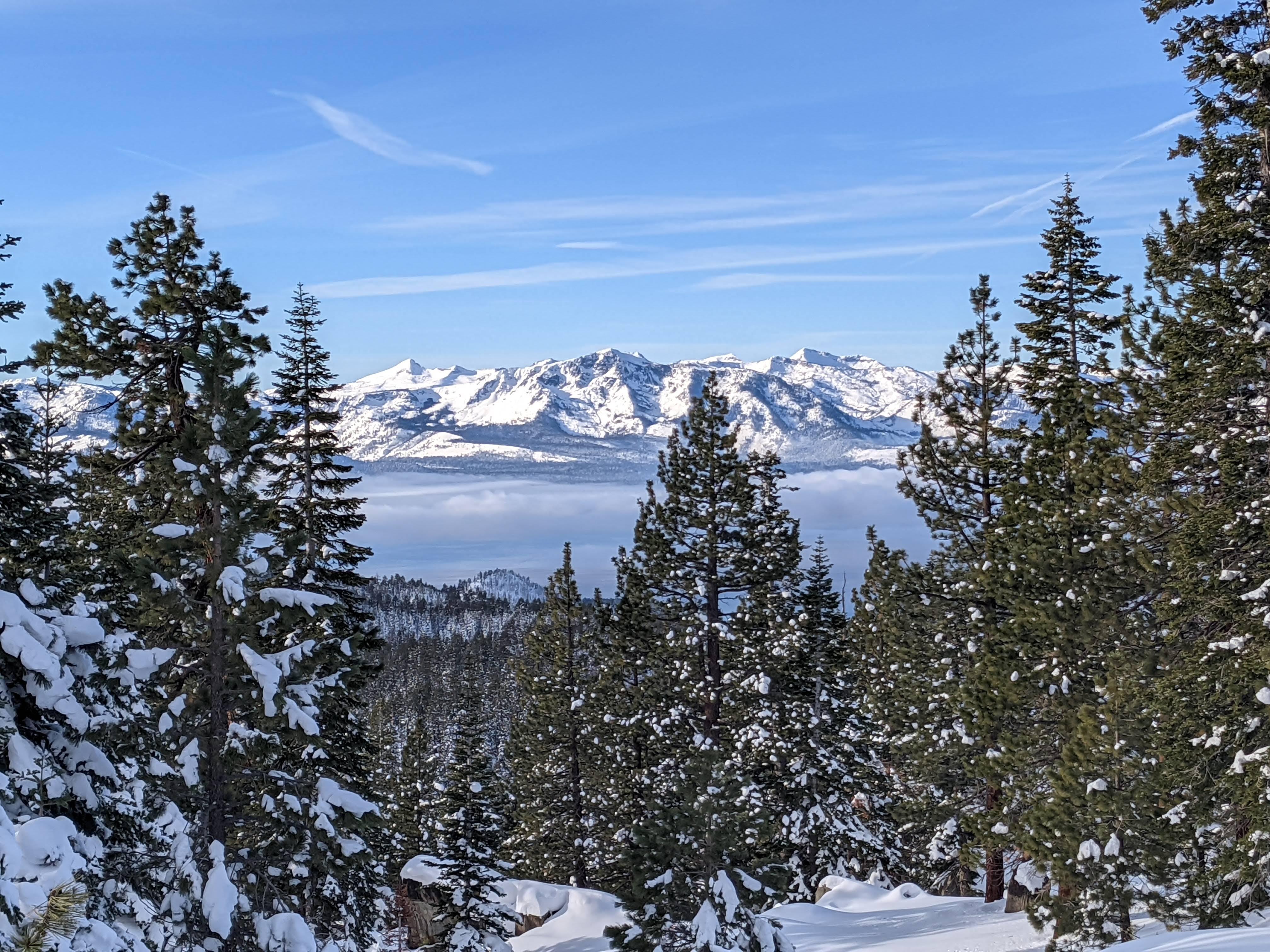 Luckily I was able to follow a snowmobile track along the Tahoe Rim Trail.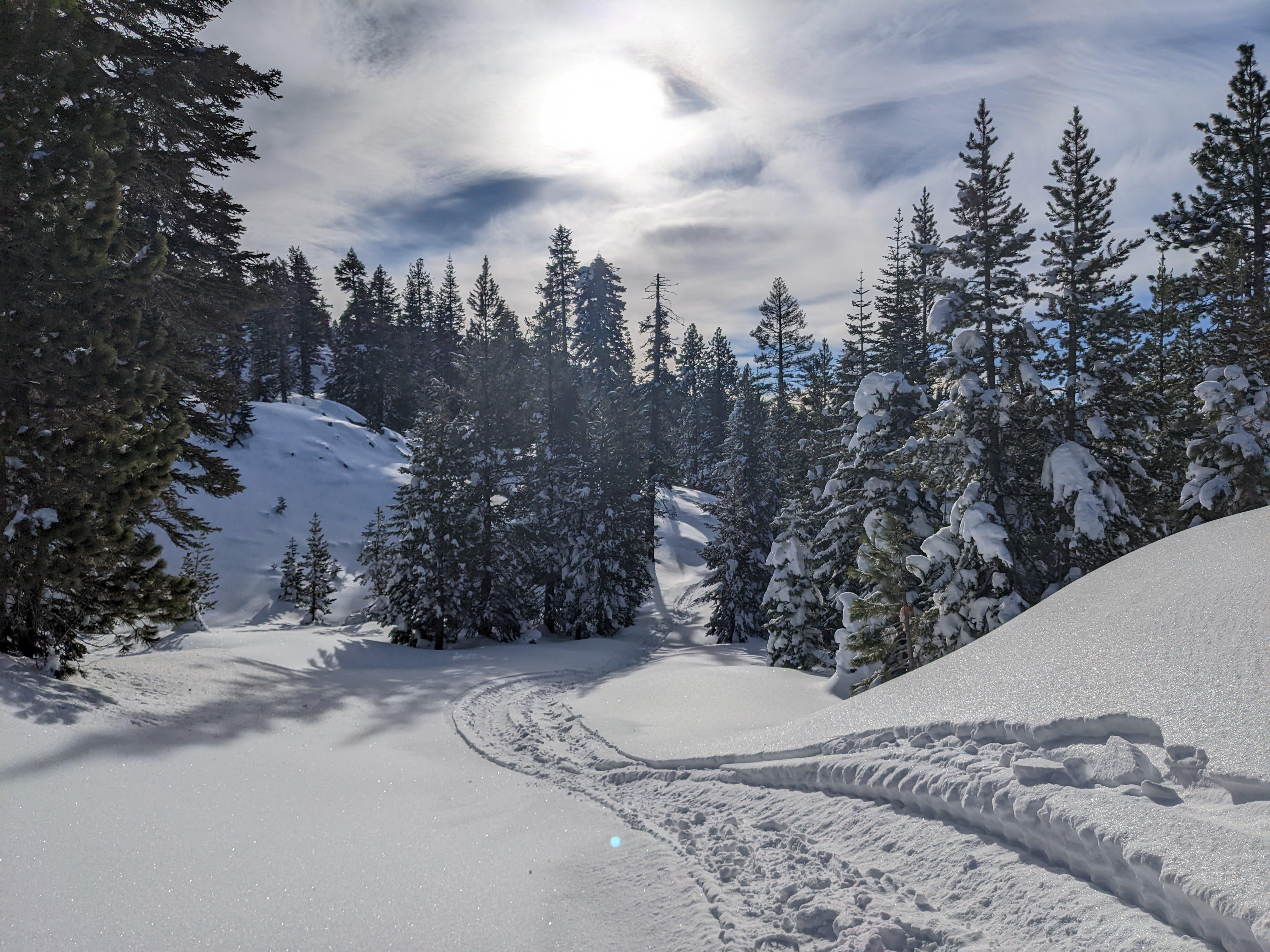 Saw a deer and some animal tracks.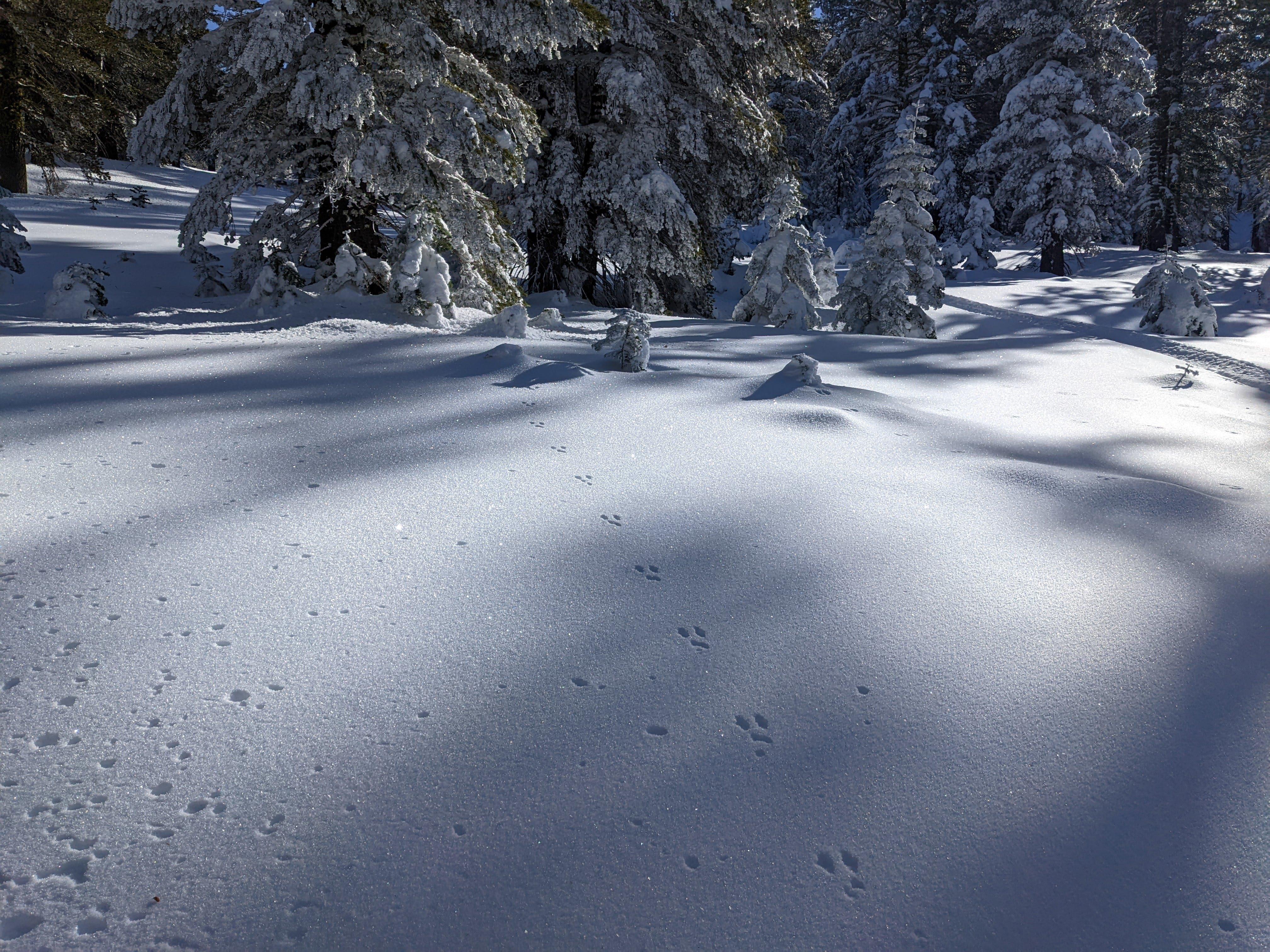 From the ridge you can see Genoa, NV, Carson valley and Pine Nut Mountains.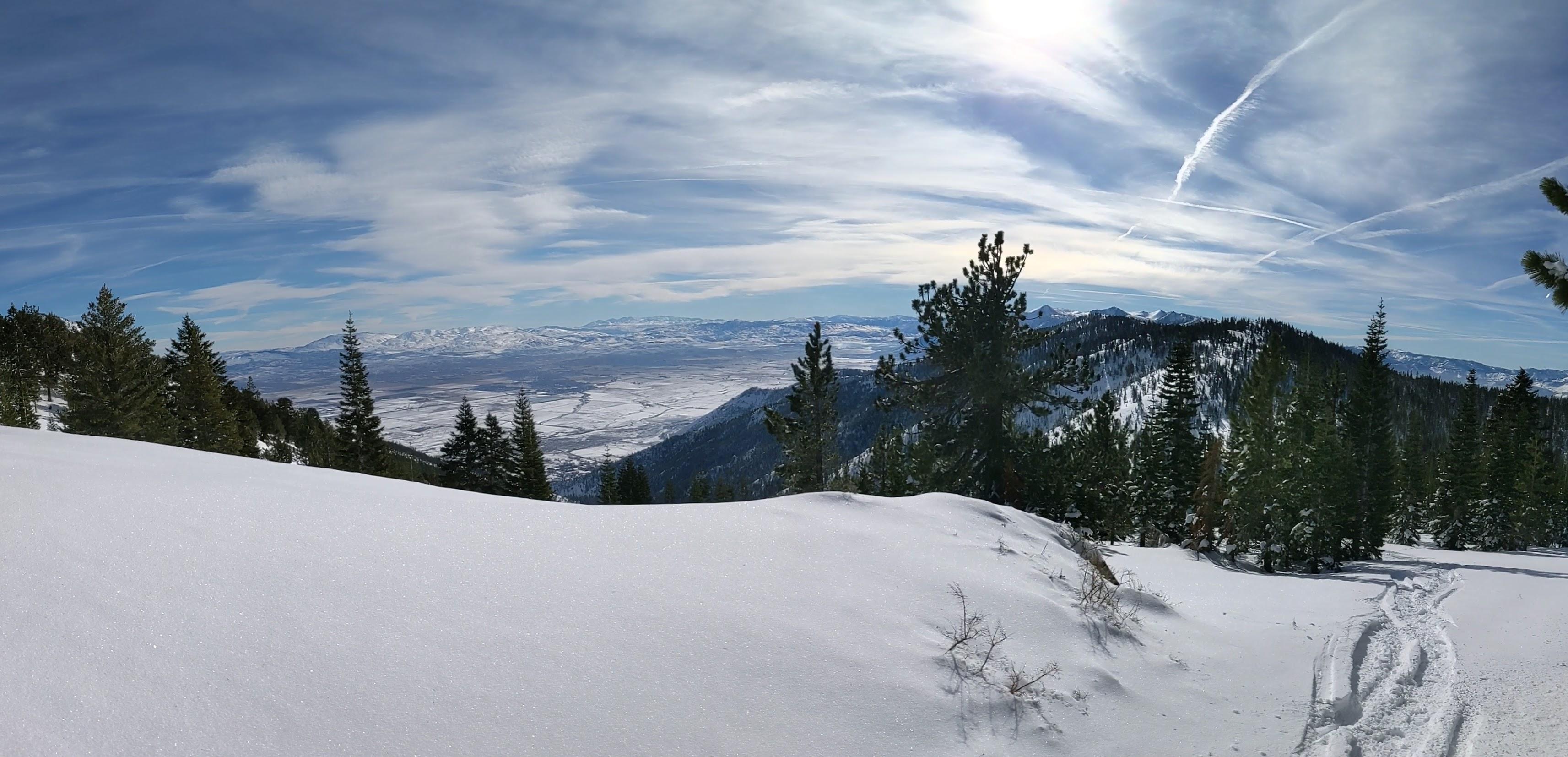 Summit cone is the steepest part of the trail, be careful here.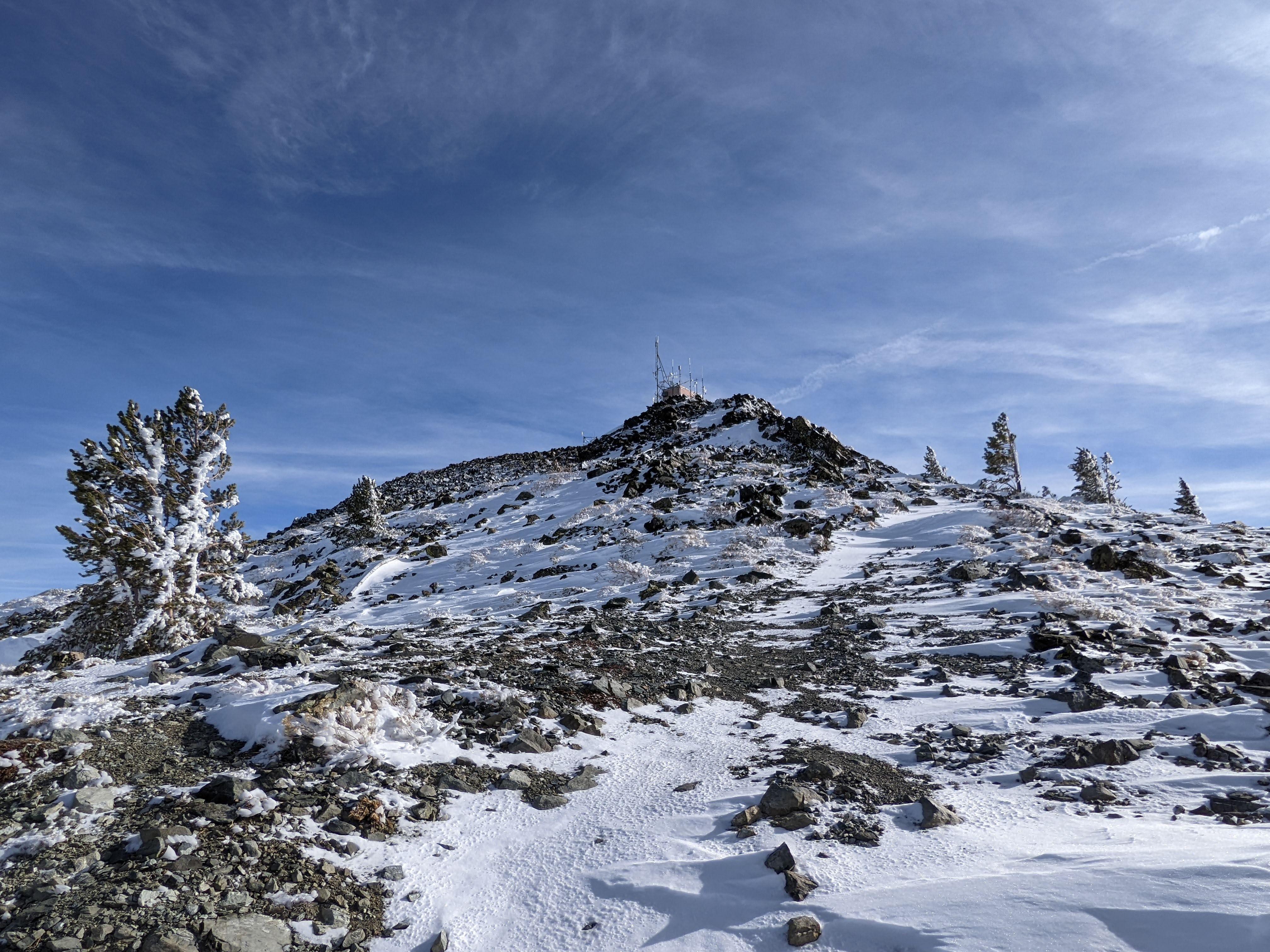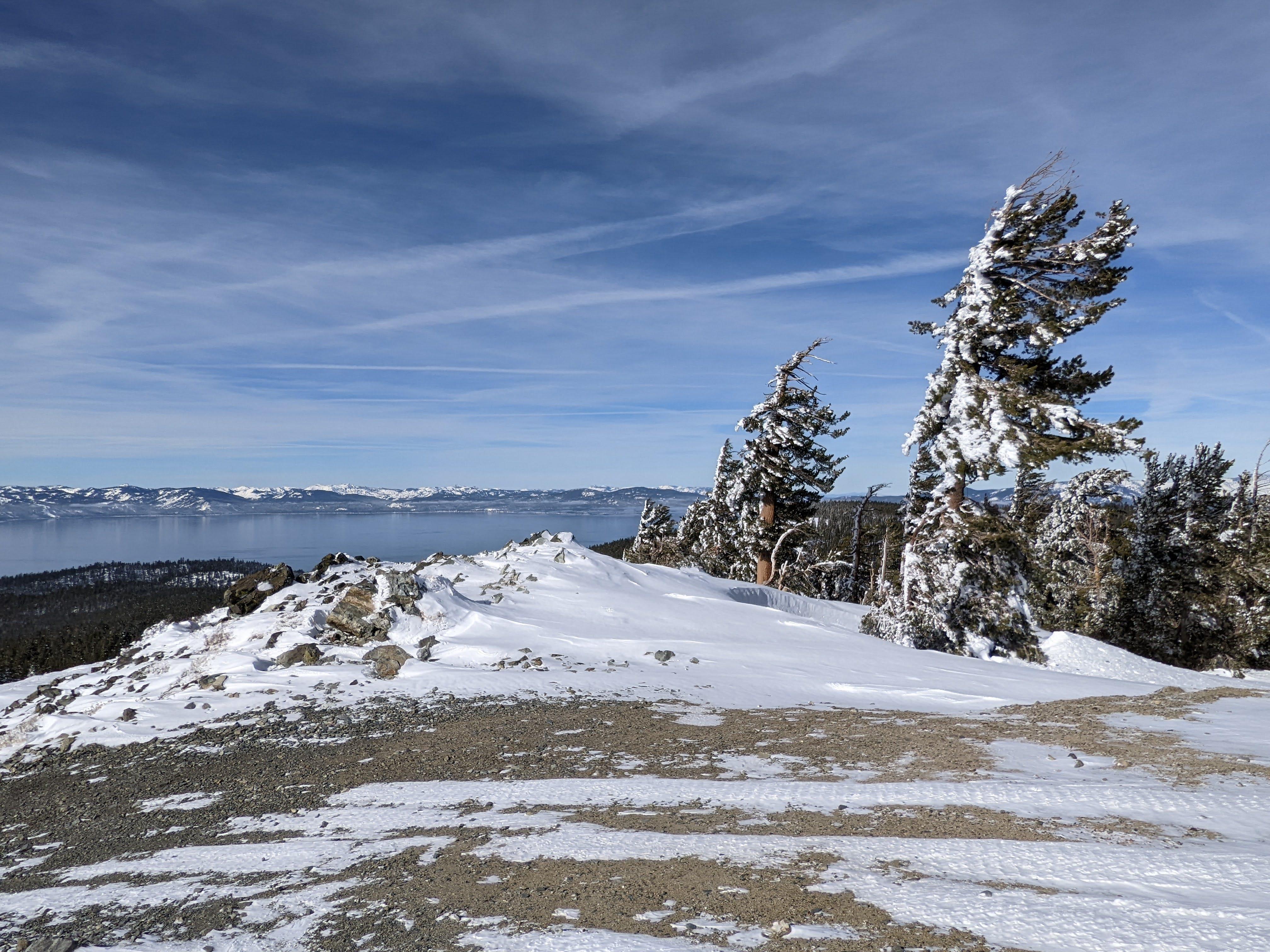 Summited 1216.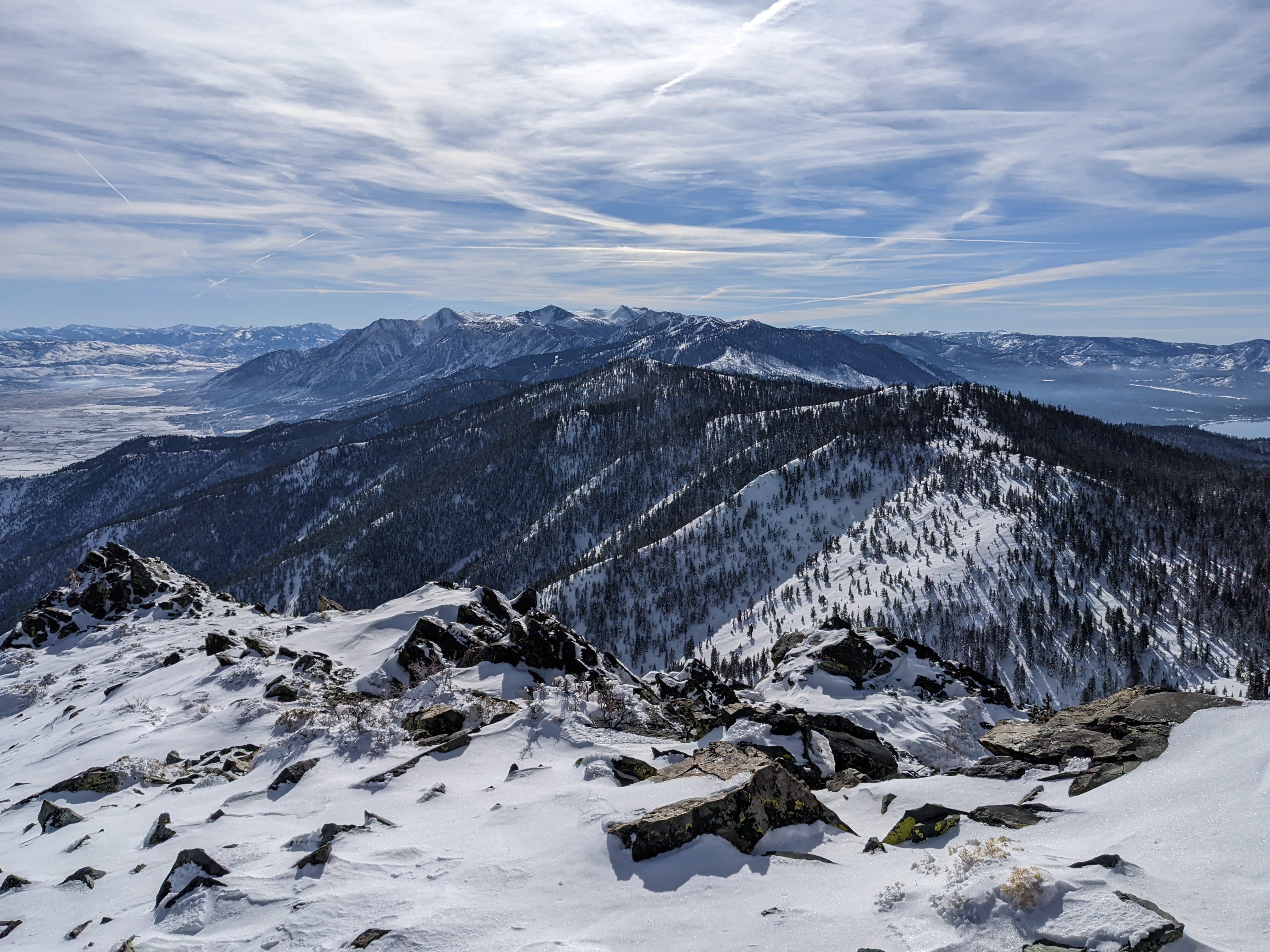 Genoa peak aka W7N/TR-007 SOTA activation
No surprises here, plenty of rocks to tie antenna to. Stay away from the shack - a lot of icefall from railings. I expected a lot of noise from the antenna farm but it was surprisingly quiet on the 20 meters band - WB2FUV was 449 from the New York area for example. Solar cycle seems to be taking off as well - number of contacts on the 20 meter band increases - very good news.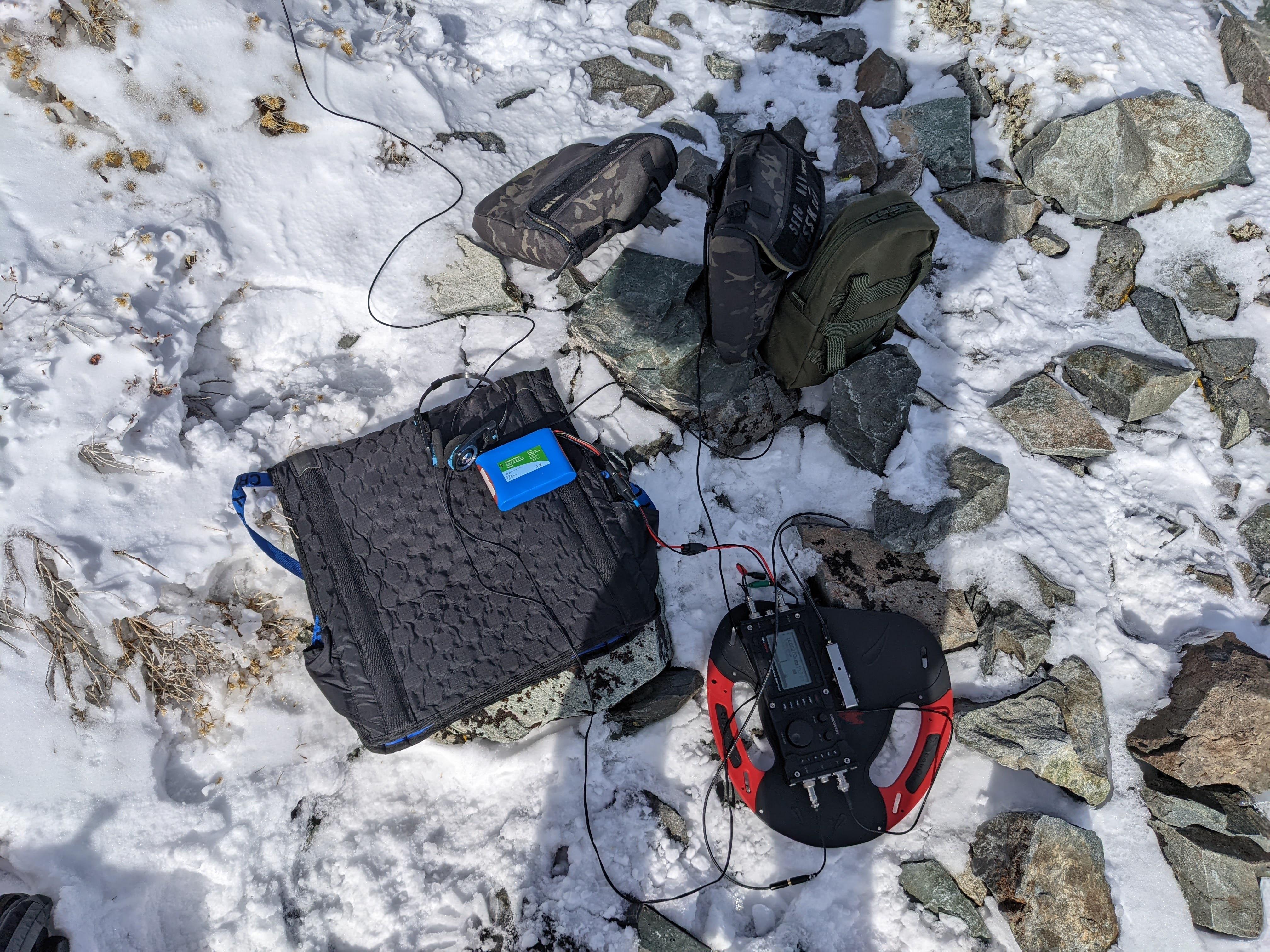 Stations worked from W7N/TR-007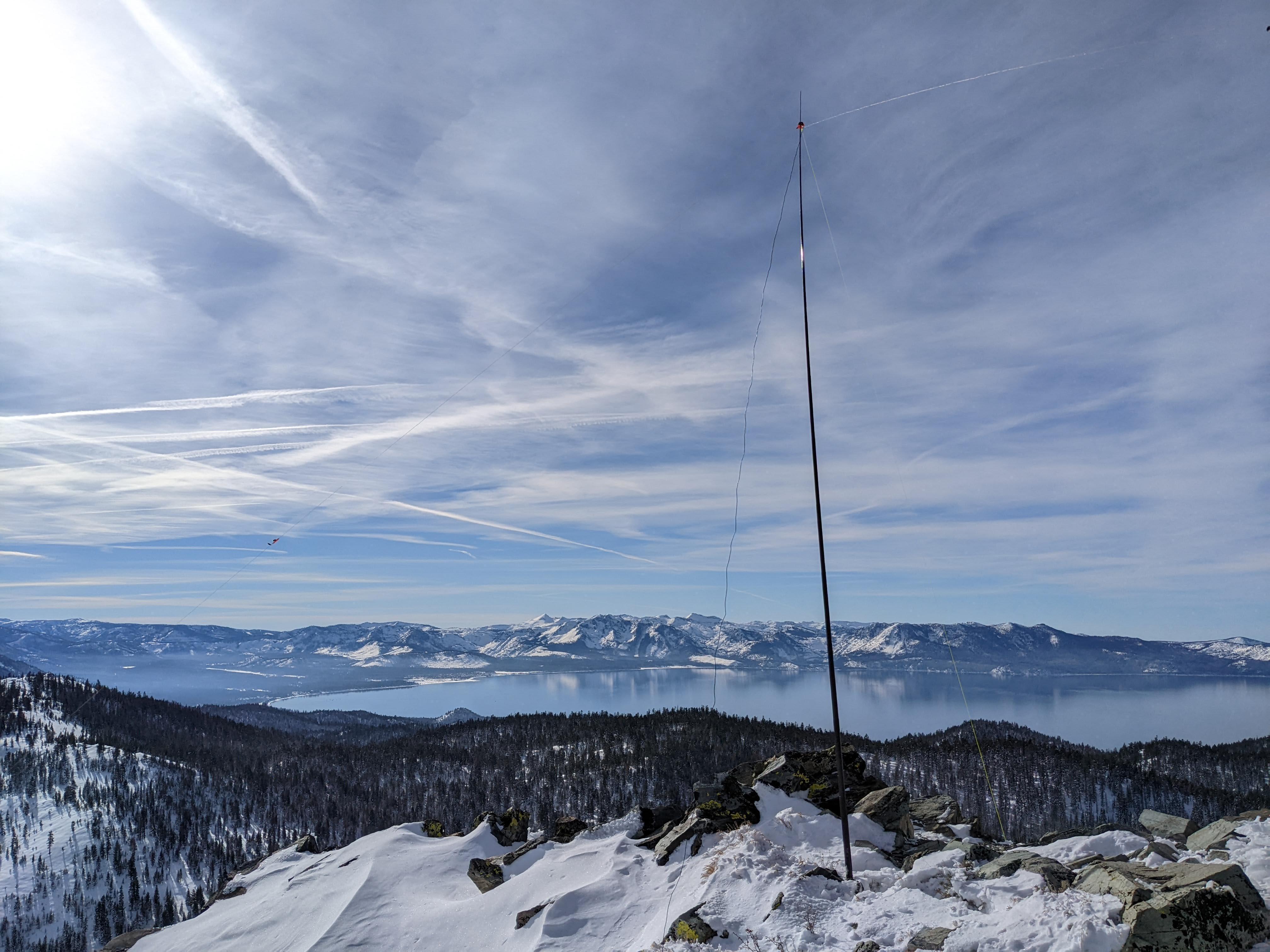 Happy to see familiar call signs in the log, thanks folks. Had to be quick - sorry if I missed someone!
| Time UTC | Call sign | RST sent | RST received | Frequency | Mode | Maidenhead grid |
| --- | --- | --- | --- | --- | --- | --- |
| 20:36 | VE7HI | 599 | 559 | 14.062 | CW | CN89 |
| 20:37 | WB6POT | 559 | 559 | 14.062 | CW | CM99 |
| 20:39 | WW7D | 559 | 559 | 14.062 | CW | CN87 |
| 20:39 | W9HPX | 449 | 559 | 14.062 | CW | EM94 |
| 20:40 | W6DT | 559 | 579 | 14.062 | CW | CM98 |
| 20:41 | W0MNA | 599 | 599 | 14.062 | CW | EM29 |
| 20:42 | WX1S | 559 | 559 | 14.062 | CW | FN43 |
| 20:45 | W0ERI | 559 | 599 | 14.062 | CW | EM29 |
| 20:45 | WB7BRZ | 559 | 599 | 14.062 | CW | |
| 20:47 | WB2FUV | 449 | 449 | 14.062 | CW | FN21 |
| 20:49 | W5ODS | 449 | 449 | 14.062 | CW | EM26 |
| 20:55 | W7EE | 559 | 549 | 14.062 | CW | DN28 |
| 20:58 | W7TMD | 449 | 449 | 14.062 | CW | DN18 |
Getting back
Rehydrated some pasta for lunch, packed and started to descend 1345.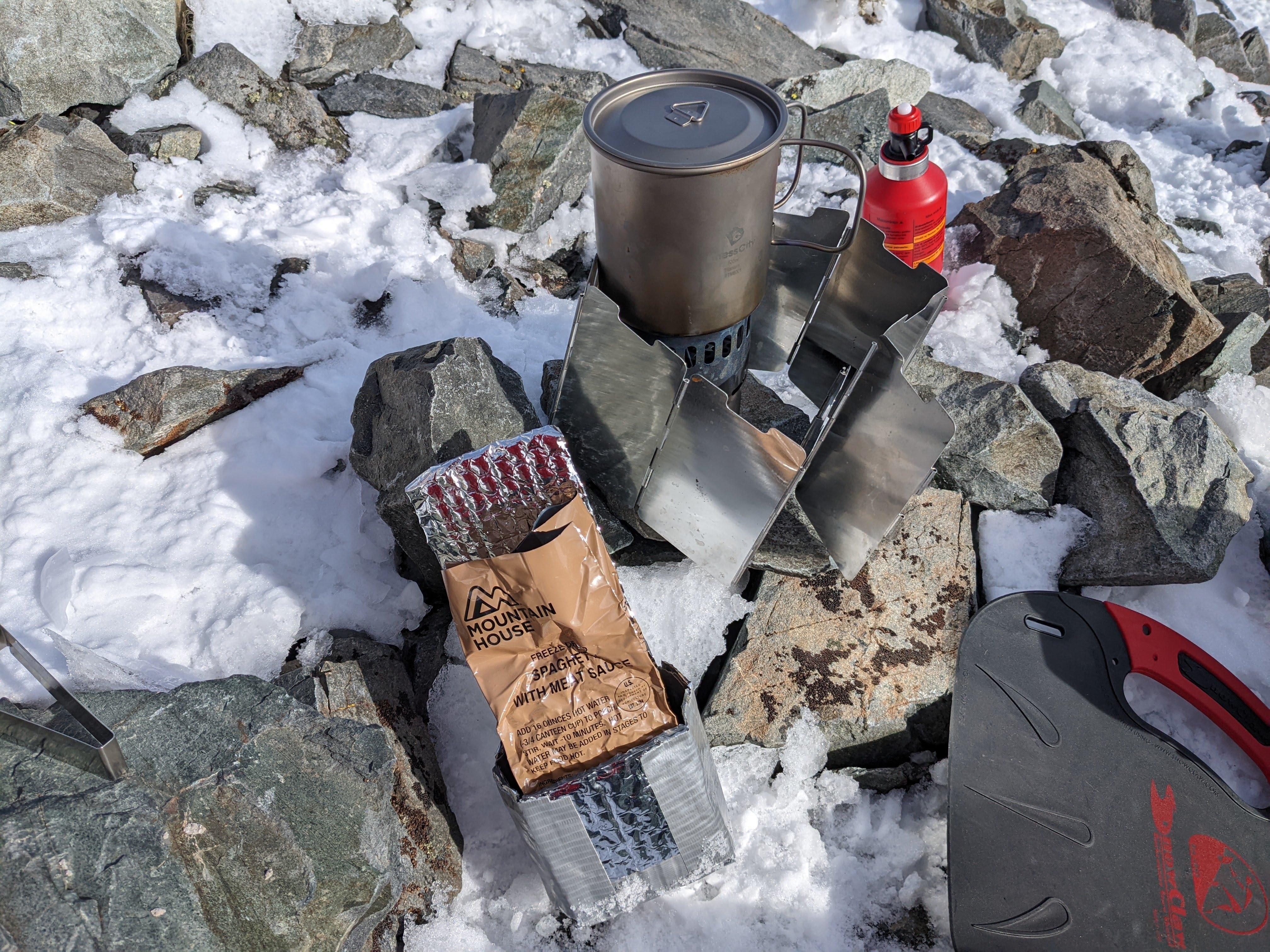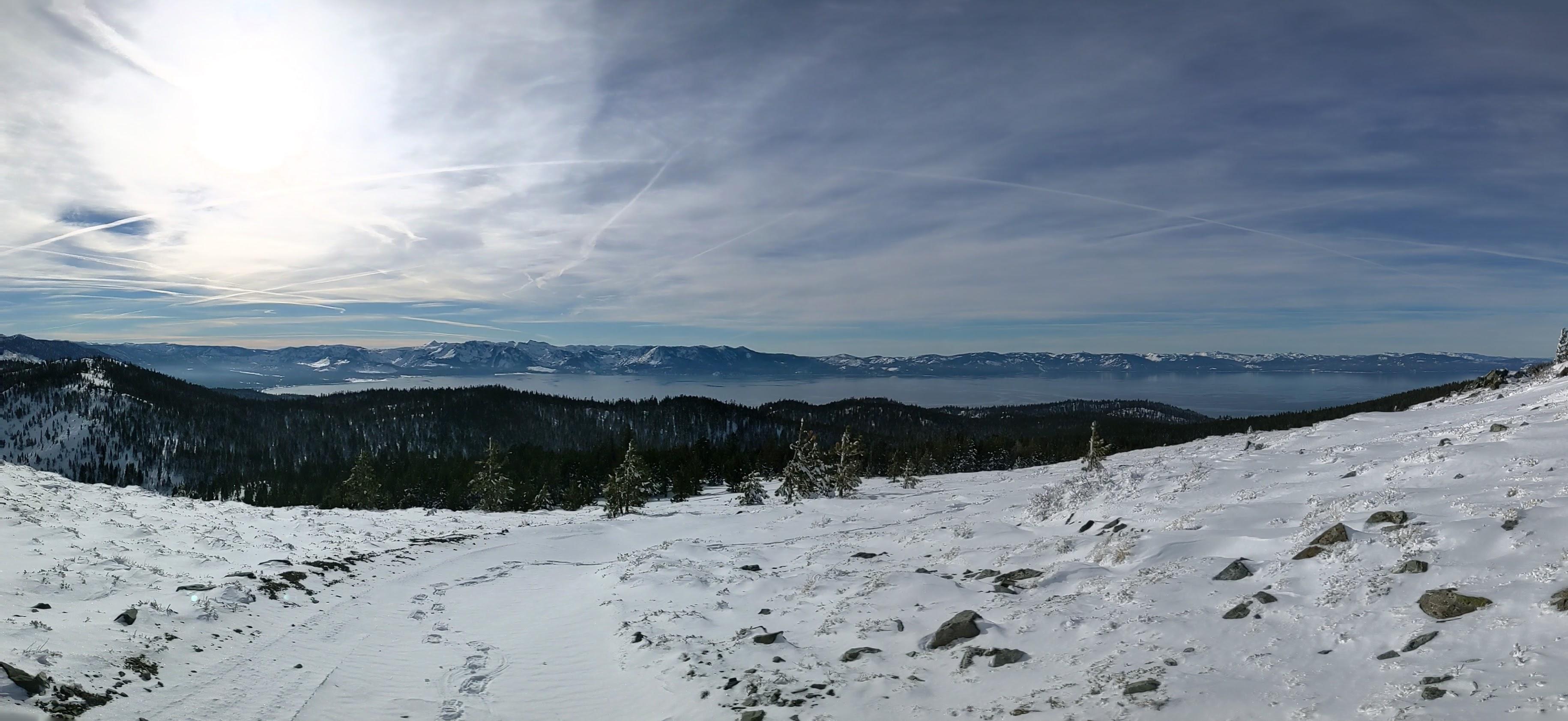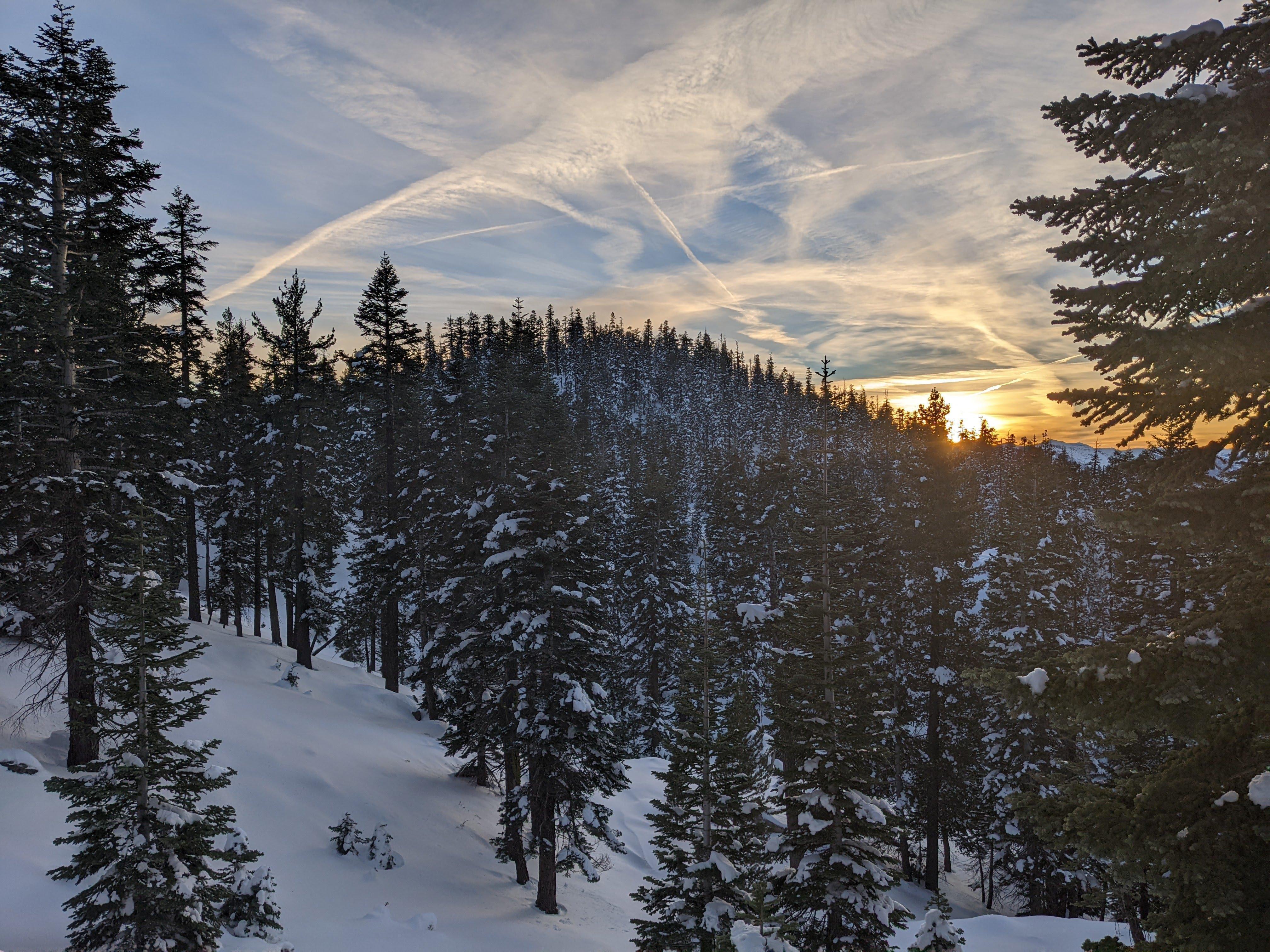 Was at the trailhead at 1640, right after the sunset and before dark.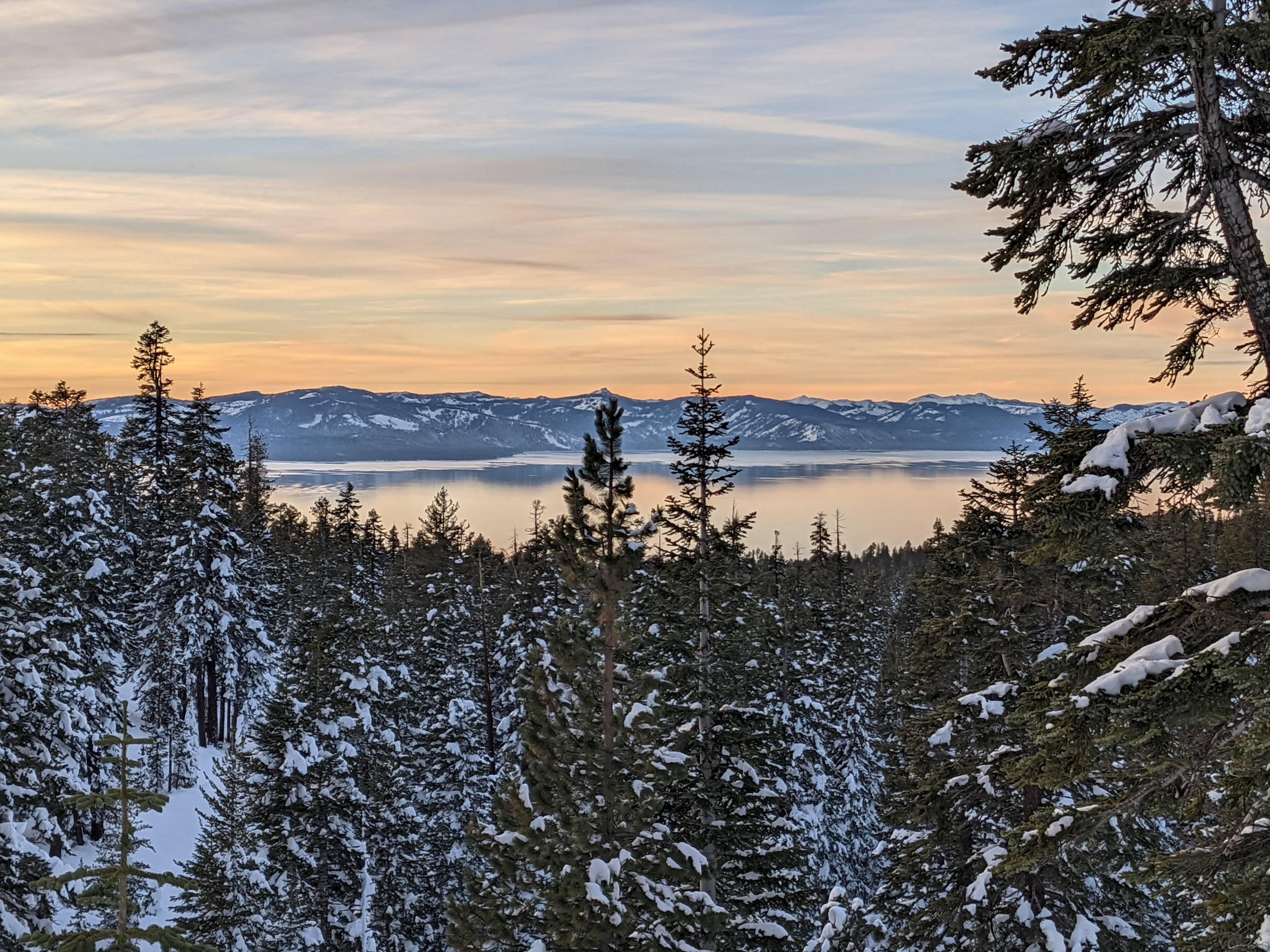 Had a lot of fun in the snow and am looking forward to continuing my winter activations. See you next time, 73, K0SSK out.