Mt. Tallac SOTA activation 2021-08-14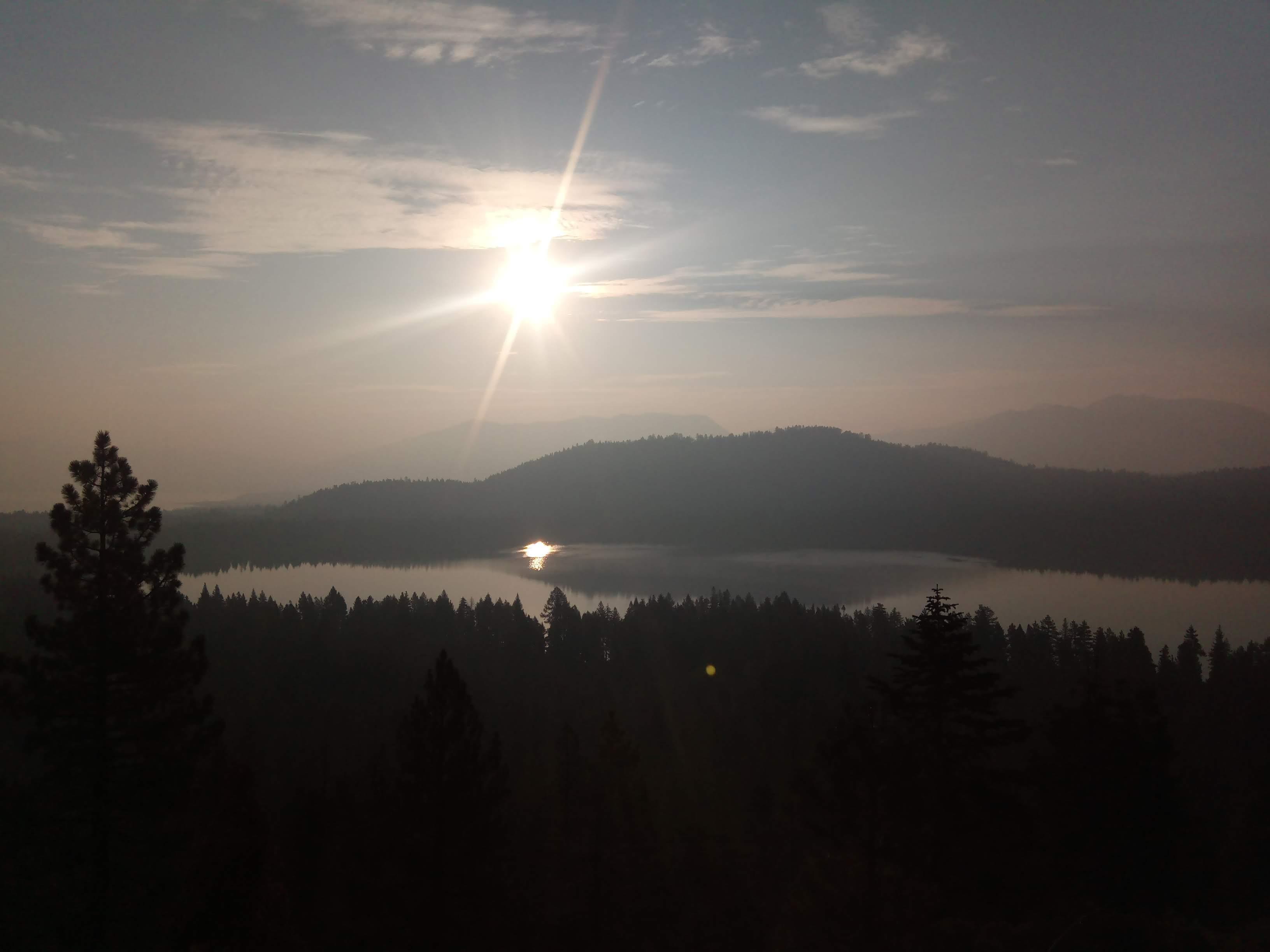 Wrapping up a long-standing project - activating Mount Tallac aka W6/SN-036. As I've mentioned in my post about Mt. Umunhum activation earlier this year Tallac was on my list for a while. It is one of my favorite hikes in California, challenging enough but still doable as a day trip.
Initially my plan was to do a winter activation - I've been on the summit on the 1st of January 2019 after celebrating New Year with friends in a cabin near Tahoe lake. While definitely strenuous the hike didn't throw anything at me I could not overcome.
In February 2021 things were different.
2021 winter attempt
Back in January 2019 it didn't snow much in December and by the New Year the snow cover condensed and solidified. I believe I didn't have to put my snow shoes on until getting up the mountain shoulder.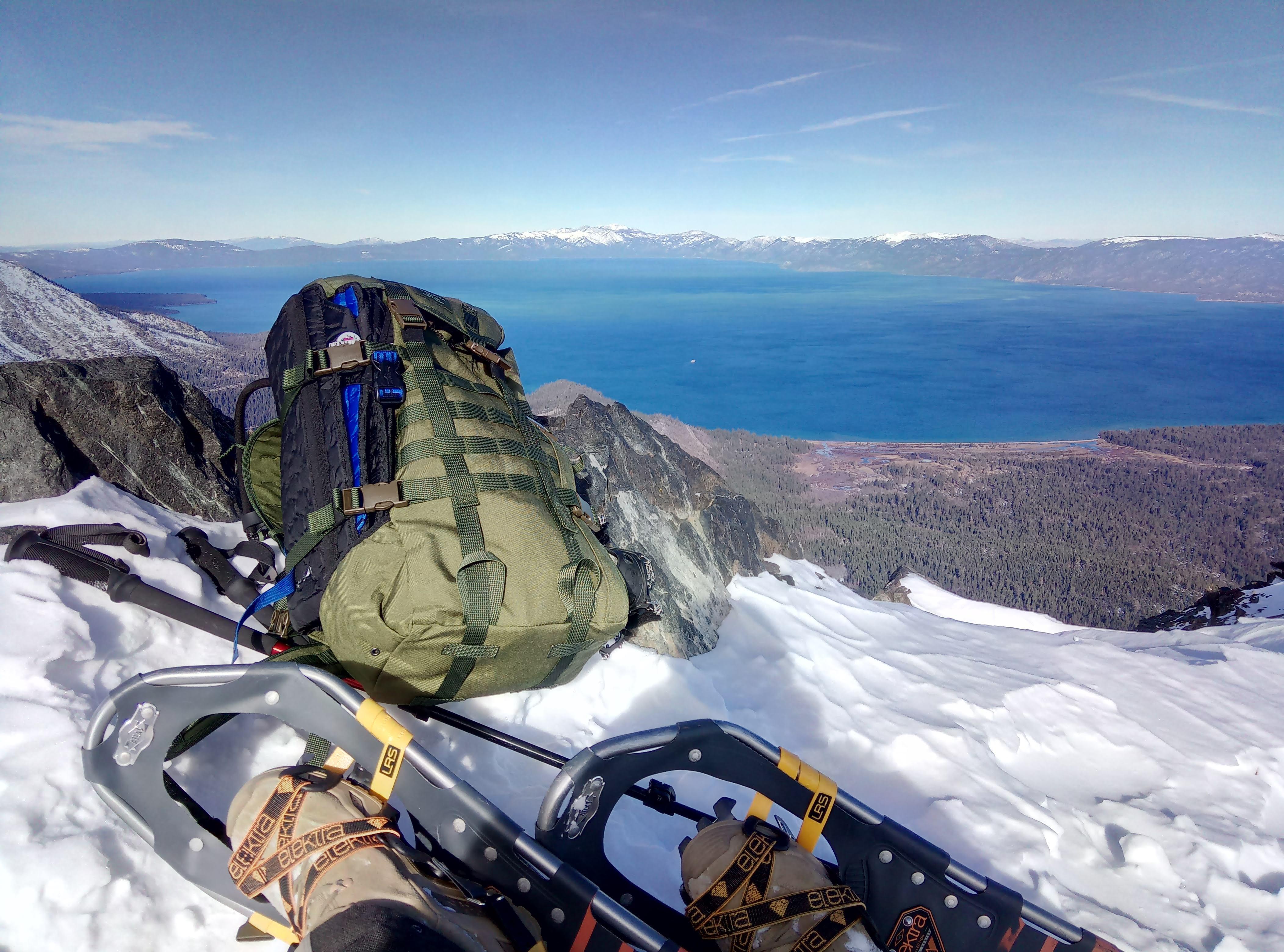 In January 2021 there was a snowstorm that made me reconsider my trip because of the avalanche danger. Only after about a week of nice weather I did decide to give it a shot. After a night in a hotel in South Lake Tahoe I drove up to the turn to the trailhead road and parked my car at the side of the road.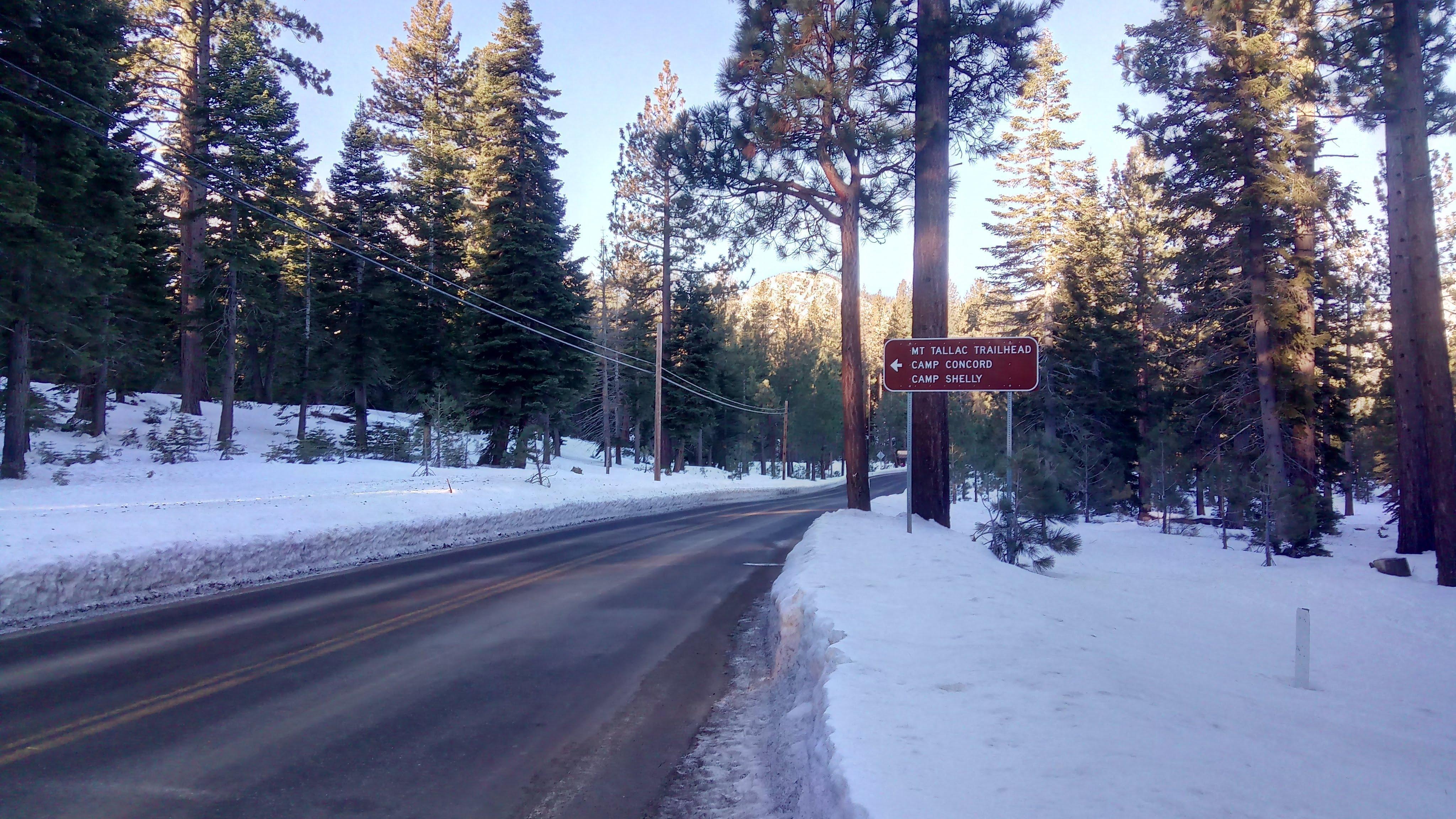 Note during winter months gate is closed and you need to walk from the highway to the trailhead. This adds ~1 mile to the round trip.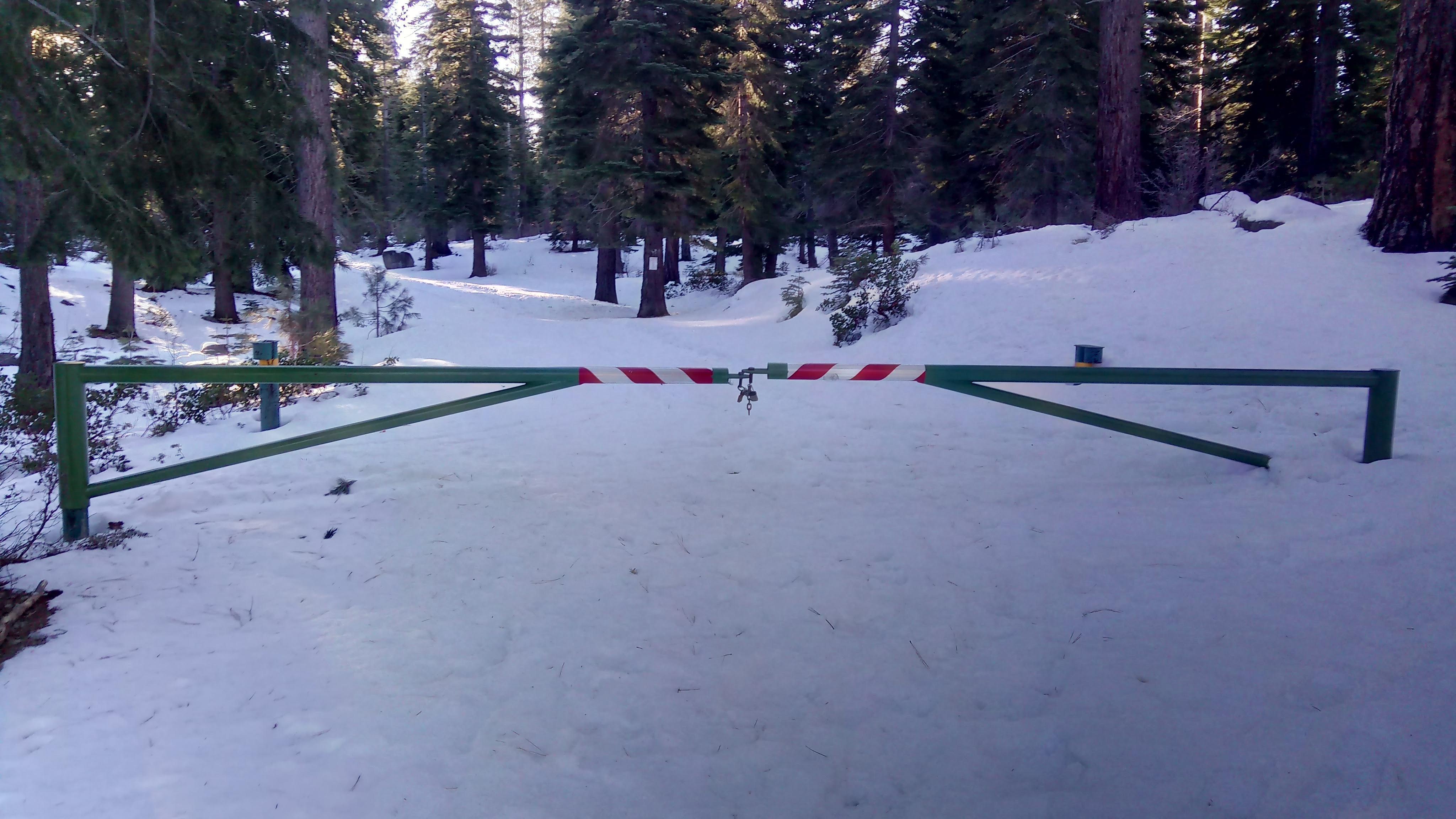 You will not miss the trailhead - there is a big stand with a map and useful information.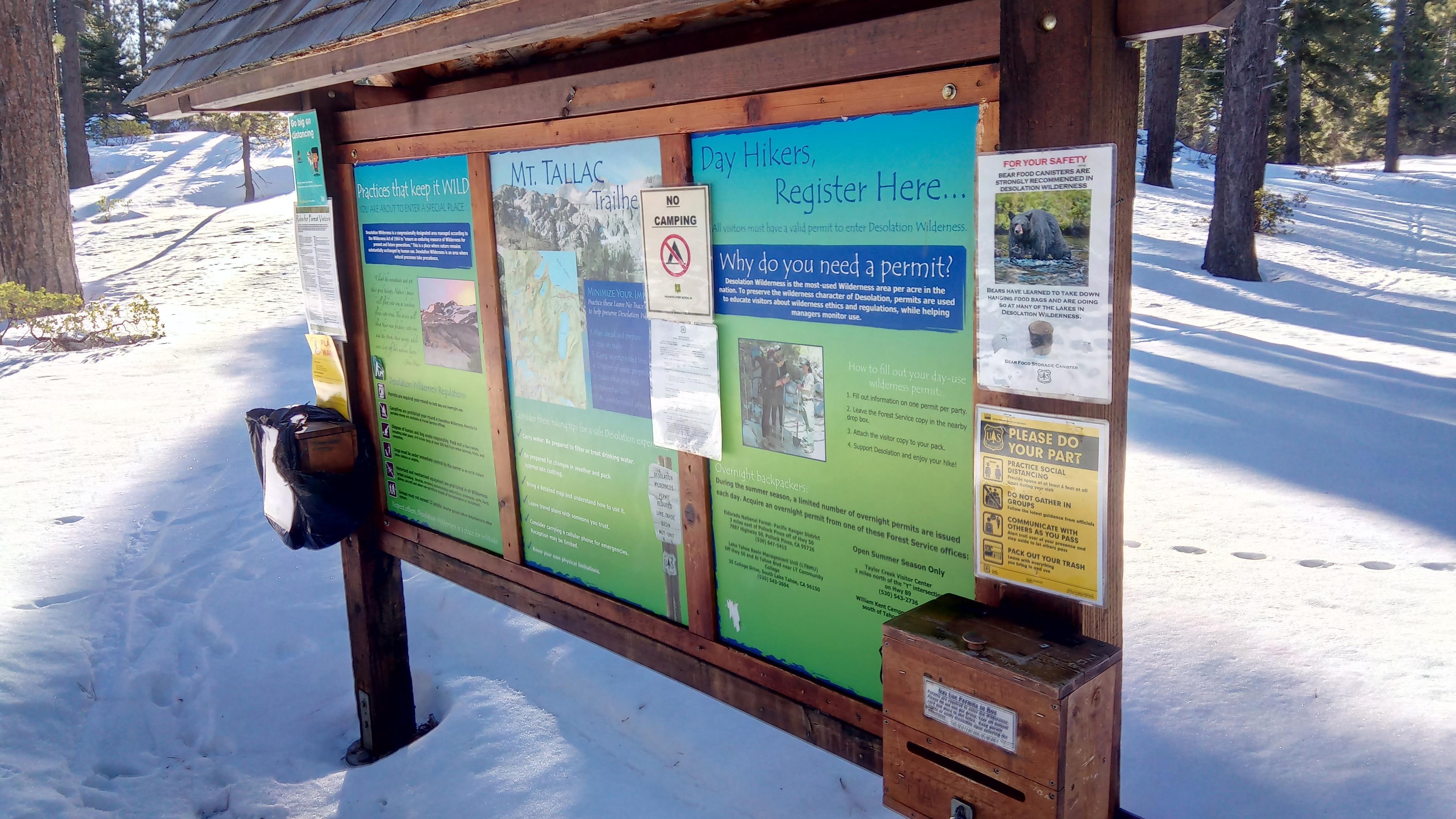 I saw some tracks in the snow so the trail was doable. This time I took short skis with me instead of snow shoes and well they didn't work out for me on the steep terrain.
Fresh snow was slowing my progress considerably and by about 1000 I understood I will not summit with enough day time for a safe return.

Instead I decided to confirm how close to the summit I can get by 1300 and then turn back.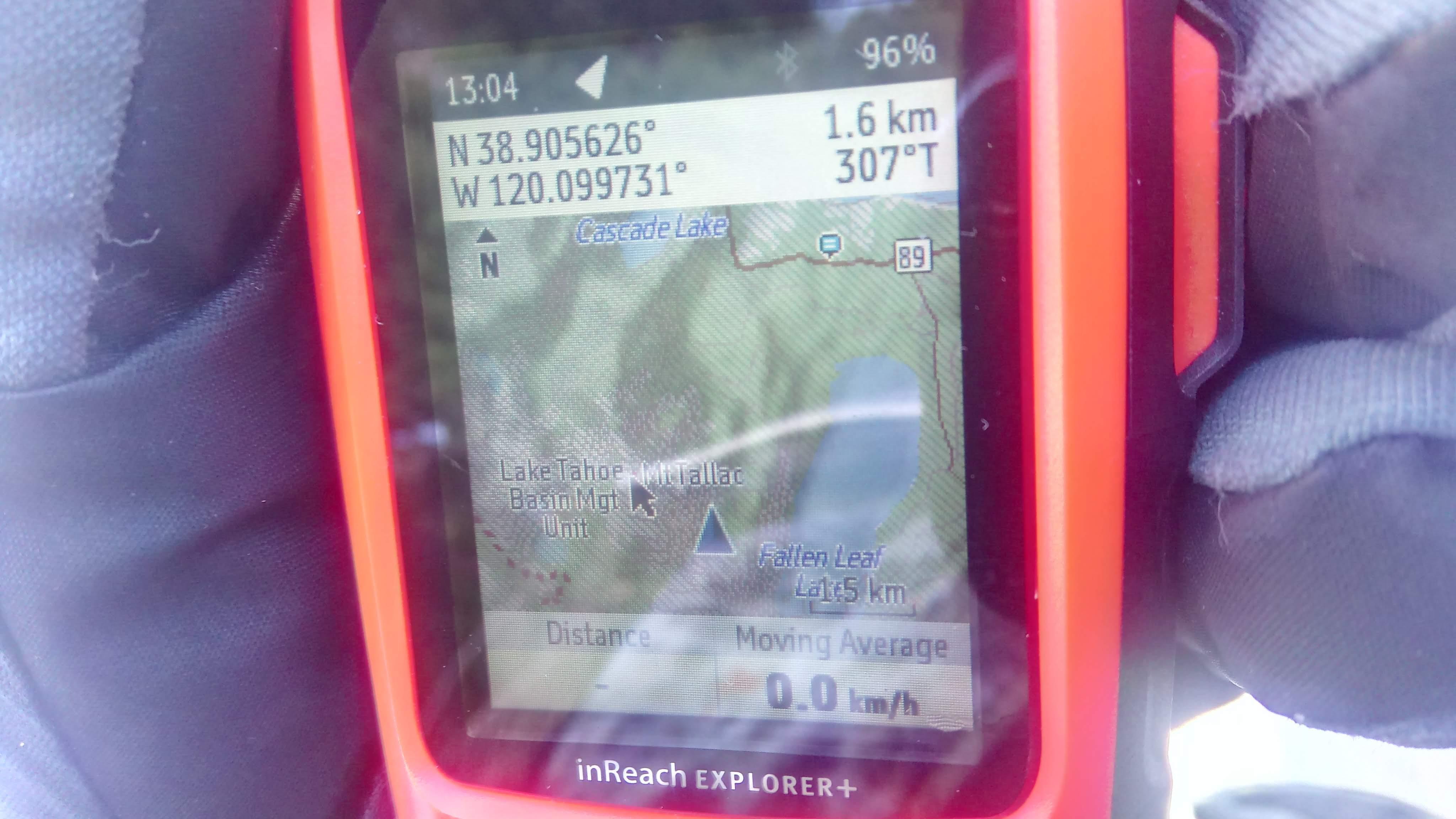 Not very close. Snow conditions concerned me a bit as well - it was way fluffier than I expected so when I lost a basket my pole sank up to the handle almost with no resistance. Not too reassuring given my plan brought me above the tree line and to a steeper terrain.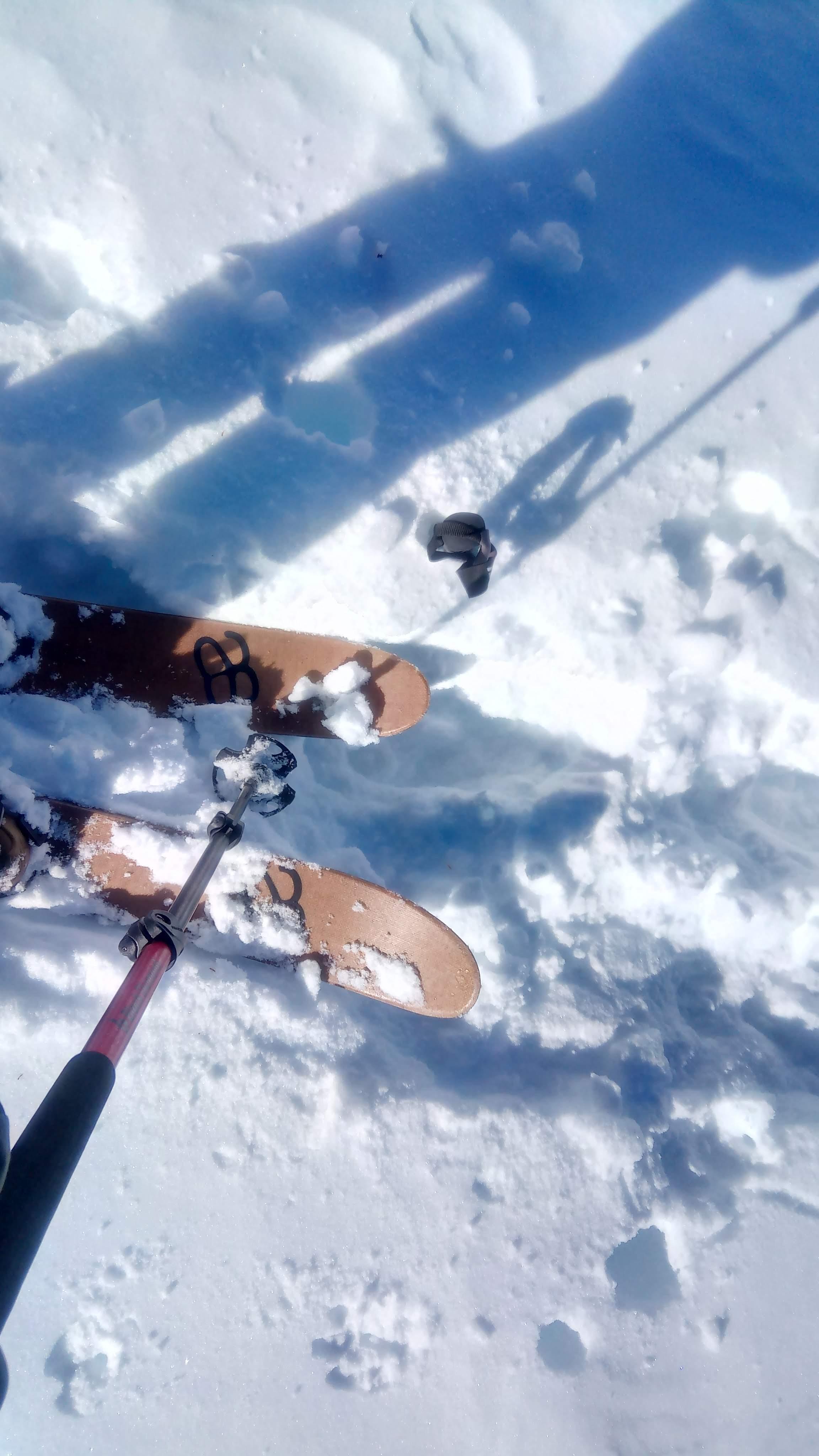 Better safe than sorry I went back to my car. Still I had a great adventure, nice hike and stunning views.

August 2021
Fast forward six month and I'm back! Instead of snow and chill, the main problem in summer is the scorching sun. It often gets above 100F in the afternoon and the secret of the success is an early start. Also helps to snatch that sweet parking spot by the trailhead - parking space is quite limited and if you get there late you may have to park by highway.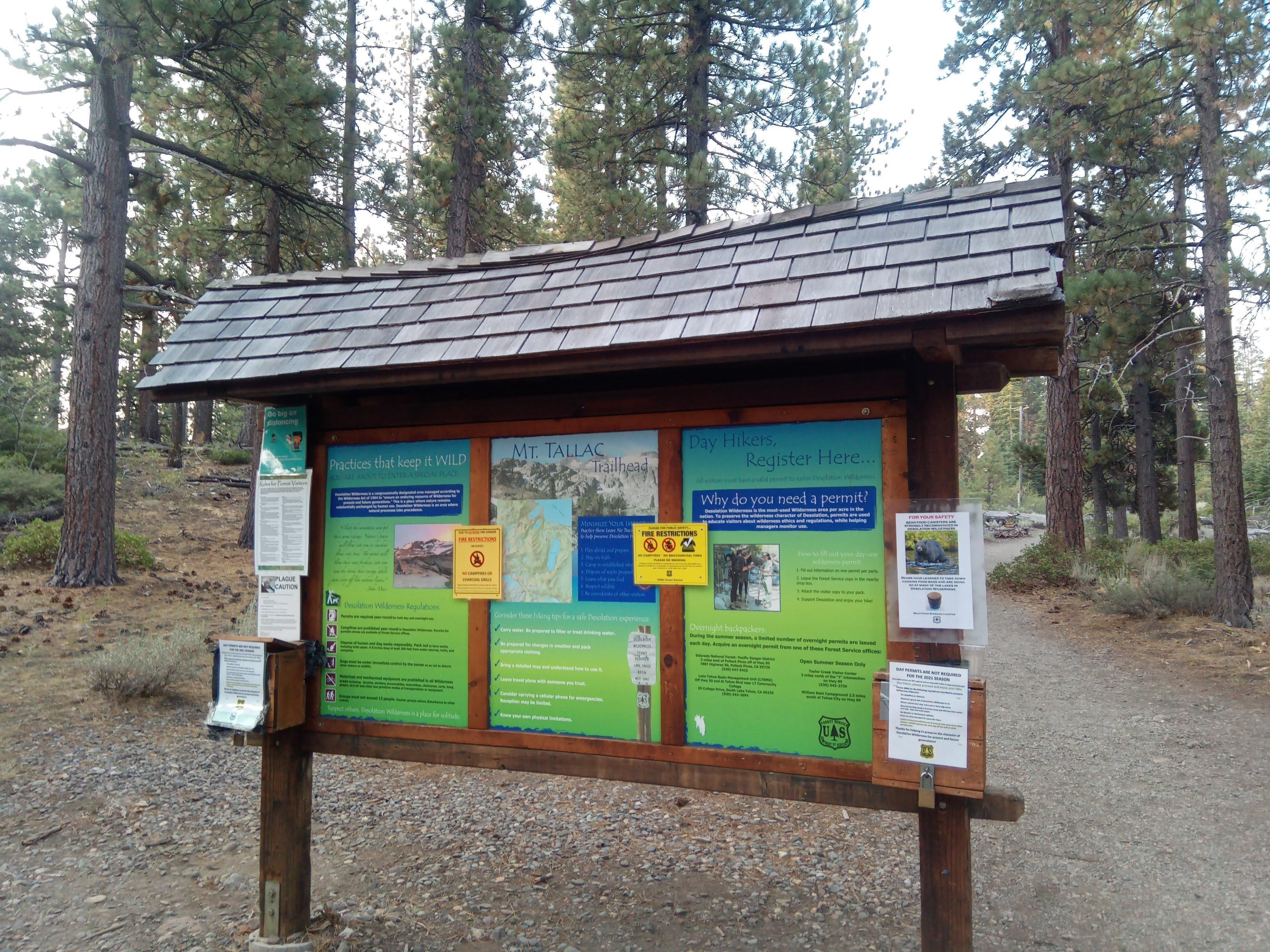 Food left in a hot car may be a treat a bear can't resist. Don't tempt them.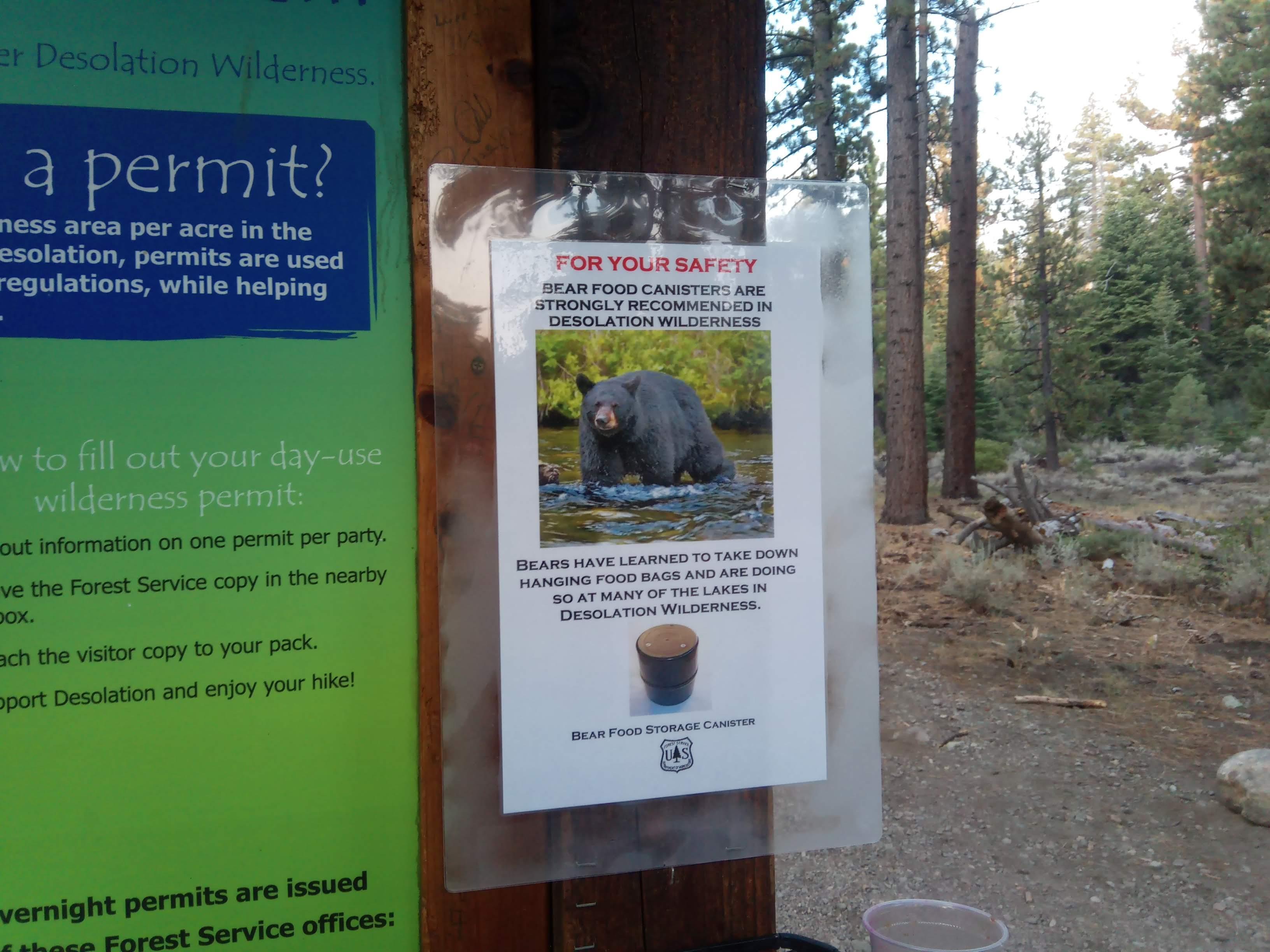 No permits needed for Desolation wilderness day hikes in 2021.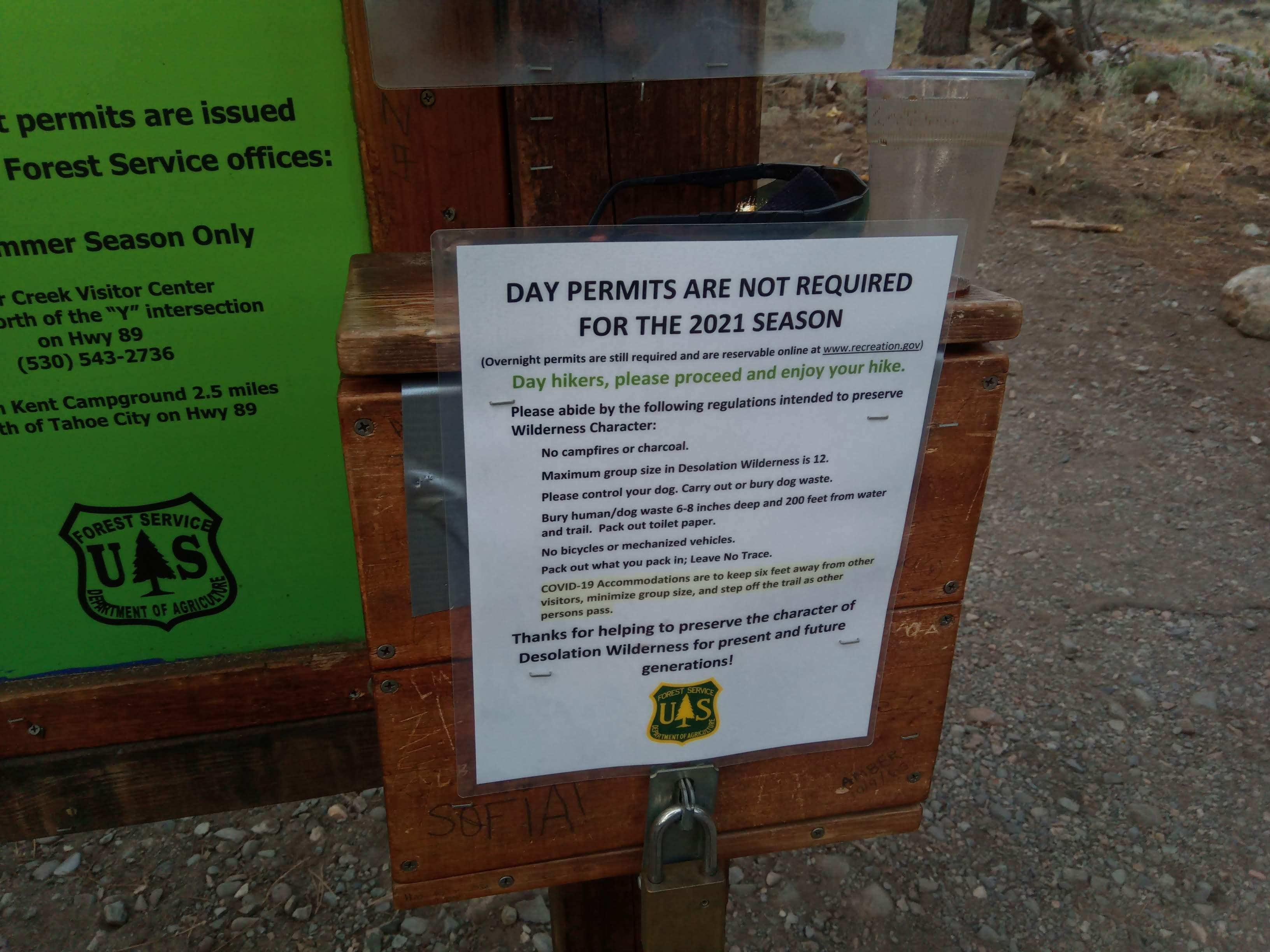 About 10 miles there-and-back.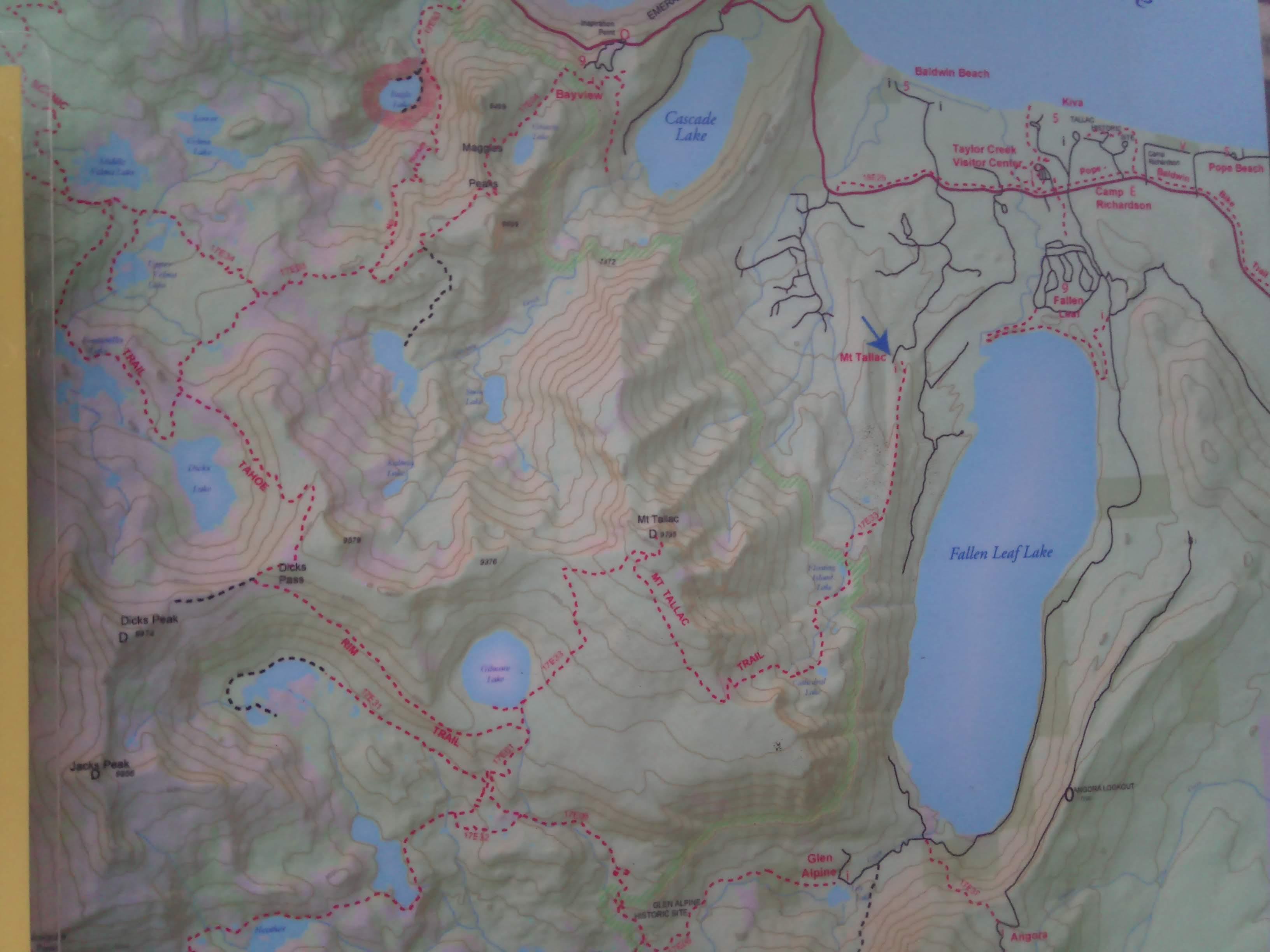 It is fire season so campfires are out of the question. I thought about bringing a stove but decided to pack a cold lunch instead out of caution.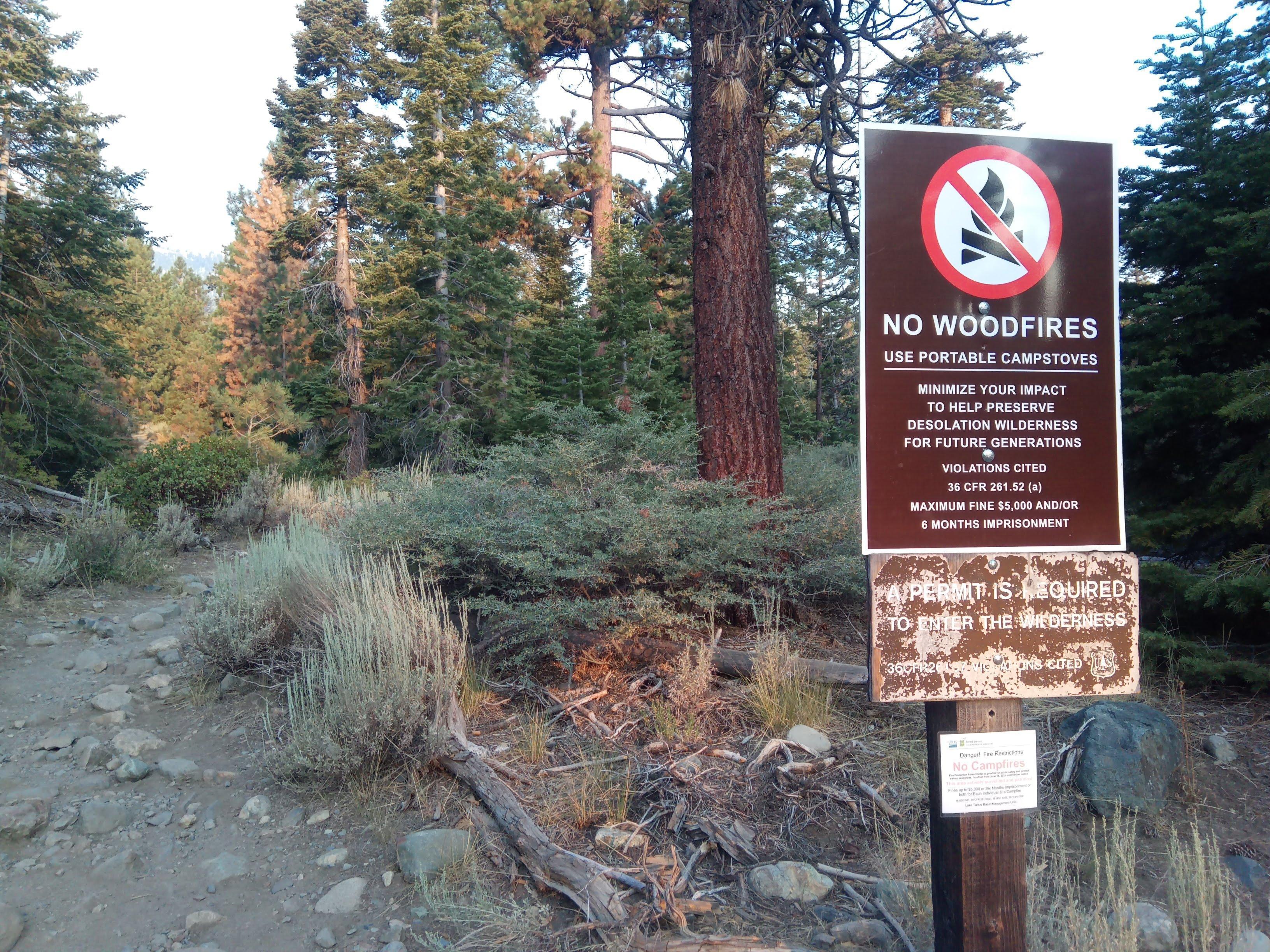 Woods are going up in flames in summer second year in the row. September used to be a fire month, now burning starts in June. Smoke was not too dense but ever present.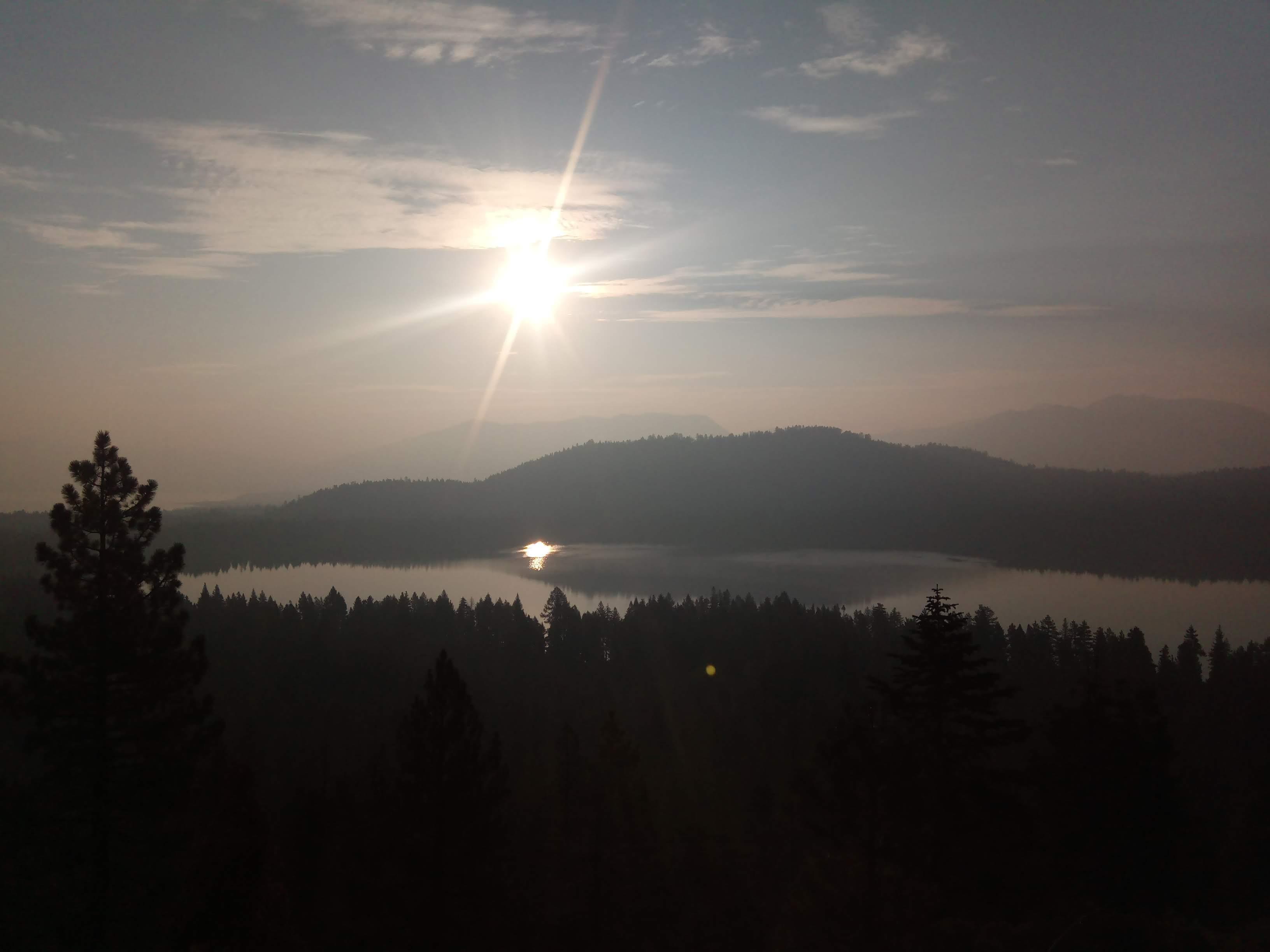 Lower part of the trail is well shaded and roughly follows the Fallen Leaf lake shore line.
Above the Cathedral lake wood starts to thin.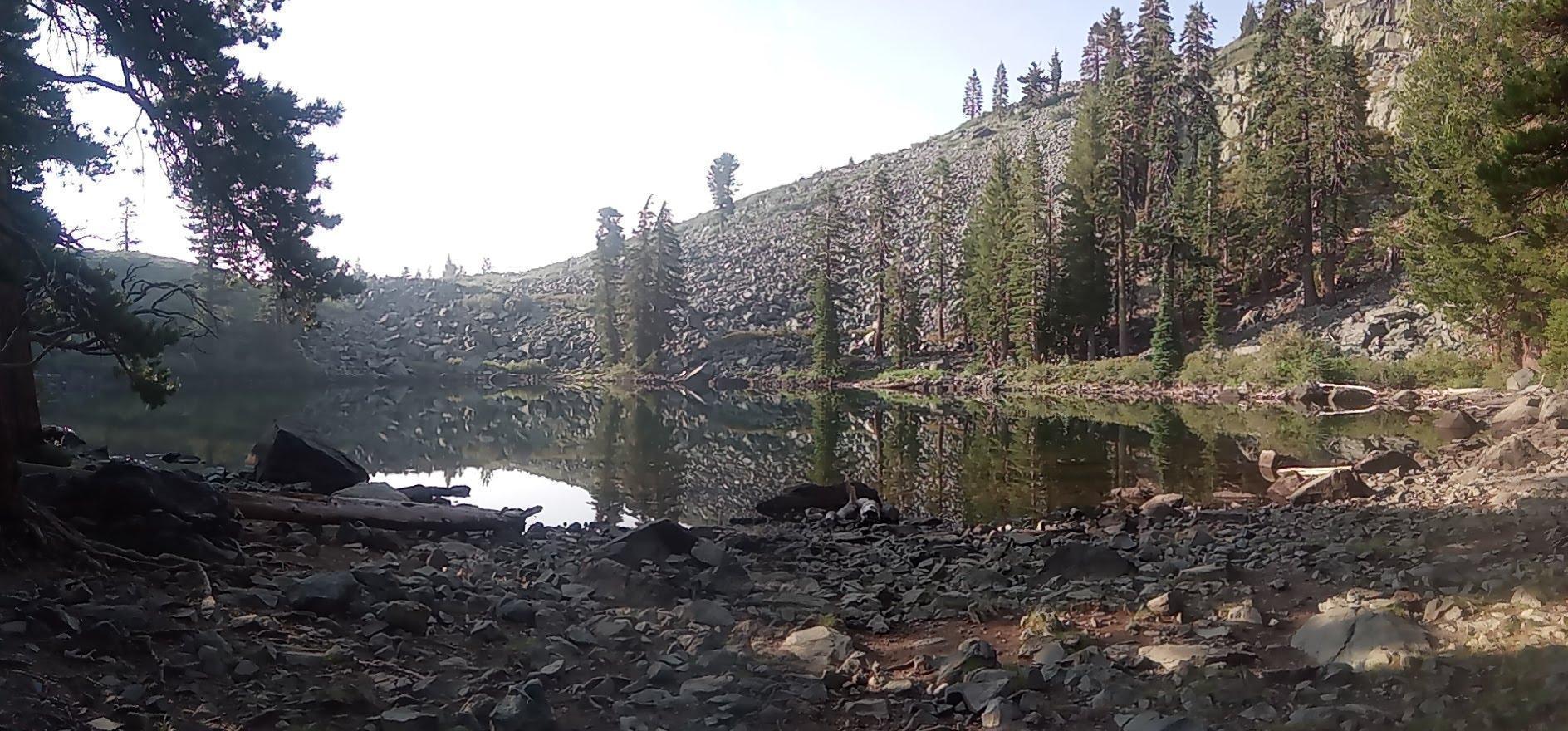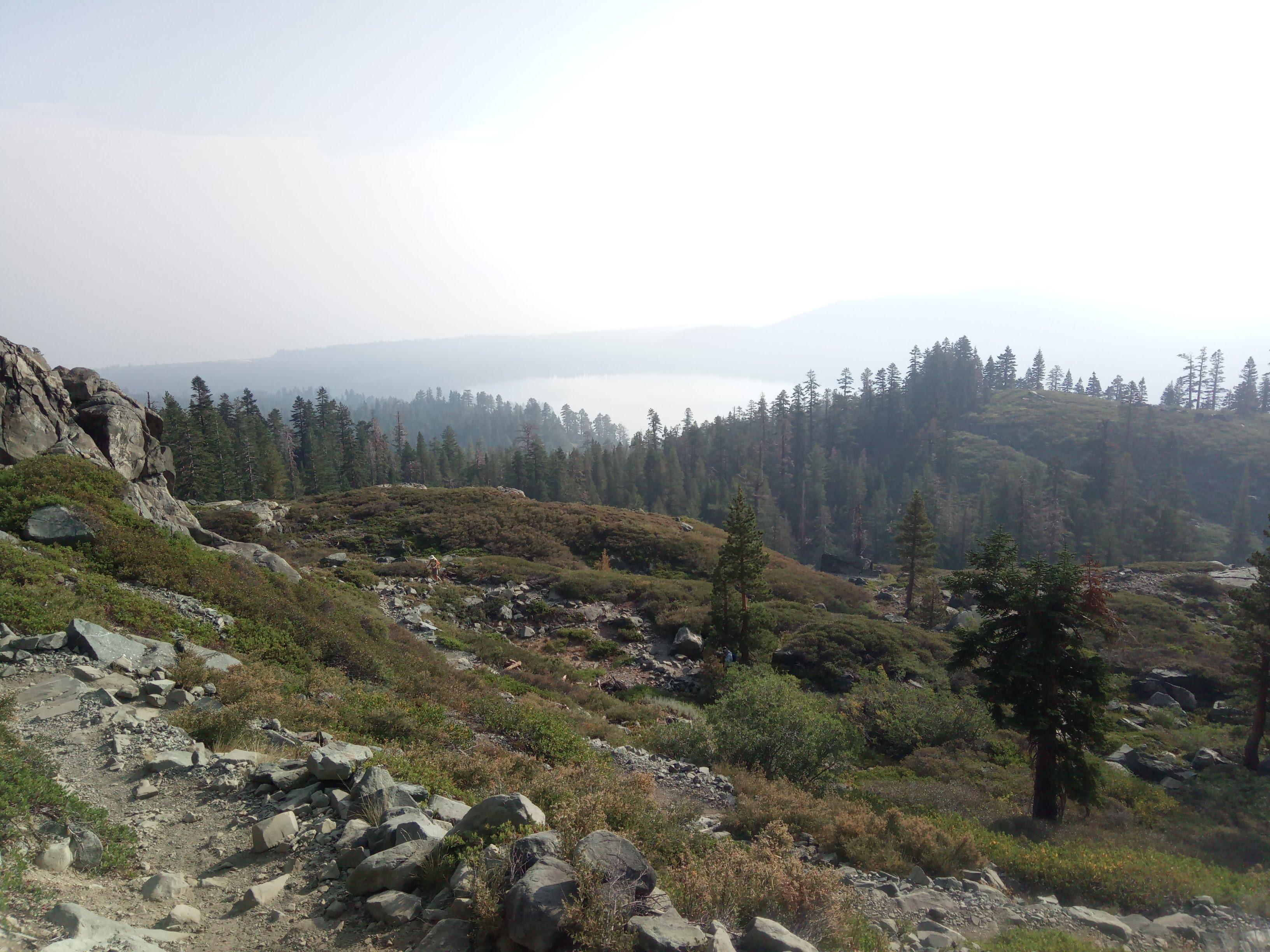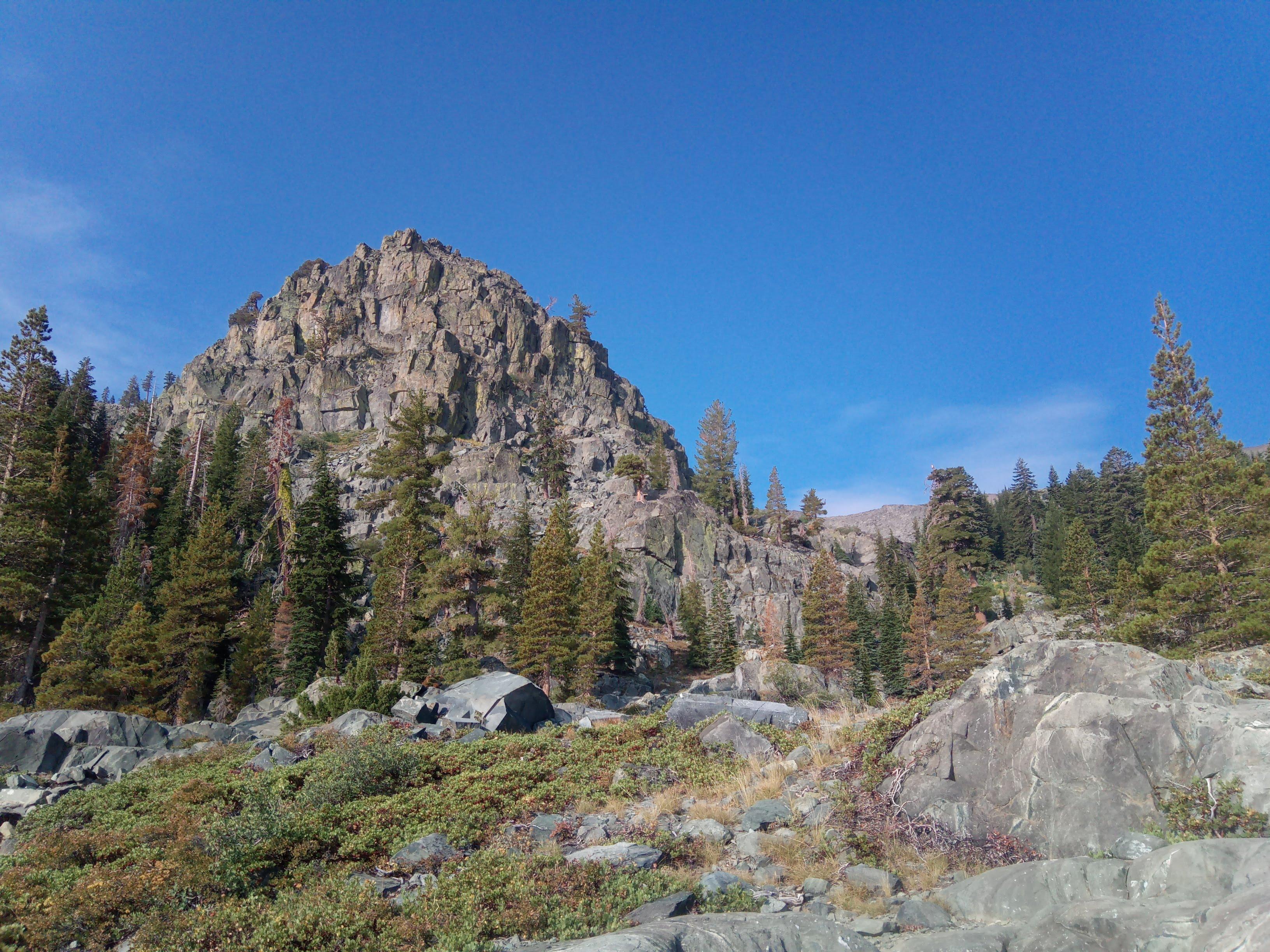 Probably the most exposed part of the trail, it gets really toasty here in the afternoon.

To the left trail goes to Gilmore lake, summit trail is straight-and-right. This is the place where the last shade is available. The summit is but a barren rock. Take it easy and chill a bit before a final push.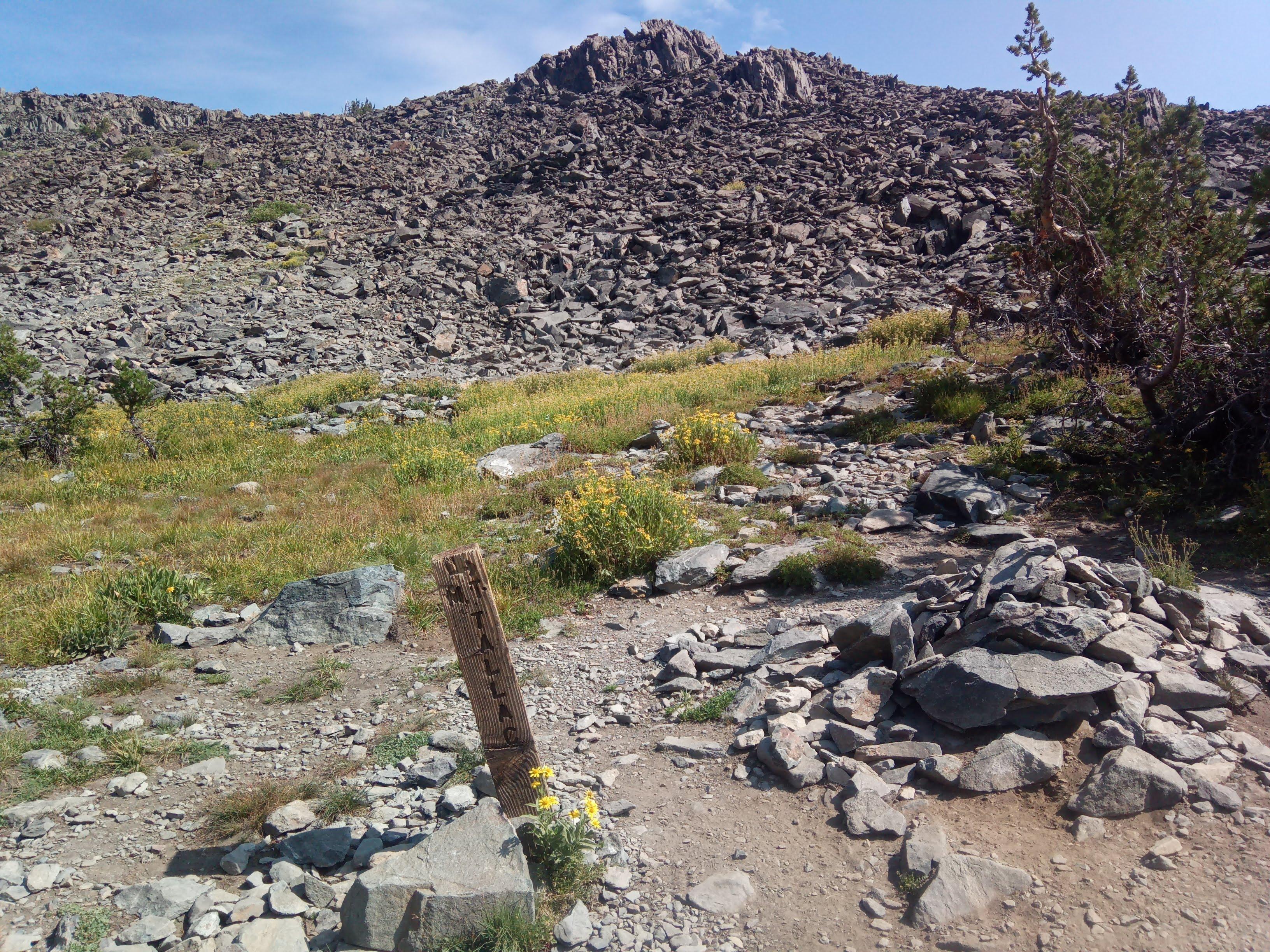 There is quite a bit of space on the top plateau so you won't have to rub shoulders with other hikers even on a busy day.

Mt. Tallac SOTA activation
As usual I had 20/40 band dipole and Discovery TX-500 with me. Plenty of rocks to tie antenna to.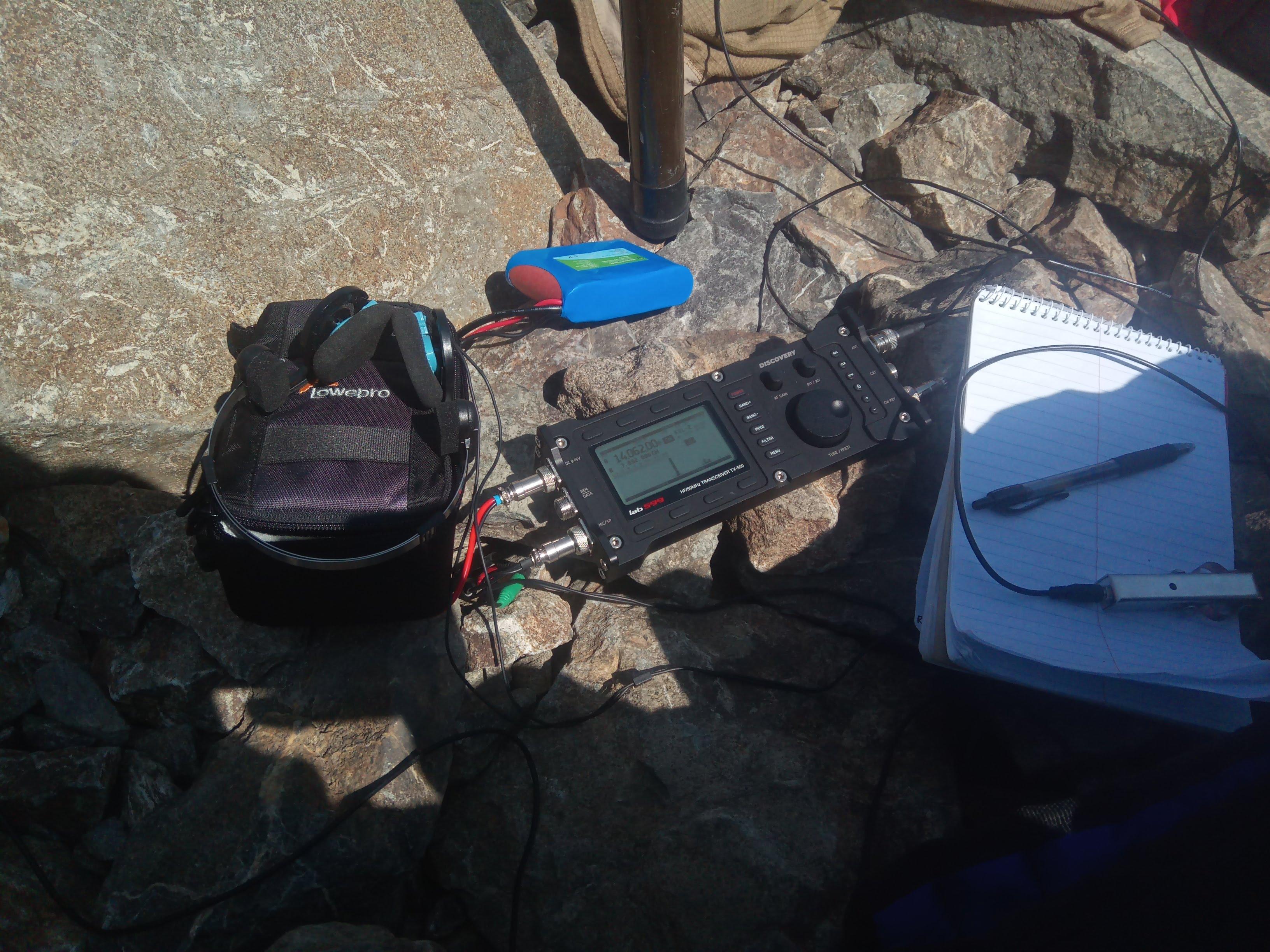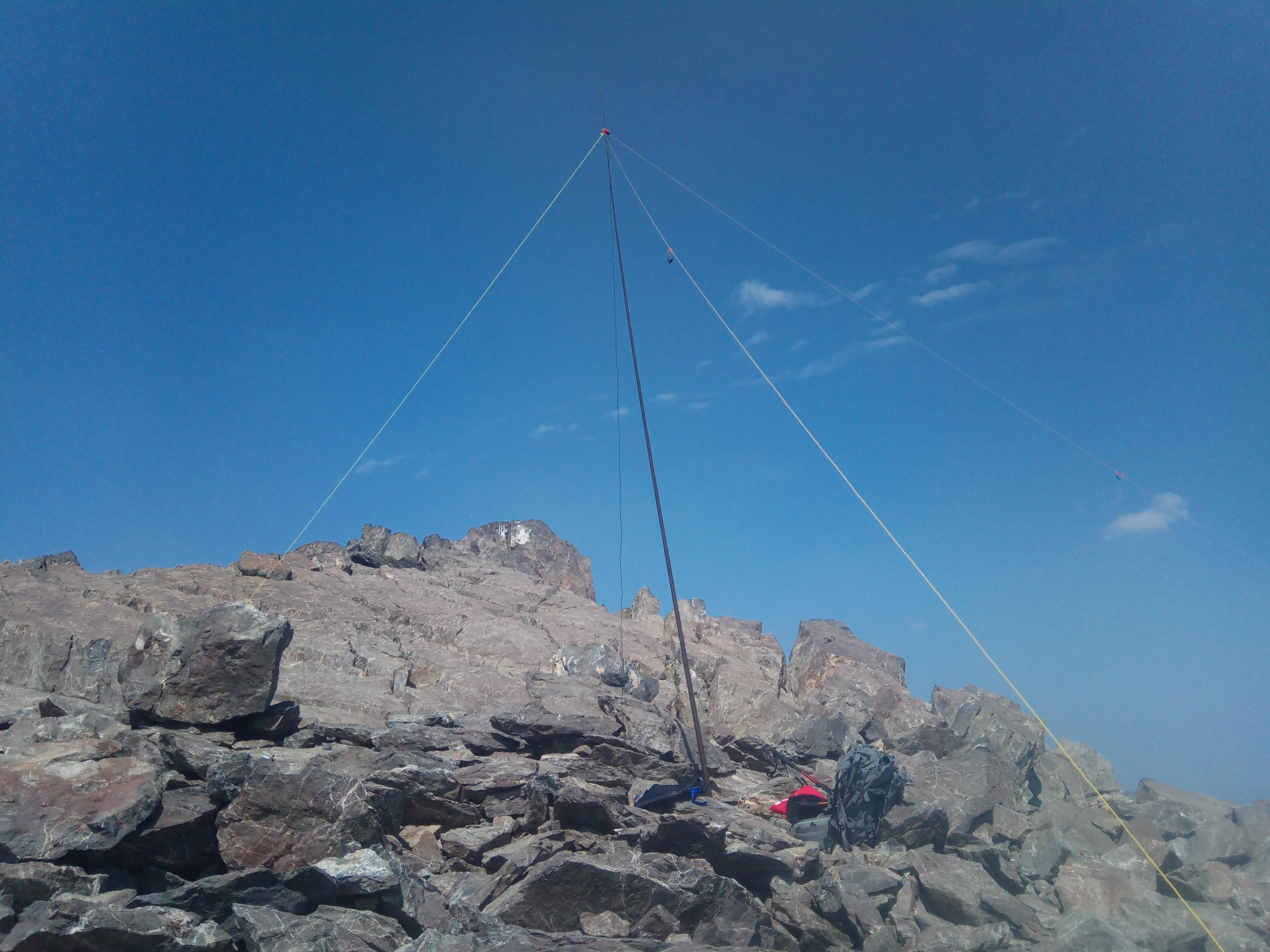 Made all contacts on the 20 meter band. Got some fairly long shots - John K8LJG was able to hear me from Michigan! I am a bit confused about F4WBN - I am not 100% sure if I got the call sign right but I think Christian could be on some expedition nearby? Made three summit-to-summit contacts - Jordan WC6J hailing from Thimble Peak right across the valley from mt. Tallac, Walton W0CP heard from North Kaufman Ridge in Colorado and George KX0R heard from Fairburn Mountain in Colorado. Many thanks to all the chasers making the activation possible!
| Time UTC | Call sign | RST sent | RST received | Frequency | Mode | Maidenhead grid |
| --- | --- | --- | --- | --- | --- | --- |
| 18:15 | KB7HH | 559 | 559 | 14.062 | CW | DM34 |
| 18:16 | K8LJG | 559 | 449 | 14.062 | CW | EN83 |
| 18:17 | WB6POT | 559 | 559 | 14.062 | CW | CM99 |
| 18:20 | WC6J | 559 | 599 | 14.062 | CW | CM98 |
| 18:22 | K6HPX | 559 | 539 | 14.062 | CW | DM42 |
| 18:22 | F4WBN | 559 | 599 | 14.062 | CW | IN93? |
| 18:26 | WW7D | 559 | 559 | 14.062 | CW | CN87 |
| 18:30 | W9MRH | 559 | 559 | 14.062 | CW | EM69 |
| 18:35 | W0CP | 559 | 579 | 14.062 | CW | DM78 |
| 18:36 | N7CW | 559 | 549 | 14.062 | CW | DM34 |
| 18:36 | KX0R | 559 | 579 | 14.062 | CW | DM79 |
| 18:37 | W6DT | 559 | 589 | 14.062 | CW | CM98 |
| 18:40 | VE7HI | 559 | 559 | 14.062 | CW | CN89 |
Back to the trailhead
Around noon it started to get really toasty and I decided it's time to descend.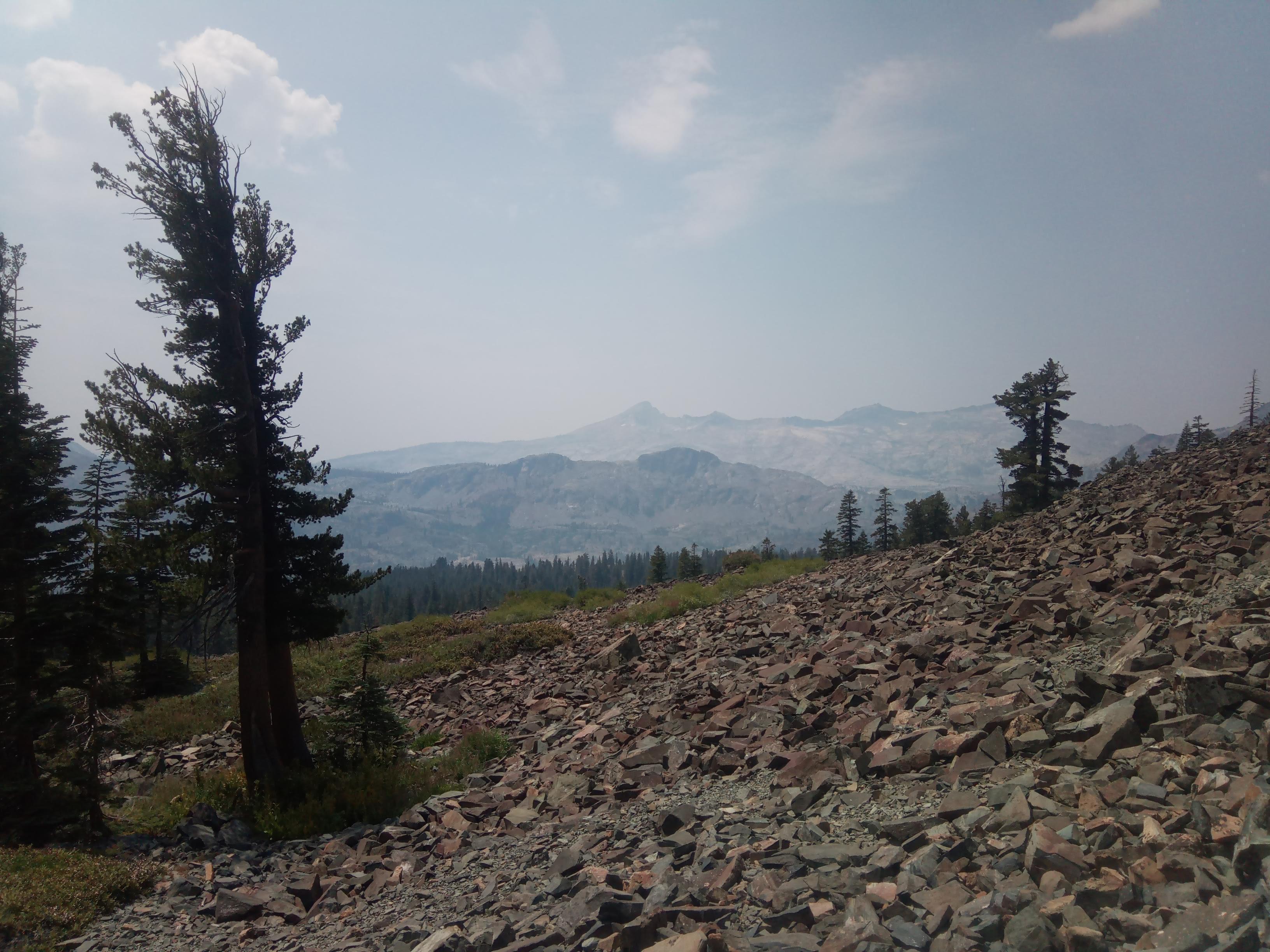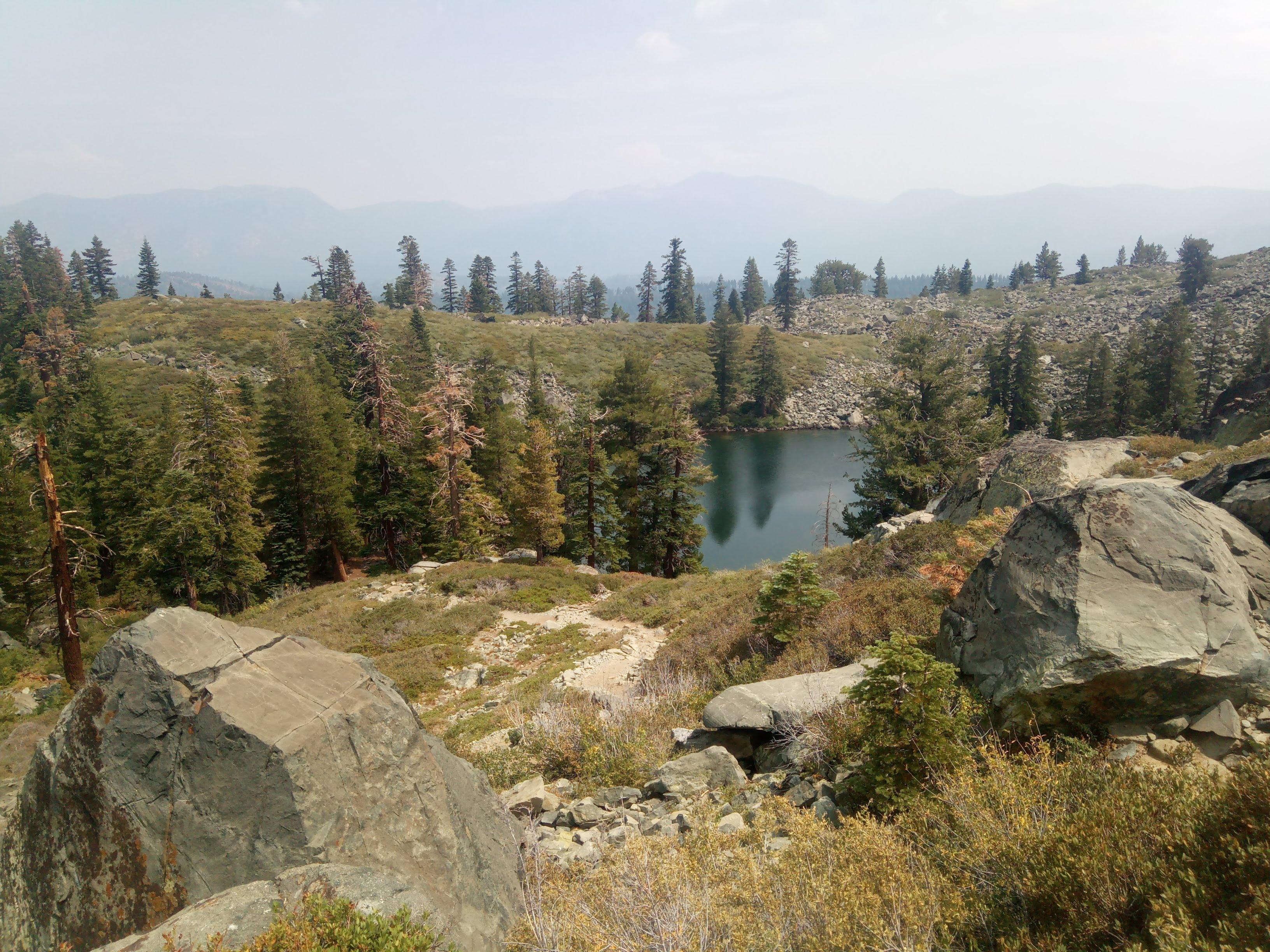 By the time I was in my car the temperature was in the high nineties. I sucked my water bag dry and my backup canteen had only a couple sips of water left.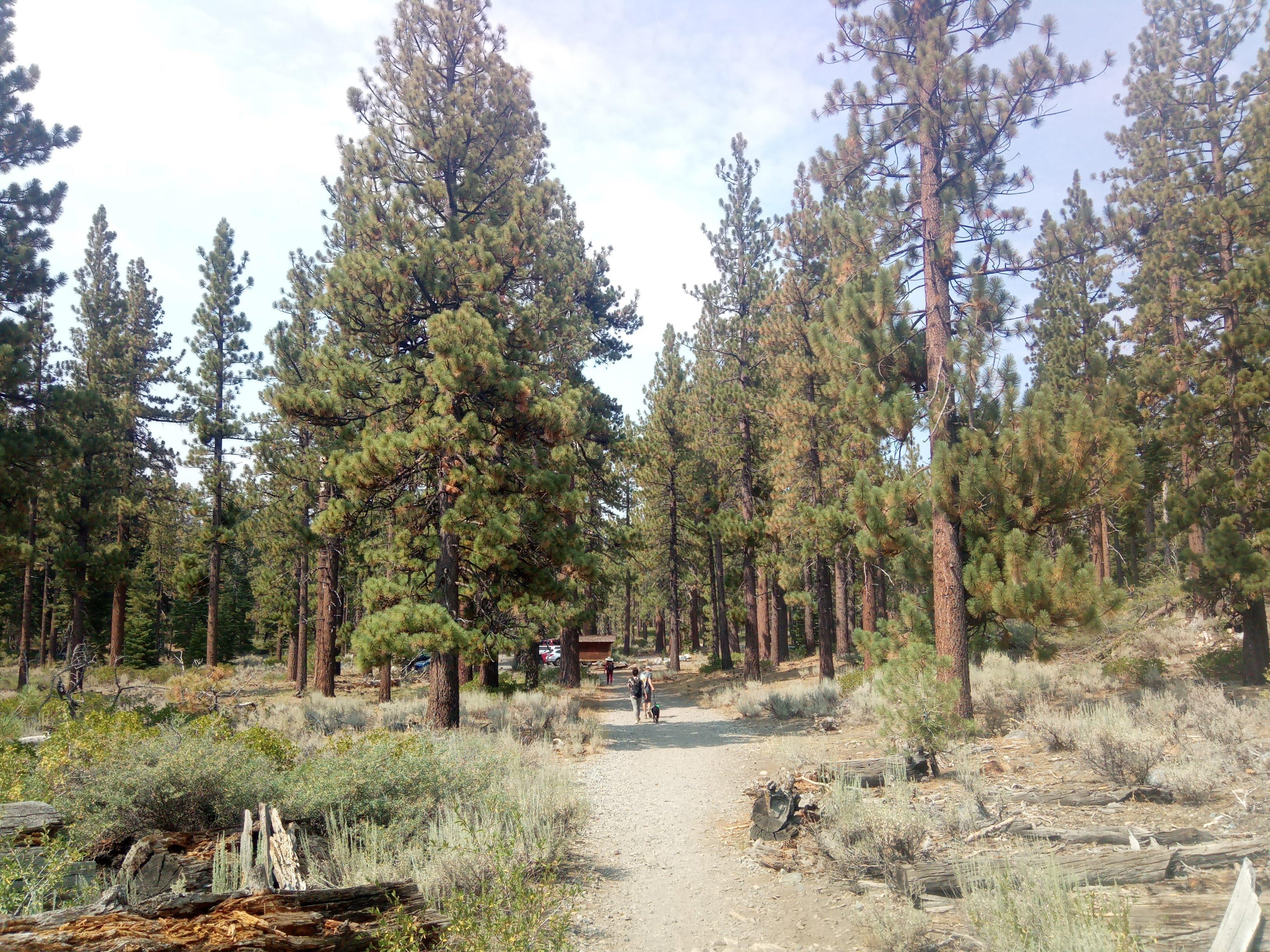 So folks this page is turned. I had a lot of fun! We'll see where this trail goes next. 73 K0SSK out.