SOTA activations near Donner lake 2021-11-13/14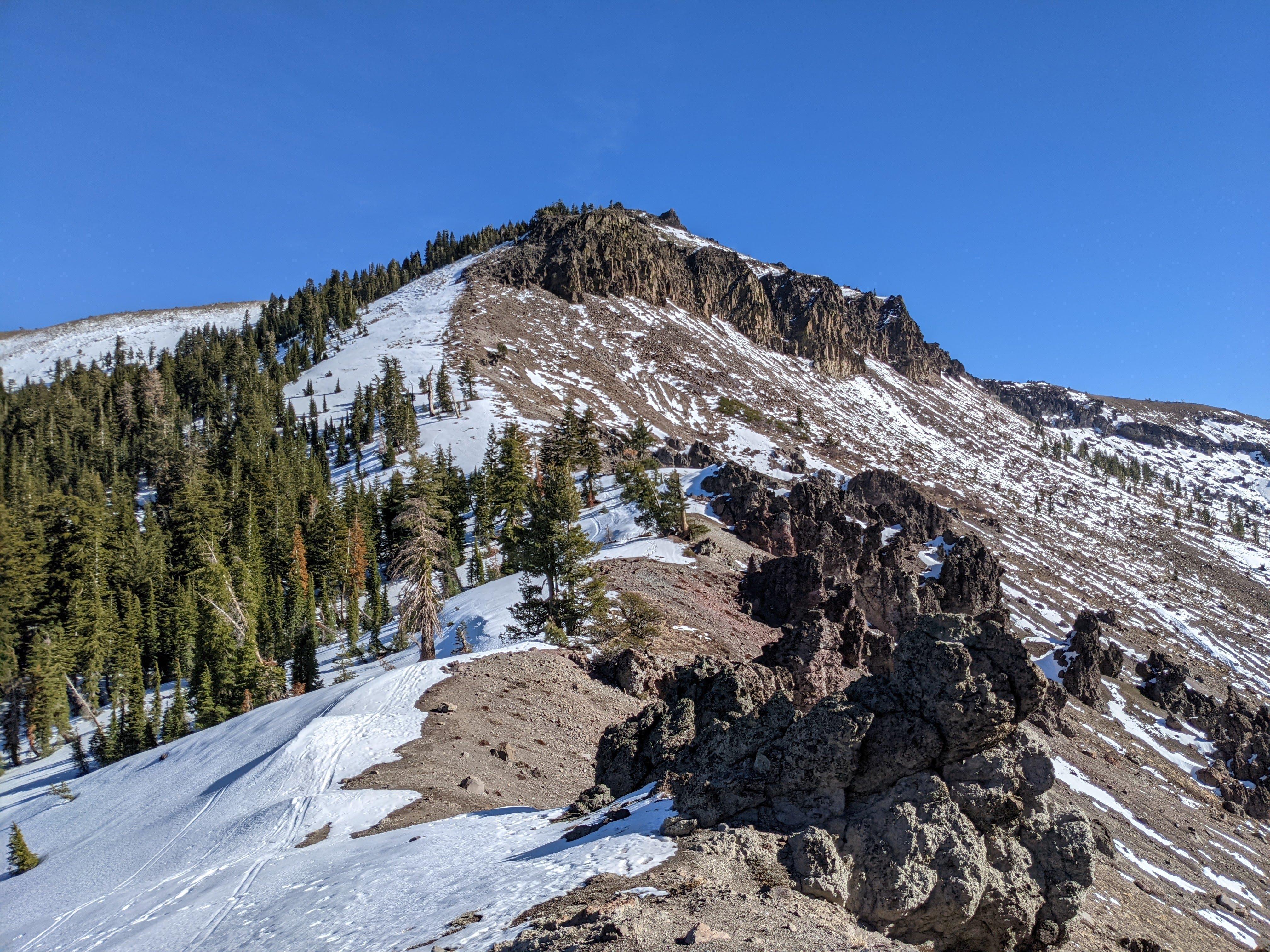 Hi there! As I had already mentioned one of the cool aspects of SOTA is that it gamifies hiking. I do think being outdoors is cool enough on its own but knowing myself I would just stay in my cozy comfort zone with a mug of hot chocolate in my hands and repeat the same hikes over and over again. Luckily each SOTA activation only yields points once per a calendar year so there is always an incentive to activate new summits. My goal this year is reaching the first milestone on the path toward the coveted 'Mountain Goat' status - getting 100 points activating on CW.
It is November already and I must hurry - higher mountains already have their first snow this season and I expect and hope for more soon-ish. This means activating higher value summits now until snow makes it more difficult or activating frequently which is not really an option because on top of a need to hold a paying job I am lazy as hell.
Why the Donner lake area
Well, I guess it is because getting through my Halloween routine I re-watched "The Shining" recently. It is my favorite movie ever and one I leaned about the Donner Party from.
Exactly 175 years ago, in November of 1946 California bound caravan reached Truckee (now Donner) lake in Eastern Sierras, not that far from then-nonexistent 'Biggest Little City in the World' - Reno, Nevada. Cut from the final destination by snow the party members had to either spend winter with little or no food in tents, lean-tos and shabby cabins roofed with an ox hide or risk crossing Sierra Nevada on foot. Fifteen travellers felt strong enough to attempt the trek across the mountains. Instead of the planned six days it is going to take over a month to cross mountains and eight of the fifteen are going to die during the trek.
The situation was further complicated by the Mexican-American war - American military was wrestling California from Mexico at the moment and there were not enough able bodied men to muster for a full scale rescue mission. Three relief parties were able to fetch most of the survivors by the middle of March but it wouldn't be until the late April of 1847 when the last surviving member of the party reached the Central Valley. Forty two men, women and children didn't make it to California.
The attention directed at the Donner Party is made possible by reliable accounts of what occurred
writes George Stewart in his book, "Ordeal by Hunger: The Story of the Donner Party"
The cannibalism, although it might almost be called a minor episode, has become in the popular mind the chief fact to be remembered about the Donner Party. For a taboo always allures with as great strength as it repels.
From "Butcher's crossing" to "The Shining" to "Ravenous" to "Red Dead Redemption II" - references and homage to the story of the Donner party are abundant. Undeniably it is one of the most important sources of The Old West lore.
A transplant to California myself I always felt for these people striving to reach the distant paradise of not-yet-Golden-then State. It is time to pay a visit.
So how are things now
The times had changed obviously - it takes only about 5 - 5.5 hours to reach Truckee from San Francisco (3.5 with no traffic but there is always traffic). Highway 80 stays open in winter and there was no snow in the valley yet as in early November of 2021.
Donner memorial state park is on the eastern shore of Donner lake. There are monuments and visitor center with information about the Donner Party as well as about local first nations people and about Chinese workers who were instrumental in building the railroad through the Sierras and connecting eastern and western parts of the US. Should be a nice place to camp in summer.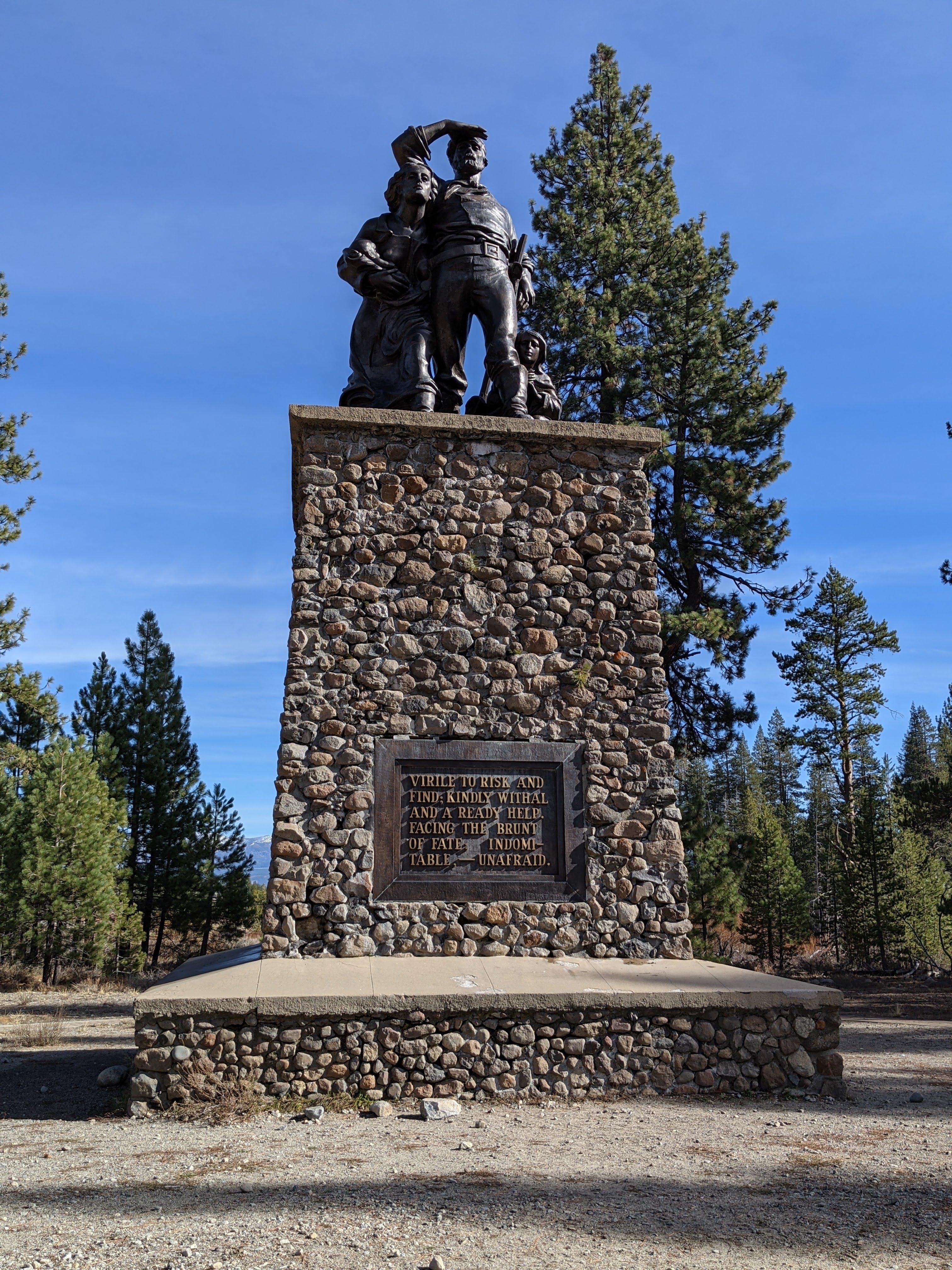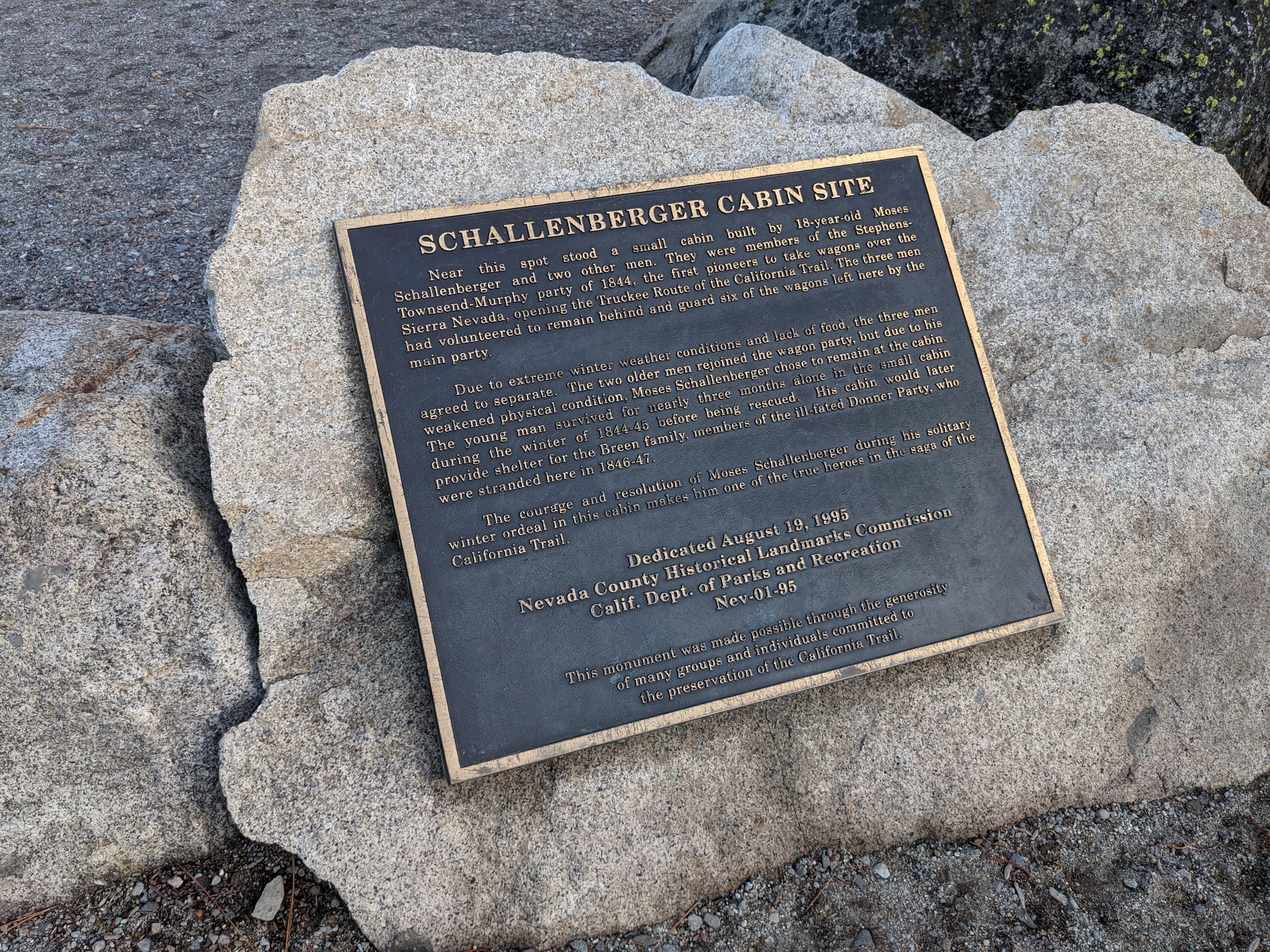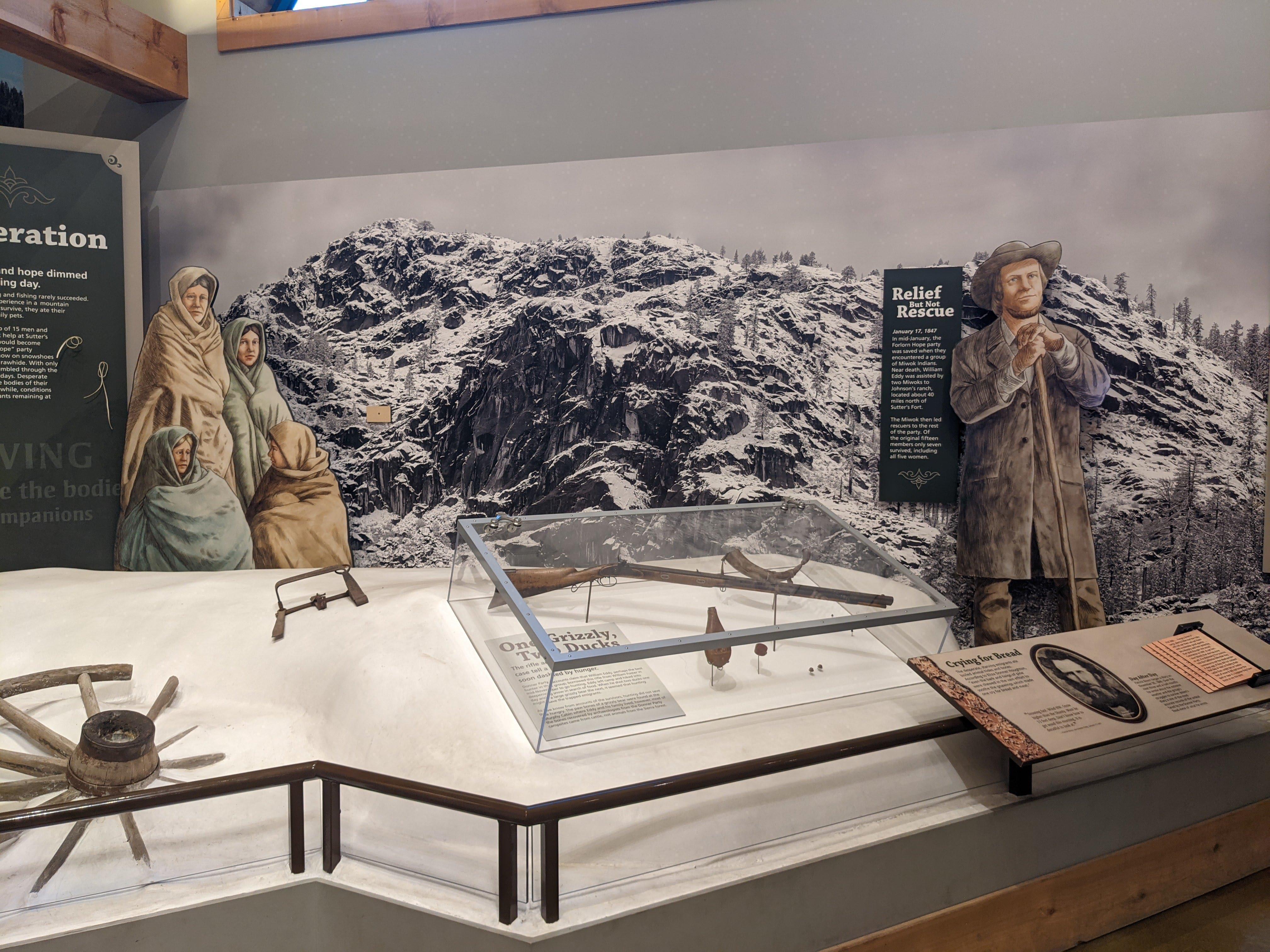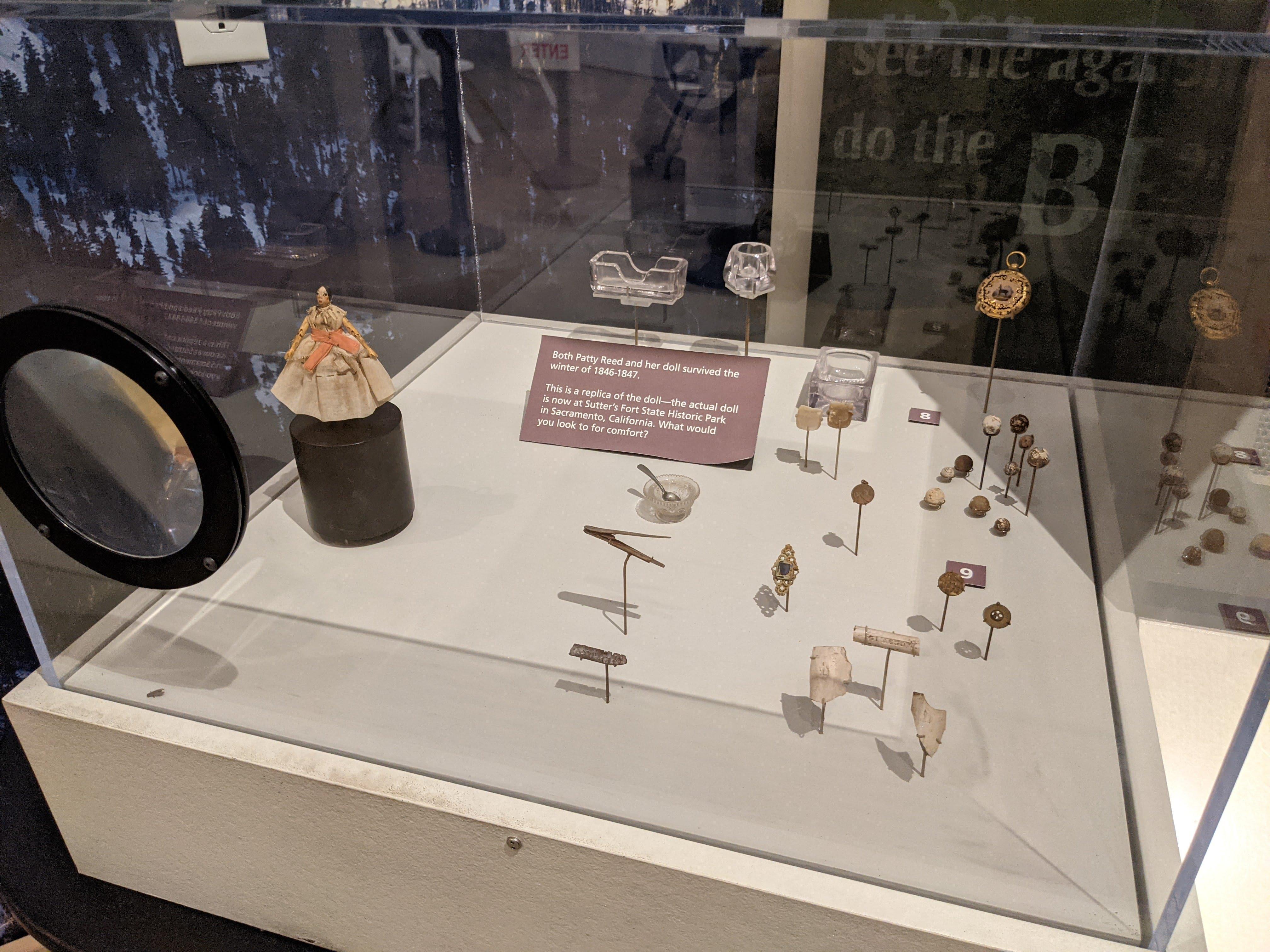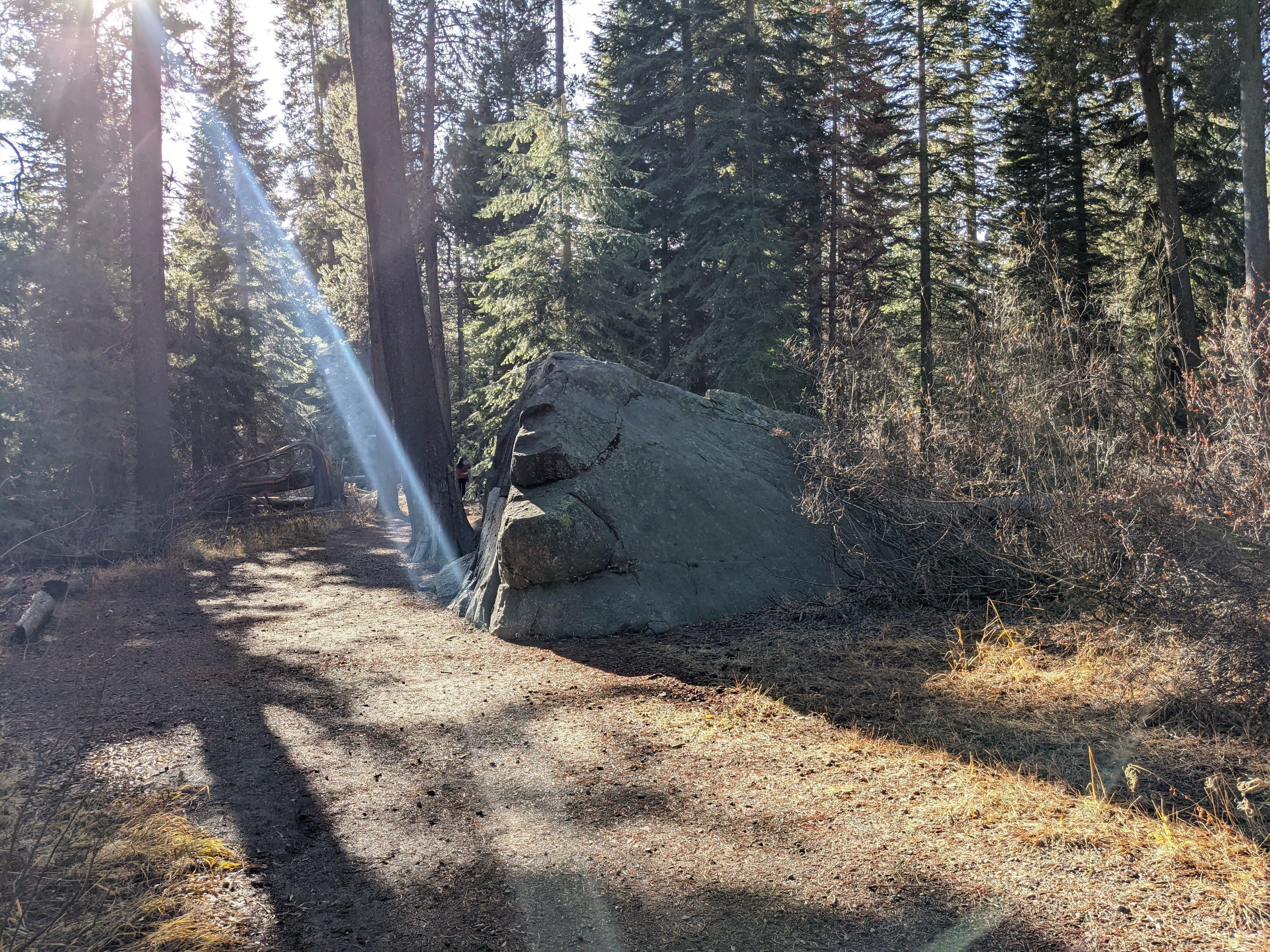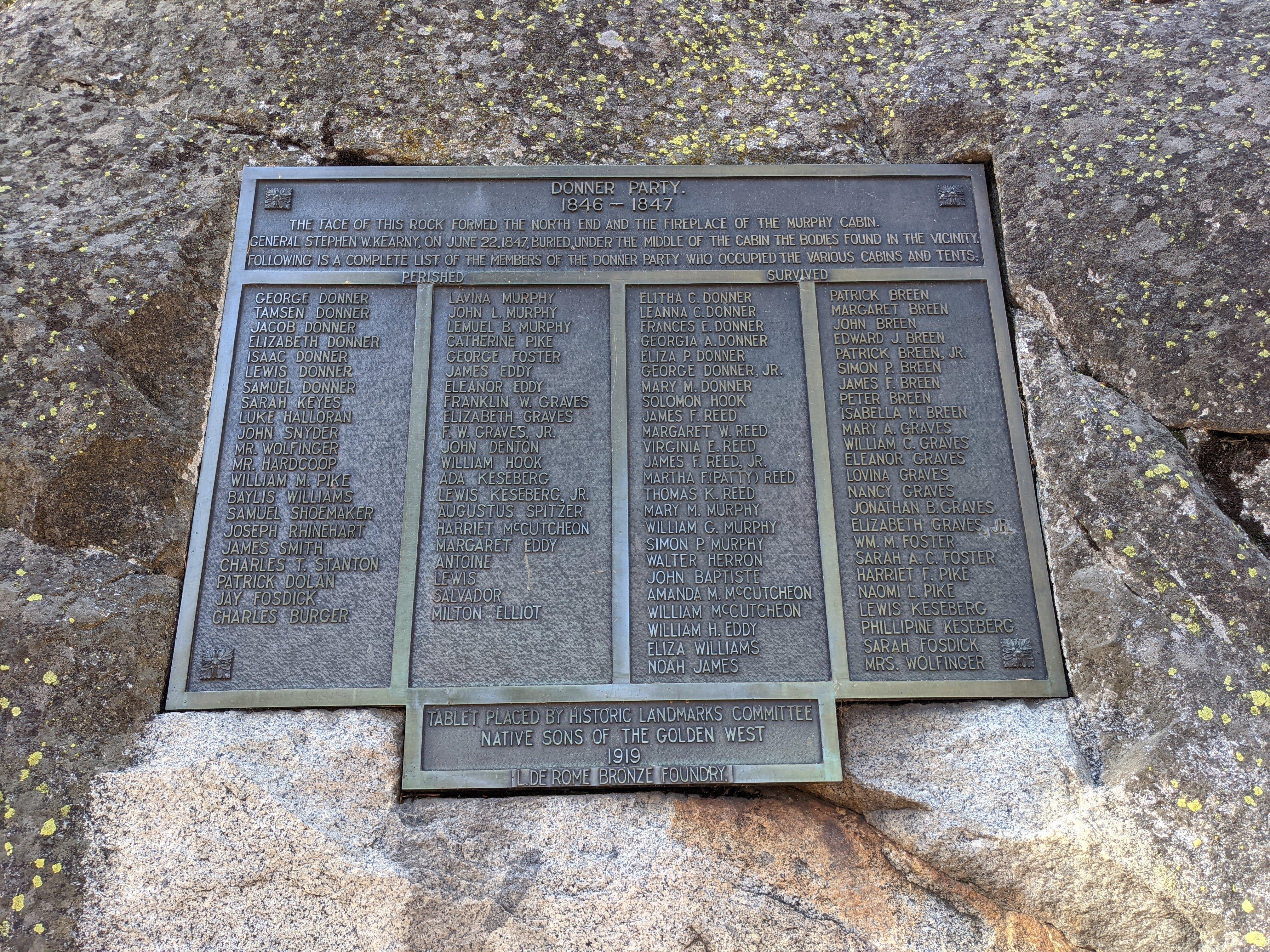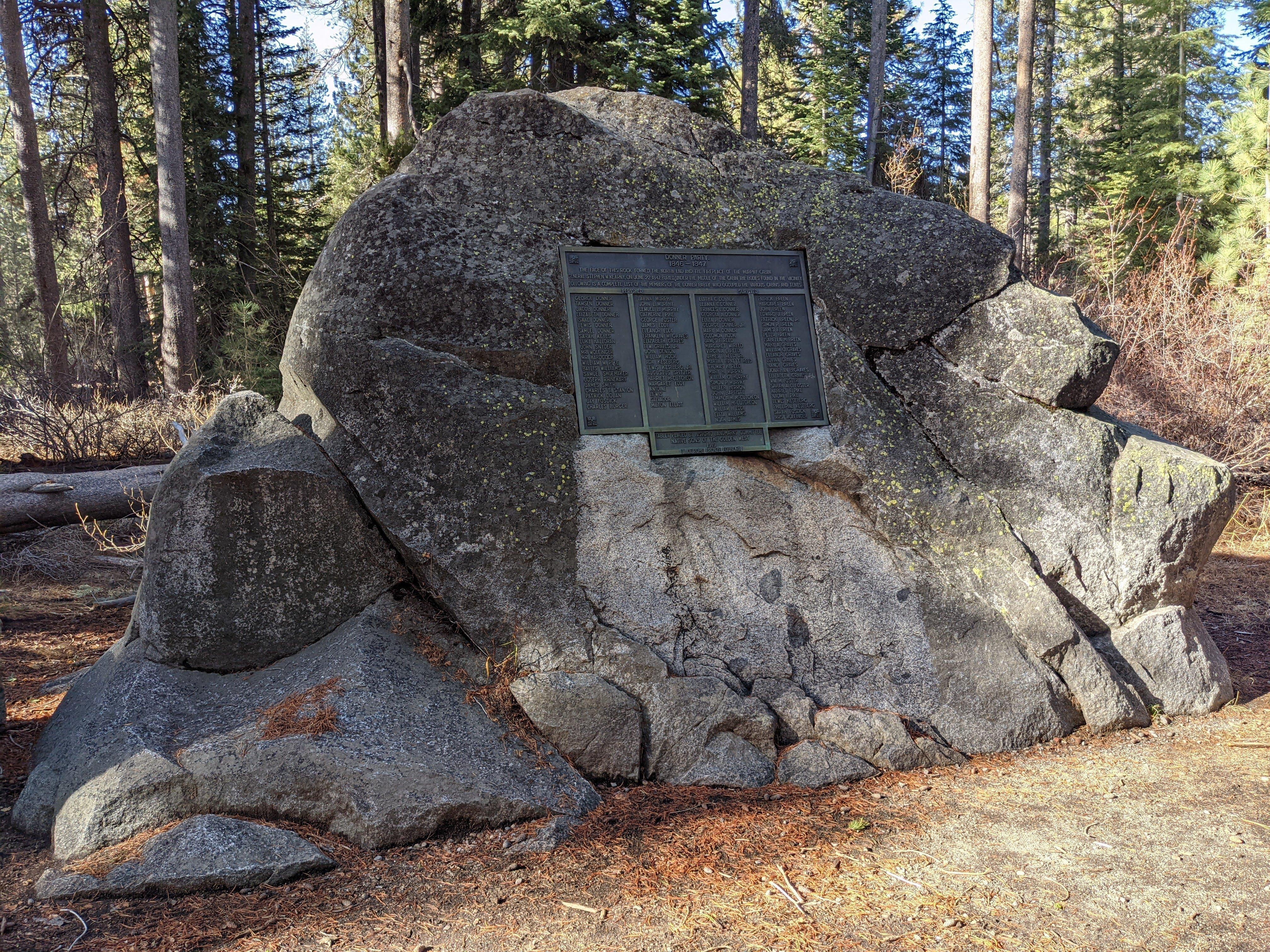 I decided to spend a weekend in the area and activate two mountains - Castle Peak aka W6/SN-038 not to be confused with multiple Castle Peaks in Colorado and Donner Ridge aka W6/NS-181. Both are eight point mountains but Donner Ridge is way lower, way flatter and easier to get to than Castle Peak.
Castle Peak aka W6/SN-038 SOTA activation
Mountaineering is an inherently dangerous activity. Know your limits and plan carefully.
Here is the trail on AllTrails. Getting there is straightforward - you just drive and park here.
The road may look well paved and maintained but it kind of ends immediately after this left turn.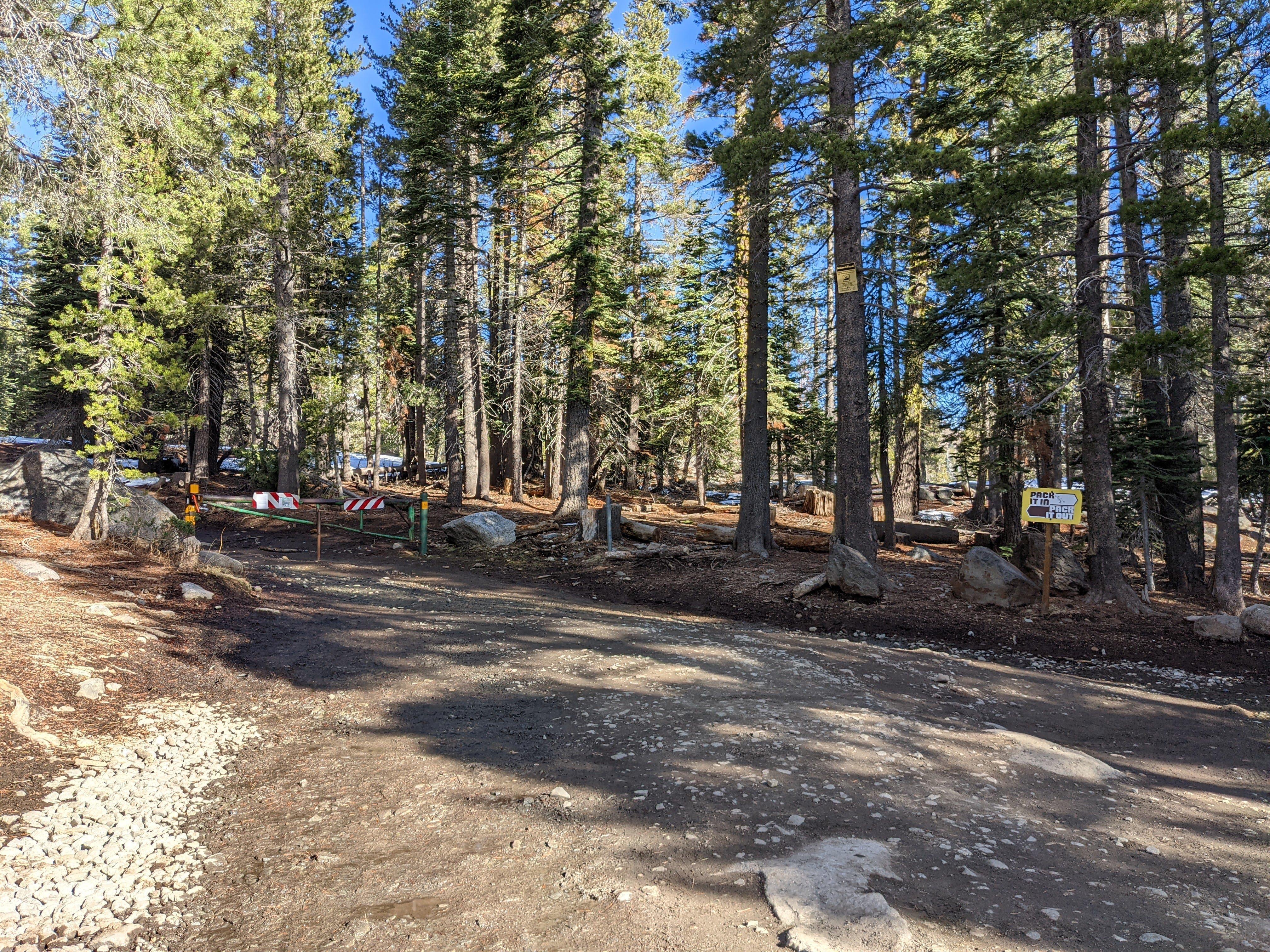 The parking space is kind of limited and I don't know how busy it gets so try to get to the trailhead early.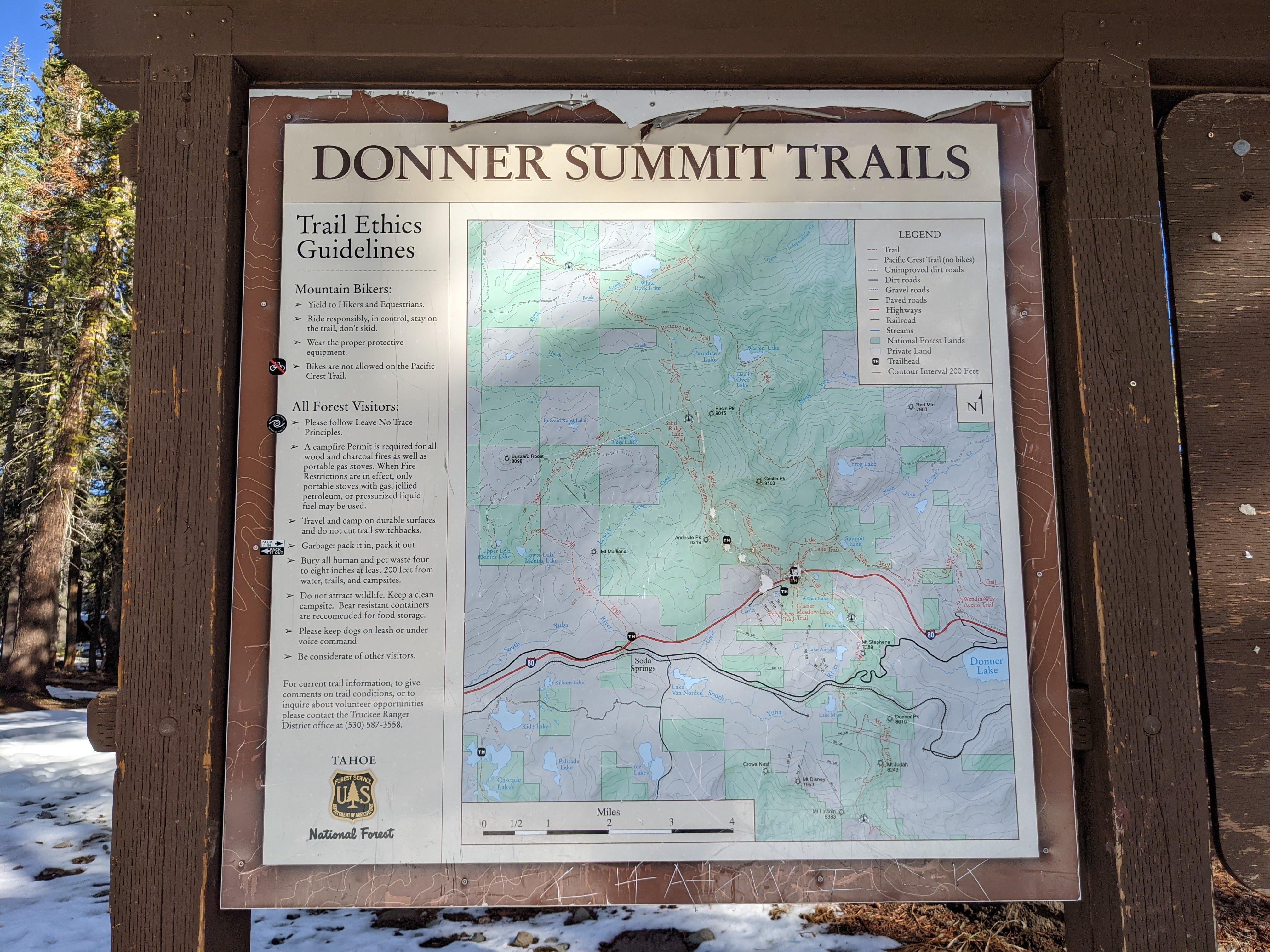 I didn't know how much snow was going to be there and if it was going to be firm / re-frozen or whatnot. Snow was firm and I didn't need snowshoes but wouldn't risk it without microspikes. In fact the upper part of the trail is fairly steep, if I am to return when snow is present I am bringing an ice pick and stiff crampons instead of microspikes.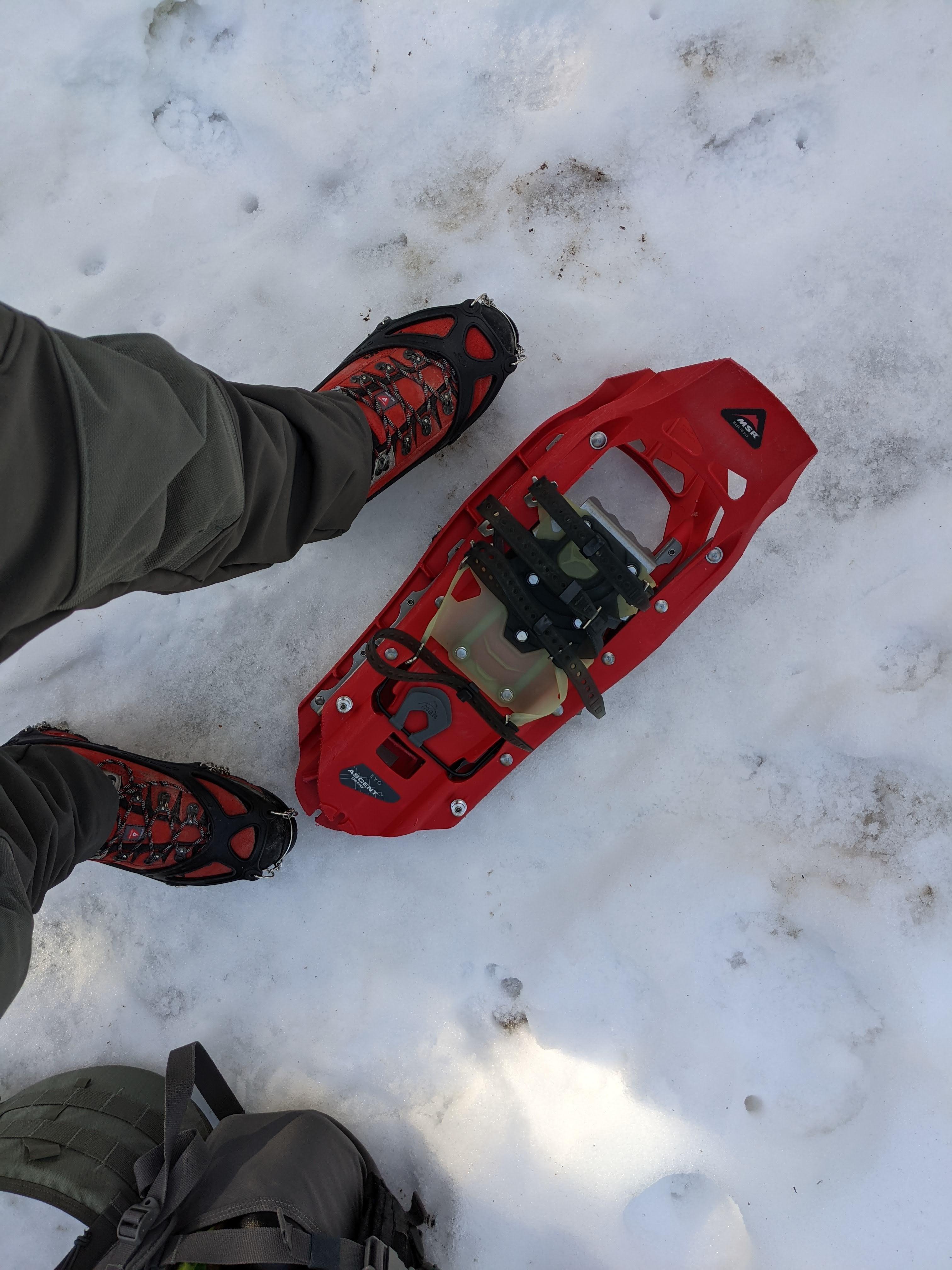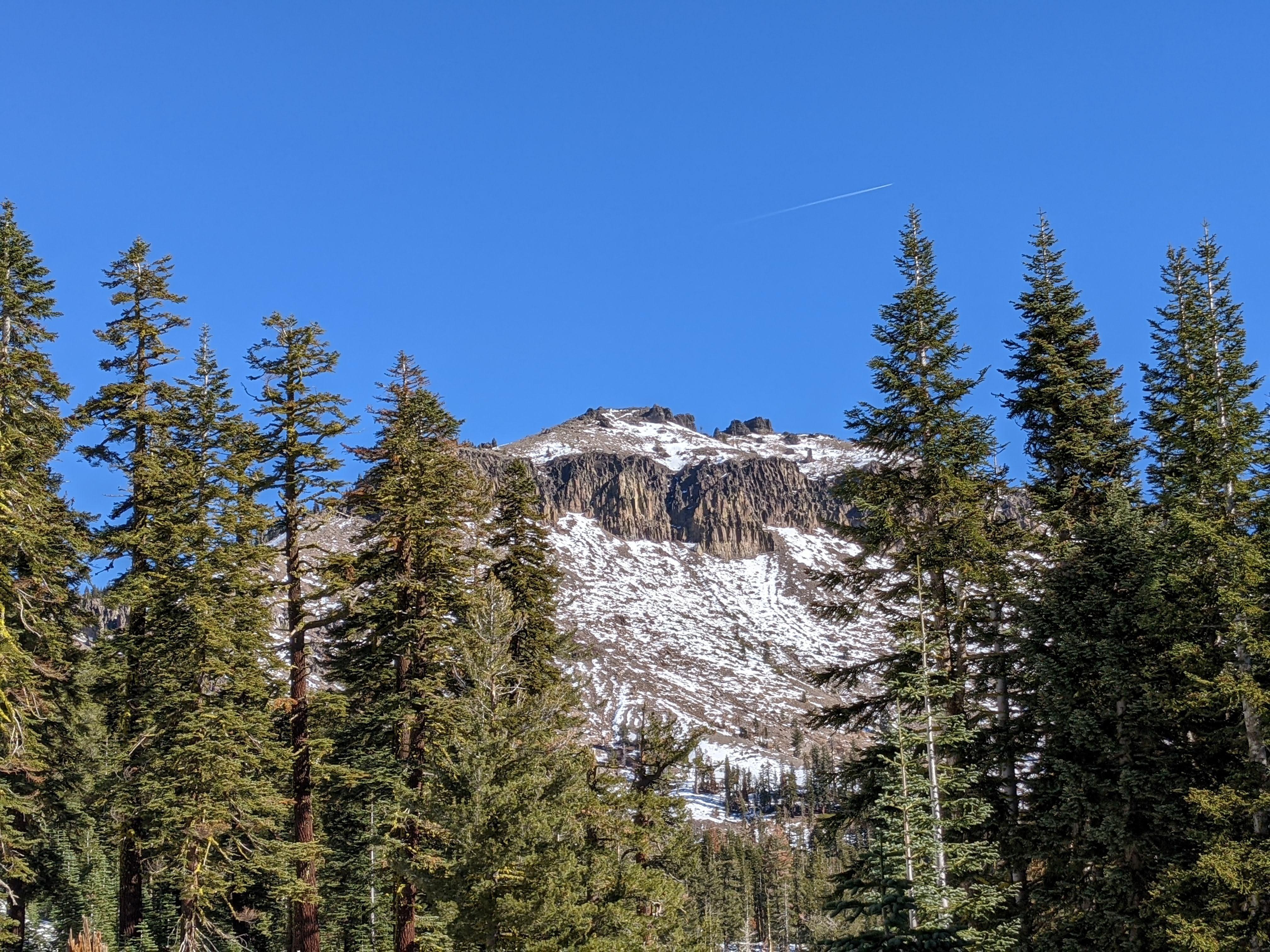 Day was clear, quiet and way hotter than I expected - shade was welcome when available. Upper half of the trail is fairly exposed but there are still patches of trees here and there on the ridge.

It gets steeper in the end, I would recommend following the ridge if it is snow free - snowpack can melt and freeze forming a slippery ice crust. I only saw a couple patches of ice but don't be surprised.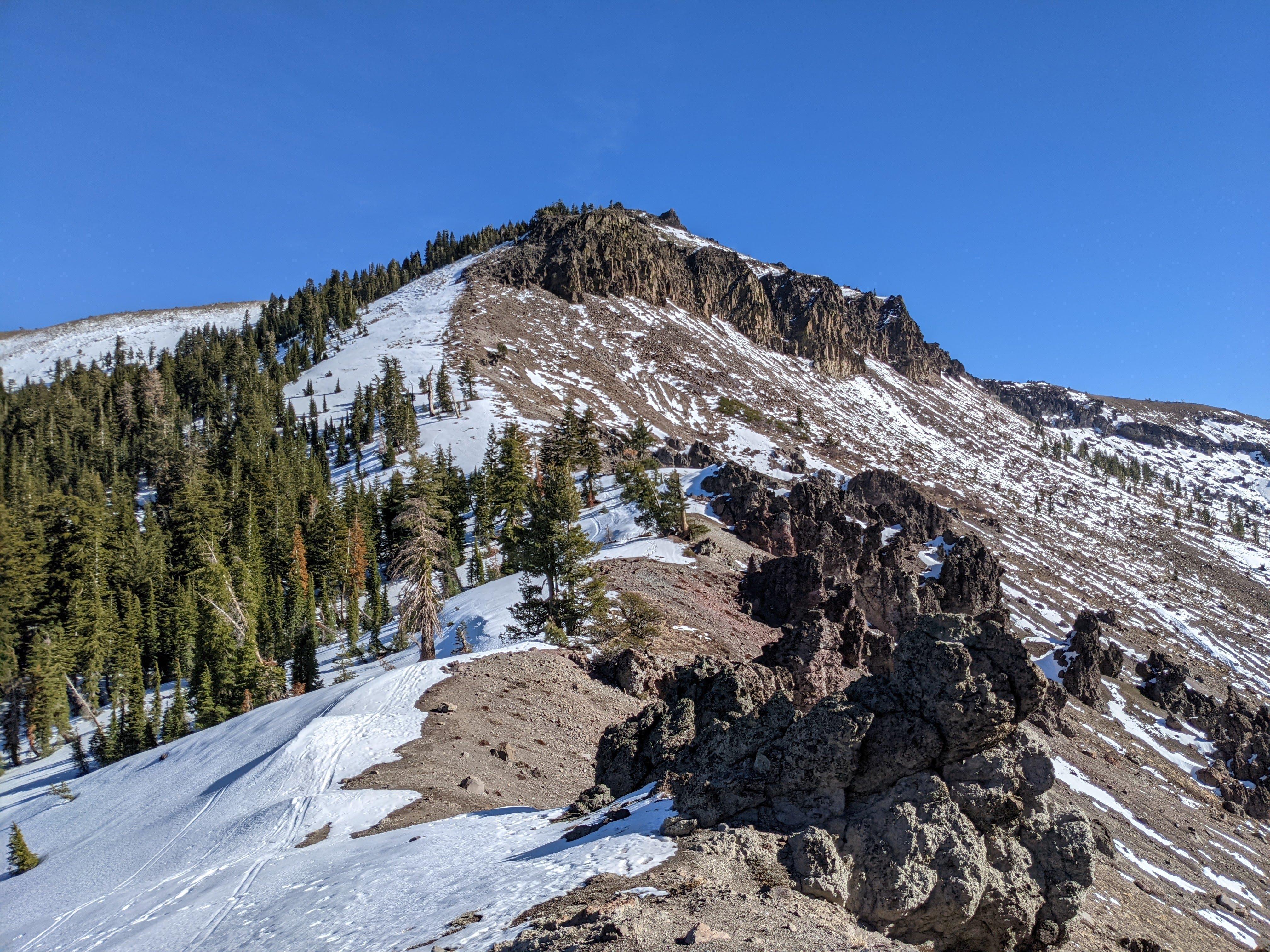 There are three summits of Castle Peak. The height difference is less than 25 m / 80 ft so you can activate from any summit. When you reach the western summit first, there is enough space to deploy a dipole.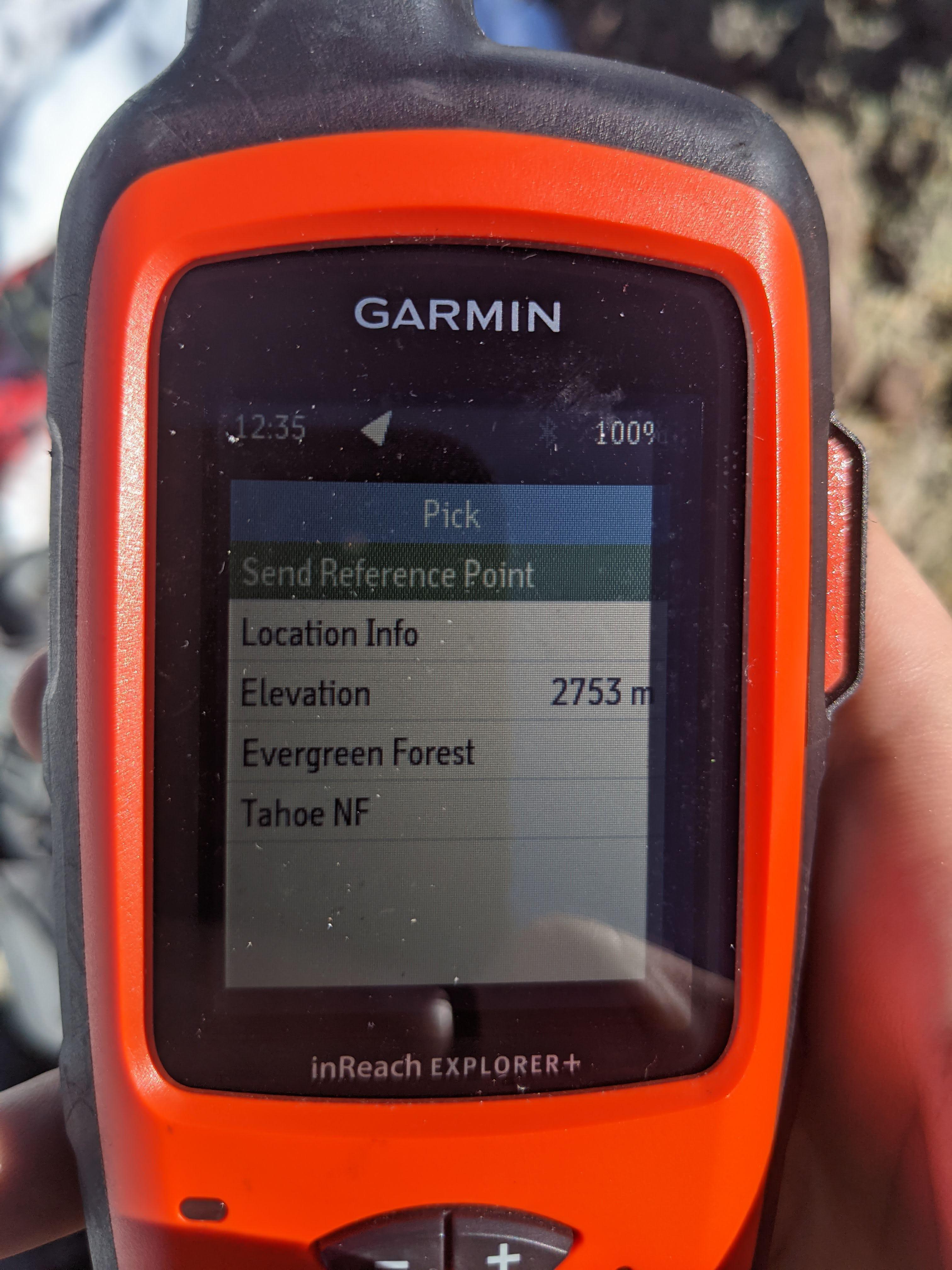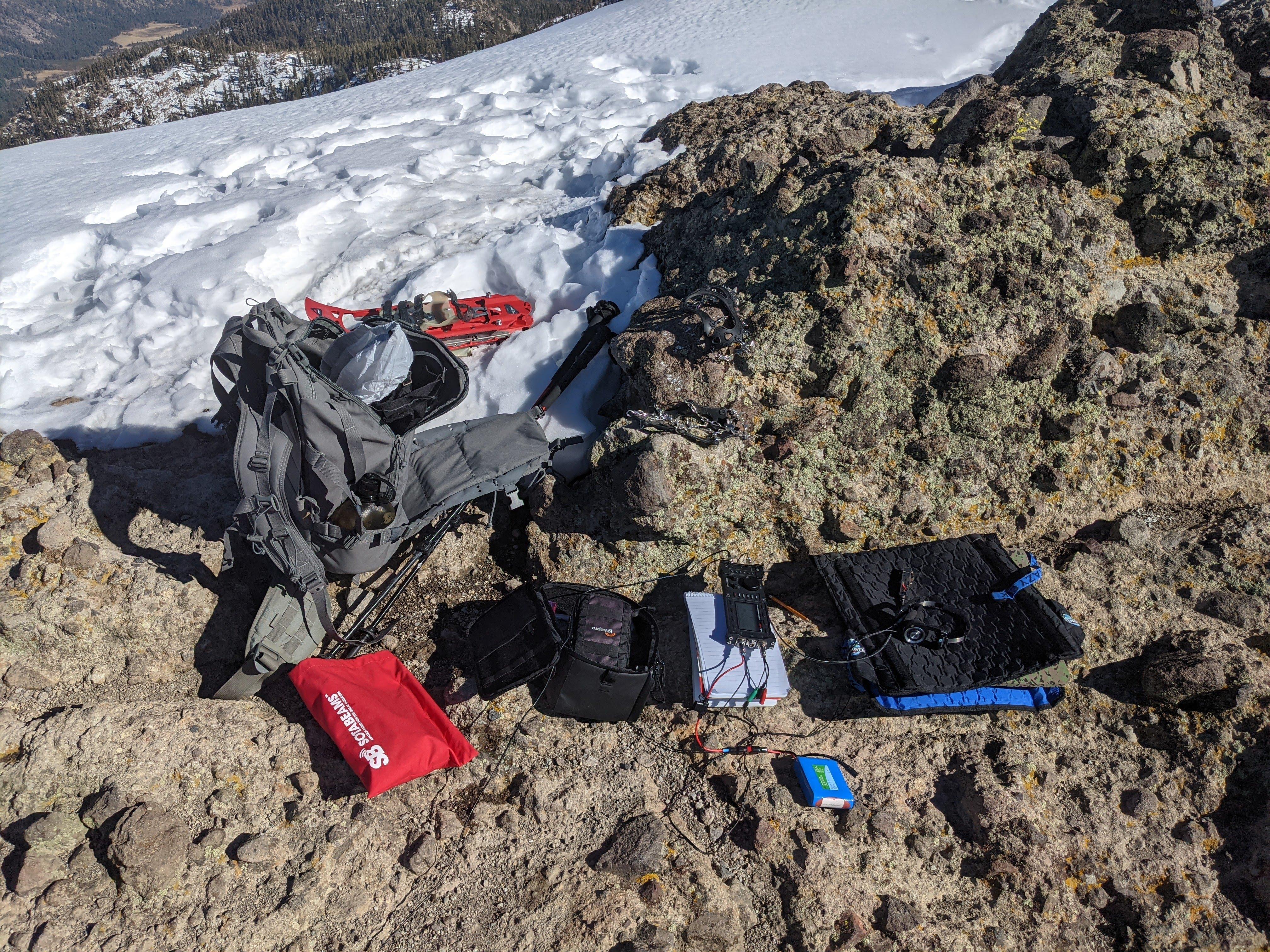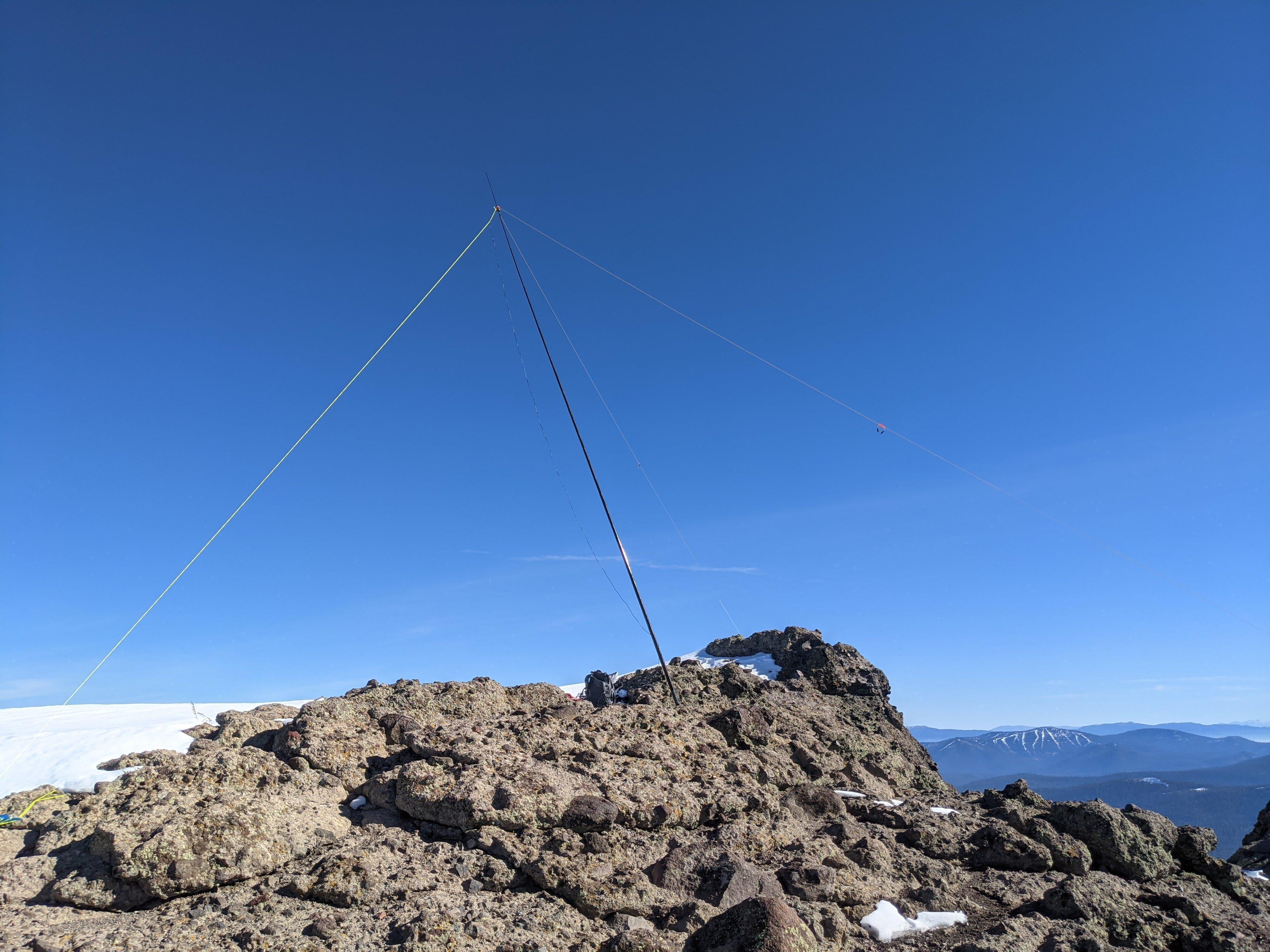 Stations worked from Castle Peak
Thanks to all the chasers - you folks are the best!
| Time UTC | Call sign | RST sent | RST received | Frequency | Mode | Maidenhead grid |
| --- | --- | --- | --- | --- | --- | --- |
| 20:48 | W0MNA | 559 | 559 | 14.062 | CW | EM29 |
| 20:50 | W0ERI | 559 | 559 | 14.062 | CW | EM29 |
| 20:52 | W4KRN | 559 | 339 | 14.062 | CW | FM18 |
| 20:58 | KG6T | 559 | 539 | 14.062 | CW | FN42 |
| 21:00 | N4TIZ | 559 | 449 | 14.062 | CW | EM85 |
| 21:02 | KG4R | 449 | 549 | 14.062 | CW | FM05 |
| 21:04 | KZ0E | 559 | 559 | 14.062 | CW | DN70 |
| 21:05 | WB4FUN | 559 | 559 | 14.062 | CW | FM28 |
| 21:07 | N8PEM | 559 | 559 | 14.062 | CW | EN80 |
Remember - most incidents happen on the descent, be careful.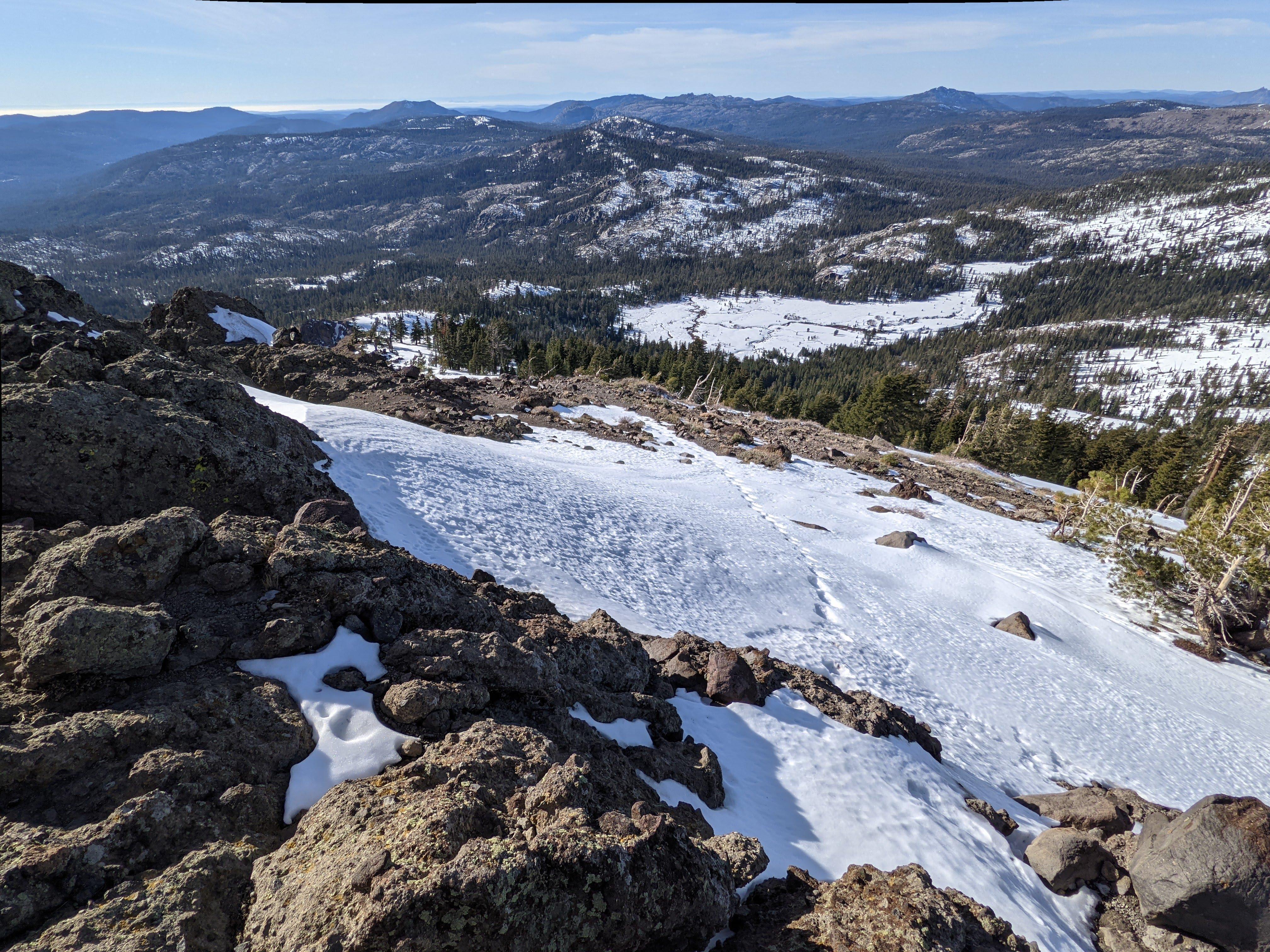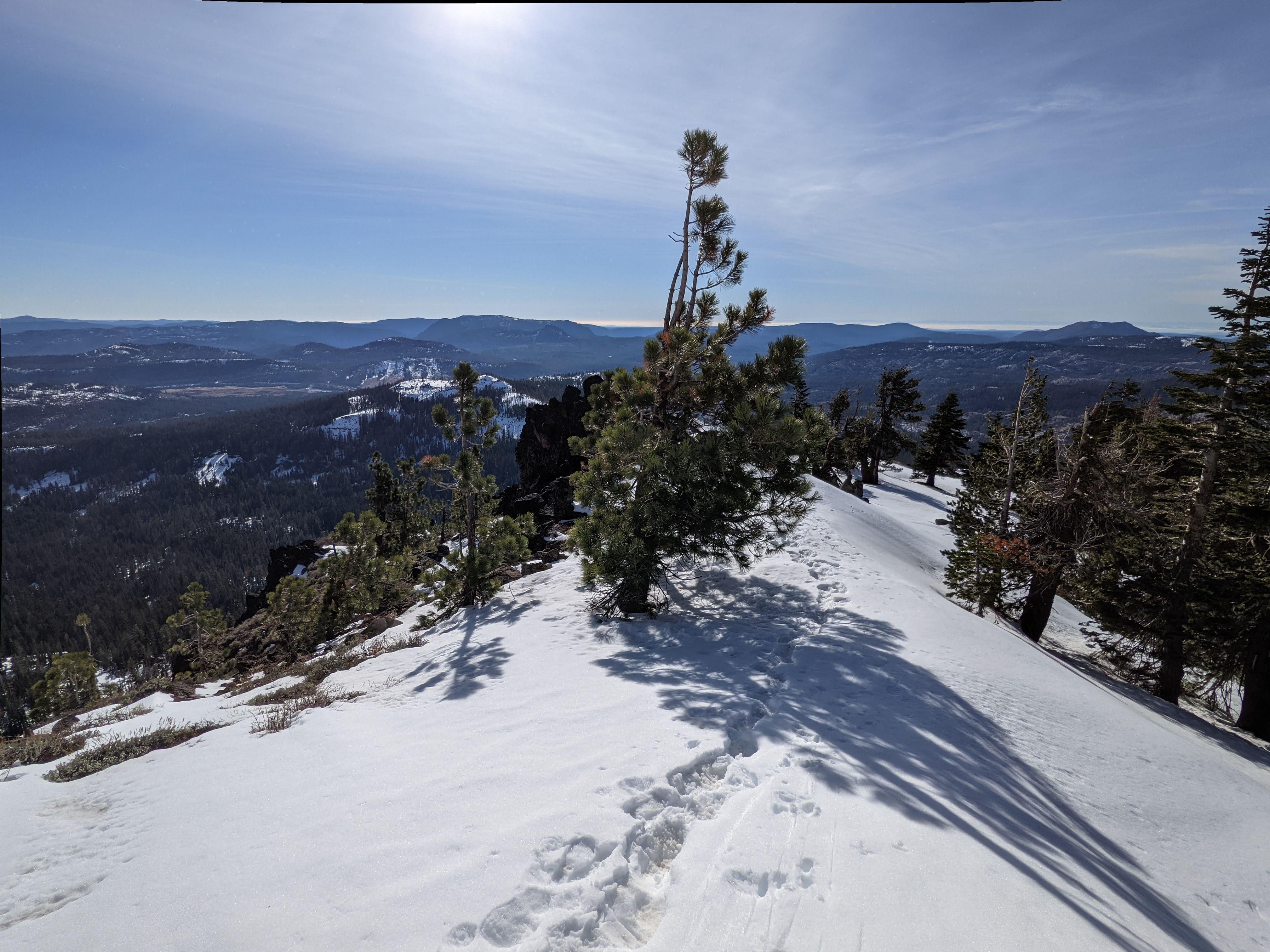 Donner Ridge aka W6/NS-181 SOTA activation
There is a good road all the way up to the trailhead. This is the trail to get to the summit.
The trail is a piece of cake, never steep - I wanted something fast and easy for the second day to get home early.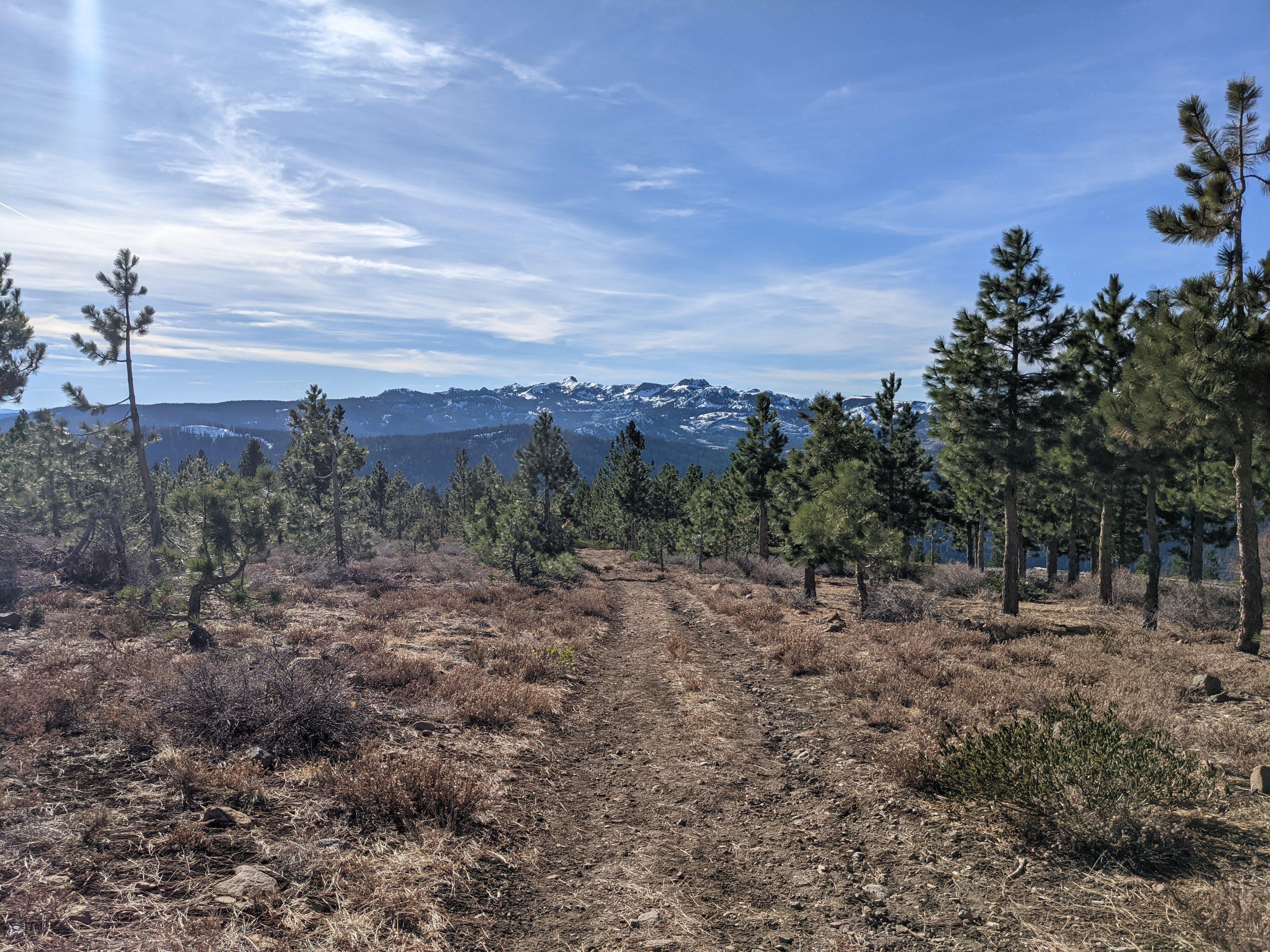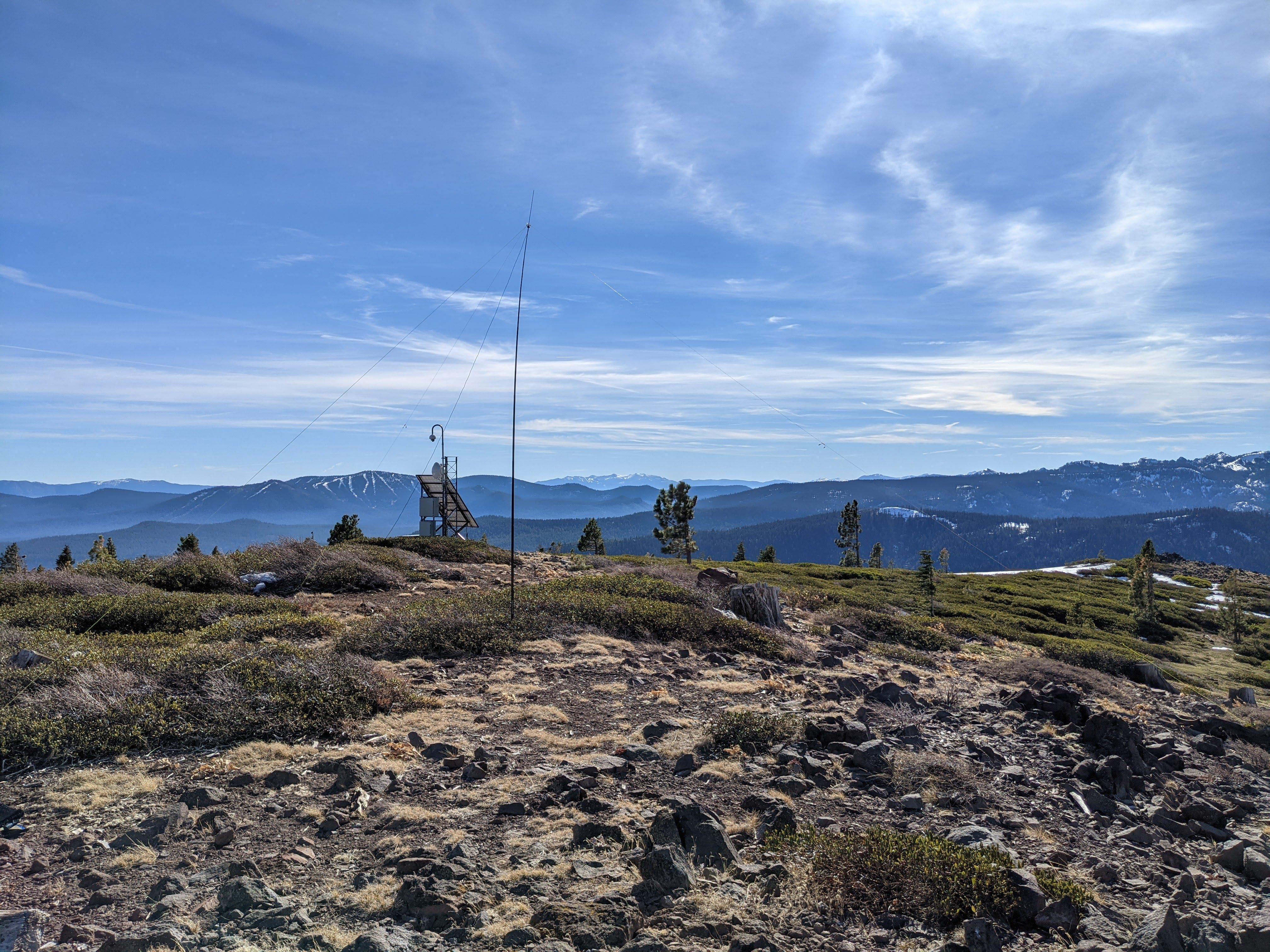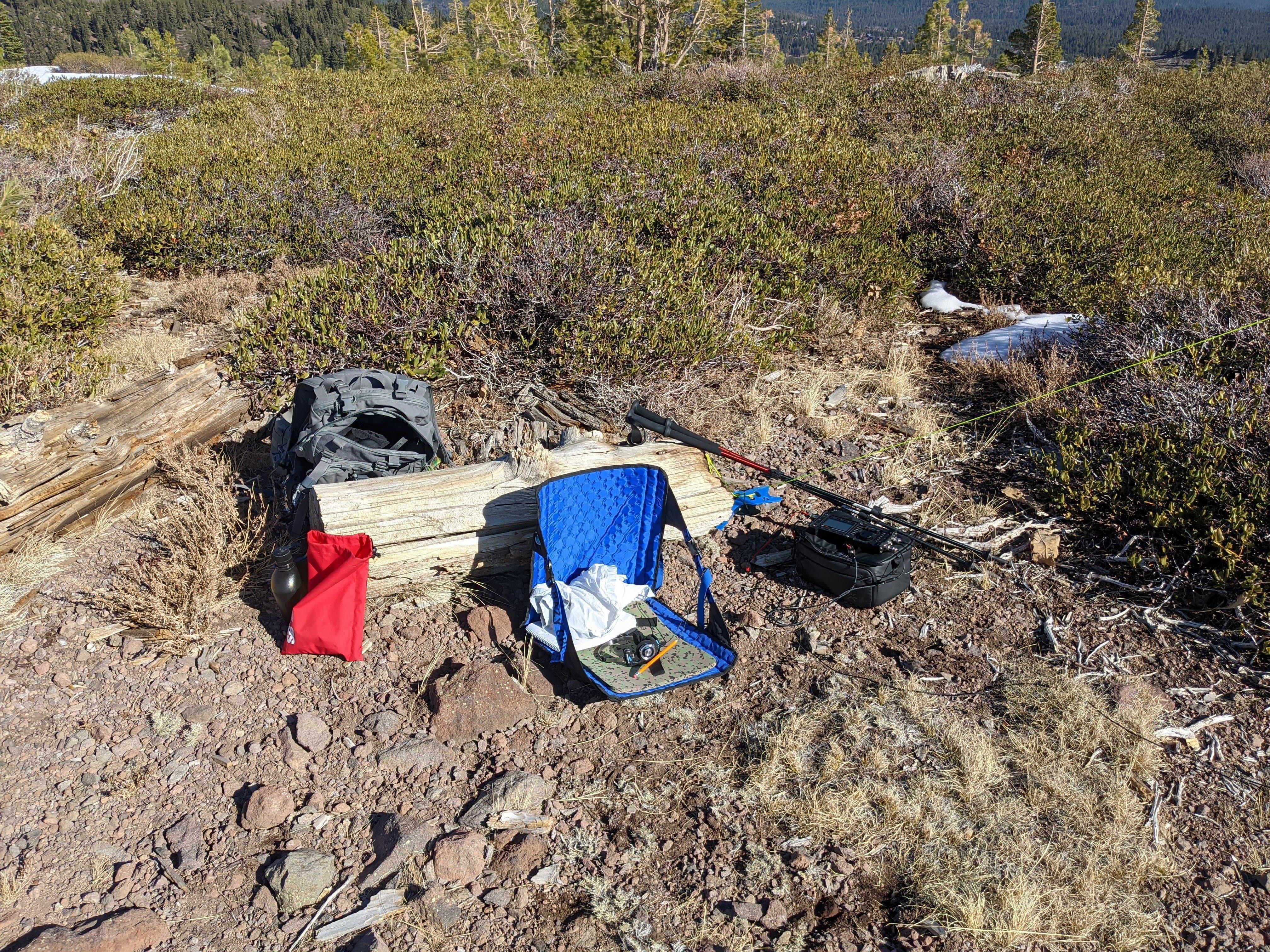 Stations worked from Donner Ridge
| Time UTC | Call sign | RST sent | RST received | Frequency | Mode | Maidenhead grid |
| --- | --- | --- | --- | --- | --- | --- |
| 18:53 | W0MNA | 599 | 599 | 14.063 | CW | EM29 |
| 18:57 | VE7HI | 599 | 559 | 14.063 | CW | CN89 |
| 19:00 | N7US | 559 | 559 | 14.063 | CW | EN52 |
| 19:02 | W0ERI | 559 | 599 | 14.063 | CW | EM29 |
| 19:07 | ND0C | 449 | 339 | 14.063 | CW | EN23 |
| 19:09 | N0RZ | 559 | 559 | 14.063 | CW | DM97 |
Activating these two summits brought my score to 99. Almost there!
See you folks next time, 73, K0SSK out.