North Sierra Buttes SOTA activation, Field Day 2023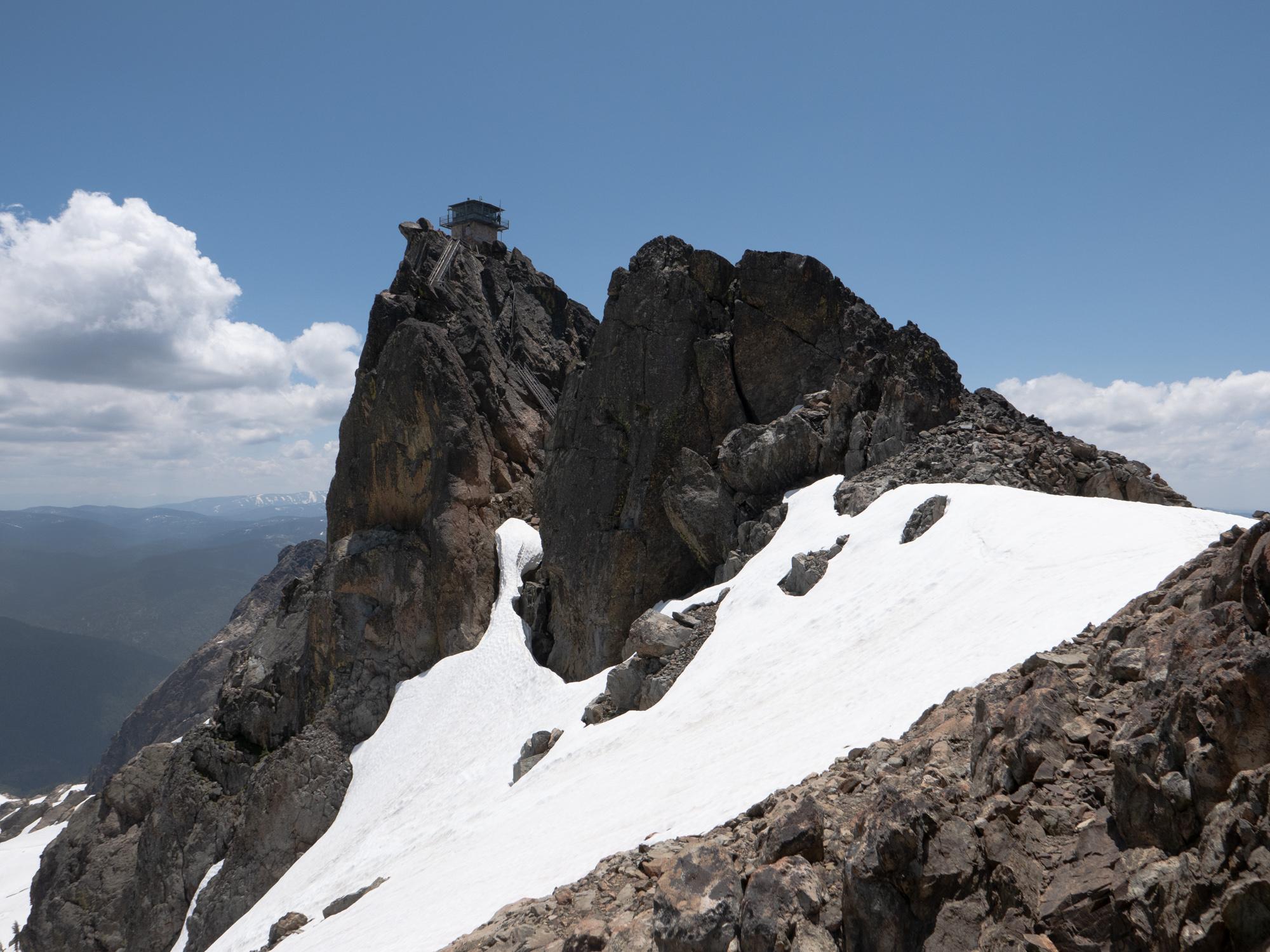 Hello friends, It's Field Day time of the year, providing a good excuse to venture deeper into the Sierras. So, here's my SOTA activation report for the North Sierra Buttes, also known as W6/NS-139.
The weather was fantastic, with clear skies in the morning and a few clouds appearing in the afternoon. Despite the end of June shaded areas in the forest still had a decent layer of snow.
I can't say everything went according to plan, but despite some hiccups, I managed to activate the summit and gained a few valuable insights about my antenna setup along the way.
Sierra County
The North Sierra Buttes are part of the northern Sierra Nevada mountain range in California. They are situated in Sierra County, near the border with Plumas County, within the boundaries of the Tahoe National Forest. The highest summit is 8,591 feet (2,619 meters) tall. The mountain is a remnant of a volcano and chiefly composed of metavolcanic rock.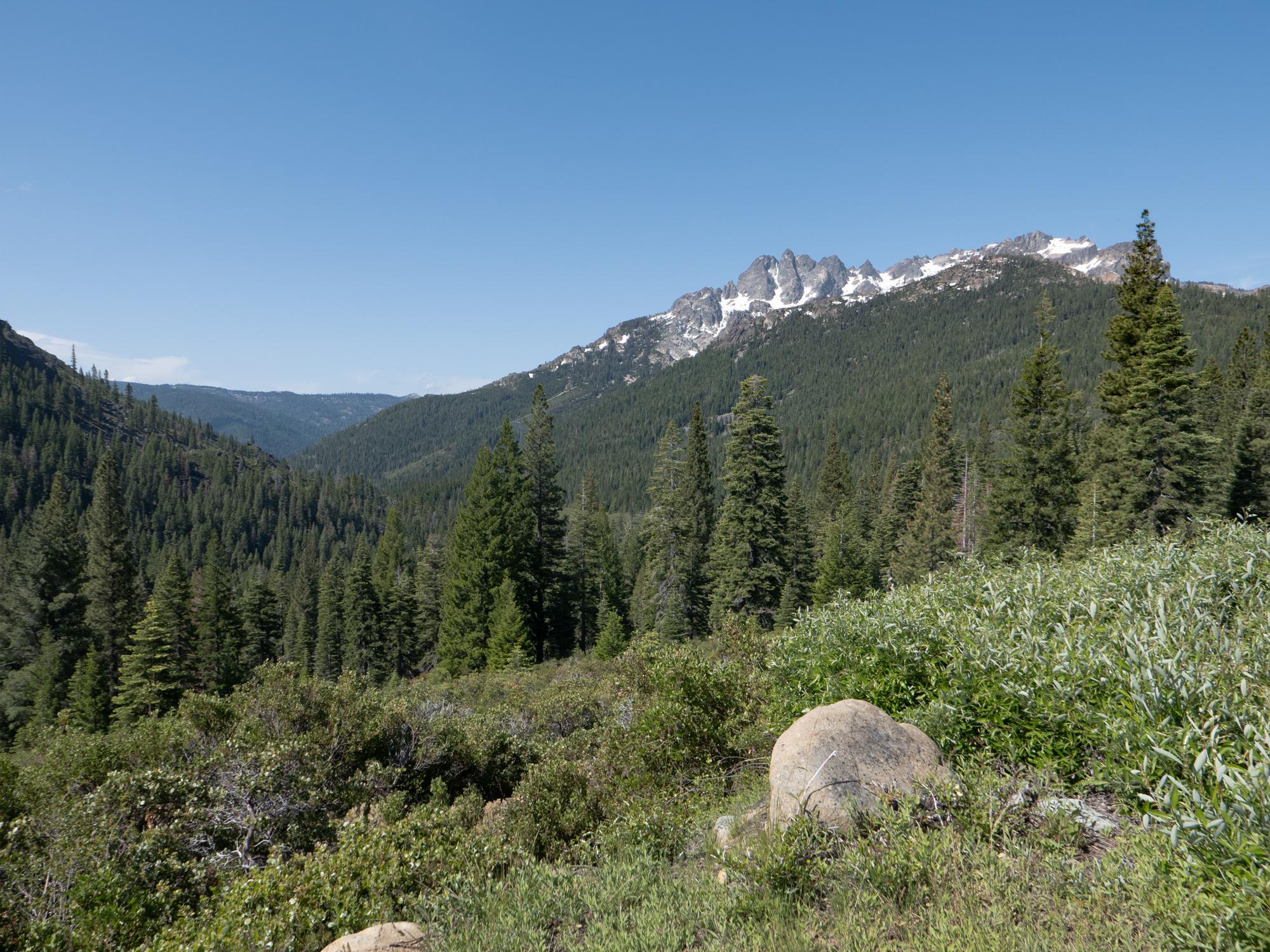 Sierra County is the second least populated county in California, with a permanent population of around three thousand people, the least populous Alpine County probably having a half of that.
Prior to the colonization by Europeans, the western part of the county was inhabited by Miwok people and eastern part, including the Sierra Valley, by Washoe people.
Starting in 1844 European colonists started to penetrate the area, in 1848 gold was discovered at Sutter's Mill a bit to the south, leading to the California gold rush of 1849. Downieville, the county seat, emerged as a bustling mining town.
Nowadays, the town has a cozy atmosphere with its museum, serene historical cemetery, and a variety of dining spots.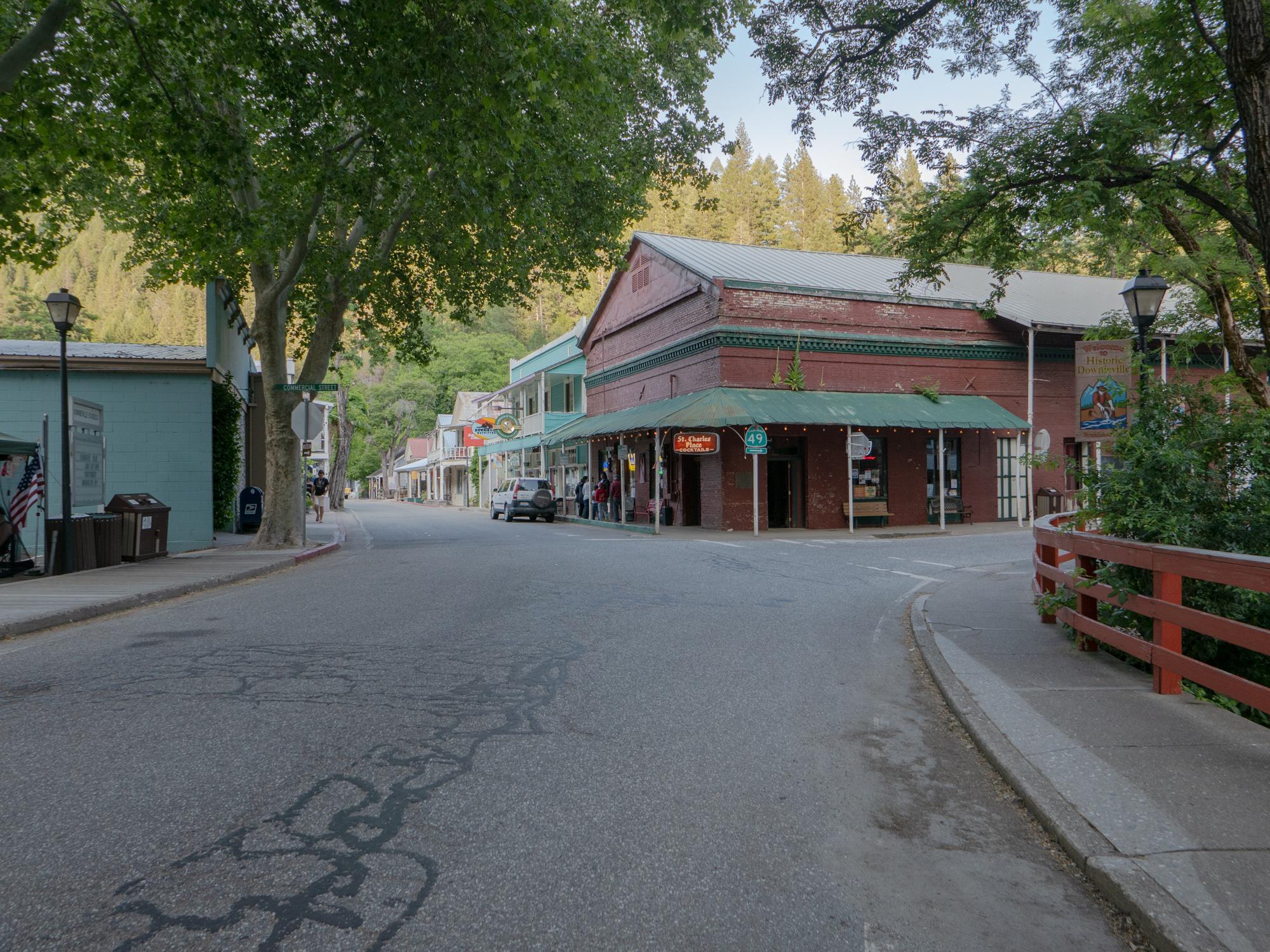 However, in its heyday, Downieville was as wild as Wild West boomtown goes. The place gained questionable notoriety due to the lynching of a Mexican-American woman Josefa Segovia on 5th of July 1851.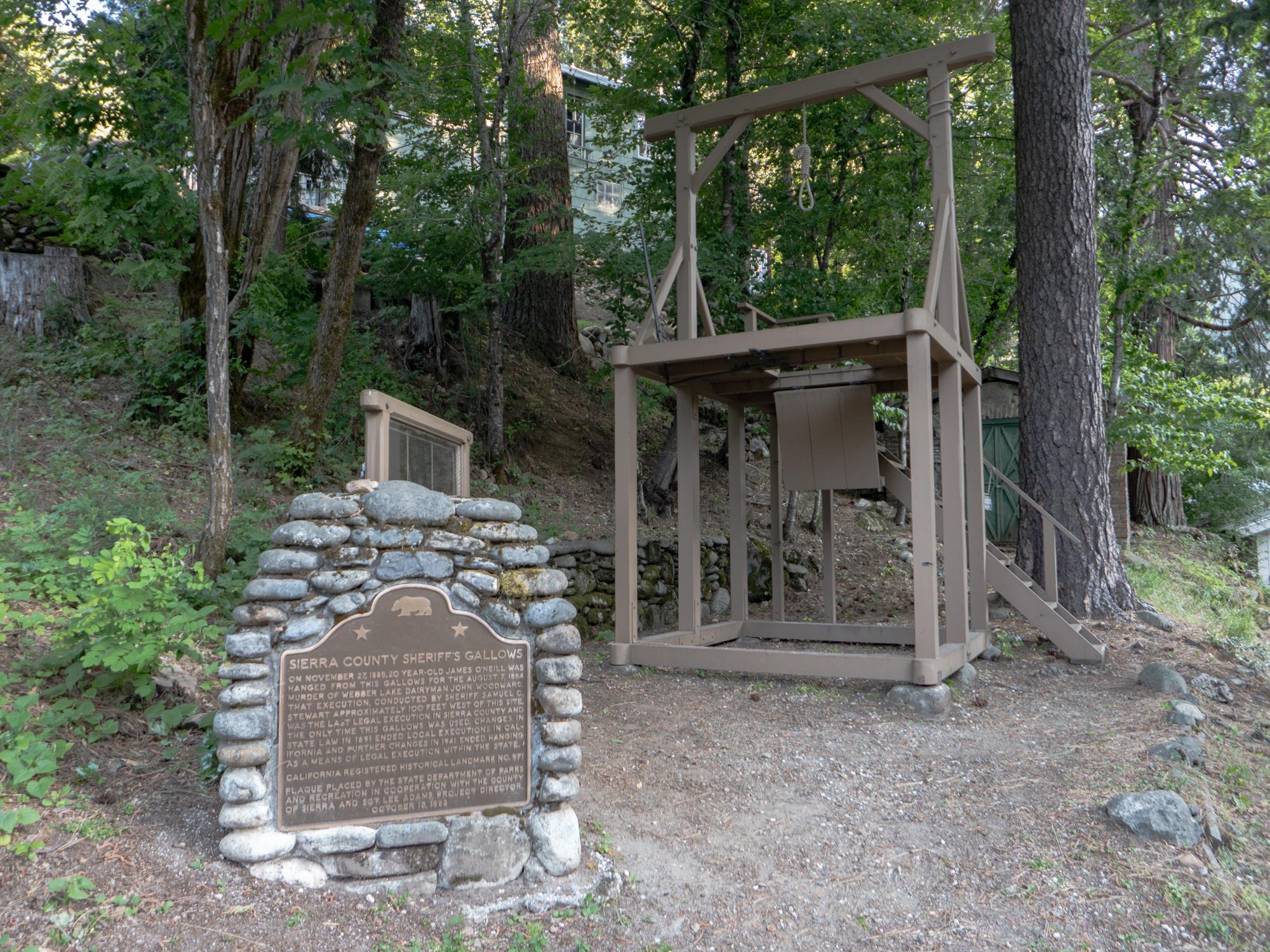 The gallows near the courthouse were used only once, on November 27, 1885, to execute the murderer of dairyman John Woodward.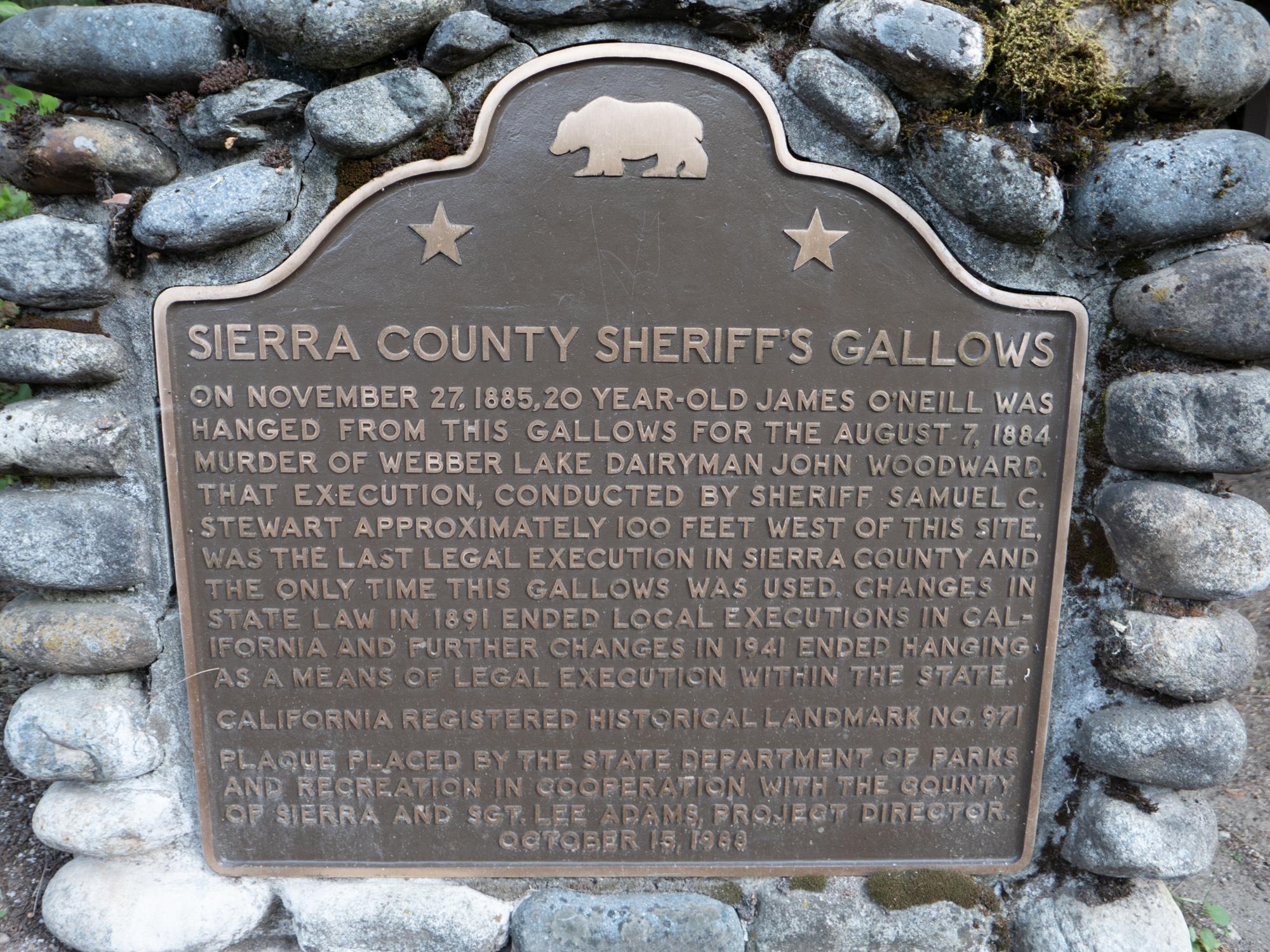 This execution was the last legal execution in Sierra County.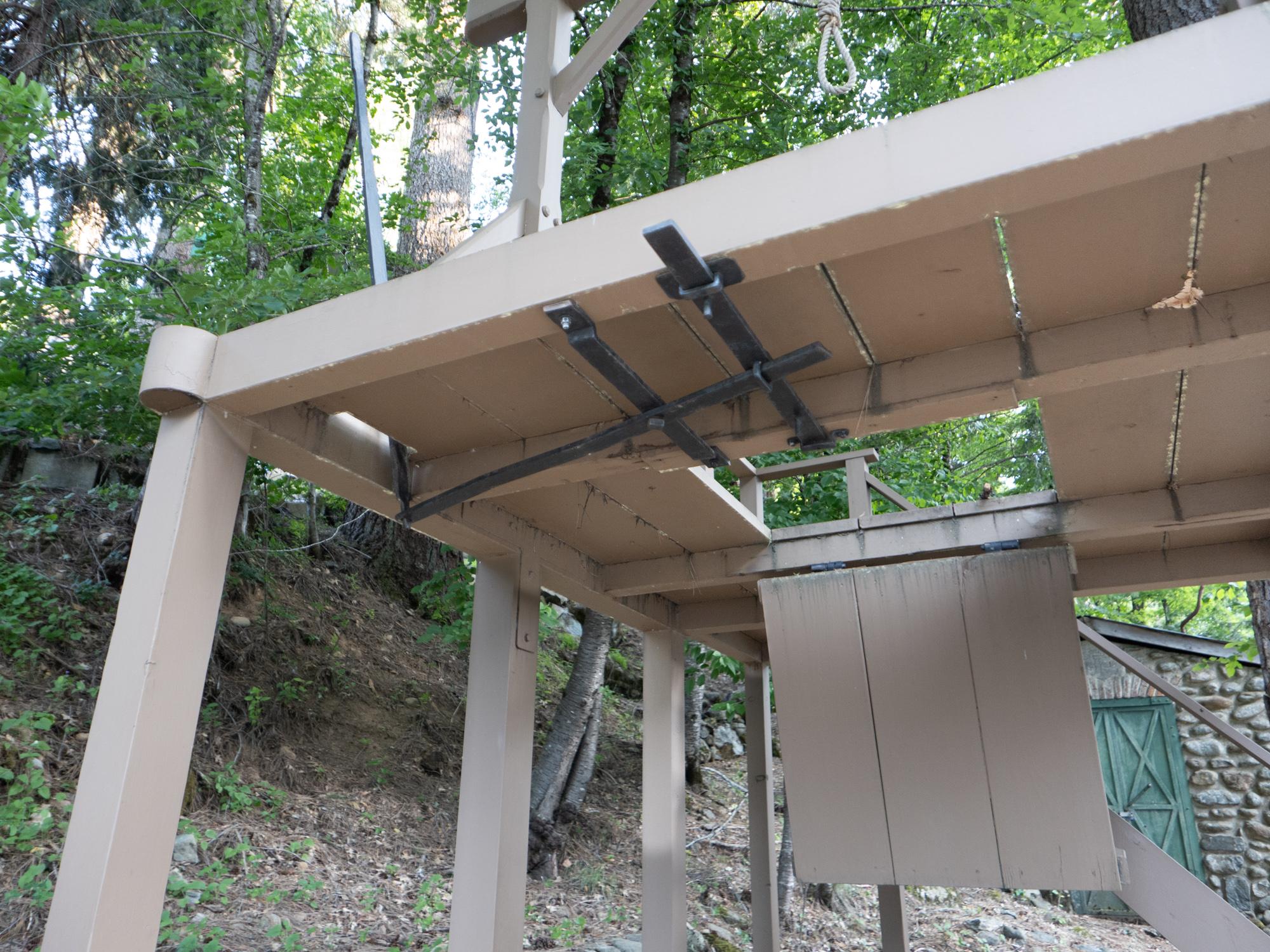 Over the years with exhaustion of riverine gold deposits placer mining was substituted with underground quartz mining. The Sierra Buttes mine, which started in 1851, yielded over $7,000,000 worth of gold in its early decades when the value of gold was below $16.00 an ounce. Mining activities continue in the area to this day.
The area is a perfect destination for outdoor enthusiasts who enjoy activities like fishing, off-roading, camping, hiking, and more. I saw quite a few folks with mountain bikes and shuttles ferrying them up a hill. There are many for-rent campgrounds near the lakes off Gold Lake Road. Nearby towns of Sierra City (closest), Graeagle, and Portola have commercial lodging available.
If you're interested in delving into more historical details about the area, feel free to check out www.sierracountyhistory.org
Getting to the trailhead
In order to get to the lookout on the summit I took Sierra Buttes trail. The main trailhead for day hikers is Packer Lake. Take highway 49 eastbound from Sierra City, take the left turn off for Gold Lake road, then turn left and follow signs to Packer Lake. Before reaching Packer Lake follow signs to Sierra Buttes trailhead on a left turn-off. The trailhead is at about 6200 feet elevation, about 3 miles from the summit. The closest I could get to the trailhead this time was the Packer Saddle area - snow was blocking the road above.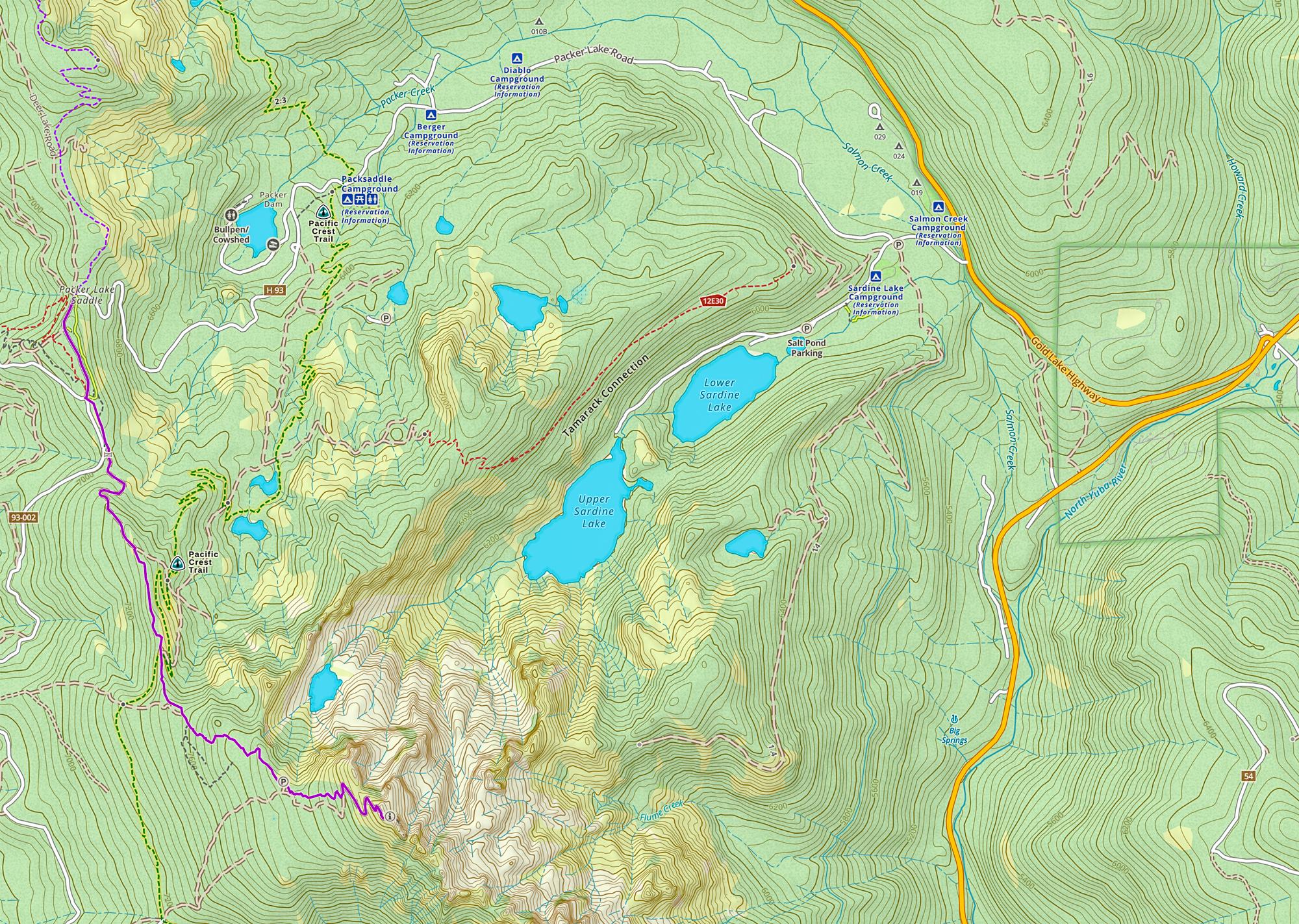 Note on the snow
Snow is no joke and kicks difficulty traversing any terrain a couple of notches up. Take it seriously - especially if you are a Californian and only see snow on a vacation.
First - be prepared - when a trail is covered in snow you don't have a trail to follow. You only have a direction. Even if you manage to follow someone else's tracks you can't be sure they will lead where you want them to and there is no guarantee the person ahead was not as lost as you now or didn't have much higher tolerance for a sketchy terrain. Which means you may end up losing time trying to find a better route. Have a good offline map on your fully charged phone - I use Gaia and I'm very satisfied. Have a backup GPS navigator and/or good compass.
Have microspikes in your bag. They are not bulky, not heavy and let you navigate the difficult terrain with more confidence. Confidence saves you time and a lot of effort. On my way down, right above the Packer Saddle, I caught up with a couple I saw on the summit while operating. The lady at some point slipped and fell into a deep snow depression formed around a tree, hurting her foot. They were ok, but I think they would be much okayer if they had microspikes.
Don't be lazy to take microspikes off traversing exposed rock.
Finally - check snow conditions before you go - Gaia maps have snow layer overlay. Forest Service has an online snow depth map.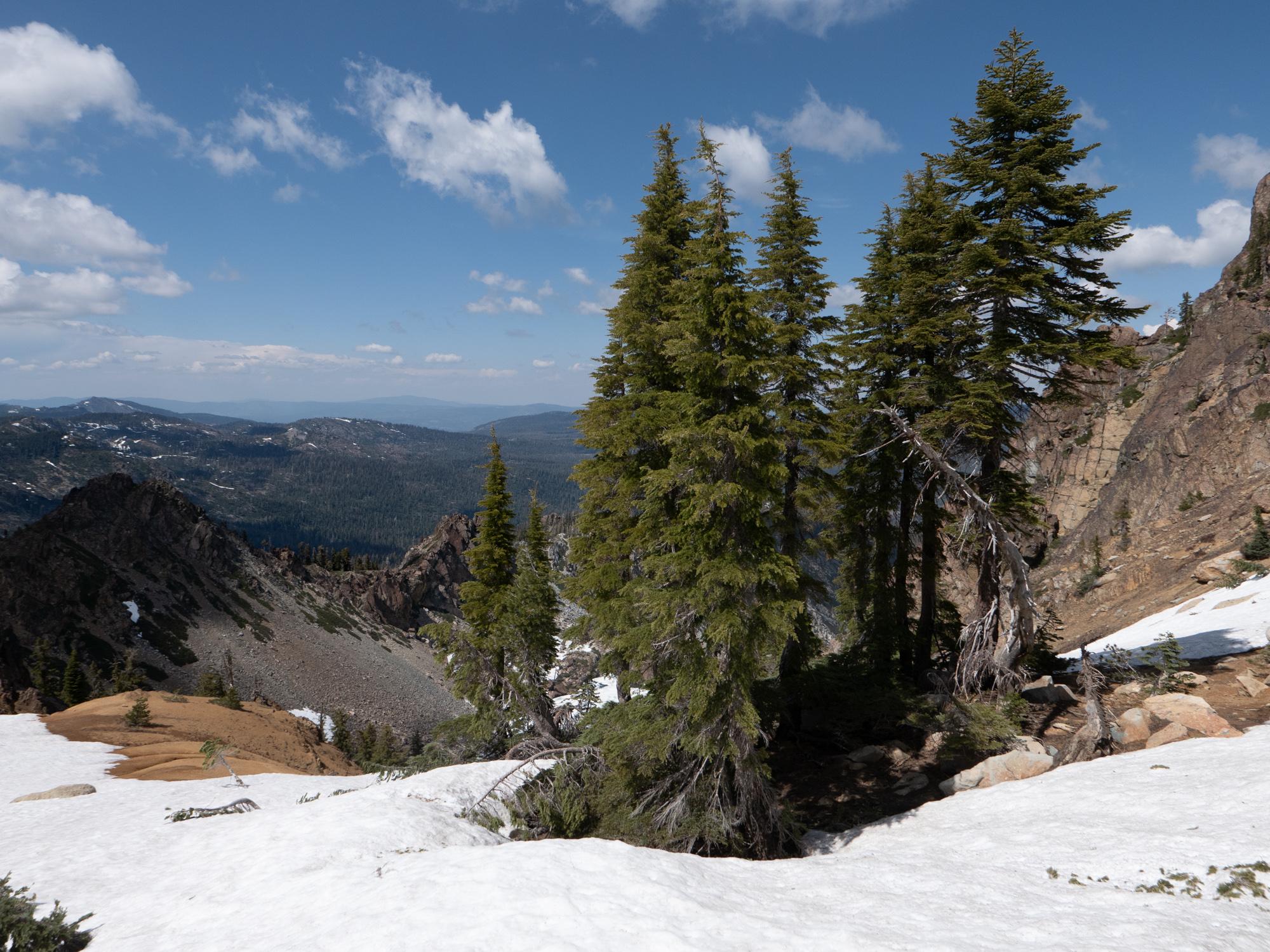 On the trail
The trail follows the ridge and is fairly straightforward. Upper third is the steepest and goes through the forest.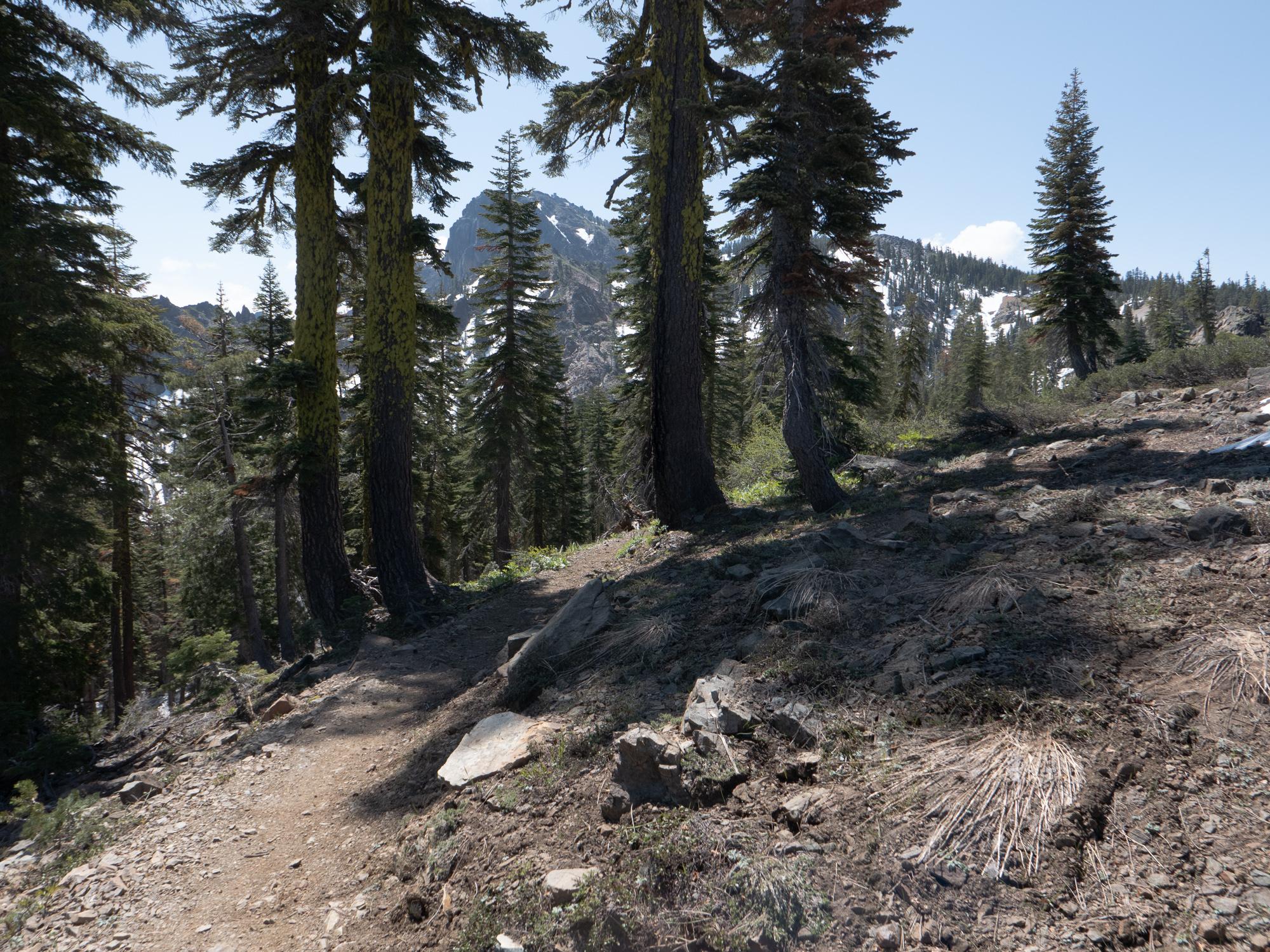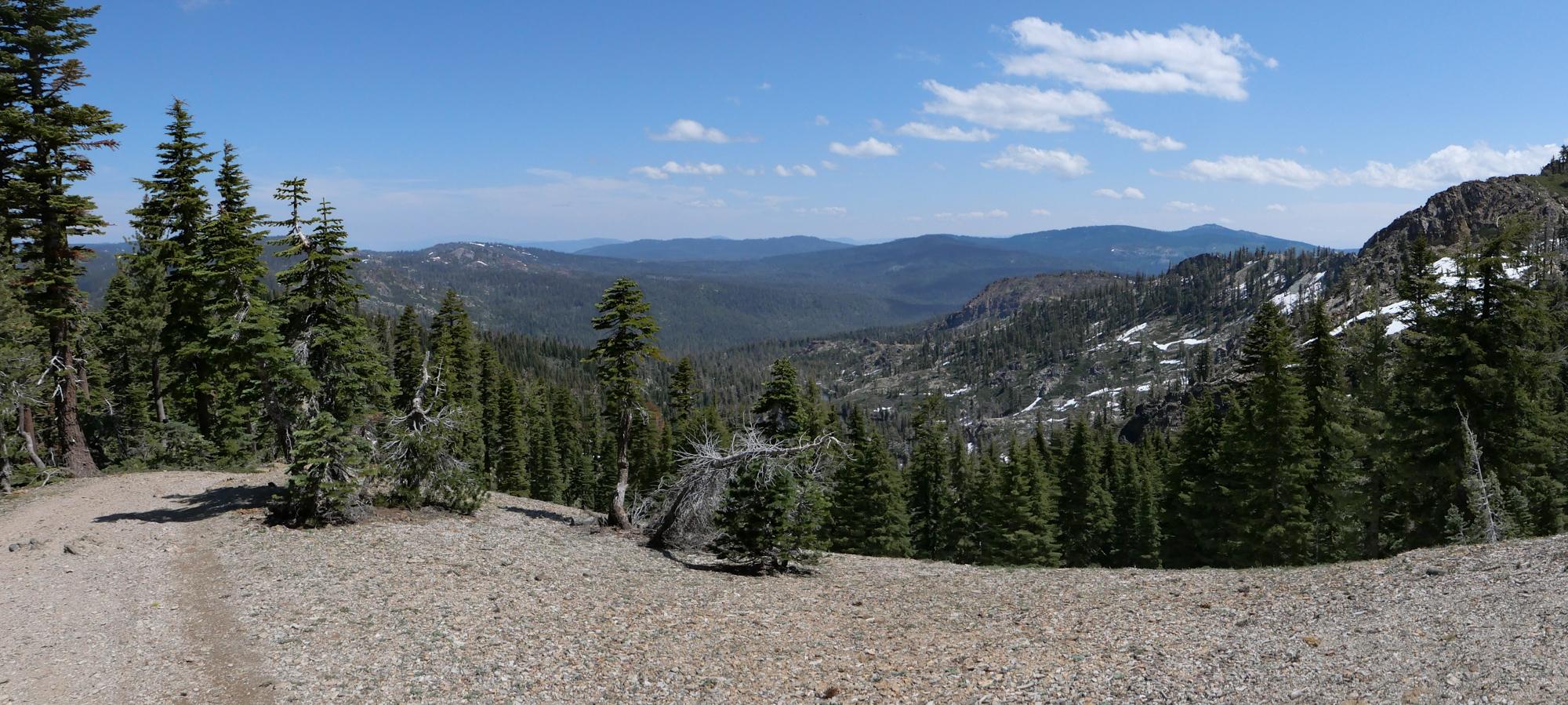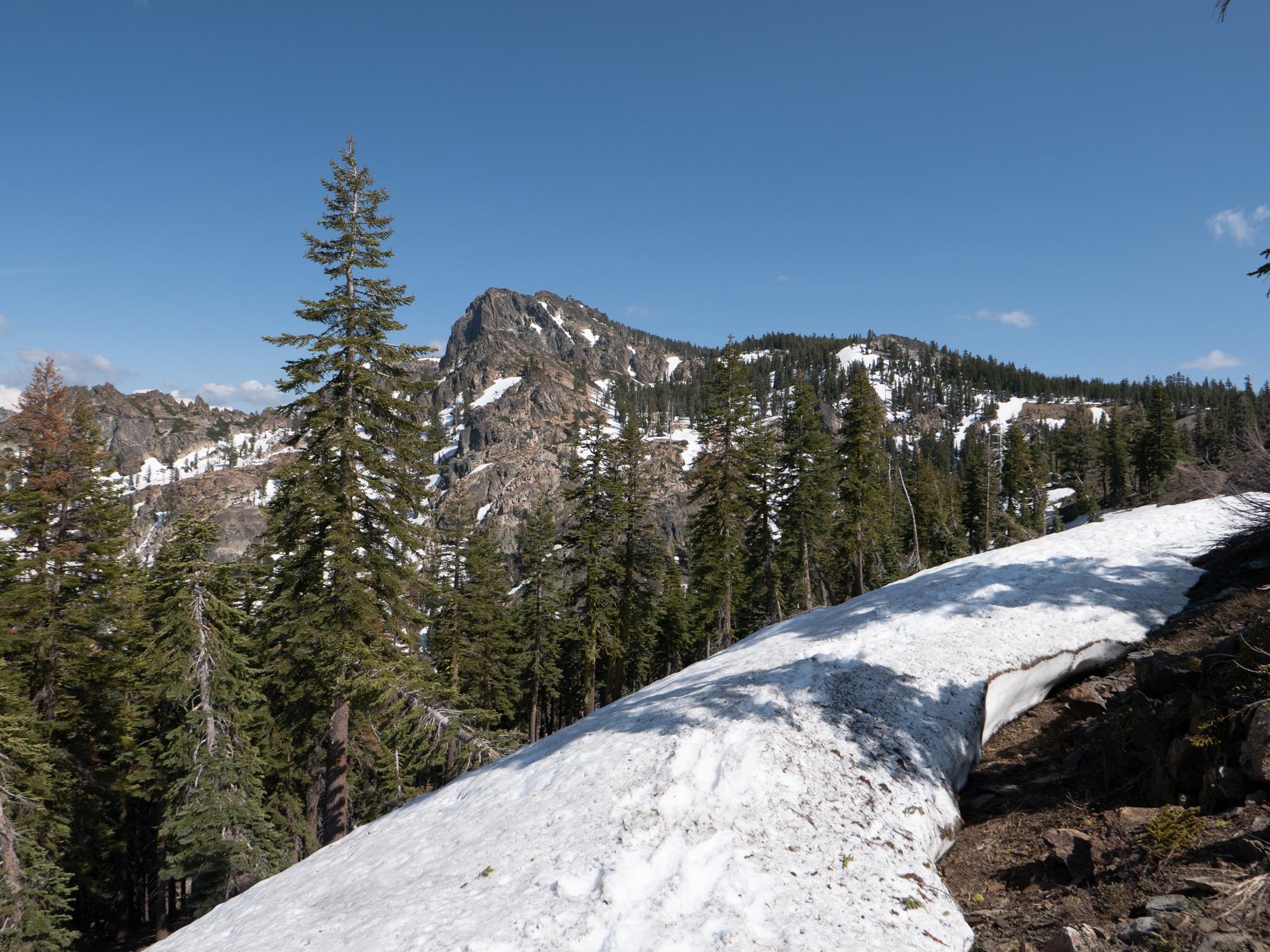 On the summit
There is a metal staircase going to the lookout, definitely an experience not suited for agoraphobic people.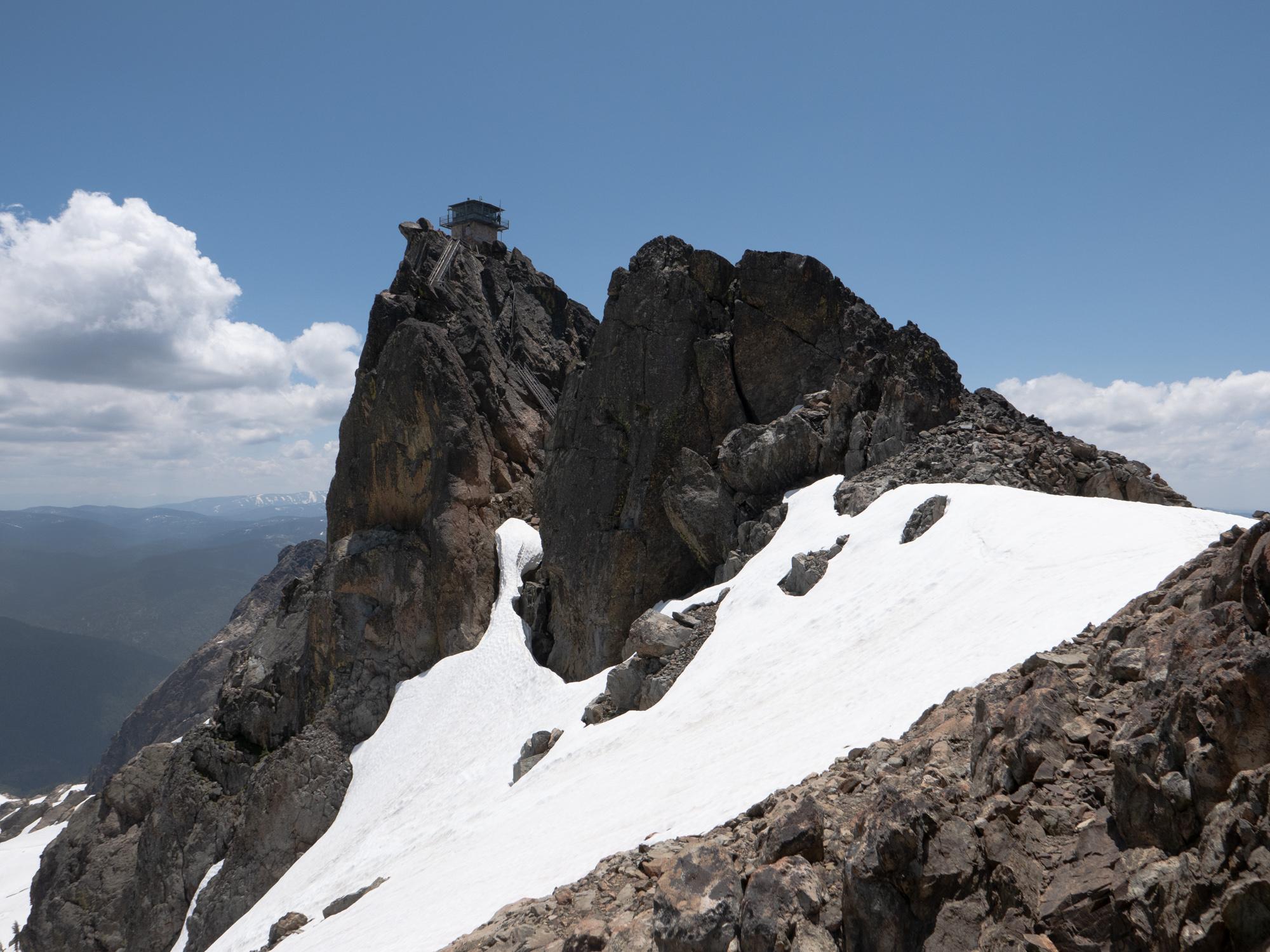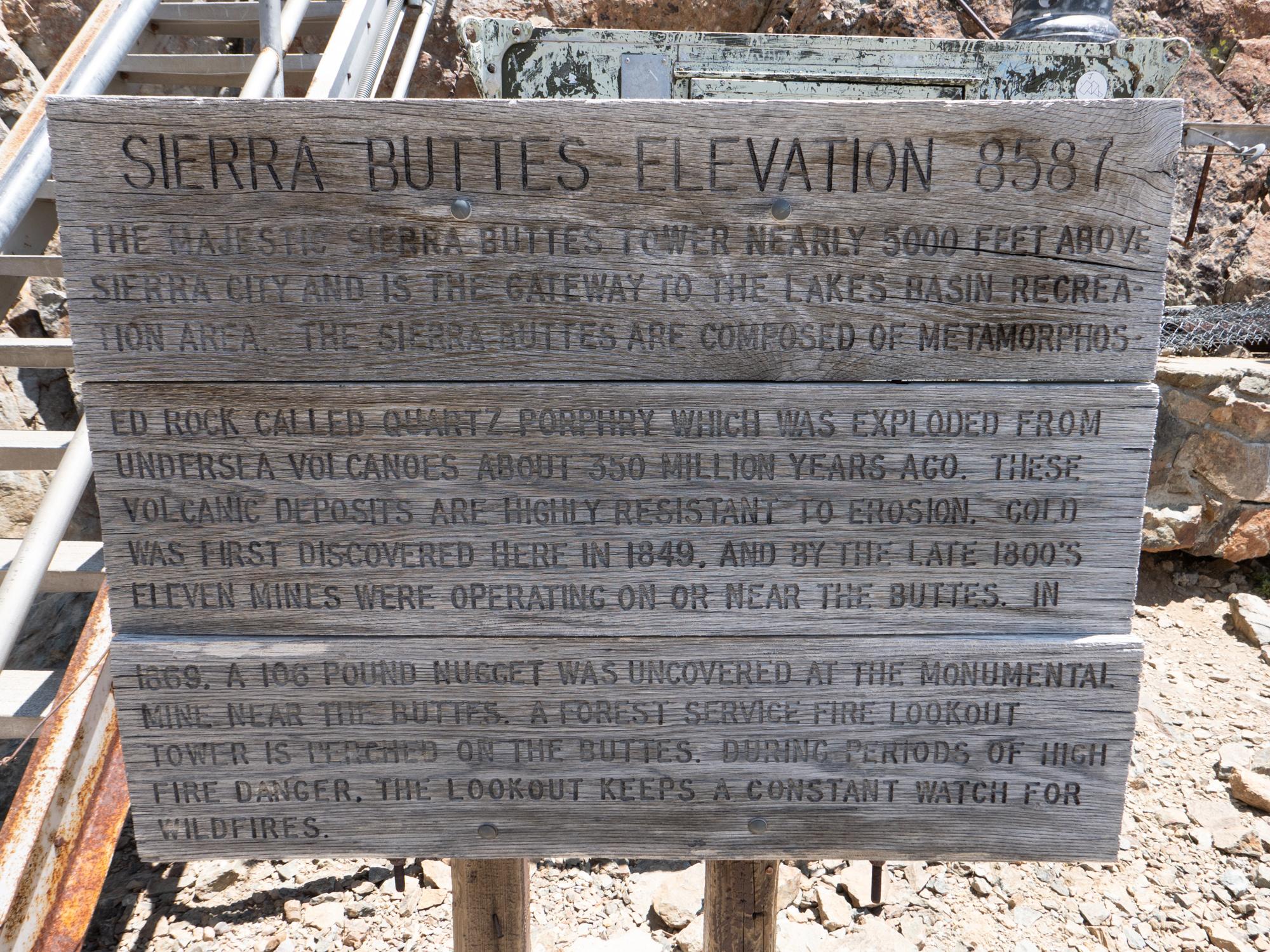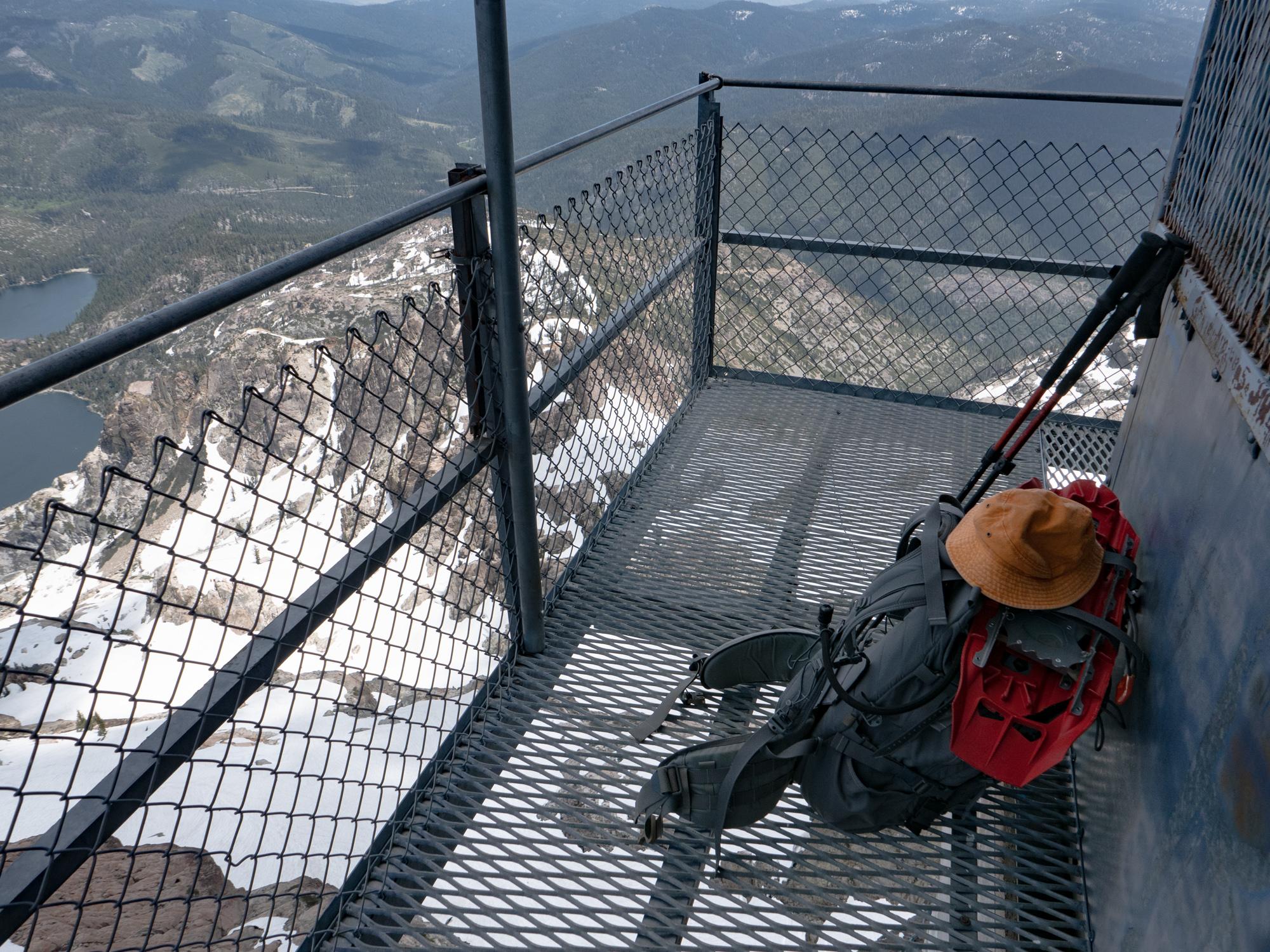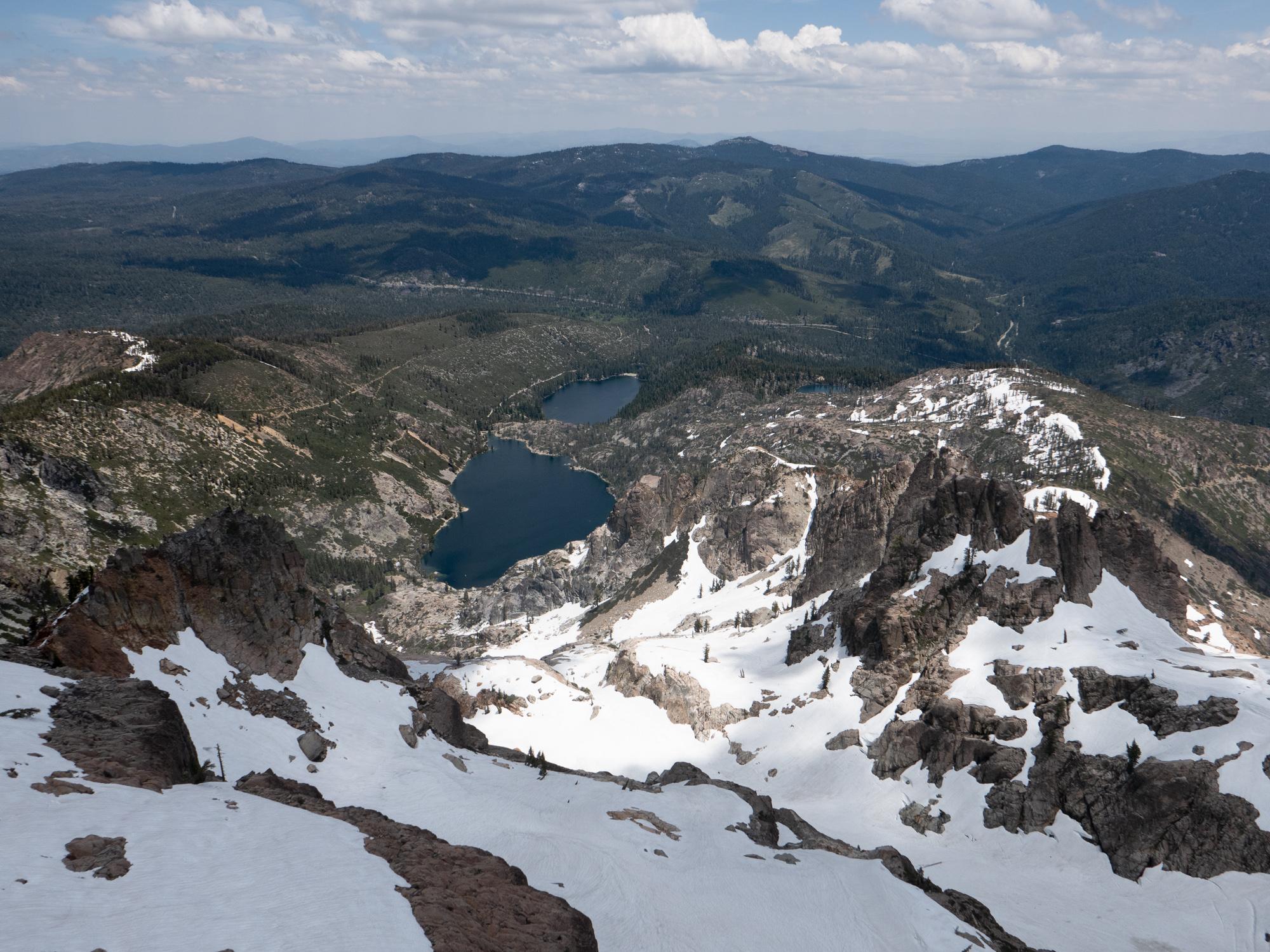 North Sierra Buttes aka W6/NS-139 SOTA activation
I prefer to use a dipole antenna for my SOTA activity because
The dipole can be easily anchored to boulders so it is easy and fast to deploy virtually everywhere. I don't have to rely on any trees or places to attach the mast to, this saves time I spend deploying and lets me spend more time on the air instead.
It gets windy when you get up to a prominent summit and the three legged design provides more stability and wind resistance compared to a freestanding mast with an end fed antenna.
End feds work best when you have a big flat with a good quality, reflective soil and a system of counterpoises under the antenna. This is never the case with SOTA in California, 6-10 point summits are rocky and fairly "pointy", making a dipole more efficient system - it works best with as little reflection from soil as possible.
Other hikers and their dogs don't trip over or get entangled in my counterpoises because there are none.
You don't need an antenna tuner for the dipole.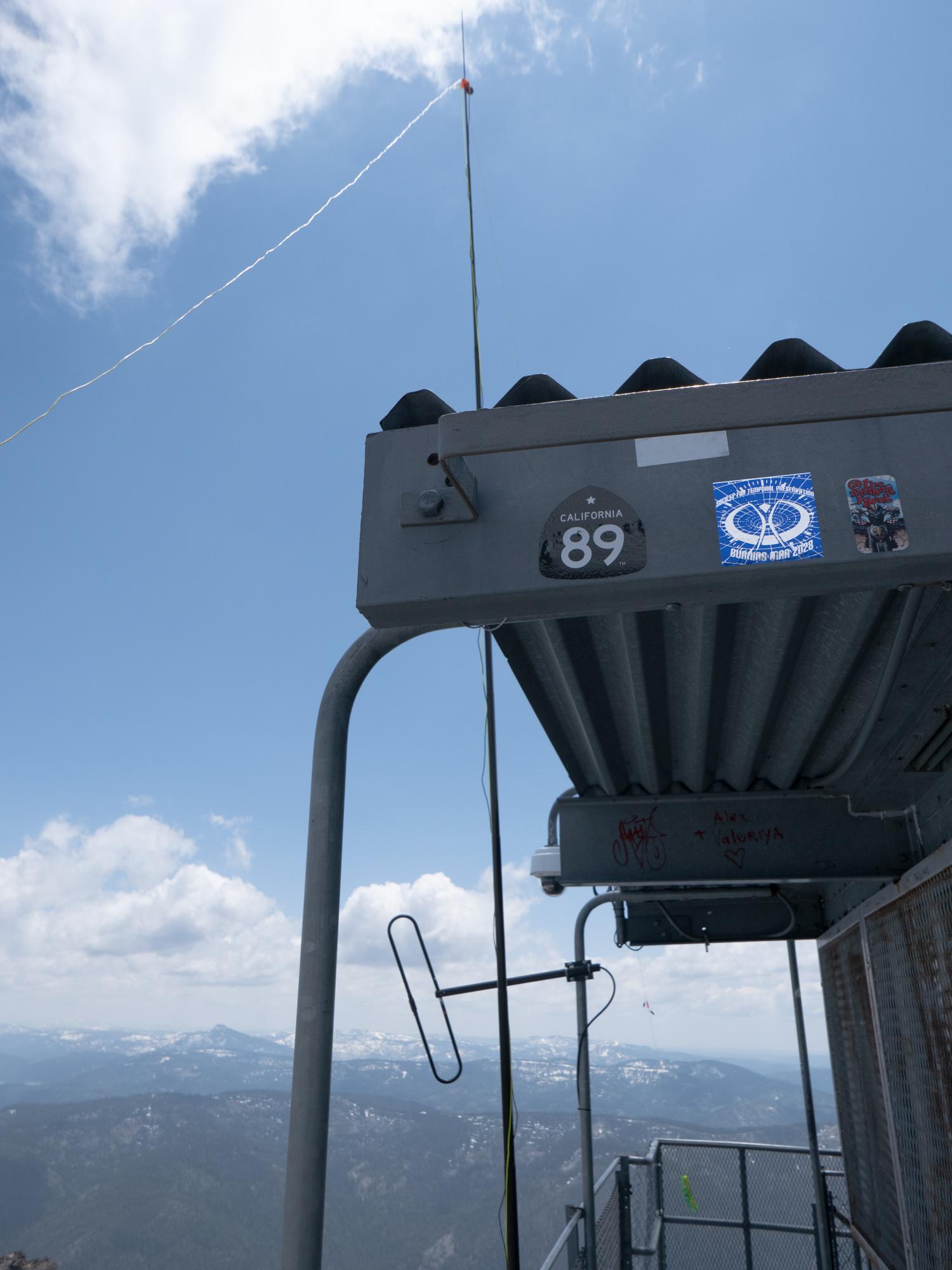 But this time the best place to deploy the antenna was the lookout. With a metal roof. And metal railings. Lots of metal. Oof. I knew It won't be pretty but decided to give it a try. Well, SWR 3.7 and output power cut from 11 to 6-7 volt. I still managed to make three contacts, one of them summit-to-summit with Daniel KA7GPP on North Mountain aka W7W/SK-142 in Washington, with Timothy KF4WKN from North Carolina and with Douglas WA6L, locally from Sacramento but signal reports were 229/339 and this was it, people didn't hear me. I did have a backup end fed with me but since I didn't touch it for years I was not even sure if the battery in the antenna tuner was still good and I could tune the antenna.
Instead of experimenting with an end fed I decided to stick to the familiar system and move to the small flat area right below the lookout. Lost about twenty minutes redeploying the antenna and reconnecting the transmitter.
Now the SWR was 1 and I could finally start in earnest. Made four more contacts, including Thomas W4JKC from South Carolina, Don AC7P from Texas, John K6YK from California (nice to hear from you again!) and Gary W2AZZ from Arizona - who said he's using a dipole too.
All contacts were made on the 20 meter band. The 40 meter band was very noisy.
Lessons learned, going to practice and will try to activate my next, easier summit using an end fed to make sure I can use it when I need it.
Stations worked from North Sierra Buttes
| Time UTC | Call sign | RST sent | RST received | Frequency | Mode | Maidenhead grid |
| --- | --- | --- | --- | --- | --- | --- |
| 20:33 | KA7GPP | 559 | 339 | 14.062 | CW | CN88 |
| 20:40 | KF4WKN | 559 | 339 | 14.062 | CW | EM85 |
| 20:45 | WA6L | 559 | 229 | 14.062 | CW | CM98 |
| 21:05 | AC7P | 559 | 559 | 14.062 | CW | EL09 |
| 21:15 | W4JKC | 559 | 449 | 14.062 | CW | EM84 |
| 21:17 | K6YK | 559 | 559 | 14.062 | CW | CM97 |
| 21:20 | W2AZZ | 559 | 339 | 14.062 | CW | DM33 |
This is it for now, 73, K0SSK out.