Mt. Shasta in one day 2018/07/01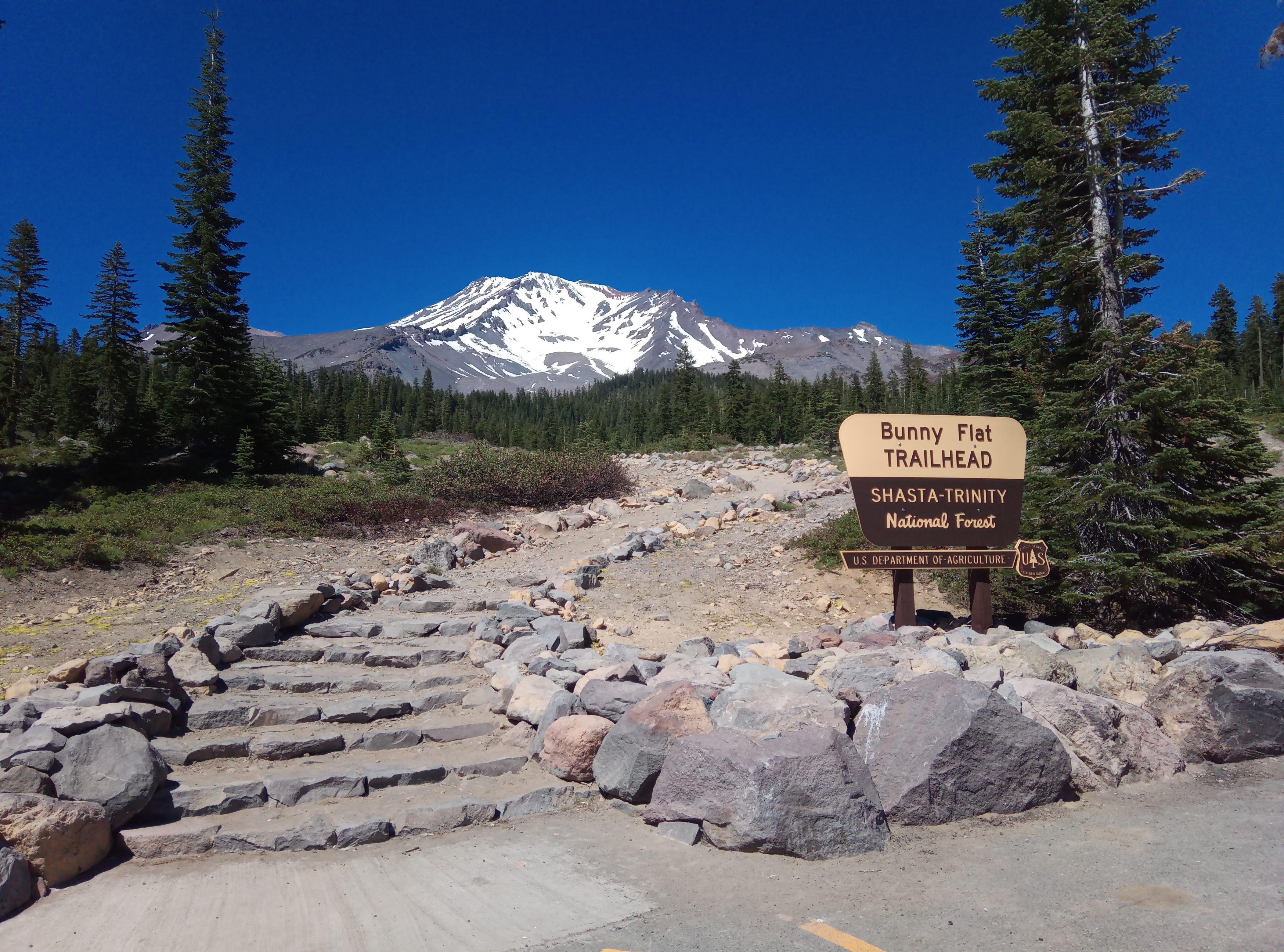 As you have noticed I continue to trail off the paved path of the technically inclined blog and venture into hiking/mountaineering Internet backcountry. The reason is I'm an extremely lazy guy who promised to get back to Shasta almost a year ago. It's time to be back as promised!
So, Shasta, heh. Shasta. 4,322 meters or 14179 feet tall White Mountain. My very first serious mountain and the first one to beat me.
My friends tried to summit from the north in the beginning of June 2018 but had to turn back because of altitude sickness. Next attempt was scheduled 23-24 of June and I gladly accepted the proposition to join them.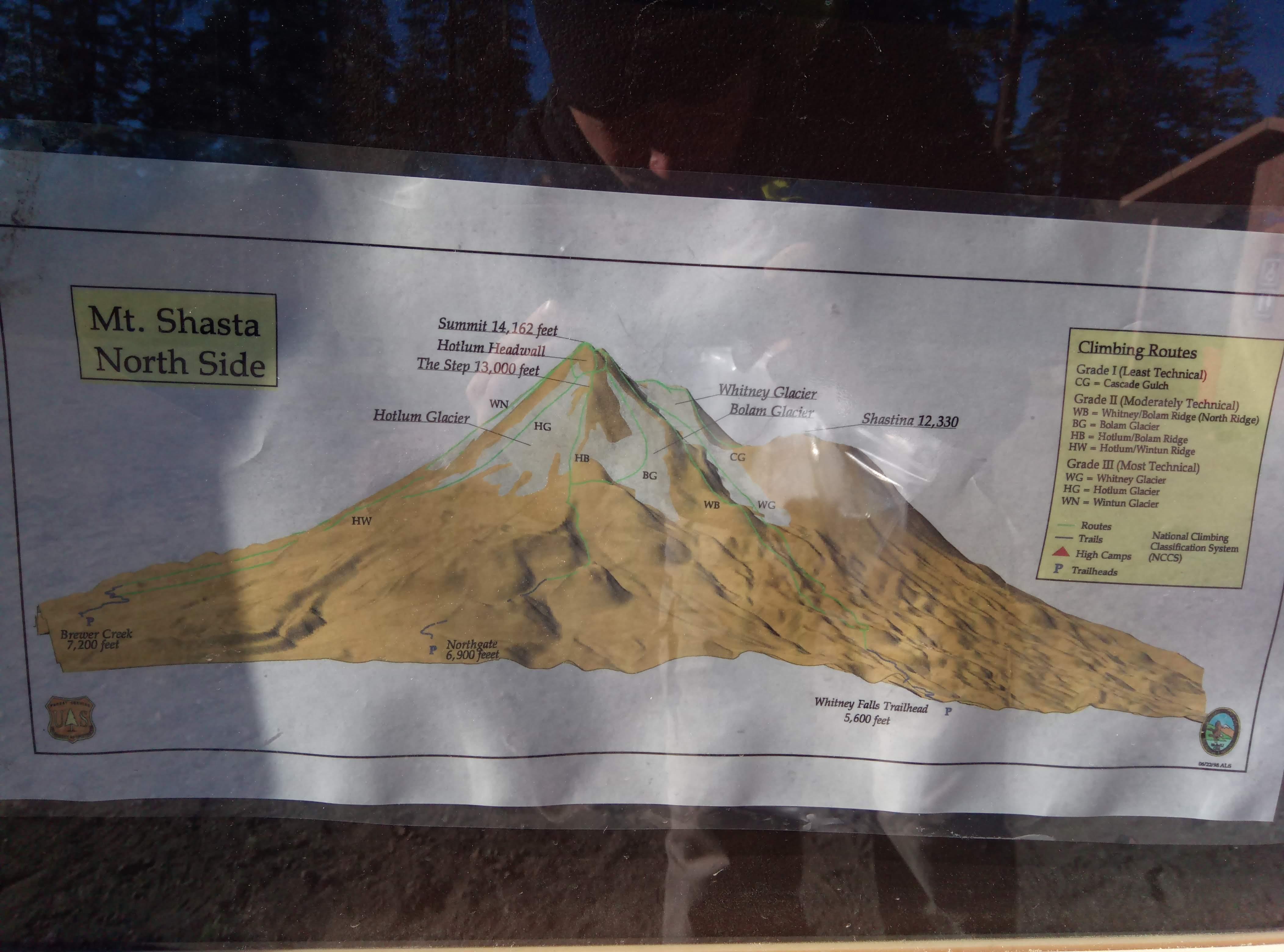 Routes from the north are generally more difficult than classic south route from Bunny Flat via Avalanche gulch. Northgate trailhead is way less accessible. You want 4wd car to get there. My friends were able to reach the trailhead driving Mazda 3 but it took about two hours after the turn from 97, they stuck couple of times and scratched the car. My Outback had no problems on Military pass, it took about 40 minutes from the highway to the trailhead parking. By the way at the moment, June 2018, Google maps tend to propose 'faster' routes to the Northgate Trailhead, don't be misled - take Military pass unless you are up for some serious offroad experience. Just look for and follow direction signs once you are off the pavement.
We were at the trailhead parking at about 0130, 23rd of June. My friends put up a tent, I decided to sleep in the car. Now there is the first hiccup in my planning - I took a tent I didn't need because three of us fit into my friends' tent and I didn't take a sleeping bag which I needed. Big mistake. Night in the car was not bad though even with no sleeping bag.
In the morning we've issued self-issue wilderness permits and summit passess required above 10000 ft. Have $25 to put in the summit pass envelope and keep stubs on you - rangers may ask for them. Permits are valid for three days from the issue date. Don't forget to get a poop bag from the restroom - there are no other restrooms up the trail and there is no one to clean the waste after you.
Among other information in the kiosk there was a posting about two hikers missing.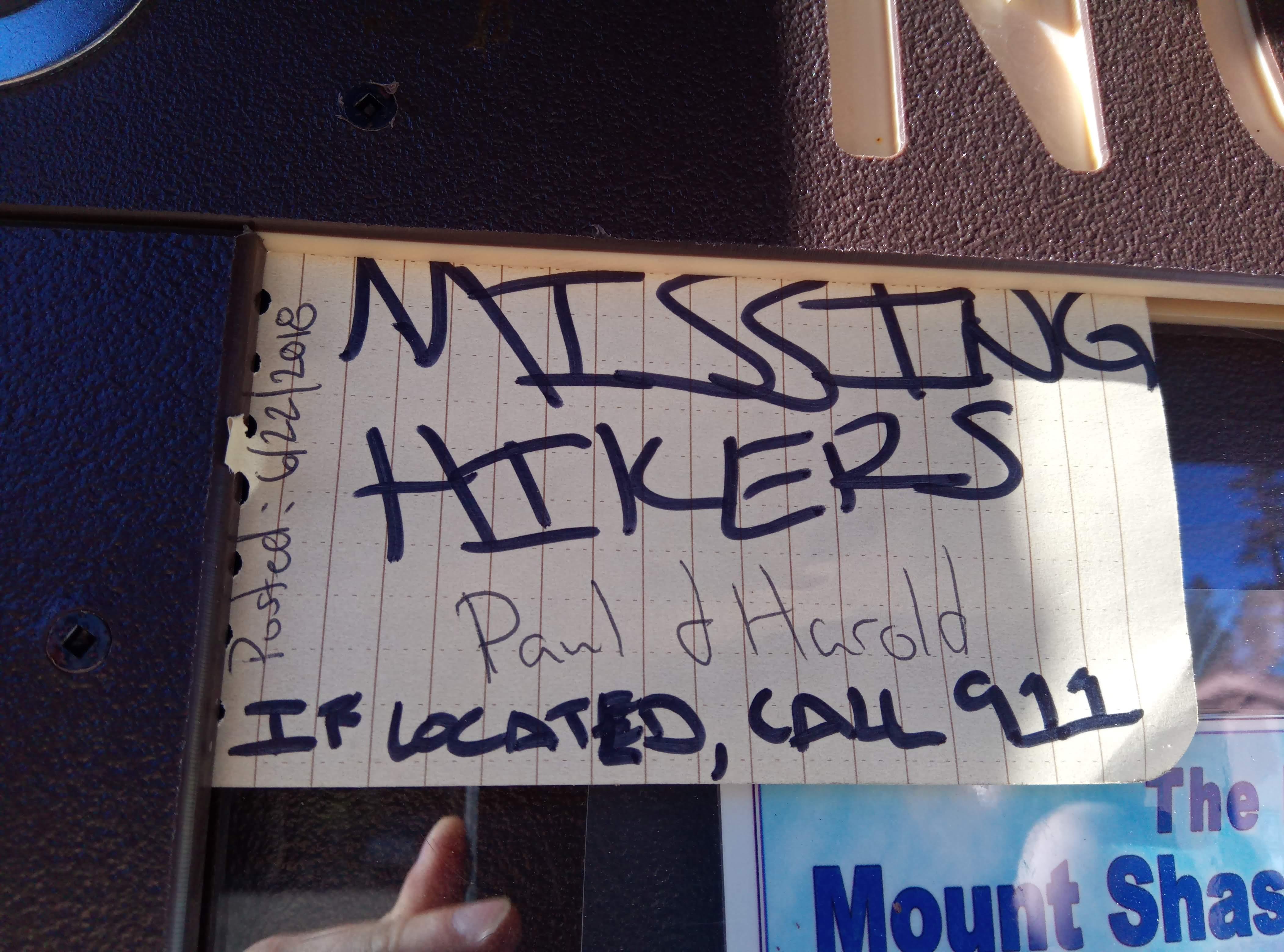 Given a remote location of the trailhead and only two other cars parked it started to feel eerily familiar. Super nice trio from Oregon with a minivan (lots of trouble on the Military pass I tell ya) summited previous day and were packing out. They generously shared their beer cache with us. Yay!
Our plan was to reach high camp just below Hotlum/Bolam ridge, sleep there, head out at about 0100 and follow the ridge up.
First part of the plan worked fine for me, even though I once again had too much unnecessary equipment on me.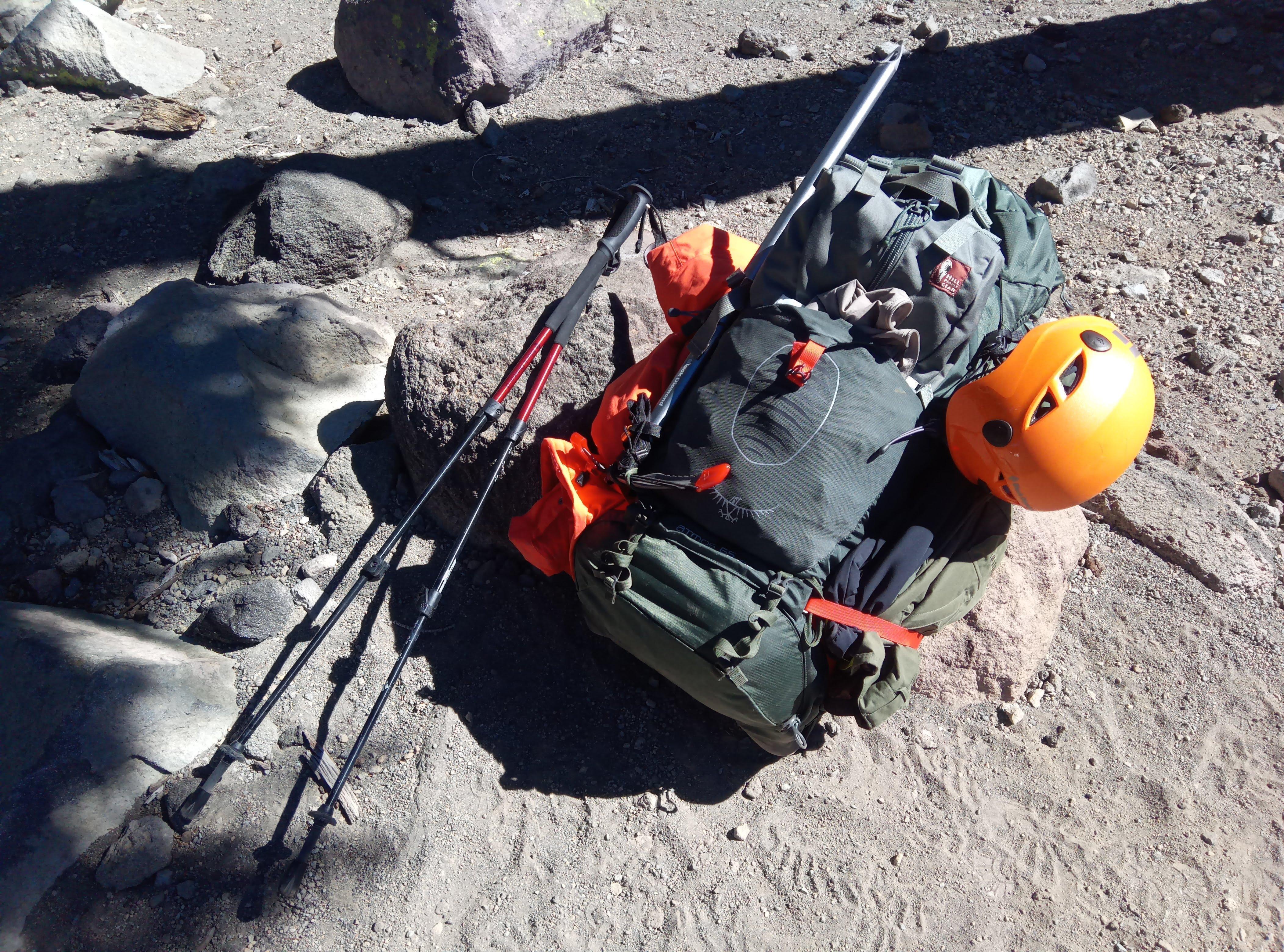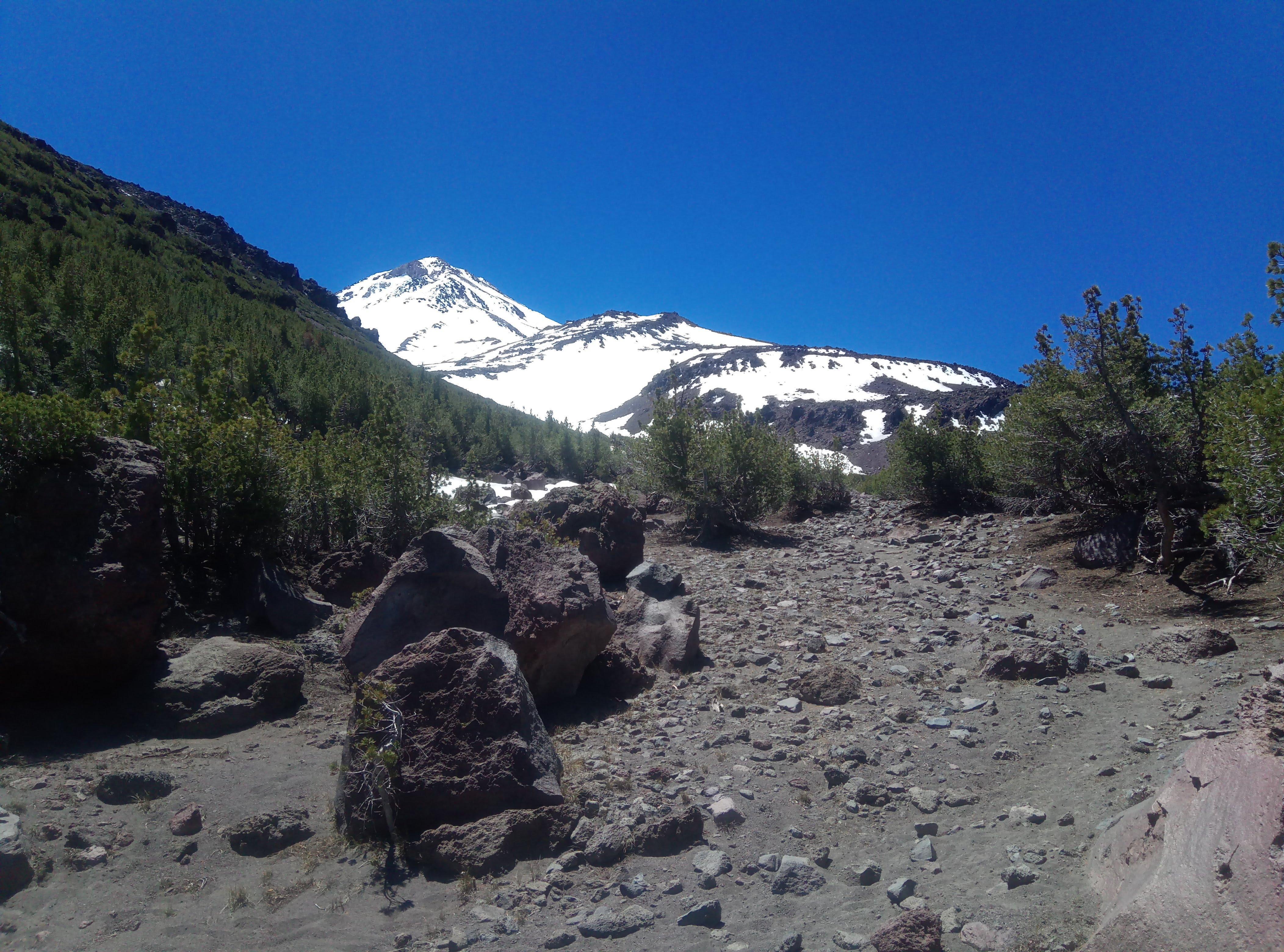 It took some time to decide where to camp exactly, lower but closer to the springs or higher and closer to the summit. Since the plan was to eat and drink properly we decided to camp by water.

The tent and two North Face Dolomite 20 bags zippered together fit three of us. It got really cold at night and honestly I have no idea what would I do if I didn't have a sleeping bag to get into.
As planned at 0100 we woke up and started to prepare for the summit attempt. Unfortunately I was not able to go higher due to the altitude sickness. Wah-wah-wah…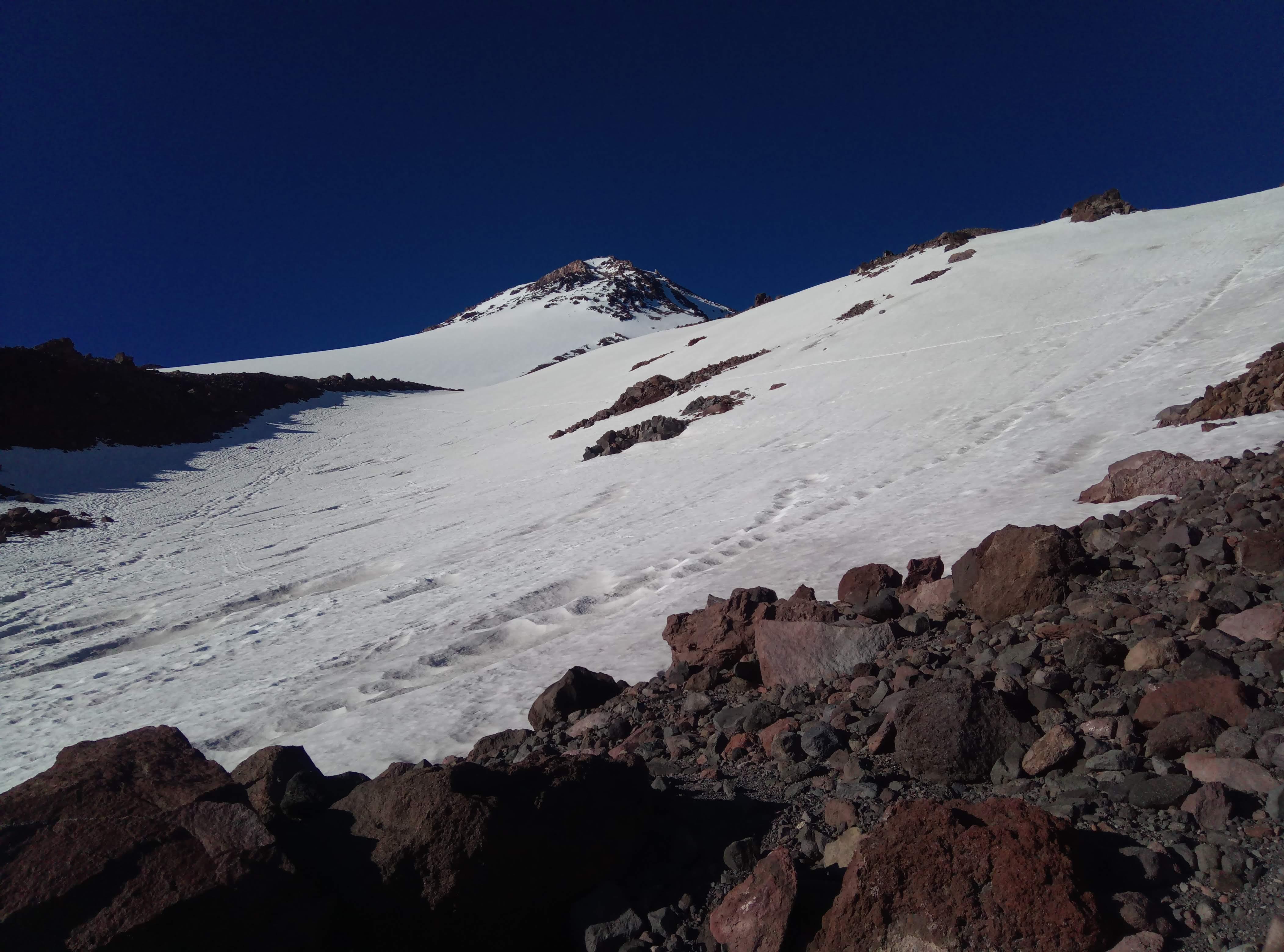 My Tarahumara backpack from Hill People Gear was able to summit with my friends though - this situation when your gear is way more badass than you are.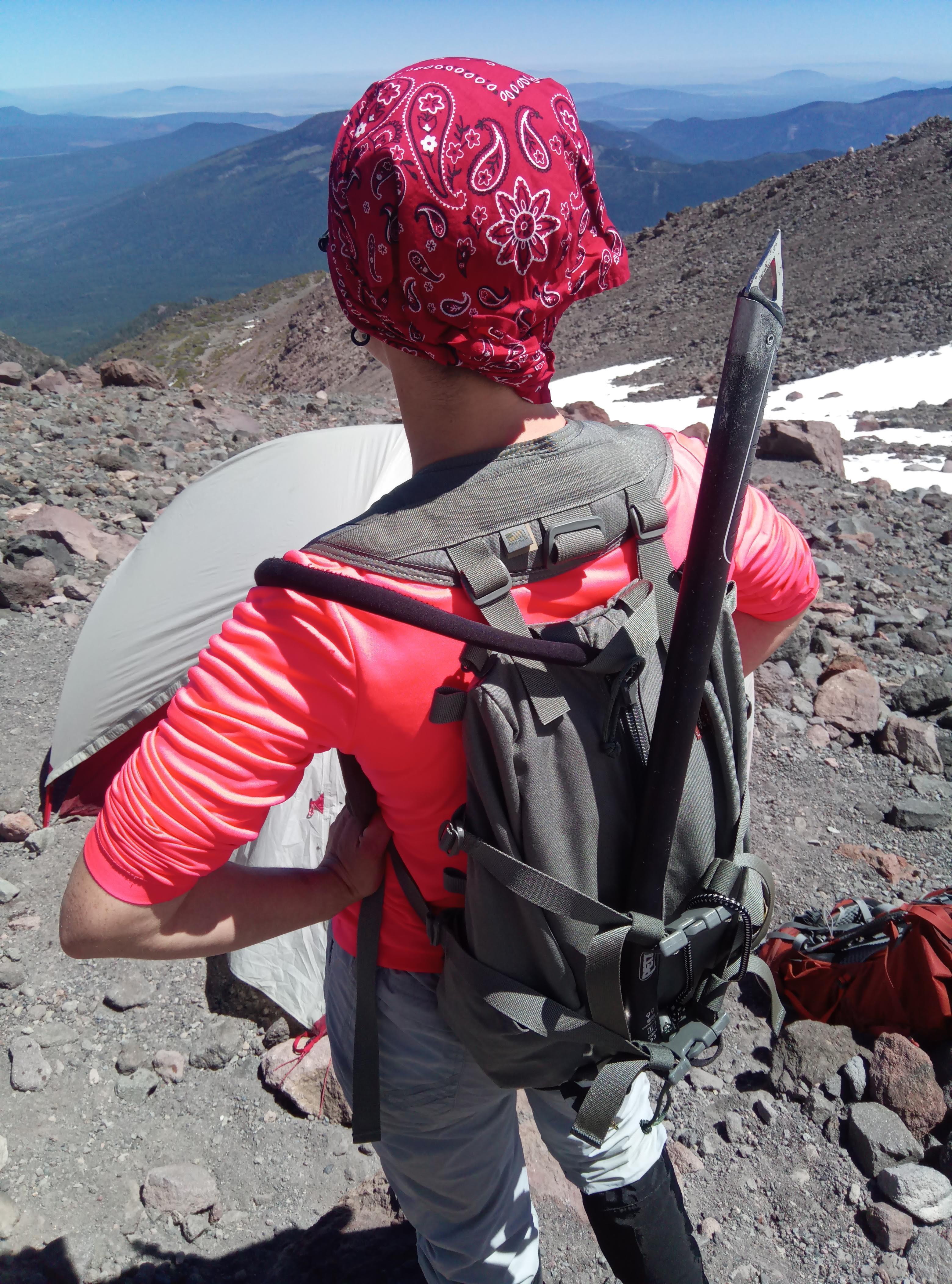 Asked a ranger passing by about two guys missing and was told they are fine but for people in their seventies this trip may be very last serious trip. They've spent ~48 hours on the mountain, lost each other and split, were pretty wasted and hallucinating when found by SAR.
I tried to get more sleep, then packed sleeping bags, refilled water containers and waited until my friends returned from the summit. Way back was obviously easier but hell, Shasta beats me up for the second time in a row! Grrrrrrrr!
Lessons learned
Should have parted with the second insulation layer - way too much bulk, I didn't use it.
Pants for glissading - my snowboarding pants are way too heavy and bulky and just have no place on a mountain with no snowboard. Thin rain pants keep you dry and you warm up quickly if you stay dry.
Got minor blisters - needed thin liner socks under wool socks. You don't really know if you need liners until you use your boots on an uneven terrain - some boots sit just fine, some boots play a bit. In case if a boot 'plays' your woolen sock rubs against your foot causing blisters eventually. Feet are way happier if a wool sock rubs against a liner sock instead. Furthermore it's needed to tie boots properly, tight in the middle so the balls of feet are pushed back and down and feet don't have vertical 'play'.
Makes sense to put gaiters on right at the trailhead to keep dust and pebbles out of your boots.
Too much junk. Like really, too much. Power bank, too many replaceable batteries, lot of water but no room for a sleeping bag. YAGNI FTW.
As a result from a previous one - not too impressed with my Osprey backpack - not enough points to attach equipment externally. I didn't manage to configure the backpack so all weight transferred to the lumbar area. Going to be replaced with Qui-ya backpack from HPG in the future.
So do you think it ends here?
Hell no. I was back in a week. Obviously lacking mountaineering experience for the north side decided to take the classical south route via Avalanche gulch. I took into account everything mentioned above. Since it was apparent it takes more time for me than one night to acclimatize I decided to 'flash' Shasta in one day as I did with mt. Whitney earlier this June.
Gear attachment system this time was built around Umlindi backpack and Prairie belt from HPG.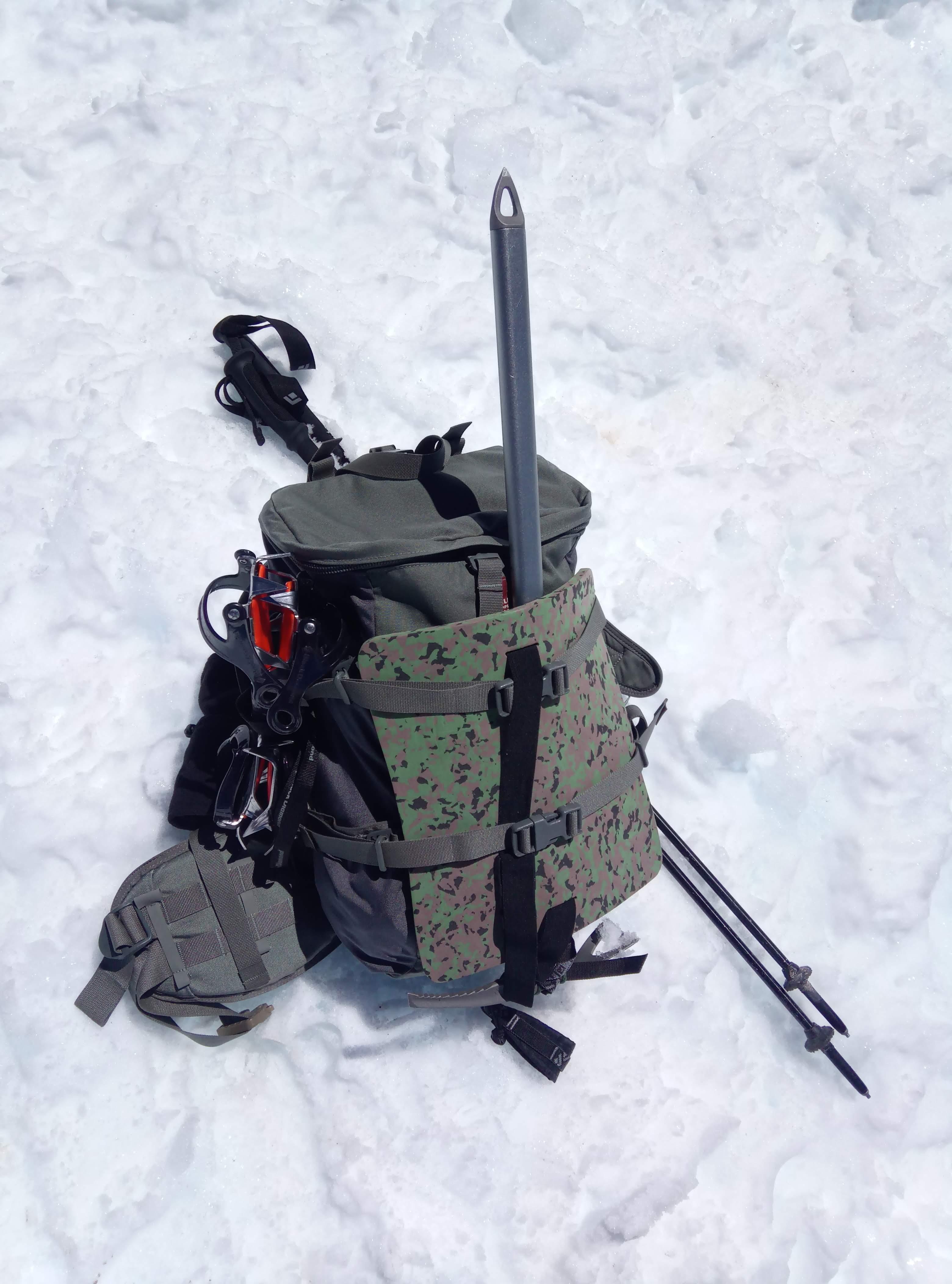 There are tons of reviews out there and I have little to add except that there is lot of thought and love put into these things and I believe they are worth every penny I've paid. I think 30 liter Umlindi is the most versatile base pack offered by HPG. I use it as my EDC backpack without Prairie belt and bottom attachment straps. Killer features for me are wide and sturdy compression straps (not a flimsy nonsense you see on most backpacks on the market) and yoke-like harness system. Compression straps allow to attach bulky items like shell and insulation layers to the top, bottom or back of the backpack. With belt attached the pack sits firmly on my hips and shoulder harness rather prevents it from bouncing back/forth/side-to-side than bears any load. I've spent almost fifteen hours in a row under the pack with a gallon of water, food, crampons, icepick and clothes and by the time I was back to the trail head my back, neck and shoulders were as fresh as when I started.
Third attempt timeline
Arrived to Bunny Flat trailhead at around 1700, 30th of June, slept in the car until 0015 1st of July and started the ascend.
0022 Bunny flat
0100 Horse camp
There is a spring to fill your canteens and bladders and a restroom to empty your canteens and bladders.
0257 50/50 flat
First snow tongues, I put crampons on here.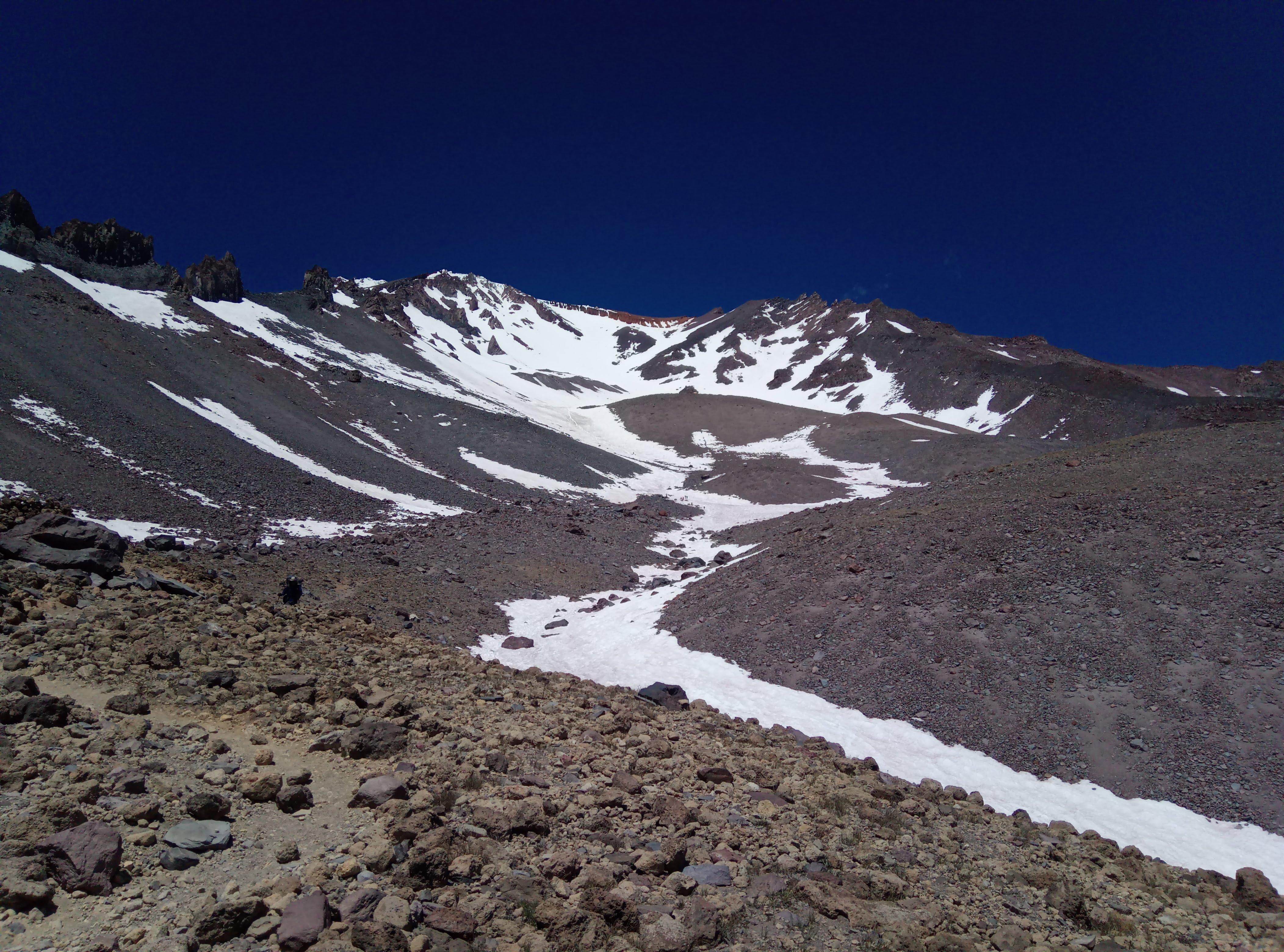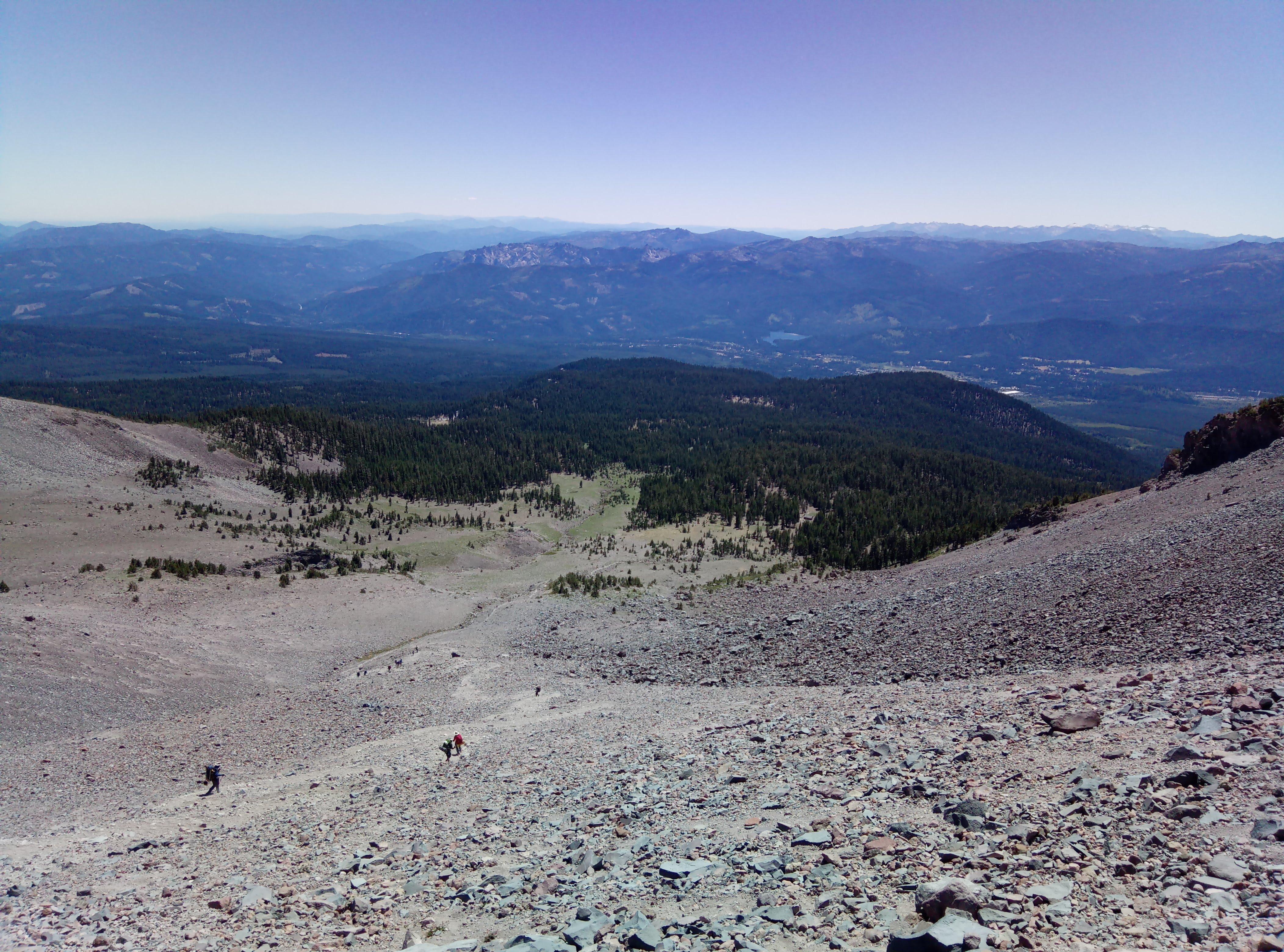 0424 Helen lake
Most of folks who do Shasta in multiple days camp here.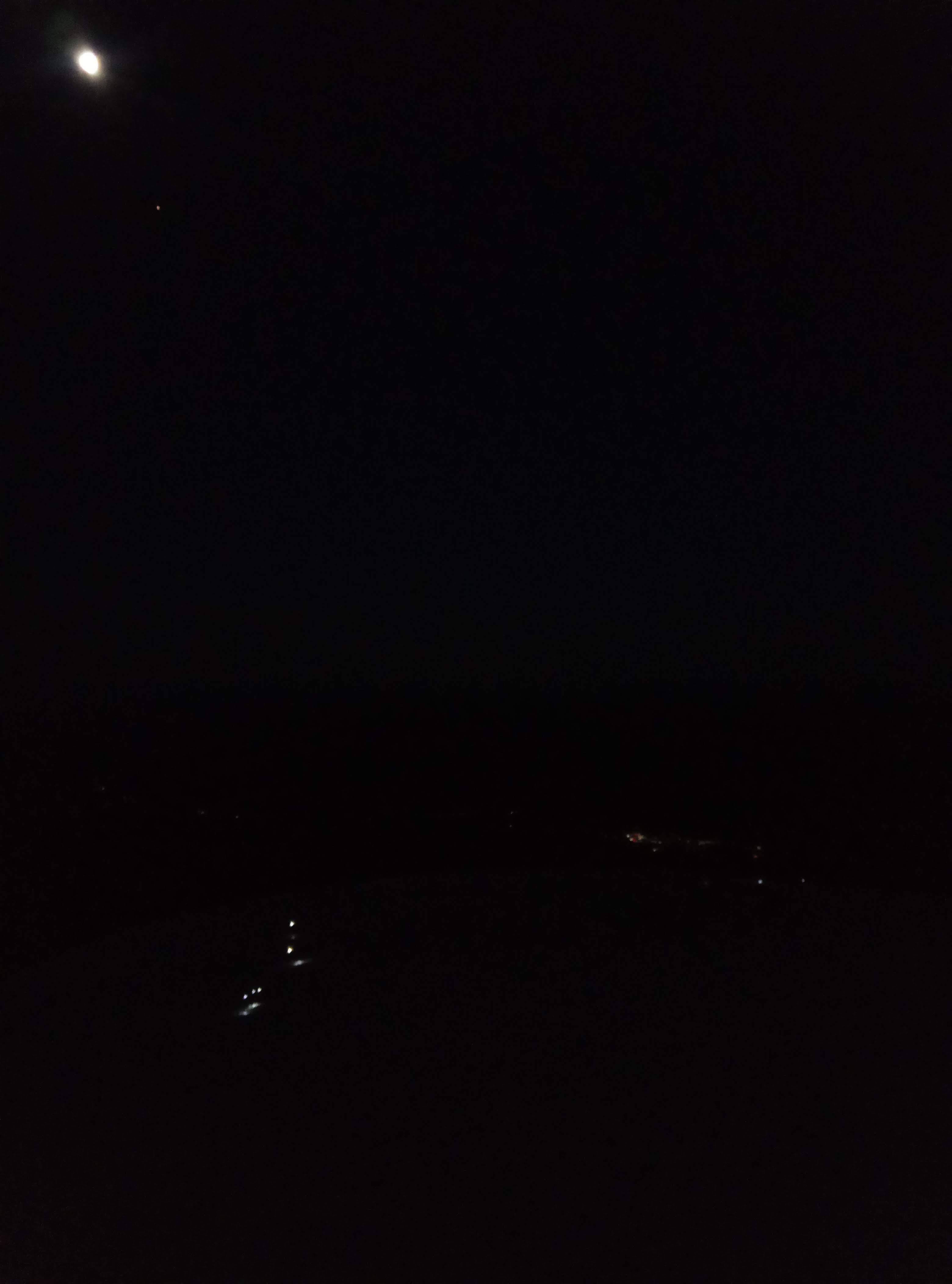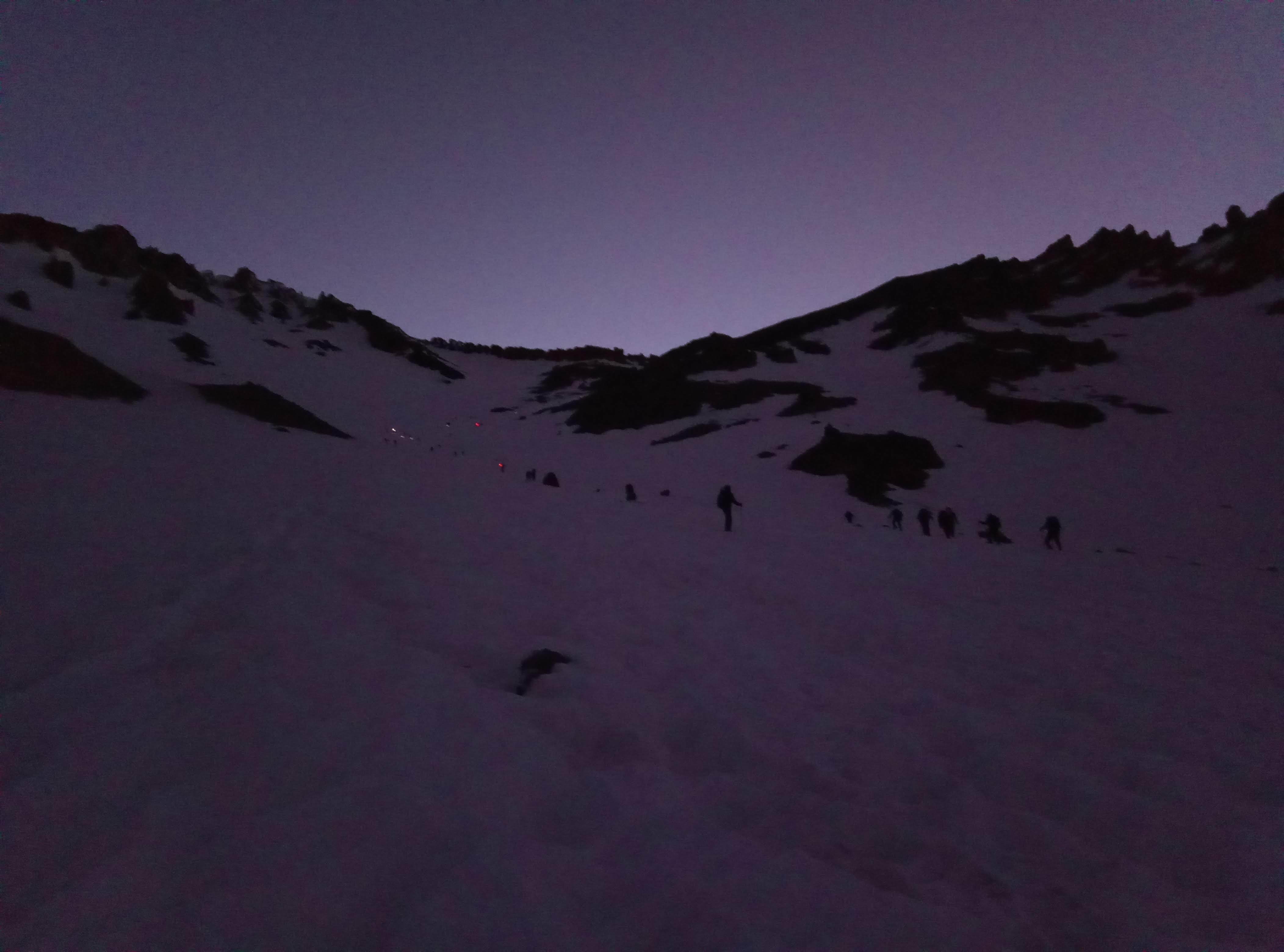 0630 Heart
The most difficult part is from there to the top of Red Banks. I really-really wanted to get to the top of Red Banks before 0900 on a firm snow.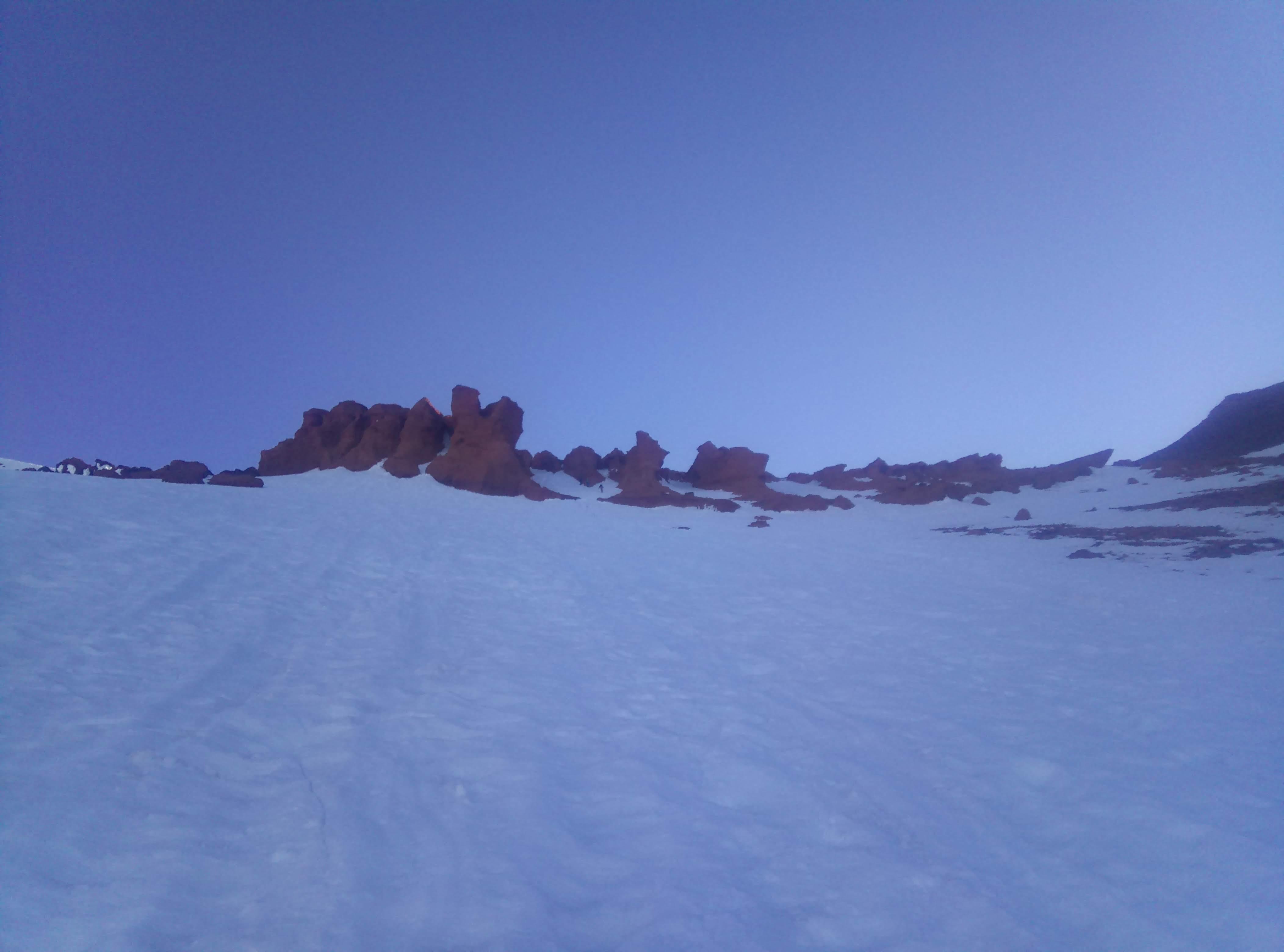 The other reason to get by as early as possible is because narrow walls of Red Banks are badly eroded, rock falls are very common so helmet is a must. Head-sized boulder bounced past me here down to the Heart. It's a bit safer when snow and ice bind rocks together.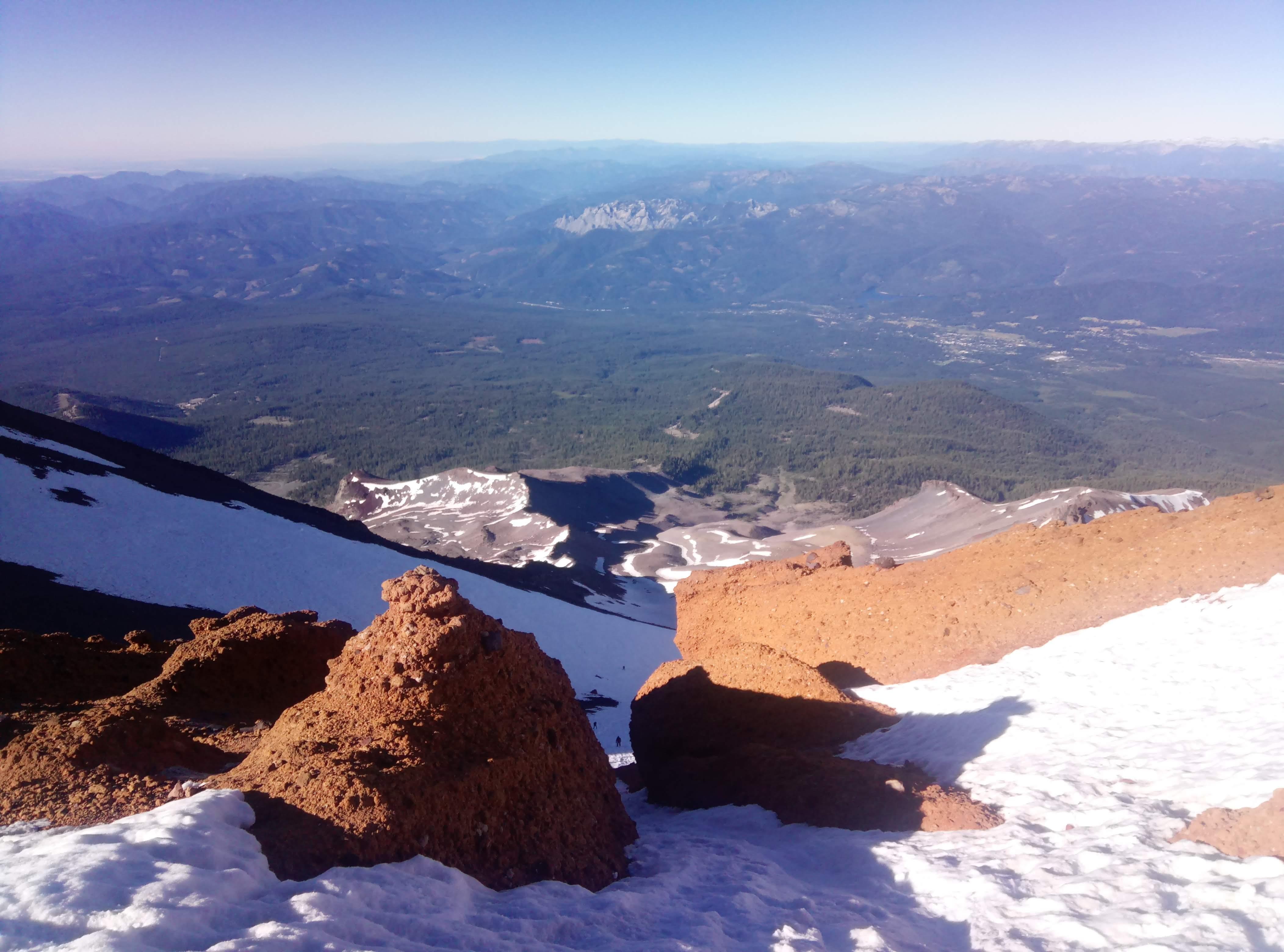 0900 the bottom of the Misery hill
Whew, the hardest part is done, time to eat, drink, breathe and to summit. I took crampons off because there is no snow until the top of Misery hill and by the time I got up there snow on the ridge was soft enough. I saw no need to put crampons on again.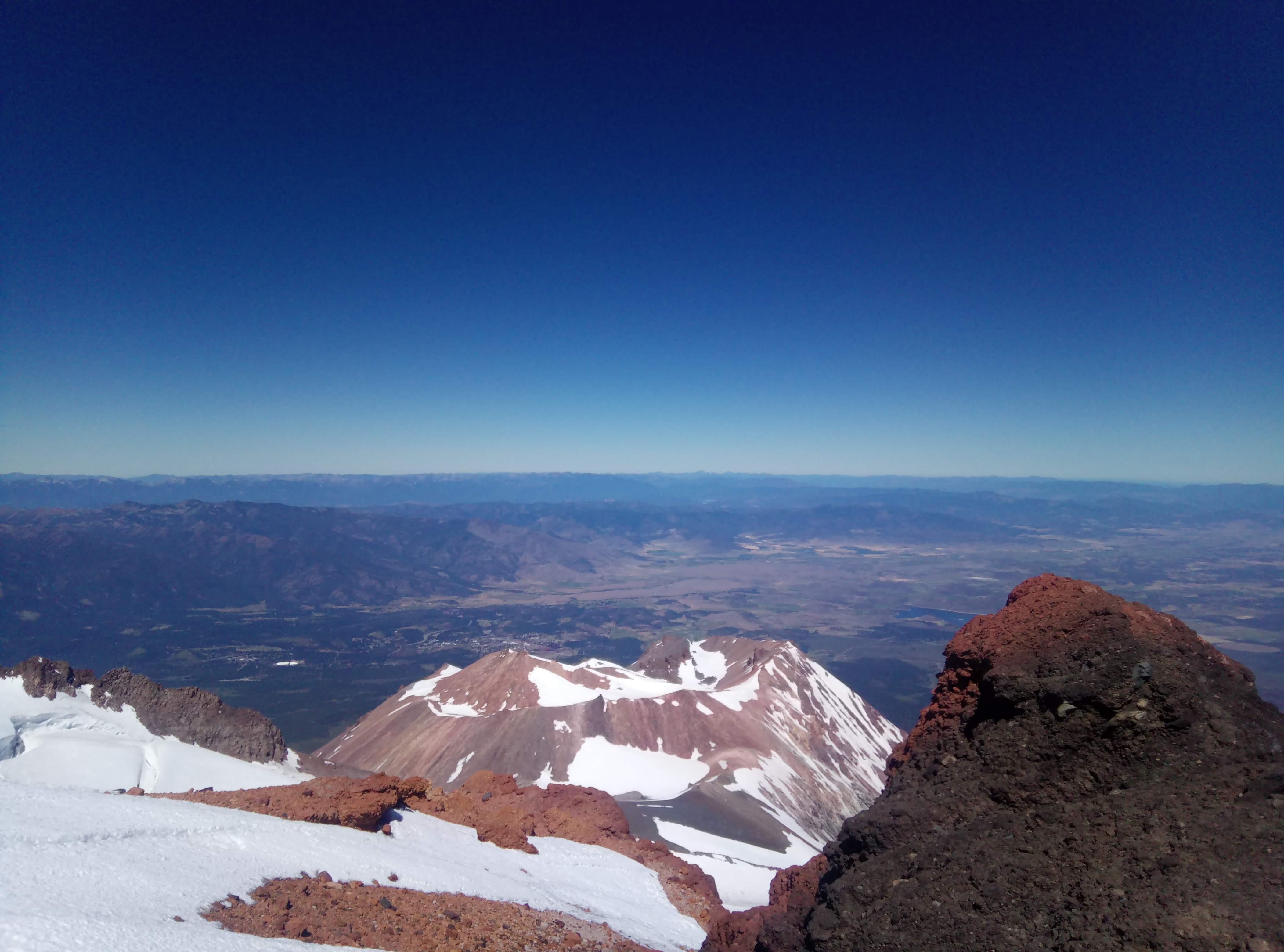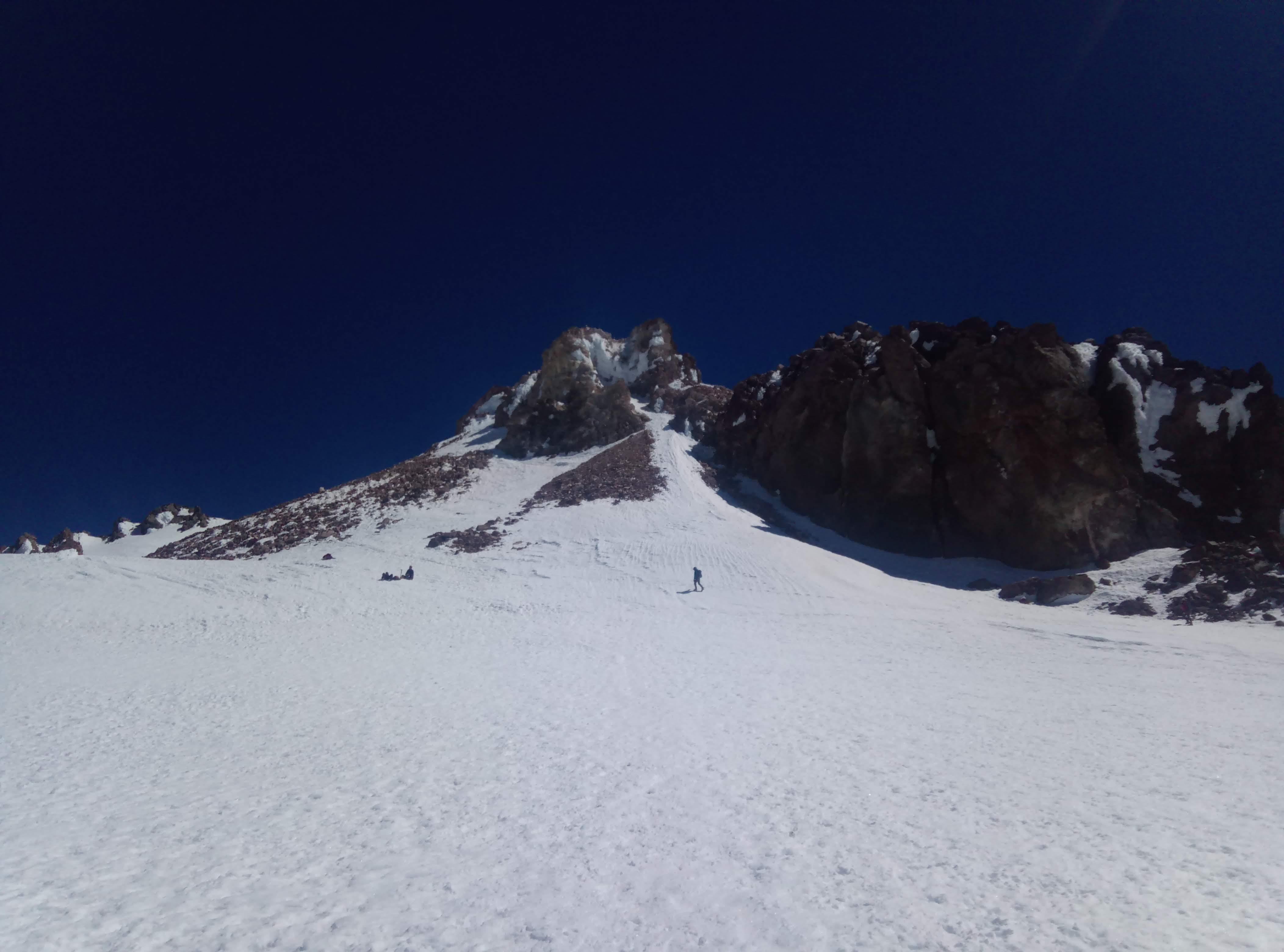 1130 summit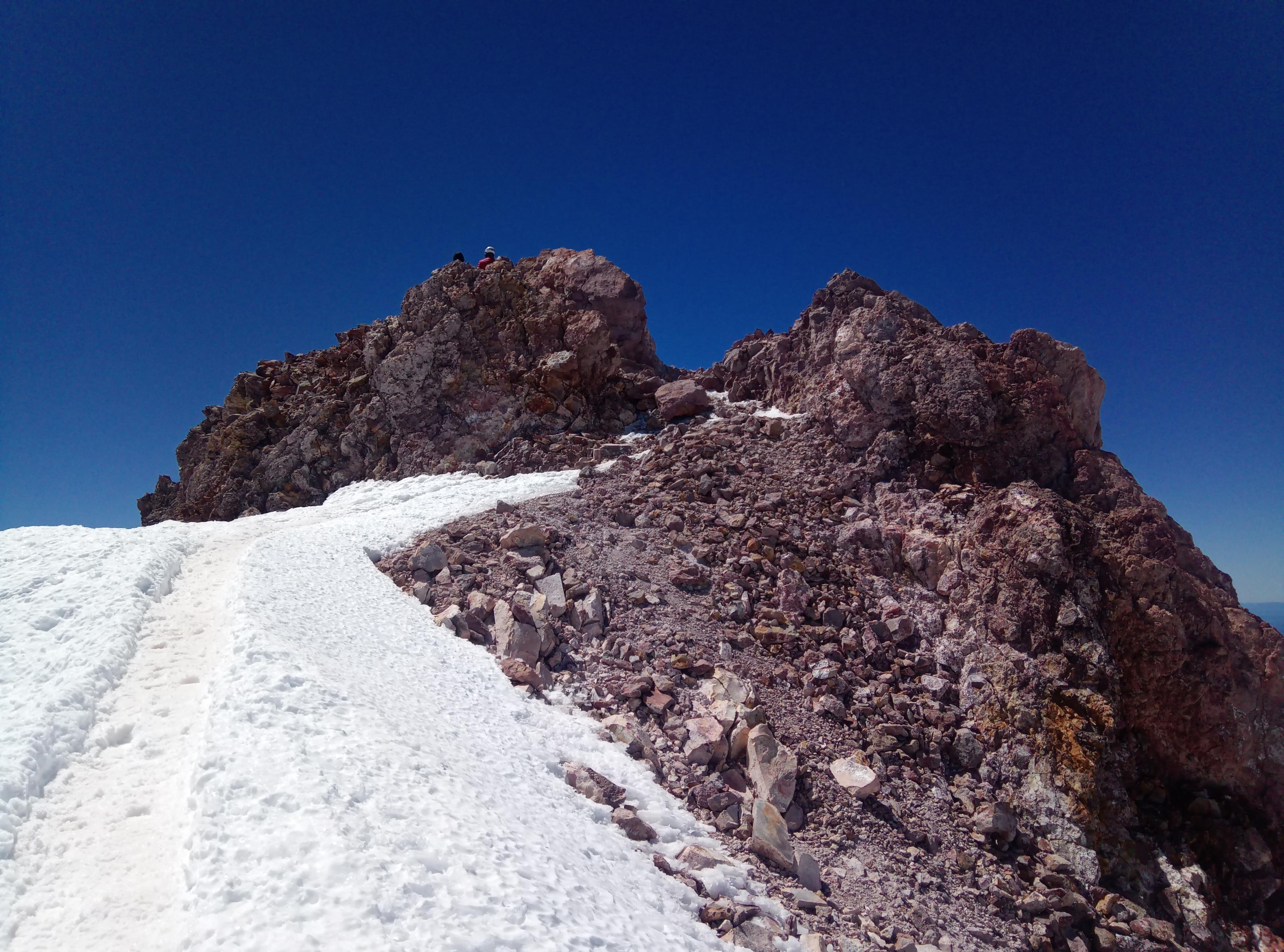 Voila! I'm on the top!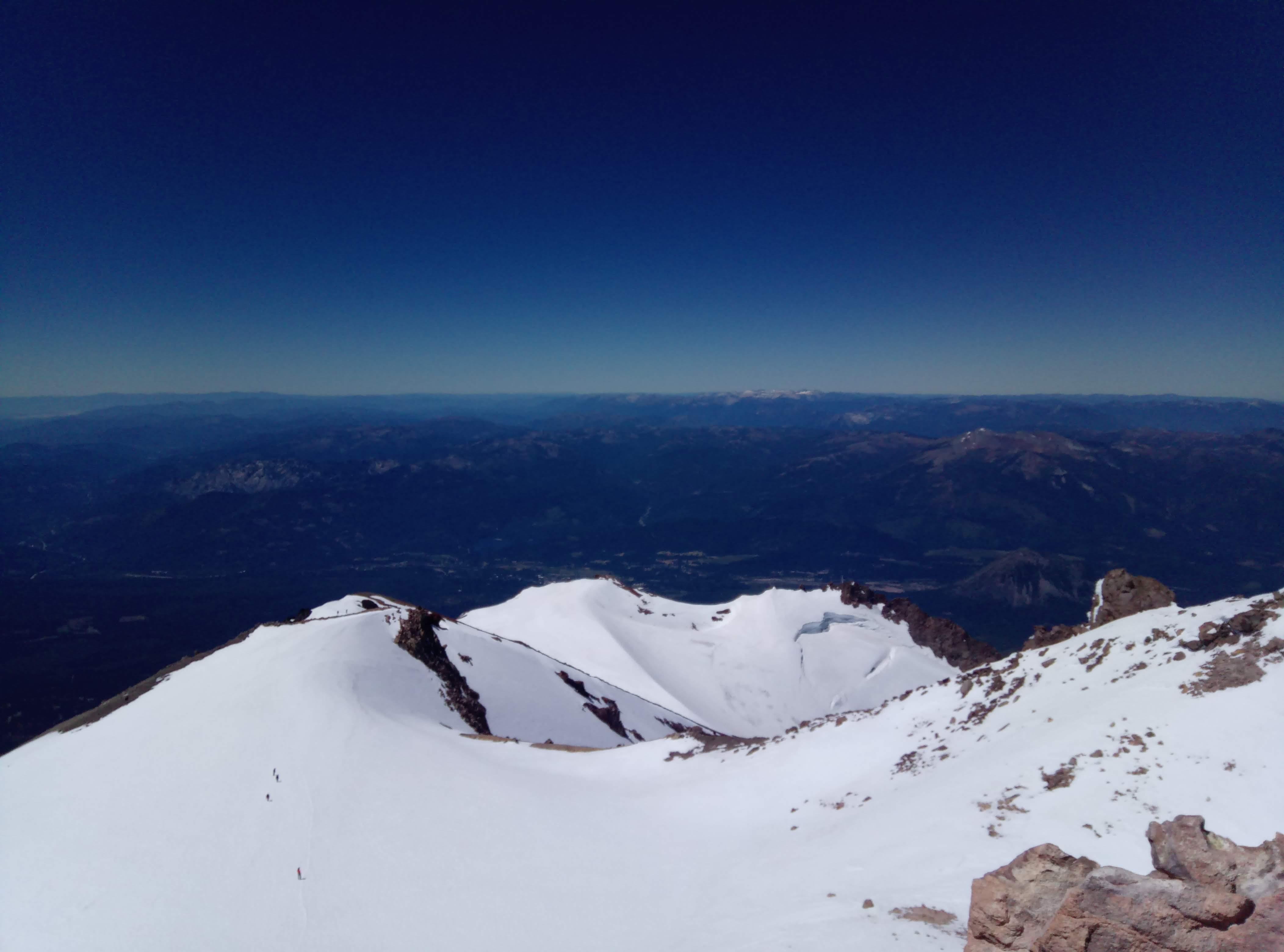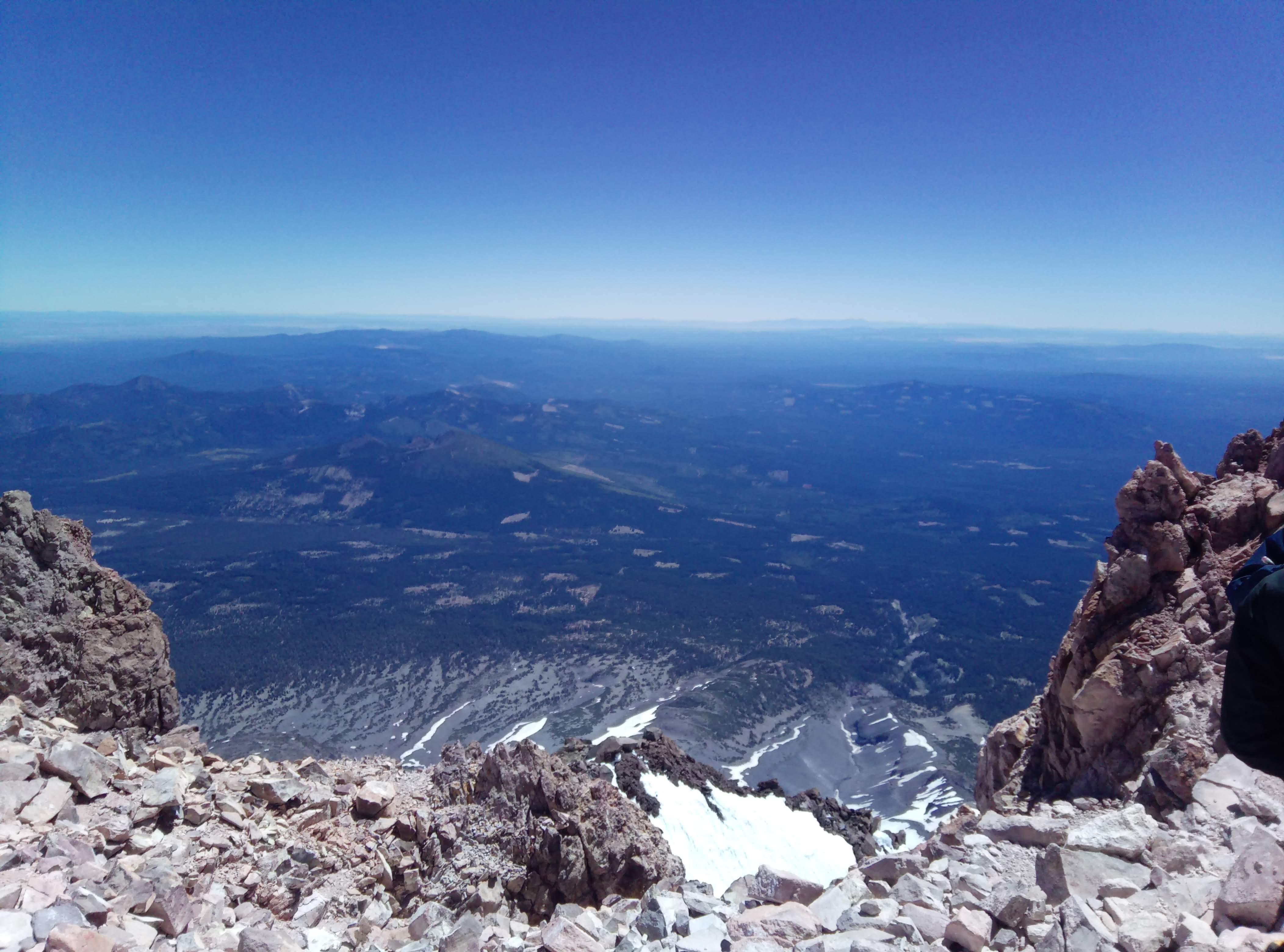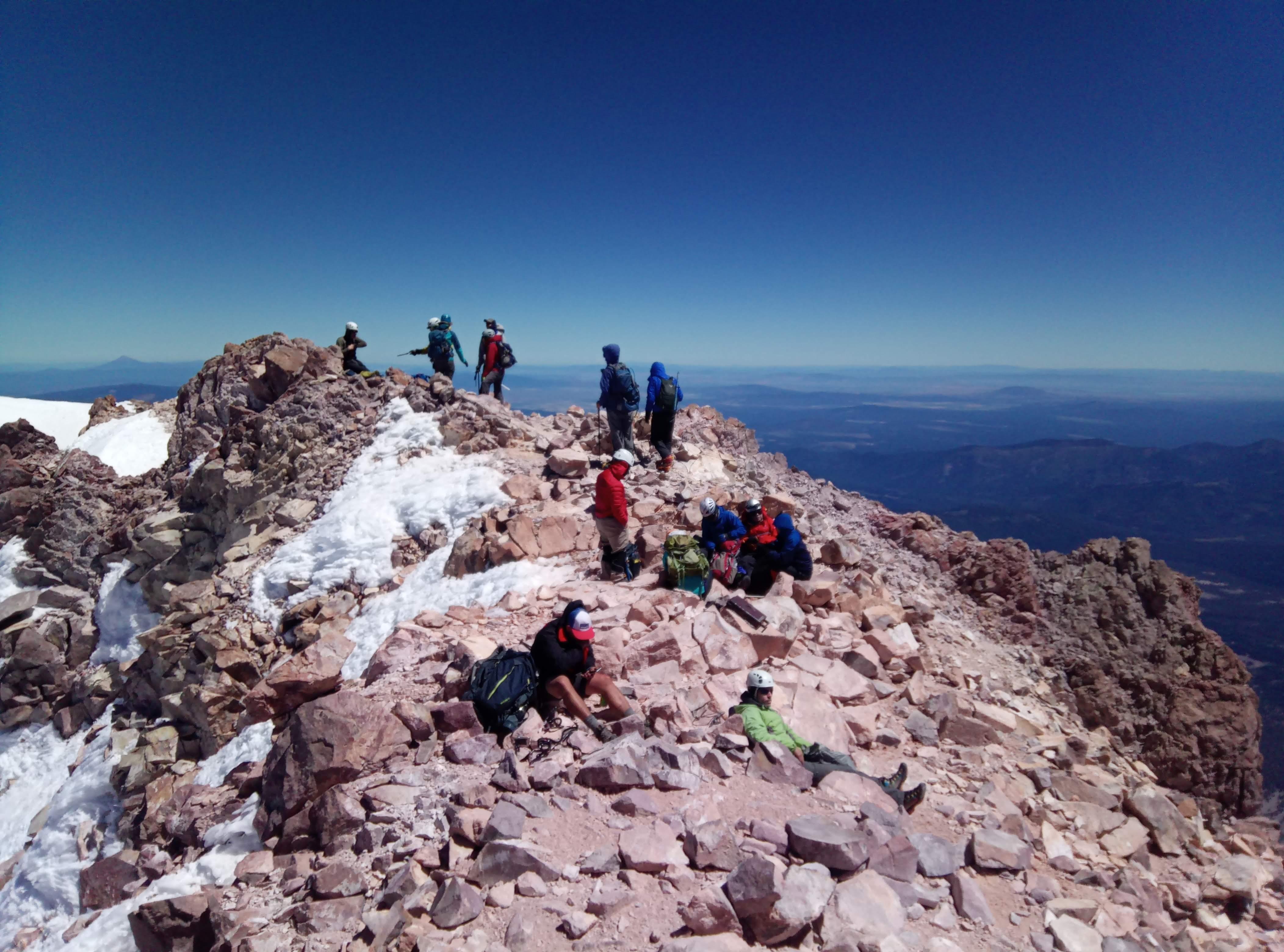 Spent some time on the summit, ate few gels and started descending. The plan was to be at the bottom of Misery hill by 1230 when snow in Red Banks get some radiation and soften a bit. You don't want to glissade on the frozen snow - it harder to self-arrest.
1230 bottom of the Misery hill.
Here I put my rain pants on, and tightened all straps. On a good day you can glissade from the botom of Misery hill to Helen lake. Use extreme caution glissading down Red Banks - allow enough slack between you and a person below you to react if you case a rockfall. It gets pretty steep right before you get out of Red Banks - keep a firm grip on your ice axe!
Below Red Banks all glissading is pretty much PG-13.
Around Heart I started to feel symptoms of altitude sickness but since I was going down already they were a minor annoyance.
1450 50/50 flat
Gets real hot there, good idea to reapply sunscreen washed out by sweat.
1642 Bunny flat trailhead
That's it folks, Shasta is done and I have no more serious plans for summer 2018. There is a hope for some technical stuff in this blog now he-he.